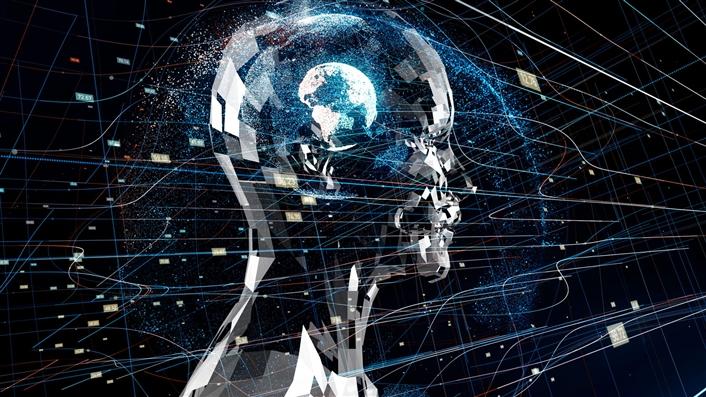 More than a year ago, we started the Immersive Learning series as a way to continue the conversation sparked by multiple workshops and an EDUCAUSE Learning Initiative (ELI) webinar we co-presented titled "Virtual and Augmented Reality: Stepping Into the New Frontier of Learning." The series highlighted the emerging developments around virtual reality (VR) and augmented reality (AR) and encouraged further exploration from the higher education community. Since the series began, a number of institutions have launched immersive projects, while others are developing VR and AR labs. The interest and experimentation around these developments continue to grow, as we've seen in the recent ELI online event "eXtended Reality (XR): How AR, VR, and MR Are Extending Learning Opportunities."
Our series covered a wide range of topics, including STEM, digital humanities, immersive storytelling, students as producers, and spaces for immersive learning. As we wrap up the series, we want to highlight the changing technology landscape, revisit the ethical issues we will confront, and explore the impact on learning and look into the future.
Tech Landscape in 2018 and Beyond
Immersive tech continues its rapid pace of development, with new devices that expand opportunities for learning (see figure 1). Stand-alone VR headsets such as the Oculus Go and the Lenovo Mirage Solo were released this year. These inexpensive headsets offer greater flexibility since they are not dependent on high-end external computers. Screen resolutions are improving in head mounted devices like the new HTC Vive Pro. As we move into fall 2018, HTC will release new base stations that expand the range of room-scale VR to 33 × 33 feet. With wireless adapters, users will be able to explore complex virtual spaces.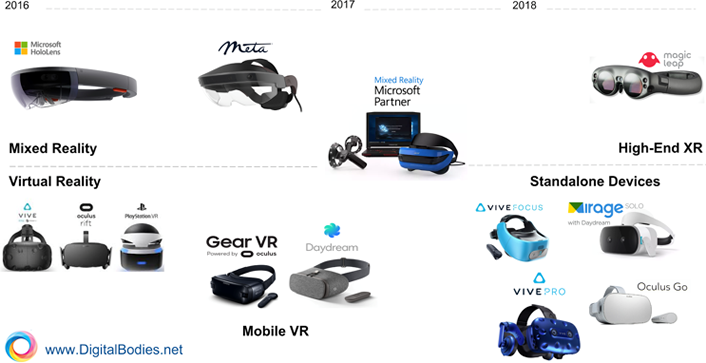 In a parallel development, 360° video cameras have seen remarkable improvement, with models priced for the consumer market. New cameras automatically stitch 360° scenes together, making it easier for students to create immersive projects. More advanced camera systems are allowing creators to work with cutting-edge volumetric video, which can be used to record live performances.
Despite the lack of inexpensive glasses, AR continues to evolve with new projects utilizing Google's ARCore and Apple's ARKit platforms. While AR has largely focused on individual users, Google recently released a Cloud Anchor tool for developers to create multiuser experiences. In turn, Apple's new ARKit will offer shared augmented experiences through peer-to-peer connections on their iPhones.
On the mixed reality front, Magic Leap delivered its long-awaited headset to developers in August (see figure 2). As with Microsoft's HoloLens, of which a new version is expected next year, it holds great potential in the learning environment.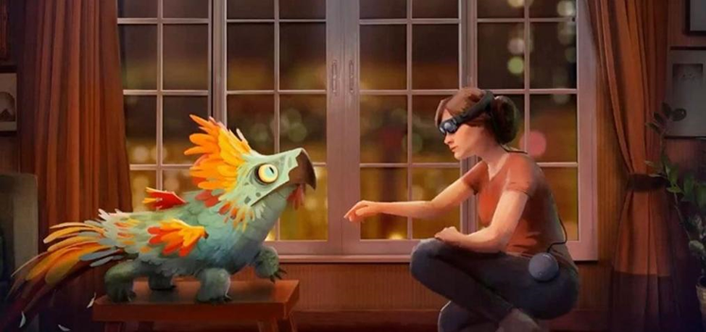 Transforming the Learning Experience
We are seeing diverse stakeholders across multiple disciplines launch and collaborate on immersive projects. In nursing, medical, and science education, immersive role-play simulations are transforming learning. Innovative faculty across disciplines from digital humanities to art and the social sciences are exploring the use of immersive environments.
Virtual worlds are beginning to include AI engines that present students with a set of adaptive scenarios and experiences. Computer science and engineering programs are exploring ways these technologies will open new frontiers of science and technology. Collectively these new technologies drive interdisciplinary approaches to prototype our immersive future and to reimagine education.
As we move forward, there will be new opportunities for professionally designed simulations and games that target both specific and soft skills. One of the most prominent developments we see across disciplines is students as producers. Students' creativity, ingenuity, and entrepreneurial spirit are driving the medium forward. A consistent recommendation throughout our series has been to let students take the lead in developing new immersive experiences. The emergence of VR labs for both teaching and open access is contributing to this movement.
In our work, we're often asked for evidence of how VR impacts learning. Studies are already under way, but with the field evolving so rapidly, it will take time to gather and analyze the results. In one recent study from the University of Maryland on VR and memory, researchers discovered that students have better recall when working in immersive environments rather than flat computer screens. The research demonstrated an 8.8 percent increase in recall, with more than 40 percent of the study's participants seeing an increase of 10 percent or more while using VR.
Finally, although VR has often been criticized as an isolating technology, we have already seen the move into a more social and collaborative experience. In the future, we will be meeting in virtual 3D spaces, which will present new opportunities to bring experiential and studio learning into the online environment. Some students will be joined by teachers, mentors, and 3D avatars, while others will venture into virtual field trips in the streets of ancient cities and urban landscapes.
Accessibility and Ethics
In studying the new developments in immersive technologies, we have increasingly focused on accessibility and ethical issues. All of the major technology companies have been researching ways to make the technology accessible, but there is a long road ahead. The complexity of immersive environments requires much more than screen readers and alt tags. We want to see more initiatives such as Microsoft's novel Canetroller, which could help the visually impaired navigate immersive environments with auditory and haptic feedback.
The rapid rise in "fake news" on social media is only a foretaste of what may come as immersive environments gain in popularity. We believe that digital literacy questions will take on a new urgency as virtual environments become ubiquitous. In the groundbreaking projects of the past few years, we've seen universities, NGOs, and artists create moving experiences that explore controversial social issues. However, experiences in the virtual world will soon intertwine with the physical world, posing profound questions about the authenticity of our experiences. We see digital fluency becoming a critical issue that higher education will have to address.
The capture and use of personal data in immersive computing present significant challenges. Heat maps that track eye movements are already used by providers of 360° videos, and eye tracking will be part of our future VR headsets. The terms of service that we've seen from the current hardware manufacturers and software providers are hardly reassuring. While there can be tremendous benefits from the appropriate use of data in the learning environment, we cannot let the novelty of virtual experiences blind us to the need to safeguard personal data.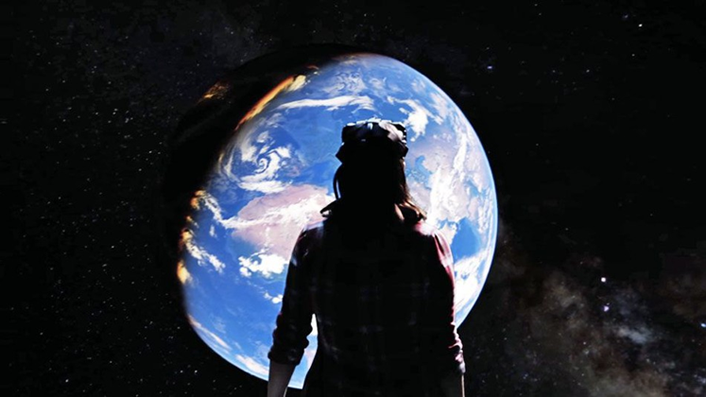 Convergence of These Developments as XR
Extended reality (XR) comprises the entire spectrum of reality, from the virtual to the physical, AR to augmented virtuality, and everything in between. We are at a new frontier where a number of different technology developments will begin to converge.
Blockchain, which is often described as a distributed digital ledger, has already had an impact on financial markets. As XR matures, it may soon become an essential means of maintaining digital records, verifying the ownership of virtual assets and the authenticity of virtual avatars.
As XR evolves, artificial intelligence (AI) will become a driving force in shaping our immersive experiences. AI will allow XR devices to learn user behaviors, drive greater interactivity, develop natural user interfaces, and populate virtual worlds.
Google's recent research in light-field technology could transform XR experiences. The special camera used for light-field capture creates a much more immersive environment by letting viewers look partially around objects. As this technology evolves, XR environments will be more immersive and mirror our real-life interaction with the world.
The growth of these technologies will change the way we think about reality and existence itself—a dramatic, potentially species-defining shift in human experience.
The Future
As we move into the future, we will confront issues of scale, access, and quality of immersive content as we attempt to understand XR's impact on learning. XR will eventually be designed into our eyewear, relegating our desktops, laptops, smartphones, and tablets to artifacts of the past. Technology will no longer be embedded in external devices but will instead become a platform for a new visual language of embodied experiences. We will meet, work, and learn together in virtual and mixed reality environments, eradicating our traditional notions of space and time.
The coming age of XR will reinvent Habermas' concept of the public square, which originated in the cafés of Paris. If the digital highways and screens of the web provided a public space for text, media, and social interaction, we are beginning a transition toward a virtual public square of immersive experiences. We are entering a new space—a "metaverse"—where experiences are available on demand—a world where the lines of the physical and digital are blurred. These developments will not happen overnight, but they will eventually take us into a new realm. We are at the dawn of an amazing journey that will profoundly transform the learning environment, our institutions, and the human experience itself.
---
Emory Craig is Director of eLearning and Instructional Technology at the College of New Rochelle and Co-Founder at Digital Bodies.
Maya Georgieva is Director, Digital Learning at The New School and Co-Founder at Digital Bodies.