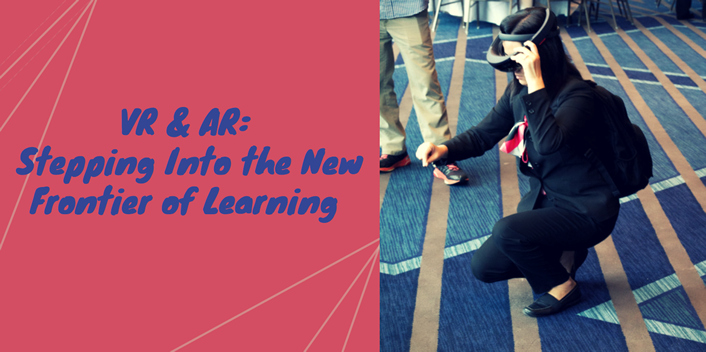 With virtual and augmented reality (VR and AR), we are on the cusp of the next wave of the Digital Revolution. Immersive computing will impact multiple areas of culture and society, transforming the way we play, work, communicate and express ourselves. As we reimagine education in the digital age, immersive computing may offer us one of the greatest opportunities to transform learning.
There are seemingly limitless applications for immersive technologies from venturing back into history, to diving into the molecular structure of the human body or exploring future travel in the solar system. It offers us a whole new level of interaction and sense of presence absent in our current use of technology. With VR and AR, we are no longer the outsider staring at a screen; instead, we become a participant in the experience.
This marks the beginning of a new era in our relationship to technology, one that will blur the lines between the physical and the digital.
This summer, we are teaming up with EDUCAUSE Learning Initiative (ELI) to write a series of blog posts to address the fascinating developments in this field. The VR and AR: Stepping Into the New Frontier of Learning series is co-authored by us, Maya Georgieva and Emory Craig, the co-founders of Digital Bodies – Immersive Learning. Three years ago, we founded DigitalBodies.net as a resource site for immersive technologies. Last year, we became a consulting group and have worked with research universities, liberal arts and community colleges, and not-for-profit organizations.
Over the past three years, we travelled across the United States, Canada and Europe and experienced an astonishing range of VR and AR. We've attended film and game festivals, conferences and industry events. We've been through hundreds of virtual experiences, from the downright disappointing to the truly exceptional. All along the way, we've ignored the hype and overblown expectations to grasp what is really happening in the field. We're not believers in technology, but believers in the potential — and we've seen experiences that make us think deeply about the future of learning in a world of immersive environments.
Over the next three months, we'll discuss the following topics in virtual and augmented reality:
Current and Upcoming Technology Developments
Immersive Learning in STEM
Immersive Learning in Medical Education
Immersive Learning in Digital Humanities
Immersive Learning with Digital Storytelling and AI
Immersive Learning and Physical Space Design
We've cast a wide net with these topics, but it is by no means a comprehensive list. It reflects the discussions, questions and interests of participants both in our workshop at the 2017 ELI Annual meeting and the ELI Webinar we led this past spring (see transcript and other downloadable resources).
Each of our forthcoming posts will explore opportunities, feature current implementations and share key insights. We hope to also create a space for the larger community to participate by sharing ideas and practices from ongoing initiatives.
If you already have a project or are implementing one, we'd love to hear from you. You can share the details ahead of time by submitting this form. And please share your thoughts by commenting and participating in the discussion part of the posts! The series will culminate this fall in an ELI Brief on immersive learning.
Today, we look back and wonder how we ever lived without our mobile devices a decade ago. A decade from now, we may wonder how we ever lived without virtual and augmented reality. Immersive technologies have the potential to transform how we teach medicine and science, interact with data, create narratives and experience art, literature and history. We hope you'll join us on this incredible journey of discovery, which we believe will shape the future of our students and institutions.
---
Emory Craig is Director of eLearning & Instructional Technology, College of New Rochelle.
Maya Georgieva is Consultant / Chief Innovation Officer @ Digital Bodies – Immersive Learning, New York University.