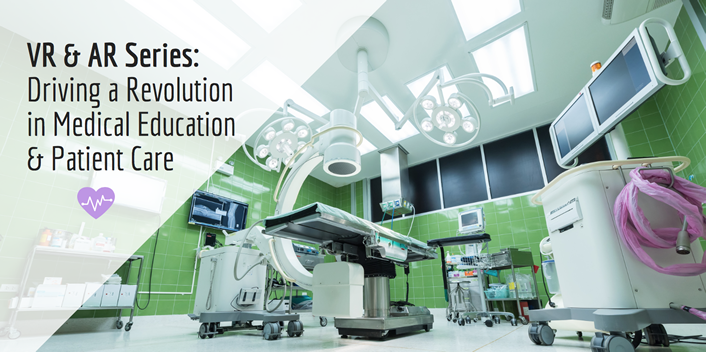 Other Posts in this Series
One of the most exciting developments in virtual reality has been its rapid entry into medical education and healthcare. It is in the medical field that VR and AR seem to be not so much technologies of the future as of the present. Researchers, doctors, and nurse educators are discovering innovative ways to leverage immersive technologies and transform both healthcare teaching and practice.
We will highlight projects in treatments and therapy, medical education, and patient care and empathy. Some of the projects feature partnerships across university and academic hospitals, technology companies, and VR startups.
VR in Exposure Therapy and Treatment of Anxiety Disorders
With VR as a deeply immersive and visual medium, it's not surprising to find its use in exposure therapy. One of the longest running projects has been the use of virtual reality to treat PTSD in the military. USC's Bravemind is a clinical, interactive VR platform in use at over 100 university centers, military bases, and veterans hospitals. Bravemind offers patients virtual environments that mirror their traumatic experiences. A trained therapist controls the emotional stimuli and monitors their stress responses.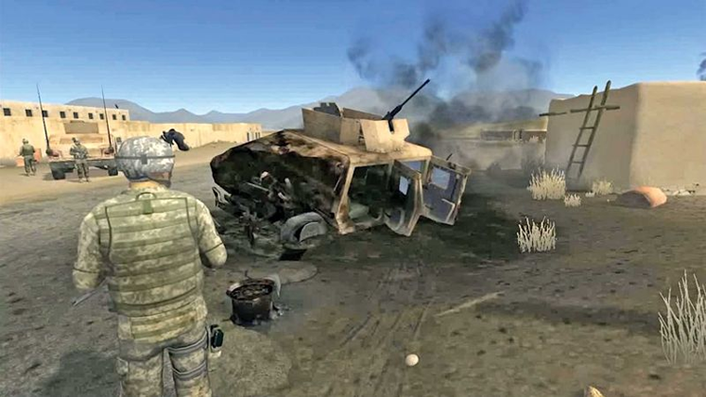 According to the Anxiety and Depression Association of America (ADAA) some 40 million people suffer from anxiety disorders and 19 million from specific phobias. Companies such as Virtually Better are developing evidence-based virtual reality programs to address the fear of flying, claustrophobia, public speaking, and other phobias. There are projects underway to "democratize" the treatments, expanding them to the mass market. For example, in partnership with Stockholm University and the Swedish government, Mimerse is developing gamified therapeutic tools using virtual reality to treat arachnophobia without the use of therapists.
HoloLens and Medical Education
Some of the most innovative projects using immersive technologies for medical education rely on Microsoft's mixed reality device, HoloLens. At Case Western Reserve, laboratories with cadavers and 2D illustrations in medical books are being replaced by HoloLens headsets. Using the award-winning HoloAnatomy app, medical students can rotate and virtually dissect a body to see the structures, systems, and organs.
HoloPatient is a Mixed Reality project undertaken through Pearson's partnership with Microsoft HoloLens. Pearson is working with Texas Tech University Simulation Program and San Diego State University School of Nursing. Using Holographic Capture (HCAP) technology from Microsoft, professional actors were filmed simulating real-world conditions. The video captures are transferred into Holograms that can be placed into any environment to let students conduct patient assessments and make a diagnosis. In the future, students will be able to interact with the holographic content through AI engines.
Another HoloLens for Education project by Leiden University and the Leiden University Medical Center (LUMC) in the Netherlands explores innovative ways to help students understand human anatomy. Medical students work with virtual anatomical models that mirror the movements of their own bodies, helping them understand anatomy from their own physical movements.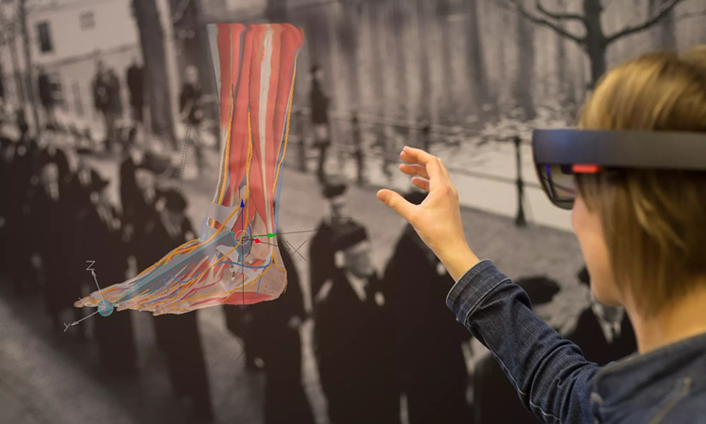 Virtual Reality in Medical Education
More deeply immersive experiences are illustrated by the partnership between Oculus VR and Children's Hospital Los Angeles (CHLA). Here, virtual reality is used to replicate high-risk pediatric trauma situations from actual cases. The training scenarios come with all the elements that healthcare providers can face in real-life including,
. . . paramedics rattling off symptoms, nurses and techs urging you to make a decision, and distraught parents praying for their child's survival.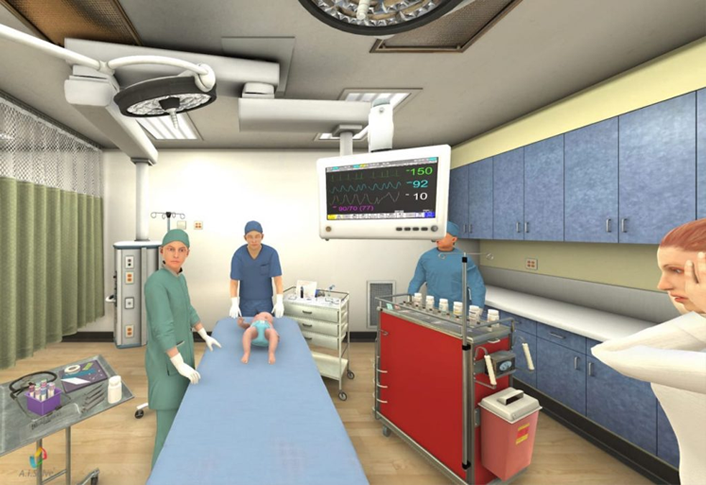 At Stanford University, students are using VR headsets in order to see inside an infant's beating heart to explore congenital heart defects. Medical students can walk around inside a beating heart, manipulate it and observe how a defect impacts normal functions of the organ. David M. Axelrod, MD, clinical assistant professor of pediatric cardiology at Stanford University School of Medicine, says that:
"The heart is a complicated three-dimensional organ, and it's really hard to describe what's going on inside of it — especially when something is going wrong . . . Virtual reality eliminates a lot of that complexity by letting people go inside the heart and see what's happening themselves — it's worth way more than a thousand words."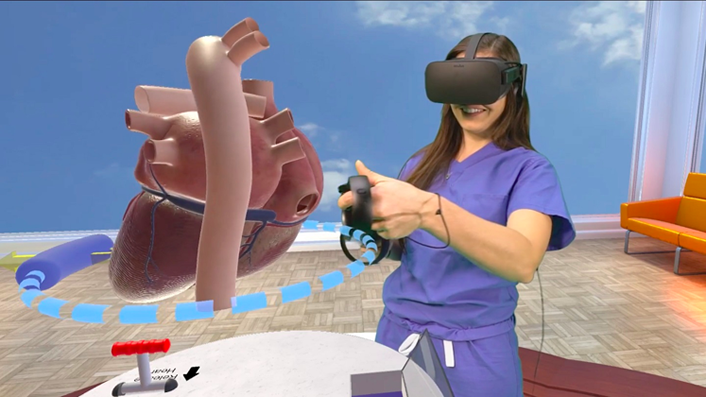 Surgical Theater's visualization platform has been deployed at a number of academic hospitals, including UCLA, New York University, Mayo Clinic, Mount Sinai, and Stanford University. Mirroring the idea of military fighter pilots who pre-fly their missions, they offer a variety of medical and surgical simulations. One of their applications is VR Studio, a collaborative networked and multi-user environment. Referred to as a VR classroom, it enables the surgeon or professor to present a case and then demonstrate surgical techniques and approaches.
VR and Patient Empathy
Virtual reality can also enhance empathy between both healthcare providers and families by giving them the opportunity to step inside the experience of a patient or family member. At Stanford's Lucile Packard Children's Hospital, pediatric cardiologists are replacing traditional diagrams and models with interactive visualizations to help families understand their children's heart conditions.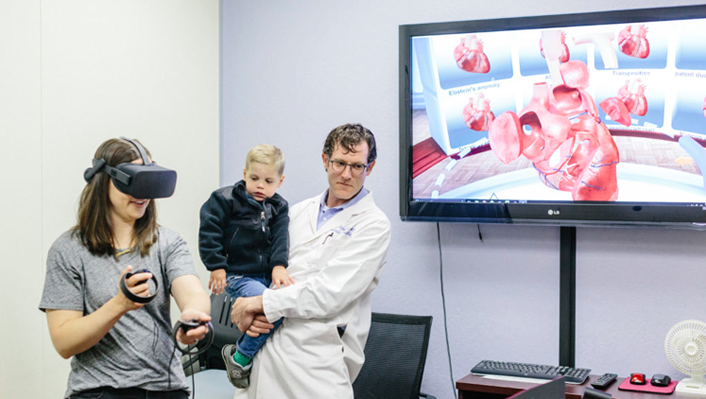 At the University of New England, students are gaining a holistic understanding of patients with vision impairment or hearing loss. Using curated content from Embodied Labs, they see what the world is like for an elderly African American male patient with advanced macular degeneration.
Patient Recovery and Wellness
Many of these applications will benefit from the ongoing research in biofeedback monitoring. MindMaze is developing a highly innovative VR platform to map and respond to brain activity for applications in healthcare. VRHealth is exploring ways to expand the effectiveness of using VR in therapy. Their rehabilitation software, VRPhysio, motivates patients to perform specific movements, using games, movies, and 360° interactive guides. What makes these applications incredibly valuable is the precise analytics they collect that can lead to further customization of patient care.
The Future of VR and AR in Medicine
These are just a few of the many cutting-edge examples in the use of immersive technologies in medical education. VR and AR help doctors, nurses, and students build mastery through real-life scenarios, share knowledge, prepare to solve problems, and save lives.
VR, AR, and Mixed Reality are leading to innovations in the learning environment, providing new opportunities to learn-by-doing for increased retention and proficiency, share valuable resources globally, and offering savings in the high cost of training and time. The developments we see today in medical education — leveraging immersive visualizations, embodied simulations, and capturing personalized analytics — may be a hallmark of what's to come as VR extends its reach through the sciences, the social sciences, and the liberal arts.
---
Emory Craig is Director of eLearning & Instructional Technology, College of New Rochelle and Co-Founder at Digital Bodies.
Maya Georgieva is Chief Innovation Officer at Digital Bodies – Immersive Learning