How can higher education technology leaders and their teams help students not only succeed but thrive?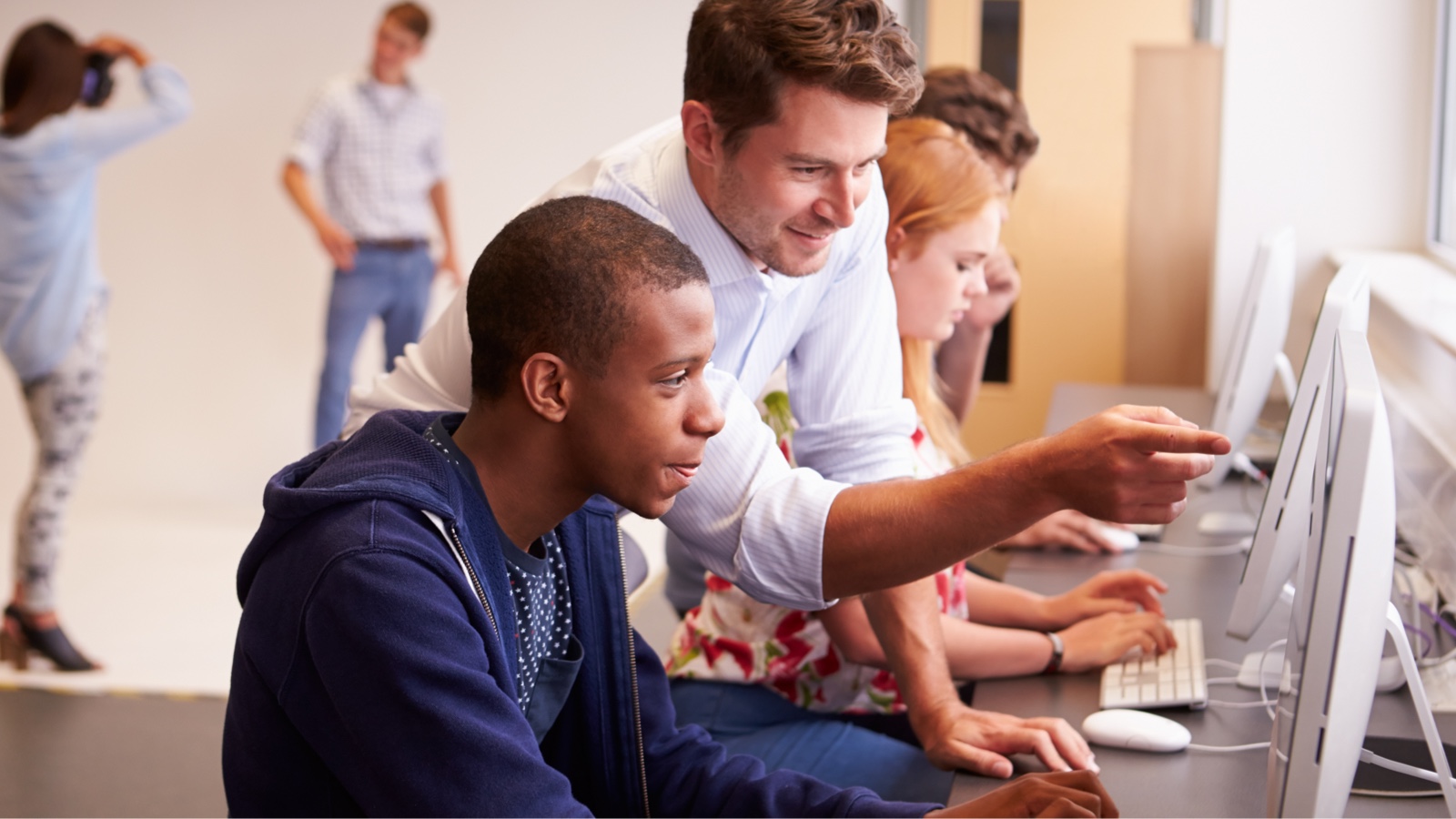 Today's students enter higher education facing a more complex, expensive, and uncertain environment than ever before. Consider the statistics. Only 65% of students feel a sense of belonging. One student I talked to put it this way: "In my first year, it felt like chaos to find my place." About half of 30-year-olds earn more than their parents did, down from 92% fifty years ago. Just 11% of graduates feel like they are thriving in five critical aspects of well-being: purpose, social, financial, community, and physical.Footnote1
But there is hope: 79% of surveyed graduates said that going to college helped them grow personally and intellectually, 70% noted that it opened doors to job opportunities, and 65% added that it helped them develop knowledge and skills for work. In addition, nearly 80% of graduates increase their salaries enough to offset net tuition in 10 years or less.Footnote2 Another student told me: "By talking to people, I made new friends [and] found out about amazing job opportunities and events."
The question is, how can higher education technology leaders and their teams help current students not only succeed in getting a degree but also thrive in key aspects of well-being?
Let's start by recognizing the contributions that technology makes to the student experience. Of the approximately 70 touchpoints of experience tracked in the "Student Experience Snapshot," a 2023 national survey, students were most satisfied, at 78%, with their student services portal, 70% were satisfied with their learning management system for accessing and engaging with course materials, 75% were satisfied with software access, and 68% were satisfied with tech support.Footnote3
With this success in mind, the next frontier is clear: go beyond providing and supporting tools. We need to create partnerships and offer programs that increase and enhance the use of technology—and do so in a way that improves students' wellness at a time when 33% of students have been diagnosed with anxiety and 26% with depression.Footnote4 I offer nine suggestions below for using technology tools, support services, training, and events to help students find their people, program, and career paths.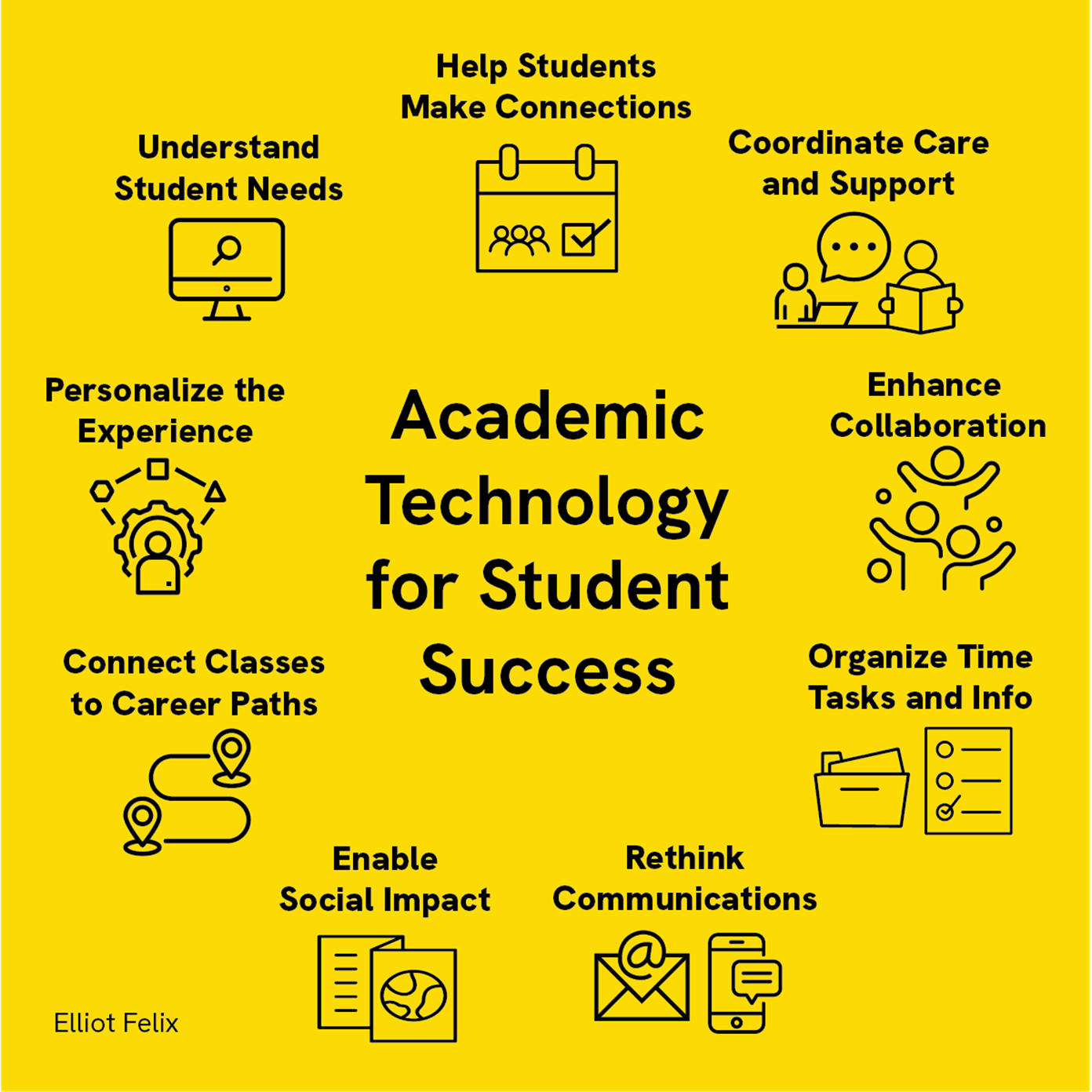 #1: Understand Students' Needs
The foundation of any new program, service, or technology is an understanding of students' activities, expectations, and needs—and how all of these are changing. You can use a mixed-methods approach to engage stakeholders purposefully.Footnote5 This might include not only traditional surveys, focus groups, and interviews but also innovative tools like dscout for activities such as photo journaling. Use this as an opportunity to reach students who might be disengaged and not responding to surveys. For example, when Smith College wanted to uncover needs for its new library, students used dscout to submit photos and comments on where they got inspired and where they liked to concentrate.Footnote6 Be sure to combine objective data (e.g., logins and checkouts) with subjective data (e.g., students' satisfaction with what they're logging into or checking out). Look externally too at what students are saying on ratings and reviews sites like Niche. Then, use tools like personas and journey maps to distill students' needs and imagine ways to meet them. A Student Experience Canvas worksheet can help align team members on the experience for each student segment and how to help.
#2: Help Students Make Connections
While technology can be isolating and anxiety-inducing, it can also help students find their people—on campus and online. Belonging is the foundation for success in the college/university experience and is the lens through which students see their experience. But as noted above, more than one-third of students don't feel a sense of belonging, and this number is often lower for students who are part-time, commuters, and the first in their family to go to college. You can partner with student affairs and student success units to help students make connections. Social media channels, event calendars, student engagement portals, student organization platforms, and text-based communications can all help students connect. And exciting tools for connection are emerging. One example is Nearpeer—in use at California University of Pennsylvania and Loyola University, New Orleans—to help students connect over shared interests. WGU Labs research found that 91% of students using the app made a peer connection, and from this initial connection, 41% made a "real life friend."Footnote7 Another example is Penn State's Student Engagement Network, an initiative providing students with experiences that help them "find your why."
#3: Coordinate Care and Support
Changing demographics, regulations, and technology have made colleges and universities more complex. New, well-intentioned offices, centers, and programs are being created to support students, but the various new options also make it harder for students to navigate. Students may get the "runaround" from office to office, platform to platform, or website to website. Why do the space booking systems in the library, the student union, and the business school all differ? The National Survey of Student Engagement (NSSE) found that a supportive environment is a strong predictor of satisfaction and engagement.Footnote8 To support students and end the runaround, you should look for opportunities to consolidate and centralize. A Rand Corporation study found that a physical one-stop student support shop is associated with a three percentage point increase in retention. When Portland State University revamped its student portal, for example, it saw a four percentage point increase in retention. Montgomery County Community College (MCCC) also found success in updating its student portal, which was able to serve as a robust hub for support resources and also as a proactive outreach tool to students.Footnote9
#4: Enhance Collaboration
Teamwork is at the top of the 2020 list of skills that employers want, according to the Association of American Colleges and Universities longitudinal employers survey. But only 42% of students are satisfied with "studying/working with peers outside of class."Footnote10 While colleges and universities are providing great collaboration tools like Zoom and GroupMe, they still need to help students collaborate better. This might include training not only on how to use the tools but also on how to set goals, define roles, schedule tasks, store information, and check on progress. Some teaching and learning centers offer these resources (e.g., Harvard University, Vanderbilt University, and Carnegie Mellon University). You can go beyond this with hands-on instruction and coaching. In addition to supporting projects with technology and training, technology departments can provide experiential learning opportunities through student employment that can include internships, capstone projects, and mentoring.
#5: Organize Time, Tasks, and Information
As the number of tools, group projects, events, and deadlines increase, so too must students' ability to organize. One student I talked to put this perfectly: "You have to have an organization system. I went into college thinking I'd have more time since I wasn't in class all day, but that wasn't the case." This becomes even more important as learning increasingly moves to online and hybrid formats.Footnote11 You can partner with your student success office to offer tools and training on time and information management. There is a growing list of AI-powered calendaring tools, including Clockwise and Motion. Many colleges and universities (e.g., Arizona State University) share time-management tips.Footnote12 You can also point students to sources such as College Info Geek or Gohar's Guide.
#6: Rethink Communications
All colleges and universities send their students too much email. One university found that just four offices (registrar, admissions, student accounts, and financial aid) sent 1,200 emails to students in the one-year onboarding period. On average, only about one-quarter to one-third of emails to students get opened, but administrators act as if they all do—and then are flummoxed when deadlines and events get missed. You should assess the messages you send today and then ruthlessly prioritize and consolidate your email messaging. You can use other channels—like the college/university app, YouTube, TikTok, Twitter, and texting—when they are a better fit and may lead to better engagement and persistence.Footnote13
Purdue University created the Purdue Communicators Council (PCC) to coordinate messaging and share best practices; the university also grew its YouTube channel from 1.96 to 27.9 million views in one year. Hartwick College focused not only on sending less email but also on sending better email; when the emails were made shorter, more scannable, and more graphic, students interacted with them nearly five times more often. Chatbots can also help by answering routine questions to free up staff time and providing a platform environment where students may feel more comfortable asking sensitive questions than they would to a person.Footnote14
#7: Enable Social Impact
Today's students want to make a difference, but many don't get the chance to participate in service learning projects. Only 52% of students are satisfied with their institution's service learning programs.Footnote15 Many students have ideas but don't know where to go to develop them; if a student wants to create a marketing plan for a local nonprofit or start a film series on social justice, the entrepreneurship center at the business school isn't a good fit. Students need space and technology to create. They also need workshops and events to build skills, find collaborators, and showcase their projects. One example of this is the University of Rochester iZone, a space for students to create social, cultural, economic, and community impact. Technology plays a key role in all of this, from the hardware and software for creating and communicating to specific tools for posting projects, job descriptions, and more.
#8: Connect Classes to Career Paths
Students lose motivation and time when they don't see how their classes might connect to a career. Using assessments like Self-Directed Search is a start, but identifying a role model whose path they might follow is even better. Unfortunately, only 54% of students are satisfied with how they are able to explore career options.Footnote16 Technology—and partnerships with career and alumni centers—can help connect students to career role models. You can build on pandemic-era investments in HyFlex classrooms and updated technology for seamless remote presentations. Get students and employers on Handshake to explore internship and job opportunities. Teach students to build remarkable LinkedIn profiles to showcase their skills and experiences, make connections, and inform their search. Instead of offering career planning and development as an add-on for students in spare time they don't have, integrate it into the student experience and curriculum. Examples include the "life design" programs at Tulane, Johns Hopkins, Stanford, and Arizona State the Ethnographies of Work class at Guttman Community College. If nothing else, show them how to get great head shots.Footnote17
#9: Personalize the Student Experience
Responsibly gathering and using data as you help students use technology to get the most out of college is an opportunity to create a whole greater than its parts. What's better than knowing how many people read a newsletter, went to a workshop, booked a consultation, or met with a mentor? Knowing who did these and what the correlations are among them. What's even better? Knowing what to do as a result! One example here is how Georgia State uses data to enable proactive advising. For more than ten years, the university has been reviewing hundreds of data points daily for 50,000-plus students to identify which ones to reach out to; through these and other efforts it has achieved parity in graduation rates across race and income.Footnote18 By gathering and using data, you can not only meet students' needs but anticipate them.
Putting It All Together
At a time when people are increasingly questioning the value of higher education, technologists can help students succeed and take full advantage of everything their college or university offers. Understanding students' needs, assisting students to make connections, enabling coordination of care and support services, enhancing collaboration, promoting the organization of their time and information, rethinking communications, fostering social impact, facilitating career exploration, and personalizing the student experience—this is how to help students get the most out of college.
Notes
---
Elliot Felix, the author of How to Get the Most Out of College, is Founder of brightspot strategy, a Buro Happold Company.