The first article in this series argues that instructors who successfully engaged students during the coronavirus pandemic adapted their thinking, mustered courage, and put heart into their teaching. In this article, an instructor explains how he implemented an alternative approach to teaching—interpretive discussion—and describes the benefits that have extended to his in-person classrooms.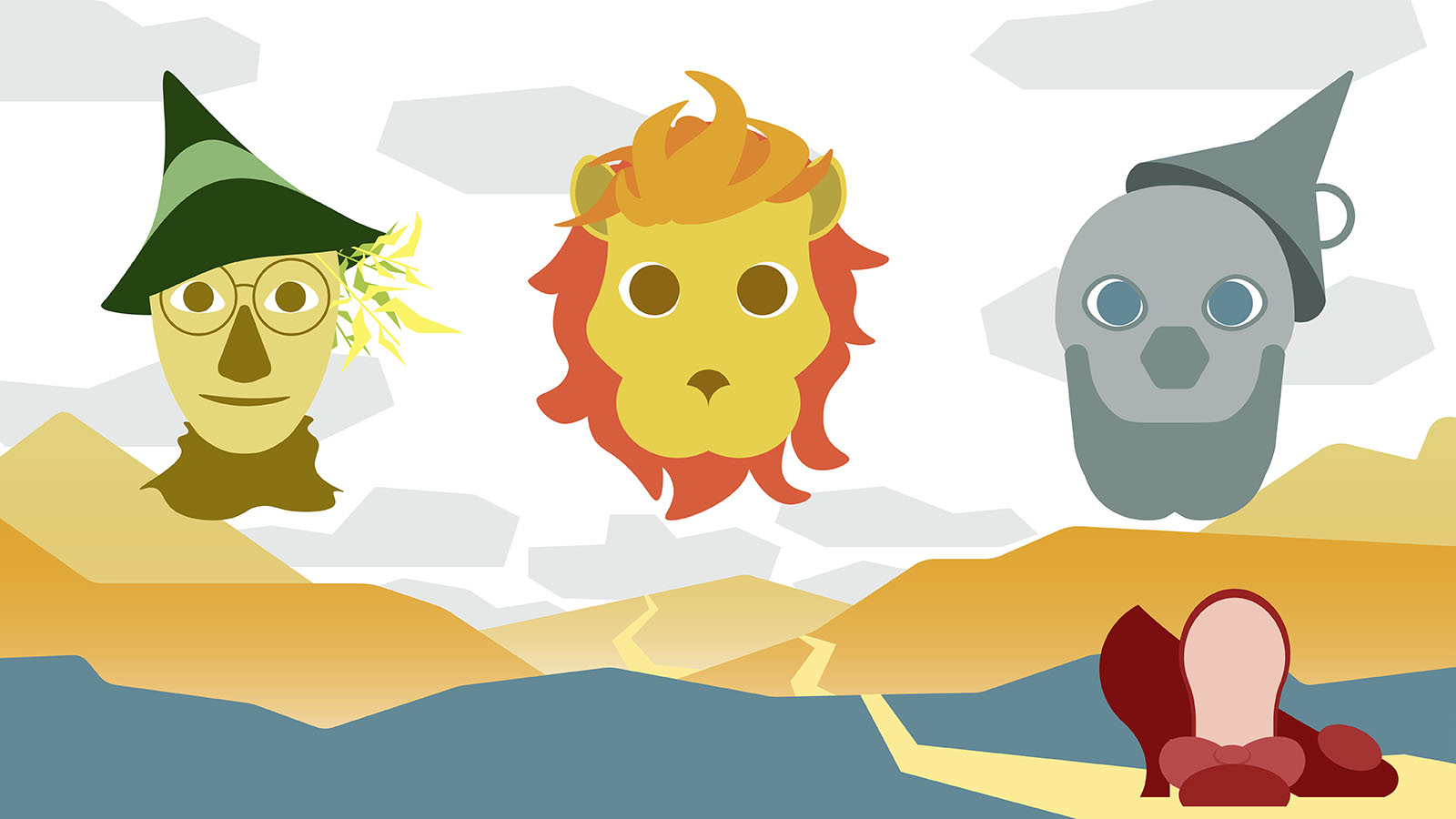 Teaching during the second semester of the COVID-19 pandemic brought new challenges to higher education instructors. In the fall of 2020, Penn State Associate Professor Fred Fonseca was scheduled to teach a remote synchronous undergraduate course about how technology shapes the world. He wondered how he could meaningfully engage students he would never meet face-to-face in the fall semester. He started with the concept of discussion.
Fonseca wanted to plan a course where students would discuss original philosophical texts about technology and society. In his pre-pandemic teaching experience, discussions about philosophical texts were verbal and took place in a physical on-campus space. So, given the new constraints of pandemic teaching, he first adapted his thinking about location. "Location" could be a shared document rather than a populated classroom. Second, he adapted his thinking about communication. Verbal communication is both oral and written. What if Fonseca created a shared version of a philosophical text and asked students to comment on it synchronously in writing?
To ensure that students would actually read each other's comments and engage with critical ideas, Fonseca determined that he needed facilitators—people to prompt students to read the assigned text, respond to comments, converge on key ideas, and explore unknowns. He invited eager, enterprising, experienced undergraduate student learning assistants (LAs) to work with him in his newly structured course. The LAs would play a pivotal role in working with individual students as they read the assigned text during class and with groups of students as they discussed the text. Teaching a newly designed course that relied heavily on LA support during a semester in which Fonseca would not meet his students face-to-face took courage.
With decisions about course format and facilitation made, Fonseca considered one final question: What would his role be? Would he be merely an activity designer or was there a way for him to engage with his students? He opted to join students as they responded to the text in the shared document. He actively read comments, answered questions, and coached both the students and the LAs. At the end of each week, Fonseca provided a debrief of discussions, adding his expert knowledge to students' understanding of the readings. He put his heart into teaching, committing to the roles of encourager, observer, and active participant. He was no longer on one end of a virtual classroom; he was in the shared virtual space with his students—listening, nurturing, commenting, and sharing.
Fonseca's method is similar to an established method often used in K–12 education and sometimes in higher education: interpretive discussion.Footnote1 This method of engaging students with critical textual analysis aims to teach students to comprehend texts, infer meaning, and make evidence-based arguments about the meaning of texts, resulting in a defensible interpretation.Footnote2 Interpretive discussion also helps students develop listening skills and teaches them to value the opinions of others.Footnote3
Below, Fonseca and I explore his version of this methodology and discuss his and his students' experiences with the remote synchronous and face-to-face versions of this course.
Lisa Lenze: I've heard that you and your students have had novel and productive experiences with your version of a remote synchronous course in which you incorporate critical analysis of texts. Could you explain why you decided to take this approach?
Fred Fonseca: I was assigned to teach an "emerging issues and technologies" course for students pursuing a major or minor within the Penn State College of Information Sciences and Technology. Because students in any of our majors and minors could register for the course, I couldn't require advanced computational skills. So, I decided to focus on reading and understanding texts about technology and society and reflecting on the meaning of those texts in our lives today.
I wanted to read the texts with the students. Reading together seemed like a good way to get students to engage with the reading and for me to engage with them. I had this image of all of us jumping or pouncing on the text. I hoped we would enjoy what we discovered together.
Lenze: Your passion for this discussion methodology is evident. I can see the conviction in your eyes as you share your goal of reading texts with students and the excitement in your gesturing as you describe everyone pouncing on the text. Where did your inspiration to do this type of teaching come from?
Fonseca: Much of my inspiration stems from professional conferences I have attended. The speakers have a very engaging way of asking questions. For example, most philosophy texts are difficult to read. One paragraph contains a lot of meaning. To unpack the meaning, I write to myself about the text. For my course, I envisioned a text with highlighted passages and annotations throughout—only now there would be seventy people working with the text at the same time.
I'm a technology guy, so I wanted a "tool" that would facilitate this type of student engagement—something that would allow questions and answers to be incorporated. I wanted the tool to function as an invitation to read the text—today and together. A shared document fit my requirements.
Lenze: Can you describe a typical class period, including what you and your students do during class?
Fonseca: There are two versions of the course—one with three 50-minute lessons and one with two 75-minute lessons. I'll describe the version with three 50-minute sessions because it's the best setup.
This class typically meets on Mondays, Wednesdays, and Fridays. On Mondays, I assign the designated text for students to read. For example, during one semester, we spent a lot of time reading The Question Concerning Technology by Martin Heidegger and "Further Reflections on Heidegger, Technology, and the Everyday" by Hubert Dreyfus and Charles Spinosa. Some students skim the text before class, but they aren't required to do so. Students are assigned to reading groups, and each group has its own version of the shared document. A facilitator, either one of my LAs or me, is assigned to each group. Everyone reads and comments on the shared text. The LAs and I respond to comments in the shared document for our respective groups. It's very interactive.
On Wednesdays, students create a question. During the first half of the Wednesday session, students discuss the text, their question-and-answer interactions, and their individual comments. The discussion is aimed at interpreting the text and, ultimately, writing a question related to the text; i.e., quoting a segment they would like to understand further and asking a question based on their original comments. During the second half of the Wednesday class period, the student groups swap questions and discuss them, with the goal of arriving at an answer to the question, which they will present to the class at the end of the week.
On Fridays, selected student groups give their presentations. To engage listeners, each group must prepare and pose follow-up questions for use after their presentation. Sometimes, this turns into a heated debate. I enjoy watching students get into the discussion.
Lenze: How large are the groups, and how do you choose which groups present on Fridays?
Fonseca: There are actually two types of groups: presenting groups, which are smaller groups of seven to fourteen students, and reading groups, which may include two or more of the presenting groups. The numbers change based on the total class enrollment.
The remote synchronous version of this course always has seventy students. One time, I had seventy students and only one graduate teaching assistant (TA). We split the class in half for the reading groups, and the TA and I each managed one shared document with our assigned thirty-five students. When it was time to discuss the text and formulate questions, we divided our thirty-five students into five groups of seven. We popped in and out of Zoom breakout rooms to check on students' progress.
Another time, I had four top-notch undergraduate LAs. The five of us had two seven-student presentation groups, for a total of fourteen students each.
I have also taught the course in residence. When students meet to discuss the text on Wednesdays, the LAs and I situate the two groups close to each other so we can easily turn from one presentation group to another.
At the beginning of the semester, I randomly choose groups to present each Friday. After the first few weeks, I make sure that every group has had a turn. About five groups can present during a single class period. By the end of the semester, each group has presented several times. In the current version of the course, the groups are larger, and all of the groups present each week.
Lenze: It sounds like there are many opportunities for students to participate. Are you satisfied with the level of student engagement?
Fonseca: Most students are active. On Mondays, everyone is required to interact with the text. Some students are more vocal than others during the Wednesday small group activity. And on Fridays, some students sit idle as other groups present. I'm still working on this. That's why, more recently, I decided that the group that created a given question needed to comment on the answer presented by the group assigned to investigate the question. This practice has encouraged more engagement. I'm also thinking of requiring students to come to class on Fridays with a question for the groups that are scheduled to present. If they come prepared, I can ask a student from group seven, for example, "What more did you want to know?" I've also considered adding polling to the discussions on Fridays. It's a work in progress, but I am pleased with how many students comment on Mondays and the number of students who engage from time to time on the other two days each week.
Lenze: Has anything surprised you with this teaching method?
Fonseca: The students come up with some very good questions—especially when the LAs prompt and guide them. Because the class is so large for a discussion seminar, it depends heavily on TA or LA facilitators. Whether in remote synchronous or in-person modes, the course works fine if I have good facilitators. They help guide the textual analysis and help students formulate rich questions, ultimately leading to a thoughtful interpretation. I am impressed with some of our Friday discussions.
Lenze: Do students struggle with what you are asking of them?
Fonseca: Yes. Students sometimes fizzle out because the reading is thick and dense. I notice that some groups comment less toward the end of the article. Occasionally, students split up the assigned reading among their presentation team, so they have the whole article covered!
Also, formulating a question is a skill. Some do it quickly, and others don't have one by the end of the Wednesday class period. In the latter case, I encourage more reflection before Friday and suggest that they use something in the text they like or want to learn more about as a starting place for writing a question. It doesn't come easily for some students.
Lenze: Does it take more work to run this sort of course than it does to run other courses?
Fonseca: The bulk of the work is in the planning. The delivery doesn't take more work than what I do in other courses.
The first time I used this teaching method, I created the questions based on what I read in students' comments. When I asked students for feedback, they said responding to my questions was getting repetitive. That's why I decided to ask each student group to generate the questions. As a result of this change, I'm better able to sustain student interest, and I save time on planning course activities.
However, even if it doesn't take more time, it feels much more intense because content is being created as the course is delivered. This kind of engagement is energy-consuming for the instructor. At the same time, it's very rewarding.
Lenze: You mentioned that one of the benefits of this type of course is sustaining students' interest by engaging them in question generation. What are some other benefits?
Fonseca: In their course evaluations, students say that they find the structure and the content interesting. Students tell me they like discussing artificial intelligence (AI) and society.
Initially, students are unsure and ask why an instructor would seek their input on the text. But as the semester progresses, they feel more comfortable and enjoy creating the discussion content. They also learn to think for themselves and analyze, debate, and interpret texts. One student wrote, "This is the first time I have gained a different vision of AI that is not Google's or Facebook's view of AI. I can take a critical view, myself." This comment captures precisely what I want for my students. The discussion methodology helps me accomplish my goal.
Just as important, students feel valued. When my LAs and I read and respond to students' comments, we show that we respect their ideas. I hold myself and the team of LAs to a high standard when writing comments. We don't just write, "This is great!" We engage meaningfully with students' ideas, and answer questions directly. This type of engagement matters to students.
Lenze: Given the benefits you and your students experience, where do you hope this will go?
Fonseca: I want to continue teaching in this way. I like the discussions. I like assigning texts that interest me. I'm motivated to discuss the text because it's what I'm reading right now, and I've noticed that students are motivated because they are challenged and feel respected. Of course, the fact that the seminar is about emerging technologies helps facilitate instructor motivation, too.
I will vary the media more in future versions of the course than I did this semester. In the best version of the course, I included original texts, journal articles, magazine articles, movies, YouTube videos, and podcasts. Some of the media (YouTube videos and podcasts) discussed the original reading or talked about it somehow. The movies were about technology in general. Students liked the variety, and it kept the course from getting repetitive.
While I started using this method in a remote synchronous course, I found it works just as well in person. The only caveat is that the in-person course needs to be scheduled in a room with university laptops, or students must bring their own laptops to class.
Lenze: What advice would you offer someone who wants to try using this teaching methodology in their courses?
Fonseca: Find interesting texts and use a variety of supplemental resources. The key is giving students a varied experience in terms of subject matter and type of content—text, video, and audio.
Consider inviting authors of texts to join the class for a day or a week. In my most successful version of this course, I asked the authors (colleagues from down the hall) of two of the assigned readings to join us in class. Using their newly acquired skills to interact with the authors was empowering for the students, and being present while students read and commented on their work was enriching for the authors. One colleague told me it was "jaw-dropping" to watch the comments popping up live on their texts. Imagine seventy students reading and commenting on your work during a fifty-minute period!
Recruit good facilitators. I can't say enough about the assistants and their role in this type of course. If I didn't have this help, the class size would need to be smaller, and the course wouldn't be as stimulating or as fun. With a skilled graduate TA or several experienced undergraduate LAs whose verbal interactions and written replies are insightful and positive and challenge students' thinking, many students can reap the benefits of careful, meaningful textual interpretation.
Notes
See, for example, Sophie Haroutunian-Gordon, Turning the Soul: Teaching through Conversation in the High School, (Chicago: University of Chicago Press, Chicago, 1991) and Sophie Haroutunian-Gordon, "A Study of Reflective Thinking: Patterns in Interpretive Discussion," Educational Theory 48, no. 1 (March 1998): 33–58.

Jump back to footnote 1 in the text.

Sophie Haroutunian-Gordon, "Interpretive Discussion: A Route into Textual Interpretation," Education Week, April 16, 2014.

Jump back to footnote 2 in the text.

Elizabeth Meadows, "Learning to Listen to Differences: Democracy, Dewey and Interpretive Discussion," Journal of Curriculum Studies 45, no. 4 (February 2013): 441–461.

Jump back to footnote 3 in the text.
---
Lisa Lenze is Director of Teaching, Learning, and Assessment in the College of Information Sciences and Technology at The Pennsylvania State University.
Fred Fonseca is an Associate Professor in the College of Information Sciences and Technology at The Pennsylvania State University.