Teesside University and Jisc UK have developed a Digital Learning Design Framework and Toolkit to help course leaders and facilitators design more effective courses and programs of study.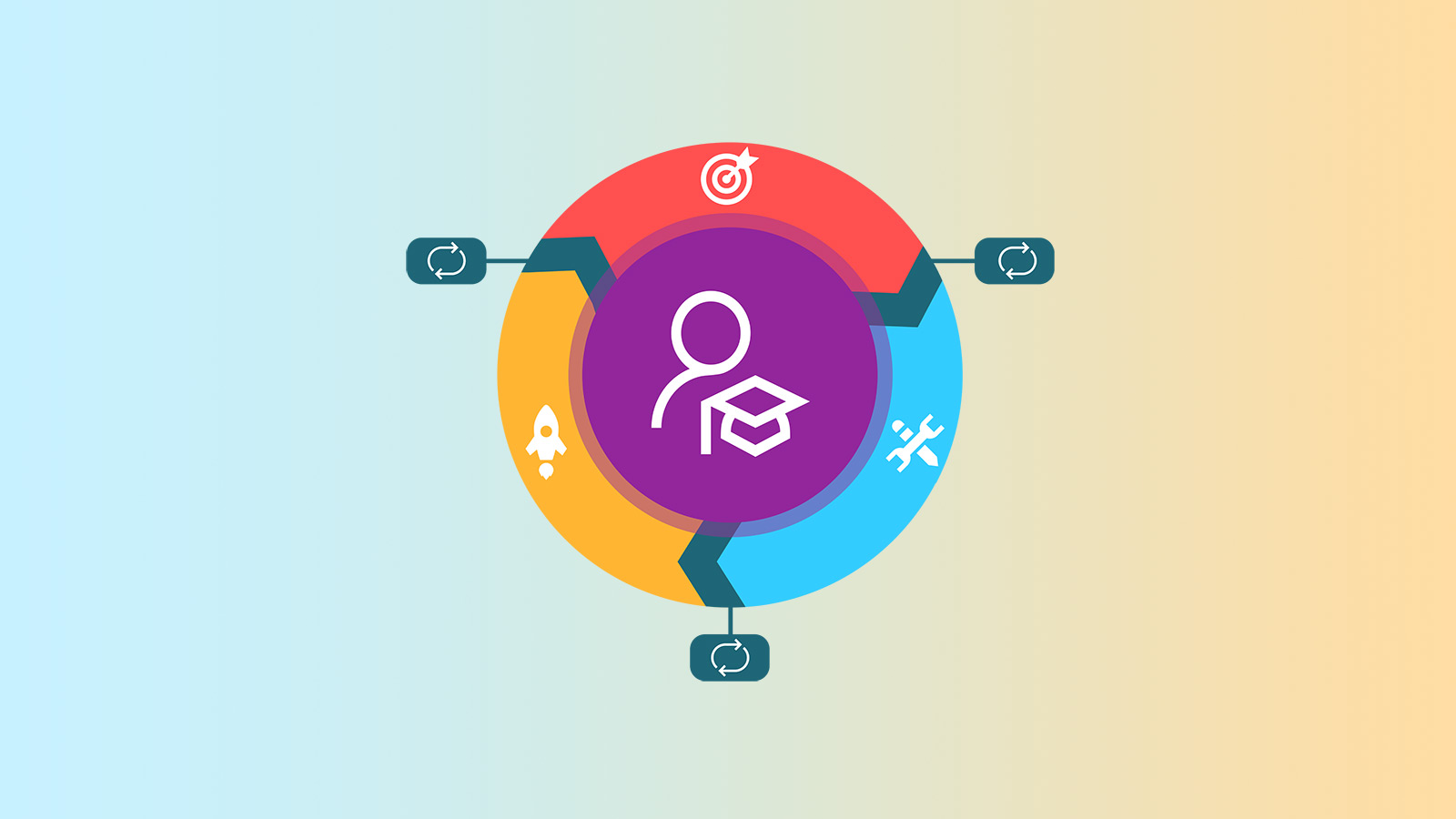 The approach course teams take when designing courses and programs of study is critical to student success. Creating active and authentic learning experiences is a vital aspect of learning design. Designing such experiences using digital solutions and ecosystems requires course teams to continually develop their digital literacy within the context of various academic disciplines and the potential professional pathways of those disciplines.
With these things in mind, Teesside University and Jisc UK have developed a Digital Learning Design Framework and Toolkit. The framework and toolkit were created to help nurture and cultivate the digital confidence and fluencies of teaching staff who design and deliver courses, challenging them to think about learning design and the intersection of pedagogy and digital solutions to map the student learning journey. The framework and toolkit provide course teams with opportunities to do things differently.
This collaborative effort combines national and international perspectives on digital learning design. We (the authors of this framework) have over five decades of combined experience in online education, starting our careers as academics or learning designers and moving into leadership roles.Footnote1 The toolkit contains seven sections and is intended for two audiences:
Course leaders can use the toolkit with their course team to inform their course designs.
Facilitators who lead course design events attended by course teams can use the toolkit to inform their course designs.
There is no set order in which the sections need to be addressed, but all sections must be considered during the course design phase. Course leaders and session facilitators can tailor their use of the toolkit to suit their needs, going through the sections in the best order for their specific scenario.
Teesside and Jisc collaborated on the toolkit to share guidance that has helped Teesside transform its course design practices. Drawing on national and international perspectives, we hope to provide a scalable toolkit that incorporates a number of key considerations for effective course design and allows course designers, course teams, and facilitators to contextualize various learning design components within an academic discipline. Using the Digital Learning Design Framework and Toolkit can help not just one department or academic unit but an entire institution move toward effective and creative learning design in a structured and supportive way, enabling scaled-up, transformative change.
By supporting course teams across learning organizations as they develop a vision of how to integrate digital solutions, we aim to future-proof the learning and teaching experience. We hope that course teams will use the toolkit to reimagine their academic practice and teaching. The key learning design principles in the toolkit are aimed at helping course teams embed creativity, resilience, and adaptability into courses and academic disciplines and reimagine assessment design.
The toolkit includes a step-by-step process for crafting thoughtful and meaningful courses that place the student journey at the center of learning design. It also offers a benchmark for developing and maintaining a rigorous, high-quality academic offering that features the best digital learning experiences for students. As a result, the learner journey is clear, logical, systematic, and designed with a rich pedagogic rationale that is relevant to the academic discipline. The toolkit discourages the practice of simply transferring face-to-face learning to online learning and instead encourages careful planning and the application of student-centered design.
Principles of Learning Design
Our systematic online learning design was guided by two pedagogical principles: constructivism in learning and creativity in constructing learning. We developed three principles of learning design to support this approach.
Developing Authentic and Creative Learning Experiences and Assessments
In course and module design, learning conditions, opportunities, and environments that help students develop the ability to creatively seek out and face everyday problems enhance their capacity for future success. The toolkit encourages course teams to create assessments that provide the following opportunities:
Develop higher order thinking and transferability of learning
Demonstrate individual learning and showcase abilities
Offer equitable assessments
Encourage active engagement with feedback
By providing opportunities that are sufficiently varied and diverse, assessments give students the time and space to develop original thinking and authenticity, allowing them to take a proactive role in their learning and demonstrate autonomy. Assessments are vehicles through which students develop higher-order thinking and learn to transfer educational concepts to real-world environments. Successful assessments need to go beyond surface learning and engage students in intellectually challenging and demanding ways. Assessments need to provide inclusive opportunities for students to demonstrate their learning through choice and flexibility. Flexible and varied assessments allow course teams to evaluate learning in various ways and give students opportunities to present their ideas creatively and meaningfully, allowing them to showcase their originality and abilities while building their digital capability and fluency. There is also a need to balance innovative and creative assessment approaches with the development of core competencies and graduate attributes. Successful learning design depends on the types of thinking and learning that course teams want to encourage at any particular place in the student's learning journey. It also relies heavily on the learner and the learner's progress.
Preparing Future-Ready, Digitally Empowered Learners
Future readiness has several dimensions. It requires students to develop specific attributes, skills, and knowledge, as well as resilience and confidence. Future-ready students can navigate change and new opportunities in enterprising and creative ways and use the intelligence and value-based principles and acumen they develop and refine through their experiences. Creating learning experiences that build future readiness takes ingenuity, focus, and partnerships between course teams and their institutions.
Different disciplines recognize and value different forms and combinations of these attributes. Knowledge is constructed through collaboration, co-creation, and connection. Knowledge acquisition requires students to become skilled at evaluating, analyzing, synthesizing, and sharing information. Course teams need to support learners as they develop a transformational relationship with knowledge. They can do so by helping students connect the skills, attributes, temperaments, and values required of their chosen vocation with a deep understanding of it. Students can then draw on these connections to inform their sense of self and envision themselves as contributing members of their profession.
Raising professionalism and nurturing an ethical compass can also help prevent integrity-related assessment issues. As such, developing authenticity in students' learning by encouraging them to take ownership of initiatives and tasks and actively construct and make judgments based on their knowledge and understanding of concepts and how those concepts are relevant to real-world contexts is crucial for future readiness.
Learning should also be rooted in curiosity. Students should be encouraged to analyze, refine, and evaluate their existing knowledge to create unique and cogent ideas and artifacts. This will help them become open to new and different ideas and perspectives, connect and work with others, communicate their ideas, and pursue novel solutions to problems.
Embedding Digital Literacies in Course Design
For the purposes of this discussion, digital literacy refers to having an awareness of and ability to skillfully use digital solutions to identify and solve problems, communicate meaningfully in a variety of ways, collaborate with others, create new ideas, and develop deep thinking through active, confident, and fluent choices. Digital literacies are core components of the knowledge and skills students need to thrive in the fourth industrial revolution, particularly in professions, industries, and sectors that are evolving through automation but require creative skills that cannot be automated.
Designing digital literacies into module or course design requires course teams to contextualize them into the disciplinary and professional needs of the course. This helps to make digital literacies relevant to what and how students are studying as well as the intended outcomes of their studies. Developing students' digital literacies from awareness to fluency should be done incrementally. Students need space to experiment and opportunities to confidently articulate their creativity.
Therefore, the main question is this: What does digital literacy mean for an academic discipline and the range of professions a field of study could lead to? How will educators and course design teams equip students with the knowledge, skills, and future readiness they need to thrive in those professions, and what role do digital solutions play? The toolkit encourages course teams to reimagine how they prepare students for the changing world. It serves as a conversation starter to help course teams and course designers consider their views on digital literacies and how to move beyond literacies to confidence and fluency.
What would a curriculum underpinned by digital literacies/competencies look like, and how would it prepare students for change?
How do course design teams equip students with the resilience to navigate the ever-changing digital landscape?
What does future readiness mean, and how can course teams prepare themselves and students for the future?
How do digital solutions and attributes help students become creative individuals capable of thriving in the changing landscape?
What other dimensions of learning (beyond the technical use of digital tools) should students be able to articulate and showcase?
Factors that Influenced the Toolkit
We were inspired by several factors that are key to successful course design. For example, accessibility and inclusive learning are interwoven into each element of the toolkit.
Inclusive Learning and Assessment Design
Inclusivity in learning and assessment design are integral parts of the learning process. Assessments are not only tools for ascertaining learning and outcomes, they are also vehicles to help students develop behaviors and attributes that will enable them to navigate changing professional industry contexts confidently, respond to challenging scenarios positively, work through and solve complex problems and situations, and think more flexibly and creatively. All of these things will prepare them for a future in which they are empowered to actively engage in networking, critique and develop their own narratives, and contribute to real-world audiences. The toolkit views learning opportunities and assessment design through the lens of inclusivity, encouraging course teams to provide students with a variety of ways to learn about and demonstrate a particular learning outcome.
Constructivist Learning Theory
Constructivism is a learning approach that focuses on developing, constructing, and applying knowledge through collaboration, interaction, and experiential activities. Constructivism encourages active rather than passive learning. It helps students develop a broad range of creative and critical skills. However, constructivism is effective only if students are provided with a clear, logical, and systematic learning experience, high-quality instruction, and instructors who engage with them and steer them toward the construction of learning.
Systematic Design Process
Systematic design is essential. Course teams should not attempt to replicate classroom-based teaching styles and learning activities in the digital space. Instead, instructional teams should focus on mastering technology so that they understand the affordances and limitations of various digital tools and solutions. In addition to learning outcomes, course teams should think about how best to teach students to meet those outcomes, how to use technology to make learning meaningful through collaboration, and how to build knowledge through formative assessments.
High-Quality Instruction
The instructor plays a crucial role in ensuring a high-quality academic experience for students. One of the most important aspects of course or module design is deciding how to teach the course or module, combining the various elements to make learning meaningful, relevant, and authentic, and bringing out the best in students. How a course or module is taught depends on a variety of factors, including students' learning styles, the episteme of the subject, the anticipated learning outcomes, and the assessment strategy that will be used.
Learning Preparation
Preparing students for learning creates space and time for them to acquire new skills or adopt new learning techniques. Helping students develop the digital literacies they need to learn online using various digital platforms and tools requires instructional support around digital learning and the proficient use of learning technologies, digital identity, digital creation and collaboration, and digital well-being.
Conclusion
Learning design is both an art and a science. Designing a broad curriculum supported by personalized learning opportunities (through the use of digital tools and adaptive assessments and feedback) will help prepare students to tackle the grand challenges of this world. The Digital Learning Design Framework and Toolkit were designed to inspire academics and course designers to create academically rigorous and high-impact learning experiences for students.
Notes
Archana Chathangoth, who was a full-time student at Teesside University during the development of the toolkit, conducted a global benchmark study around factors for success in course design and online learning. Archana's student journey allowed her to add a unique student voice to the project. She experienced student life during the pandemic when the campus was functioning in a hybrid system and later was completely online. The aim of the benchmark study was to expand online teaching and learning excellence by looking globally for examples of how to shape the quality of learning design and online teaching, measure the quality of online learning for students, and create a positive online teaching and learning experiences.

Jump back to footnote 1 in the text.
---
Ann Thanaraj is Assistant Academic Registrar for Digital Transformation at Teesside University.
Paul Durston is Digital Learning Manager at Teesside University.
Archana Chathangoth is freelance writer and a former journalism student at Teesside University.
John Sumpter is Programme Lead (Leadership and Culture) at Jisc.