The combination of an appeal from instructors and the needs created by the COVID-19 pandemic led one institution to develop a virtual reality chemistry lab.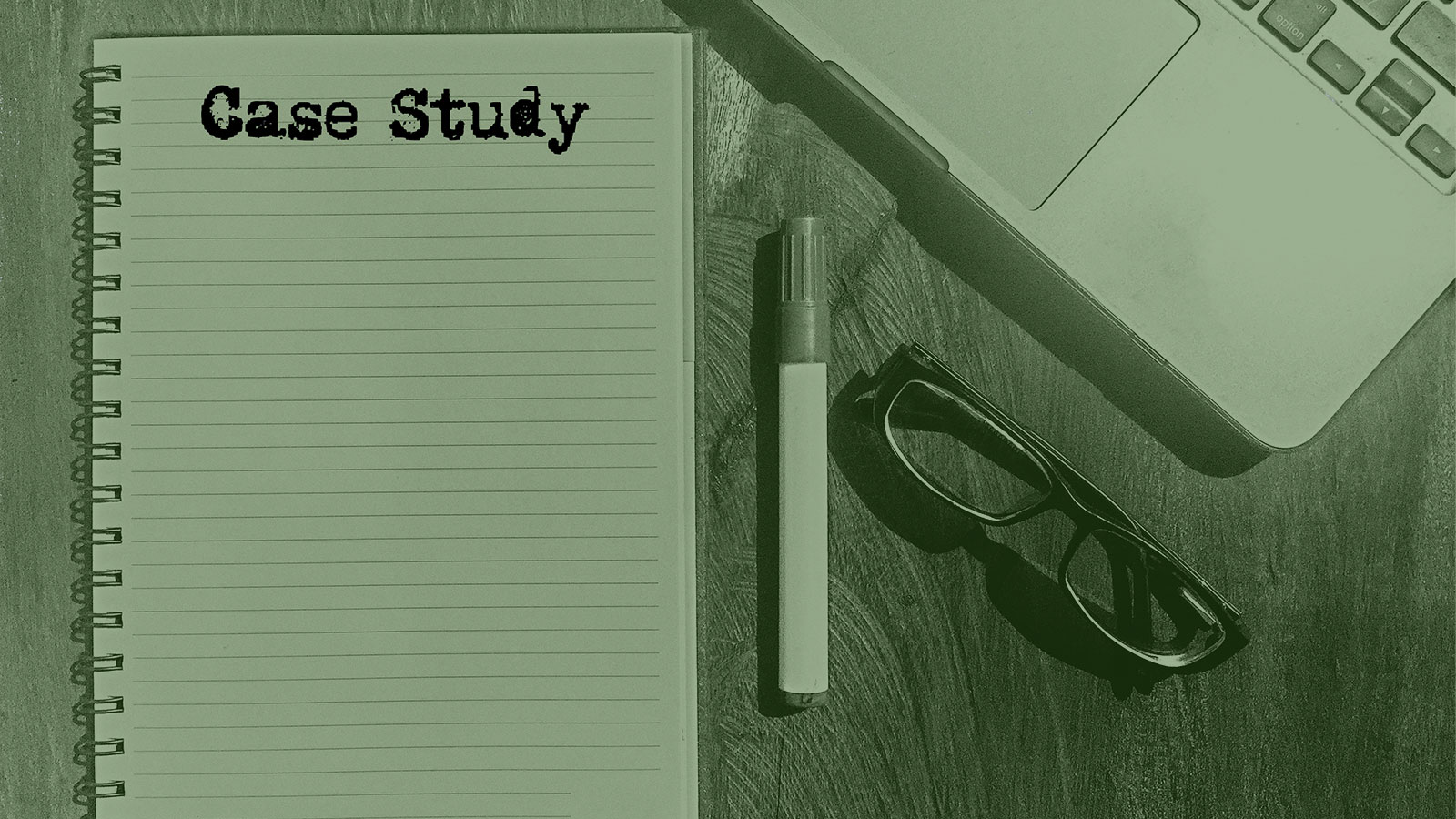 The Conservatoire National des Arts et Métiers (Le Cnam) is where the worlds of academic and professional activity come together. It is the only French public higher education establishment dedicated to lifelong professional training, and it has three core missions:
Higher education lifelong vocational training
Technological research and innovation
Dissemination of scientific and technical culture
Le Cnam offers courses developed in close collaboration with companies and professional organizations in order to best meet their needs and those of their employees. The conservatoire steers 20 regional centers and 220 training centers, with its head office in Paris.
Le Cnam's staff in Paris, Île-de-France, and other regions includes permanent teaching and non-teaching members (public servants and contractors), as well as visiting lecturers from the business world:
557 permanent and contracted professors
1,964 part-time professors
1,105 administrative staff
Introduction
Recent advancements in hardware and software tools, especially around consumer-grade virtual reality (VR) headsets, have led to innovative and successful use cases of extended reality (XR) technologies in both higher education and the professional world. In 2018, leaders at Le Cnam discovered and became excited about these opportunities for the future of XR in both education and work and spearheaded the development of XR for student learning in France. When Le Cnam leadership officially recognized this work in 2019, professional learner access to and use of VR devices became formally integrated into the institution's larger strategic planning and goals. In the years since, Le Cnam has continued to lead the way with funding and support for VR at the institution, as exemplified in what has been its most successful project to date—the creation of student training VR modules using a "digital twin" of a chemistry lab on campus.
The Challenge/Opportunity
Two main drivers led to the exploration of XR at Le Cnam and the development of the chemistry lab digital twin project. The first driver was the chemistry instructors themselves. The leaders at Le Cnam knew the most effective way to identify use cases for XR technologies at their institution would be to request proposals directly from the faculty. Le Cnam chemistry instructors applied for an XR grant offered by the institution in 2019 and were selected based on their project goals and the clear pedagogical and safety opportunities outlined in their proposal. The resulting project—the Geste'VR simulator—would aim to offer a tool to assist in the initial training of important laboratory knowledge, including safety features and technical gestures for learners in the fields of chemistry, pharmaceuticals, and food science who were pursuing lifelong vocational education.
The second driver catalyzing XR at Le Cnam and leading to the development of the Geste'VR project is one familiar to most institutions—the challenges and opportunities introduced by the COVID-19 pandemic. While Le Cnam migrated nearly all its courses to distance learning during the pandemic, a small number of courses still required practical, in-person work. Chemistry lab access and time were suddenly at a premium, so instructors and leadership knew that a virtual laboratory would be valuable as a place where learners could still gain the essential introductory knowledge and experience they would need for working safely and effectively. In addition to providing this knowledge and these skills, this virtual space would also enable learners to stay a safe distance away from others while freeing up time in the physical laboratory for other important in-person tests and work.

Process
To ensure that they would achieve a well-developed and immersive VR experience within a digital laboratory twin, Le Cnam leaders first made plans to secure all the necessary resources they knew they would need across three domains: funding, human resources, and technology.
Funding is certainly an important consideration (and even a barrier) for most XR projects, and it was an issue Le Cnam officials encountered early on when developing their Geste'VR project. Fortunately for the project team, they were able to secure strategic and financial support from the highest levels of their institution, with the addition of "XR support" to the institution's strategic goals in 2019 and the earmarking of institutional funds to support the project. Of course, some institutions may not be willing to provide this level of strategic and financial support for XR work, or the supports they provide might not be sufficient for achieving project goals. The Geste'VR project team, for example, had to look for additional funds externally, receiving a regional grant in 2020 as an award in digital innovation in higher education that was critical for helping move the project forward.
Many XR projects require substantial human resources to lead and carry out the work, and to achieve its goals, the Geste'VR project required support from a number of internal staff as well as from external experts. Institutional leadership support is critical, particularly in the earliest stages of getting a project off the ground, and initial funding and strategic support for the Geste'VR project required upper IT management to effectively communicate and promote the opportunities and potential benefits of the project to the institution and its students. In the development phases of the project, the VR modules were designed and produced in partnership with a team of fifteen teachers from three teaching teams, as well as two instructional designers from Le Cnam's Office of Digital Uses, to ensure the virtual experience was built on a foundation of pedagogical expertise and knowledge. This work was headed by Christian Cousquer, an Immersive Tech Specialist, starting in late October 2020 and was completed in September 2021, with Thierry Koscielniak, Chief Digital Officer, as steering member.
Finally, XR work must be undergirded by the necessary infrastructure of technologies, networks, and systems, much of which may not exist within the institution itself prior to launching its XR work. Indeed, the Geste'VR project team relied on several partners in the professional world to ensure they had the right technology and skills to develop and deploy the technical aspects of their project. MIMBUS, a French edtech XR company (with an office in Chicago), provided VR development and design services and also shared examples of other vocational VR experiences with the project team. The lab of France Immersive Learning (FIL) in Paris, an association of French XR sector stakeholders, provided experts in XR technology and instructional engineers dedicated to training the project staff. Reverb G1 and G2 headsets and Backpack VR computers were purchased from HP.
As of this writing, the first three VR modules of the Geste'VR project have been completed, focusing on some of the most important (and potentially hazardous) aspects of working in a chemistry lab: the initial discovery and exploration of the lab and proper lab procedures and safety. Already Le Cnam has seen the positive impact of Geste'VR as it has provided trainers and educators with the means to monitor and evaluate learners through their virtual lab environment. Moreover, the technology has lived up to the goals set by the instructors and designers, integrating seamlessly into learner training without disrupting existing processes, while also creating opportunities for new types of dialogue and learning.
This project has also fulfilled Le Cnam's institutional goals of being a leader the field of XR, integrating new technologies into the learning process, and forging new partnerships across professional industries. Through its successes with the Geste'VR project, Le Cnam was able to apply for and receive a grant for from Region Île-de-France as laureate of the 2020 Digital Innovation for Higher Education Award, and it was also recognized as laureate of the 2021 Innovation Purchasing Award of French State. These early successes have also led to the development of additional plans, including a new three-year commitment (November 2021 to October 2024) to develop immersive digital twins in other areas of the school. This project, called JENII (Jumeaux d'Enseignement Numériques, Immersifs et Interactifs = Digital, Immersive, and Interactive Twins for Teaching), has already secured €9.5M in funding from the French state.
How Le Cnam Did It: The Tech
The VR Equipment
3 packs: HP Backpack VR + HP Reverb G1

10 packs: HP Backpack VR + HP Reverb G2

24 Oculus Go

12 Oculus Quest 1

2 Oculus Quest 2

3 briefcases for mobility uses designed by the Lab of France Immersive Learning (each briefcase contains six PICO G2 4K devices, one Windows Surface Pro 7, one Wi-Fi TP-Link Router, seven USB ports, and three charging hubs)
The Computers
13 HP VR Backpacks
Intel Core i7-9850H Processor (12M Cache, up to 4.60 GHz)

16GB (2x8GB) DDR4-2666 RAM

NVIDIA GeForce RTX2080 with 8GB GDDR6 memory

Memory width: 256-bit NVIDIA CUDA Cores: 2944

Maximum Memory 32GB
3 Alienware m15 Ryzen Edition R5
AMD Ryzen 9 5900HX with Radeon Graphics

NVIDIA GeForce RTX 3070 Laptop GPU

AMD Radeon (TM) Graphics

16GB Memory, 1TB SSD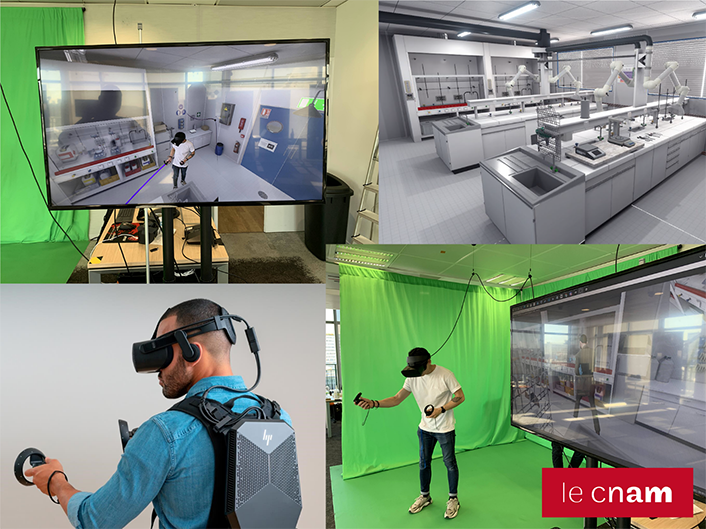 Outcomes and Lessons Learned
Manage the "wow" effect, and set realistic pedagogical goals. Whenever someone first enters and engages with a VR module, they always experience a "wow!" factor of excitement and novelty of the experience. That excitement can help bring stakeholders on board in support of a project, but they may be tempted to see VR as a replacement for established and excellent pedagogical practices. Conversations around the best uses of VR are essential to managing expectations and keeping the design of a project grounded and reasonable. The project team at Le Cnam worked with eager faculty to identify the best possible uses of VR to meet clear pedagogical goals for their chemistry lab, and officials at other institutions should work with their own stakeholders to identify goals and best uses without overpromising or overextending the reach of these technologies.
Involve faculty early and give them hands-on experience. As with any new educational technology, giving instructors hands-on experience with XR helps them not only understand the pedagogical opportunities of the technology but also learn its limitations. With that hands-on experience, faculty can better define their needs and goals to assist with the development of the VR project. As the project advances through the development process, the early and continued involvement of faculty, especially through regular meetings with the design team, helps them contribute to overall design thinking as well as important details of the user experience.
Deployment of an XR model is a project itself. The deployment and initial use of XR technology requires more planning than one might think. From figuring out the logistics of on-site facilities with sufficient space for a VR experience to device management and instructor oversight of learners, the team at Le Cnam discovered that a great deal of front-end work was required to establish the chemistry lab. Plan far in advance for the first launch requirements of any XR project, and work collectively to map out and anticipate as many possible needs or challenges as you can before the project even gets off the ground.
Make sure you have a team or a partner with expertise in developing XR modules. An important part of any such project is for leaders to spend time identifying the best path forward for developing their XR modules. Very specific skill sets are required, and although some institutions may have developers with those skills, it may be necessary to look outside the institution. At Le Cnam, leaders didn't feel confident that internal development would lead to the product quality they wanted, so they worked with external professional partners throughout the project to develop their modules. Overall these relationships with outside partners were very positive and entailed close and regular work with the instructors and project managers to ensure that the modules provided learners with positive experiences and the skills they needed.

HP and Intel support the advancement of higher education through the use of emerging technologies. To learn more, visit
HP Higher Education.
For more information on Intel Technologies, visit
Higher Education Technology Resources.
---
Thierry Koscielniak is Chief Digital Officer at the Conservatoire National des Arts et Métiers.
Christian Cousquer is Immersive Tech Specialist at the Conservatoire National des Arts et Métiers.
Sean Burns is Corporate Researcher at EDUCAUSE.
Mark McCormack is Senior Director of Analytics & Research at EDUCAUSE.