The EDUCAUSE 2023 Top 10 IT Issues help describe the foundation models that colleges and universities will develop next year and beyond, acting on what was learned in the pandemic and framed by the three building blocks of leadership, data, and work and learning.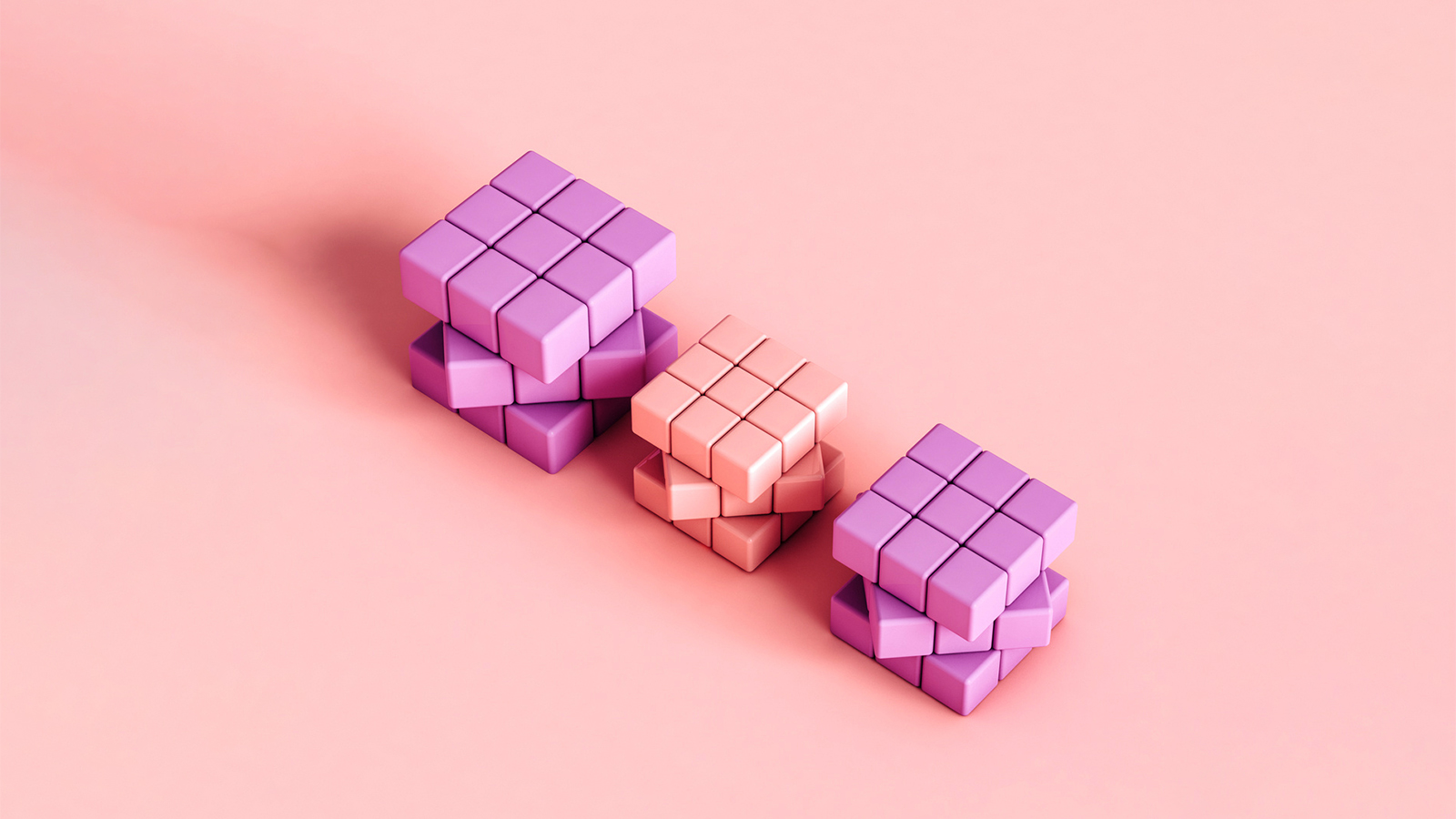 Recent times have brought about a Great Rethink that is upending previous models of management and working. Higher education is no exception. In 2023, institutional and technology leaders are ready for a new approach. They are responding to what we've learned from the COVID-19 pandemic, what we were beginning to address before the pandemic, and our shared, enduring beliefs in the power of higher education:
We've learned that we can operate an institution even when many people—staff, faculty, and students—aren't physically present.
We've learned that many students deeply want and need physical presence but that they also want and need the flexibility that hybrid offers.
We've learned that institutions have unique cultures that play out differently in person and online.
We've acknowledged that we can rapidly change and adapt and that we don't always need to do things the way we "always" did them.
We've learned that data sparks insights and that insights lead to better decisions.
We've demonstrated that technology fuels just about everything an institution needs to do and that as a result, the insights and guidance of a technology leader should help fuel institutional strategy.
We've recognized that IT staff need to help manage the business and further the missions, in addition to running the systems.
We've learned that our work and personal lives overlap significantly and that everyone needs flexibility between those lives.
We've seen that students are influenced by their ongoing digital experiences and that a good number of them want institutional digital experiences different from what we're offering.
We've realized the importance of accentuating why and how working in higher education can be a rewarding career choice.
In 2023, thinking is giving way to doing. The old foundations—from enrollment to credentials to the campus to decision-making—are showing signs of wear. Existing foundations need to be examined and strengthened. New foundations may need to be developed. Institutional and technology leaders are building solid foundation models for higher education.
This notion of foundation models is inspired by recent developments in artificial intelligence. Foundation models are the basis of a new AI approach that applies vaster scale and scope to existing AI techniques.Footnote1 Previous approaches were limited in flexibility. They were task-specific. They worked with prelabeled datasets and examined the data element by element. Each model learned the rules for its particular purpose and was optimized for that. AI foundation models develop new capabilities on their own. This makes them flexible and reusable beyond the original, specific purpose for which they were used. Scale matters: the bigger a model gets, the better it works.
But something as powerful as foundation models carries serious ethical risks, and these risks need to be considered now, rather than when it's too late. The risks include biased algorithms and incentives, uses that replace rather than augment people, investment and development needs on a scale that edges out small organizations, and imperiled privacy and cybersecurity.
The concept of foundation models needn't pertain only to artificial intelligence. We can apply it, metaphorically, to higher education. Many institutions are working to address such issues as enrollment, affordability, and graduation rates and to improve areas such as decision-making, staff engagement, students' success, and diversity. Ongoing structural challenges can make this work more difficult and expensive. Data is often siloed, but the questions leaders need data to inform transcend the siloes. Systems are focused on addressing specific tasks and thus provide a splintered, perplexing experience for the students and other people who use them. Scaling solutions across the institution, or beyond it, by adopting cloud services could increase efficiency, but many existing processes or locally developed technologies don't easily lend themselves to off-the-shelf solutions. As hybrid forms of working and learning take hold, existing technologies, support models, and learning strategies need to be broadened beyond their original purposes. As staff bring to their work changed expectations influenced by the pandemic and socioeconomic concerns, new models of leadership and management need to be fostered. Progress in all these areas could be accelerated with more flexible, reusable, and scalable models.
In 2023, the Top 10 IT Issues focus on acting on the results of what we've learned and on the challenges that institutions are facing.Footnote2 The issues describe the foundation models that institutional and technology leaders are developing. We're moving from task-specific and silo-specific work and strategy and infrastructure to institution-wide, flexible, reusable models for running the higher education institution and achieving its missions. We're outsourcing technologies and integrating data to achieve the benefits of scale. We're embracing our humanity and our needs for purpose, connection, and trust. And we're continuing to recognize the ongoing duty to safeguard privacy and cybersecurity.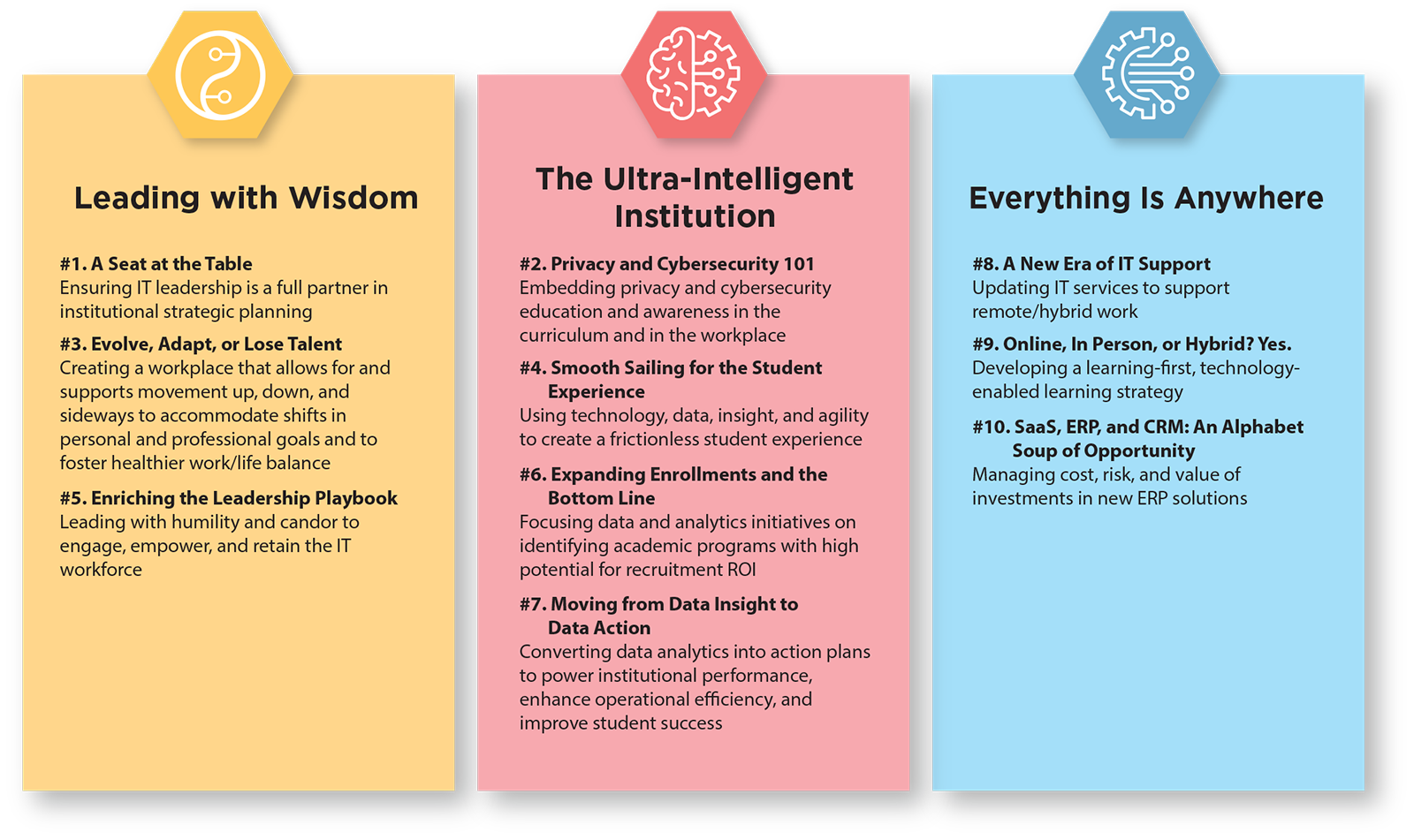 Taken together, the 2023 Top 10 IT Issues form a basis for the new foundation models, structured by three building blocks: (1) leadership (Leading with Wisdom); (2) data (The Ultra-Intelligent Institution); and (3) work and learning (Everything Is Anywhere.)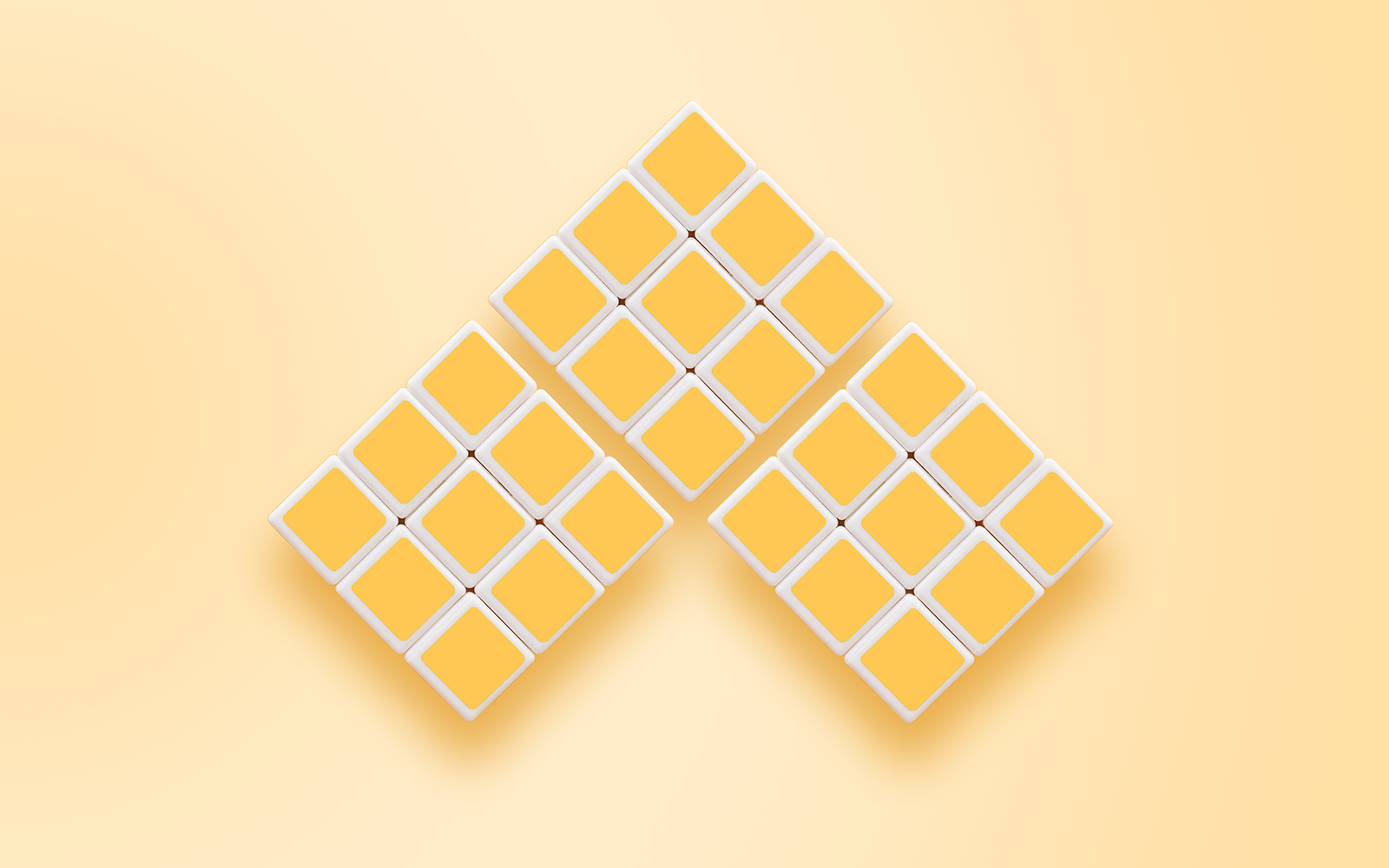 Leading with Wisdom
Higher education technology leaders have a formidable challenge: they need to call on both head and heart, both strategy and execution, to serve as their institution's technology leader and to inspire, lead, and manage their IT organization and staff. They need intelligence, experience, and empathy. They need wisdom.
Presidents and governing boards require IT leaders who can see around corners to advise on where technology is heading. They require IT leaders who understand the institutional missions, operations, and culture and know what's needed (and when and where). They require IT leaders who also know how to get stakeholders' commitment. and which commitments they can make on behalf of the IT organization. To do all this, however, IT leaders should have parity with the rest of the institutional leaders. They should have a seat at the table (Issue #1).
The Great Resignation was sparked by an equally great reconsideration of the role of work in people's lives. Replacing staff has felt like bailing a leaky boat as resignations seem to, or do, outpace hires. A "work to live" attitude is gaining in popularity and respect, and staff want meaningful careers. Leaders must find a way to reinvent the workplace culture and adapt career and talent management to individuals' evolving needs (Issue #3).
Today's technology workforce is calling for more attention and care than ever before. Staff members want to have agency and autonomy. They want to know what they are accountable for and be empowered to achieve it. They also want to understand not only what decisions have been made and why but also how they can exert some influence over decisions. Leaders must blend candor, to establish expectations and accountability, with humility, to be receptive to other viewpoints and ideas (Issue #5).
#1. A Seat at the Table
Ensuring IT leadership is a full partner in institutional strategic planning
#3. Evolve, Adapt, or Lose Talent
Creating a workplace that allows for and supports movement up, down, and sideways to accommodate shifts in personal and professional goals and to foster healthier work/life balance
#5. Enriching the Leadership Playbook
Leading with humility and candor to engage, empower, and retain the IT workforce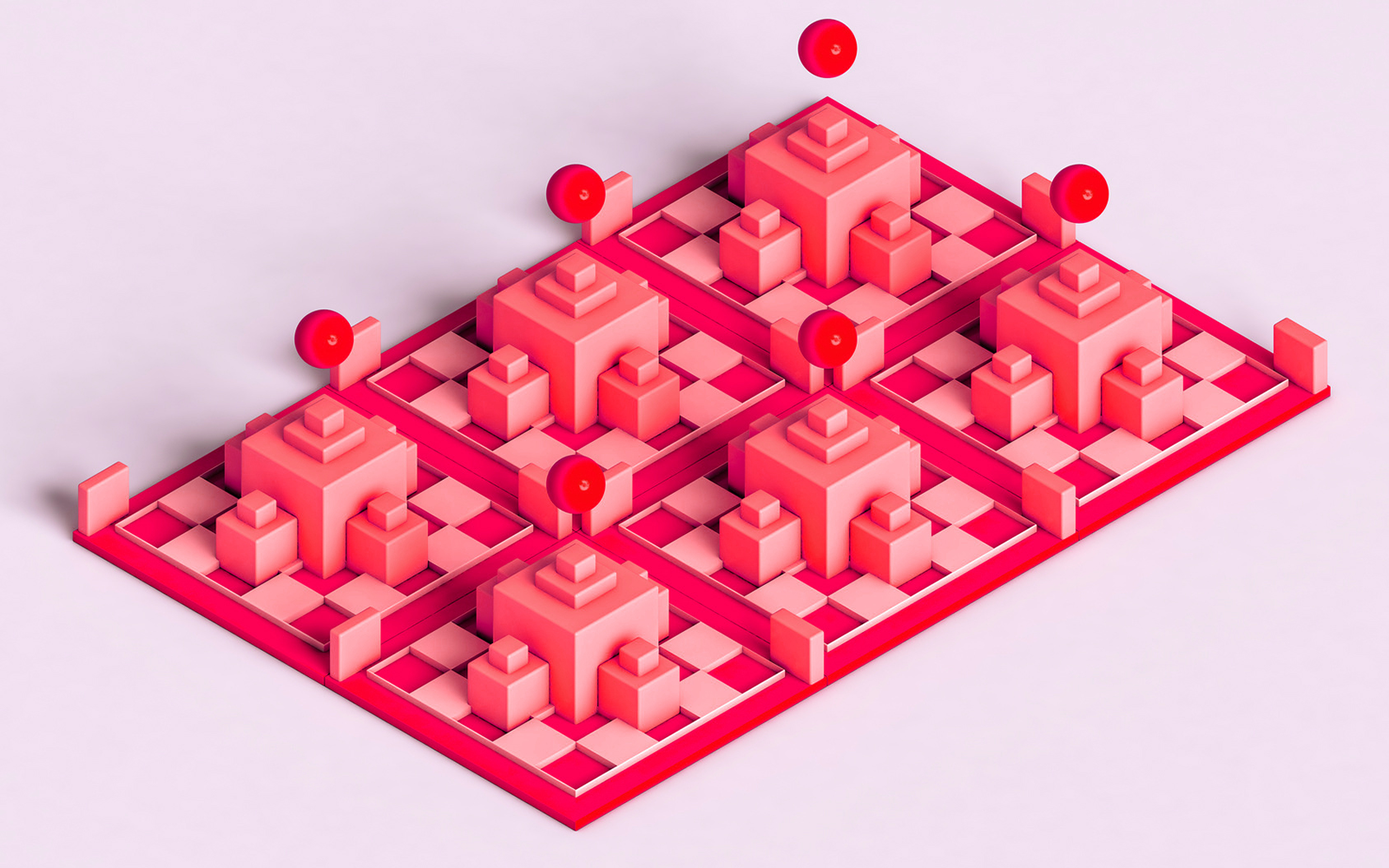 The Ultra-Intelligent Institution
Irving John "Jack" Good's 1966 concept of an ultraintelligent machine—"a machine that can far surpass all the intellectual activities of any man however clever"—presaged some aspects of artificial intelligence and foundation models.Footnote3 His conceptual machine was embodied with both memory and meaning, was capable of self-learning, and needed to be "designed with economy" because its cost would be "exceedingly high."
In higher education, work with data and analytics aspires to provide institutional decision-makers with ongoing, useful, and increasingly sophisticated insights. Just like Good's ultraintelligent machine, this work needs to be carefully scoped and designed because it too can be very expensive.
Analytics leaders are working to create the "Ultra-Intelligent Institution." Data is as indispensable as technology for operating a college or university. But what makes data essential to modern management is the uses that are made of it. Today's data professionals are focused on working with management to complete the data journey from "what" to "so what" to "now what" (Issue #7). In particular, efforts are focusing on improving the student experience (Issue #4) and expanding enrollments (Issue #6).
Data presents not only a powerful resource but also an equally powerful risk to institutions and individuals. In the arms race that pits people and institutions against cybercriminals, the oldest weapons are still among the best: education and awareness to arm all institutional constituents with behaviors and practices that safeguard their data and also that of the institution (Issue #2).
#2. Privacy and Cybersecurity 101
Embedding privacy and cybersecurity education and awareness in the curriculum and in the workplace
#4. Smooth Sailing for the Student Experience
Using technology, data, insight, and agility to create a frictionless student experience
#6. Expanding Enrollments and the Bottom Line
Focusing data and analytics initiatives on identifying academic programs with high potential for recruitment ROI
#7. Moving from Data Insight to Data Action
Converting data analytics into action plans to power institutional performance, enhance operational efficiency, and improve student success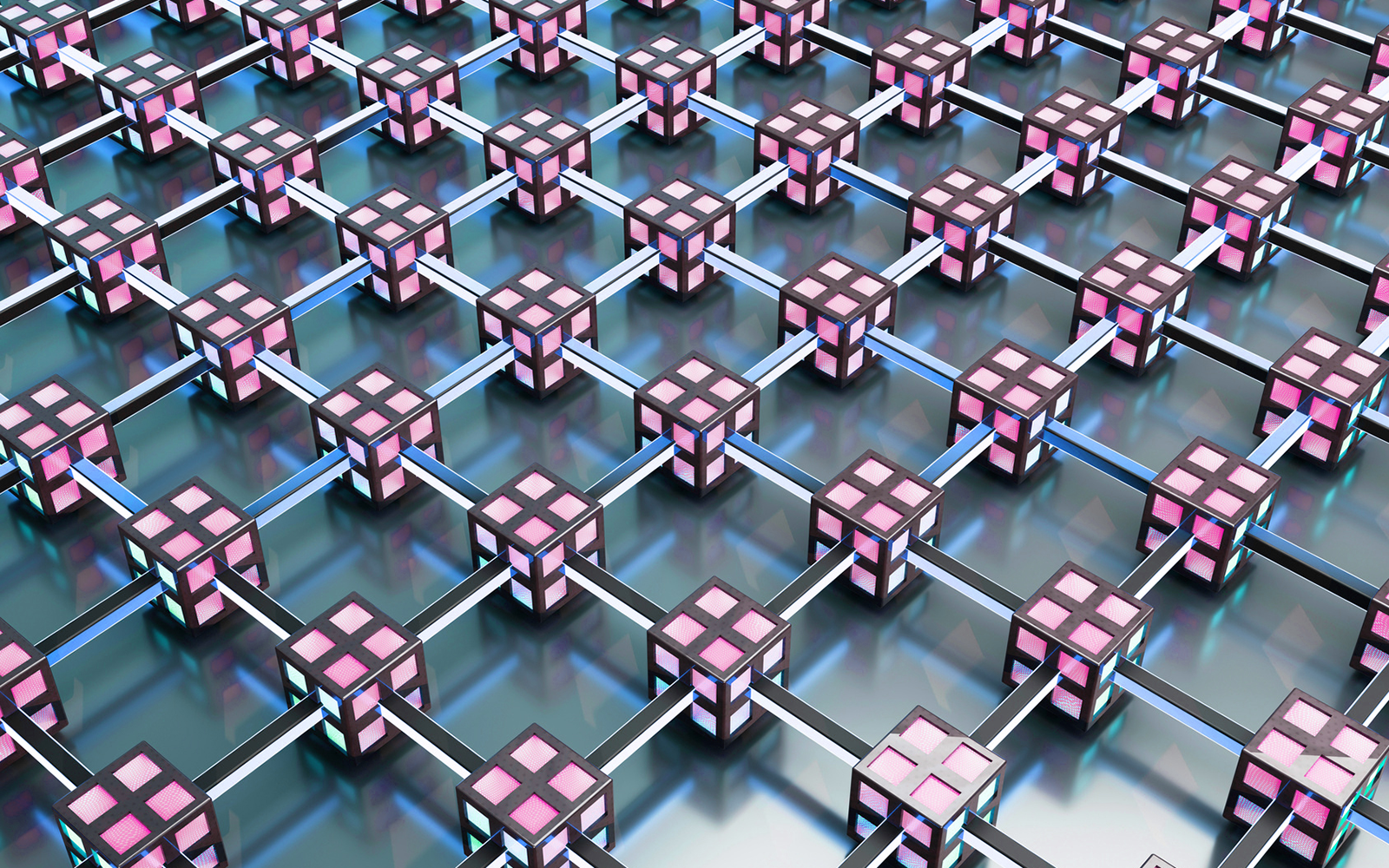 Everything Is Anywhere
The pivots to remote education and work during the pandemic were business continuity stopgaps to help faculty, staff, and students adapt rapidly. Today, leaders are acknowledging that the institution is no longer confined to the physical campus. Classrooms are in lecture halls and seminar rooms but also in the homes of every instructor teaching remotely and every student engaged in hybrid learning. Institutional business is conducted in offices, conference rooms, and the homes of every staff member who works a bit or a lot from home. The campus consists of both physical and digital entities. Institutional data is stored, transmitted, and accessed on campus computers, home computers, portable devices, cloud servers, and other solution-providers' machines. Everything is anywhere.
Pandemic-era measures won't suffice. Hybrid work requires a very different IT support strategy (Issue #8). Simply layering technology on top of classroom learning leads to the worst of both worlds; both teaching and learning need to be refactored to incorporate the particular advantages of technology into pedagogy (Issue #9).
Changes in work and education are highly visible and tangible. A less visible but no less powerful transformation of enterprise technologies is also underway. The new generations of enterprise applications provide opportunities to free IT professionals from coding and thus enable them to contribute technology expertise more directly to the businesses and mission of the institution (Issue #10).
#8. A New Era of IT Support
Updating IT services to support remote/hybrid work
#9. Online, In-Person, or Hybrid? Yes
Developing a learning-first, technology-enabled learning strategy
#10. SaaS, ERP, and CRM: An Alphabet Soup of Opportunity
Managing cost, risk, and value of investments in new ERP solutions
Like AI foundation models, higher education foundation models are "critically central yet incomplete."Footnote4 They carry enormous benefits but will not be cheap or fast or risk-free. Yet because they do carry enormous benefits, these foundation models for higher education may represent our best path forward.
Additional Resources on the EDUCAUSE Review 2023 Top 10 IT Issues Special Report Website
A video summary of the 2023 Top 10 IT Issues

An infographic about the 2023 Top 10 IT Issues

EDUCAUSE program-specific perspectives on the 2023 Top 10 IT Issues

Corporate perspectives on the 2023 Top 10 IT Issues
2022–2023 EDUCAUSE IT Issues Panel Members
| Name | Title | Organization |
| --- | --- | --- |
| Jon Allen | Associate Vice President, CIO, and CISO | Baylor University |
| David Ayersman | Vice President and CIO, Information Technology Services | New River Community and Technical College |
| Brian Basgen | CIO | Emerson College |
| Tonya Bennett | Director of Educational Technology, School of Veterinary Medicine | University of Pennsylvania |
| Paul Butler | Director of Information and Library Services | University of Greenwich, United Kingdom |
| Trisha Clay | Chief Information Officer | Hudson County Community College |
| Adrian Ellison | Associate Pro Vice-Chancellor and CIO | University of West London, United Kingdom |
| Kristen Eshleman | Vice President of Library & Information Technology | Trinity College |
| P.B. Garrett | Former CIO | Stevenson University |
| Maya Georgieva | Senior Director, Innovation Center / XR, HCI, AI, and Quantum Labs | The New School |
| Jonathan Hardy | Deputy CIO | Villanova University |
| Curt Hillegas | Associate CIO, Research Computing | Princeton University |
| Pekka Kähkipuro | CIO | Tampere University, Finland |
| Barron Koralesky | CIO | Williams College |
| Leah Kraus | CIO | North Carolina Central University |
| Keith McIntosh | Vice President & CIO | University of Richmond |
| Pablo Molina | Associate VP and Chief Information Security Officer | Drexel University |
| Pegah K. Parsi | Chief Privacy Officer | University of California, San Diego |
| Renee Pfeifer-Luckett | Director, Teaching & Learning Technology | University of Wisconsin System Administration |
| Sheri Prupis | Director, Teaching & Learning Technologies | Virginia Community College System |
| Ravi Ravishanker | CIO & Associate Provost | Wellesley College |
| Marin Stanek | Sr. Associate Vice Chancellor for IT and CIO | University of Colorado Boulder |
| John Stroud | CIO | CUNY Stella and Charles Guttman Community College |
| Sue Traxler | Assistant Chancellor for Learning and Information Technology / CIO | University of Wisconsin–Stout |
| Karen Warren | Deputy CIO | Wesleyan University |
| Emma Woodcock | CIO | York St. John University, United Kingdom |
Issue #1. A Seat at the Table
Ensuring IT leadership is a full partner in institutional strategic planning
Tonya Bennett and Pekka Kähkipuro
"Technology has a major role to play. In fact, it has been the one sector that actually has sustained our institutions during these very difficult moments, not only in the classroom but across our entire campus operations."
— Johnson O. Akinleye, Chancellor, North Carolina Central University
Digital capabilities have become a key success factor for colleges and universities. If an institution wants to be successful, people who understand the institution as well as technology and data—that is, people like today's IT leaders—need to be involved in strategic planning and decision-making. No longer is it sufficient to ask IT leaders to respond to institutional strategy and priorities; instead, the CIO must be present while strategy is being developed and must be able to facilitate a dialogue between institutional aspirations and digital possibilities.
By fully partnering in institutional strategic planning, IT leaders can draw more immediate and direct connections between existing and emerging institutional priorities and technology planning and operations. They can ensure that IT goals and work plans are aligned with institutional goals.
Challenges in 2023
Challenges exist for both the institutional leadership and the IT organization. The pandemic has accelerated digital transformation, but many institutional structures and governance models are still following pre-pandemic models. Those models will not work in the current and future hybrid world, but not every institution is ready to change.
For the IT organization, the technology workforce is in flux as many IT staff and leaders alike depart or change positions. This turbulence compromises the ability to ensure a consistent, knowledgeable group of contributors to institutional planning and IT governance.
Foundations to Build
Institutional decision-making processes should incorporate the involvement of IT stakeholders at the onset, rather than waiting until midway through or even at the end of planning.
Digital transformation is about culture, and to be successful, it needs a set of new principles, such as digital by default, in which digital services are straightforward, convenient, and accessible. Decision-making influenced by data (quantitative and qualitative)is another potential new principle. The IT leaders can introduce and advocate for the value of these new principles in strategic planning.
IT leaders must become more invested in the business and academic matters of the institution. Their value in strategy and planning will be their unique mastery of what's possible and emergent with technology and data, where the risks and limitations lie, and which of these can be overcome—combined with a deep understanding of the institutional missions, culture, and people.
Academic and administrative leaders will need to gain more understanding of and comfort with digital capabilities because the institution won't survive by minimizing its use of data and technology.
To move from strategy to planning to execution, institutional leaders will need staff who can bridge the middle ground between technology and the institutional missions and business—staff such as business analysts or IT business partners.
Strengthening Higher Education
Ensuring that IT leaders are full partners in institutional strategic planning will strengthen the institution, because so much of institutional success now relies on having competitive, modern digital foundations.
IT leaders bring a different perspective to investments. They understand how to ensure that the challenges and aspirations of the institution are in alignment with technological and analytics solutions. IT leaders can avoid technology misfires that occur when the benefits of technology are poorly understood or exaggerated. They can ensure that initiatives involving technology move forward only with institutional backing and change management investments, without which so many technology projects fail.
Digital initiatives cannot be separated from institutional initiatives. Viewing digital strategy as a facet of institutional strategy will ensure the better use of resources by coordinating digital initiatives, and it will make the institution's investments much more future-proof.
Issue #2. Privacy and Cybersecurity 101
Embedding privacy and cybersecurity education and awareness in the curriculum and in the workplace
Trisha Clay, Pablo Molina, and Pegah K. Parsi
"Whoever owns the data owns the future. So we need to get a handle on our data—the data that we produce, the data that we use—and have good governance of the data, ensure good cybersecurity to protect the data we have, and use the data smartly in our operations."
—Joanne Berger-Sweeney, President, Trinity College
When privacy is imperiled, so too are people's civil rights, civil liberties, and ability to move around the world and make decisions about themselves. Privacy and cybersecurity are intertwined because much of what cybersecurity is trying to protect is personally identifiable information.
Institutions are collecting vast, and vastly increasing, amounts of information about students, staff, faculty, alumni, donors, research participants, and others. They are the stewards of vast amounts of personal data used to create digital profiles of individuals. In many cases, people entrust their information to institutions without sufficiently understanding how important that information is and will remain in the future. Privacy and cybersecurity professionals can spearhead efforts to ensure that all institutional constituents gain a concrete understanding of how institutions keep information secure and the role individuals must play in protecting or curating their information and identity.
Incorporating privacy and cybersecurity concepts into the academic curriculum can help students, in particular, understand privacy and their digital profiles. Students need to have good general privacy and cybersecurity practices for their personal lives and also need to understand privacy and cybersecurity in the context of their chosen profession.
Finally, privacy and cybersecurity laws are proliferating at the state, federal, and international levels; recent court rulings are also changing the privacy landscape. The legal and ethical responsibilities of higher education in this area are intensifying. It behooves institutional leaders to understand and adopt key privacy and cybersecurity principles and practices to better position the institution for an increasingly regulated and important area.
Challenges in 2023
The privacy and cybersecurity landscape is completely different from what it was even just ten years ago. Higher education has fallen behind other industries and needs to adapt quickly. Inertia and lack of resources are impeding that adaptation. Although colleges and universities operate more and more like businesses every day, many constituents want to continue past, more idiosyncratic practices.
The data footprint each institution is offering to the outside world is growing larger. Institutions are collecting and retaining increasing amounts of data to power applications and analytics in the hopes of attracting more students and offering better services. Privacy and cybersecurity protections aren't always keeping up. But cybercriminals and unscrupulous data brokers and aggregators are certainly keeping up, working continually across all time zones. They have the time, tools, and motivation.
The United States lacks privacy and cybersecurity regulations that could provide clarity and support for higher education. In their absence, many institutions are taking guidance from cybersecurity insurance companies and/or are trying to adapt and apply U.S. Department of Defense contract and research compliance requirements, the European Union's General Data Protection Regulation (GDPR), or comprehensive state privacy laws more broadly.
Foundations to Build
Institution-wide privacy and cybersecurity awareness and education are essential foundations for effective privacy and cybersecurity. They must be provided to the entire workforce as well as to students.
Institutions should move toward "privacy by design" and "cybersecurity by design," which are approaches that embed privacy and cybersecurity into the design and operation of technologies and processes at the onset.
The institutional approach and information culture need to shift from "the more information the better because you never know when it might be useful" to data minimization, identifying key performance indicators and data that clearly helps to serve students.
Institutional applications, from payroll to ERPs to LMSs, are increasingly provided by companies instead of institutional staff. Those applications are just as vulnerable to cyberthreats as are in-house applications, and they leave institutions just as exposed to privacy and cybersecurity risks, but institutions have less leverage. Unless regulations change to make commercial providers more accountable, IT and procurement leaders will need to leverage both contract negotiations and institutional cybersecurity investments to protect individuals as well as the data and reputation of the institution.
Education about privacy and cybersecurity needs constant attention and refreshing. It needs to be part of lifelong learning for the entire institutional workforce. It needs to be contextualized to particular areas and roles. It needs to be immersive and ubiquitous. Lectures, simulations, newsletters, examples and other job aids, and self-tests and other formats should all be considered.
It is the rare institution that does not require cybersecurity training, but many institutions still don't offer, let alone require, privacy training beyond those roles for which it is mandated. That will have to change.
Strengthening Higher Education
Effective privacy and cybersecurity programs strengthen higher education in several ways. As privacy literacy increases among the general (and student) population, institutions must be able to demonstrate that they have ethical and transparent data practices and that they are good stewards of personal data. This is increasingly important to meeting the needs of colleges and universities. For example, during the COVID-19 pandemic, campus communities were hesitant to participate in public health programs until strong privacy protections were provided for their sensitive data.
Higher education institutions educate the next generation of future leaders, innovators, decision-makers, and workers. Just as core concepts such as critical reasoning, responsible research, good data practices, and integrity are broadly built into and reinforced in the curriculum, today's students must have a strong grasp of key privacy and cybersecurity principles in every discipline in order to succeed. When privacy and cybersecurity concepts are embedded in the curriculum, educators are helping students understand how the world works and how they can be more effective in it.
Effective privacy and cybersecurity can increase public trust in higher education, protect individuals who entrust their personal data to institutions, protect an institution's reputation, and build internal trust within each institution. As people become increasingly aware of the value of and many risks to individual, organizational, and scholarly data, colleges and universities that can demonstrably safeguard privacy and data can develop a credibility that will enhance their reputation as educators, researchers, and employers.
Academic espionage is a growing threat to governments and institutions. Institutions that invest in effective cybersecurity programs, including education, will likely have more research opportunities. And at the most basic level, institutions are stronger when they can reduce unnecessary storage and asset management costs and avoid costly incident reports and regulatory investigations and fines.
Issue #3. Evolve, Adapt, or Lose Talent
Creating a workplace that allows for and supports movement up, down, and sideways to accommodate shifts in personal and professional goals and to foster healthier work/life balance
Jon Allen, Jonathan Hardy, Pegah K. Parsi, and Ravi Ravishanker
"We're trying to figure out how to maintain a sense of continuity in our workforce, particularly with changing patterns of people's workforce expectations. People are interested in remote work. We've seen that there's been a change in how a lot of people are approaching their career aspirations coming out of the pandemic and when there's been a fair amount of societal trauma. We want to make sure that we can be a place where people want to come to work. People in our community being aligned with the mission is going to be crucial for us."
—Patrick O'Rourke, Executive Vice Chancellor and Chief Operating Officer, University of Colorado Boulder
Higher education has a talent problem, particularly with the technology and privacy workforce. Many of the technologies used by higher education institutions are also being used by other nonprofits and corporations. Unfortunately for higher education, many corporations are outcompeting institutions on pay, benefits, work/life balance, and even organizational culture. And many nonprofits compete on better alignment of mission, work/life balance, and organizational culture. Given such unprecedented competition from elsewhere, what can we do?
The first step is to acknowledge the problem. Some technology leaders are struggling to convince institutional leadership that technology workforce recruitment and retention, perennially challenging, may now be broken. At some institutions, this is a campus-wide problem extending beyond technology and privacy staff. While institutions cannot compete with other nonprofits and corporations on every aspect of professional life, they would benefit from applying similarly aggressive marketing strategies for prospective students, faculty, and staff.
Some higher education institutions may still resist embracing hybrid and remote work models that give staff the flexibility to adapt work locations and hours to their personal situations. Perceived complexities in administering payroll and taxes across borders make up one factor for resistance. In cases when resistance is rooted in the lack of trust in the productively of staff who work remotely, institutional leaders should remind themselves that this flexible, work-from-home model has been a long tradition for faculty in academia—one that has worked remarkably well. When managers do allow for remote work, they must resist the urge to couple that with surveillance technologies or unnecessary data collection to keep tabs on their workers.
The solutions that higher education needs to move toward can't happen without cross-institutional commitment, including, at the very least, executive leadership in the HR and IT organizations. HR leaders should consider updating institutional benefits to appeal to a wide range of candidates. HR executives need to know how their institutional benefits compare with those of employers—other institutions, other nonprofits, corporations—to whom they are losing staff. As hard as it is, in some cases HR and hiring managers may need to be open to recruiting talent at a level of compensation that may not be in line with internal equity.
HR leaders could also assist managers in re-evaluating employee performance metrics—for example, by changing focus from time tracking to timely completion of work products and deliverables. In addition, managers may need help in learning how to manage and motivate their staff in modern, distributed workplaces. They'll need support for rethinking how to foster team comradery and culture, how to engage staff, and how to create collaborative work teams, no matter their location.
Sometimes it takes a crisis to make transformation possible. Historically, advancement in higher education has been very linear. Staff would start out in an entry-level role within a particular technology area, such as support or academic technology, and slowly move up a career ladder. Staff who wanted something different had to leave the institution or leave academia altogether. It's time for innovation. One idea is to offer a "lazy river" approach to career development, enabling staff to move and ebb and flow as their lives and circumstances evolve. Another possibility is to capitalize on the cross-departmental and cross-institutional openness and collaboration that higher education is known for by formalizing opportunities for staff to discover new areas and roles on campus or to change institutions as relevant opportunities arise, at the very least within institutional systems.
IT leaders should also think creatively about outsourcing some aspects of the work as a way to soften the impact of talent acquisition and retention problems. Of course, this is complicated. Institutions need to first find an affordable and reliable partner and convince the community that there won't be any service reductions as a result. But most importantly, the IT leadership must devote sufficient time for internal staff change management, because many staff are likely to wonder if their own positions will be outsourced one day.
Challenges in 2023
Time and money are among the biggest challenges ahead. Many colleges and universities struggle with fiscal uncertainty stemming from precarious business models. These institutions will find it especially difficult to stay (or become) competitive with salaries or benefits. A recession could worsen financial challenges.
Insufficient funds also lead to staffing cuts and hiring freezes. No one seems to have an excess of time today. Chronic overcommitments edge out work on critical interpersonal and personal growth, such as team- and relationship-building, training, and professional development. As staff continue to realize that they have options, some of which offer both better pay and a healthier work/life balance, 2023 may be the tipping point at which the IT and privacy staff not only drift away from higher education institutions but leave in quantities that could gut the IT capabilities of an institution.
Institutional leaders need to look at the hidden costs related to every staff turnover. There are tangible costs, such as recruitment-related costs, but there are also intangible costs, such as the burnout and stress placed on the rest of the staff who have to absorb some of the work while a position is vacant and when a new staff member is onboarding.
Changes in higher education tend to happen on a very small level as institutions struggle to make quick systemic changes. Pandemic adaptations were an exception, but inertia remains a powerful challenge. Leaders face the problem of finding a happy medium that considers the work that needs to get done and how to accomplish it, the institutional culture and values, and the work/life balance and other needs of staff members.
Foundations to Build
Technology and talent go hand in hand. To attract new IT talent, institutions need to have modern technologies. Modernizing the technologies and processes can help the IT organization become more efficient and align better with the strategic priorities of the institution.
Recruitment and retention strategies need to be continually reviewed and updated. It is critically important to learn from the exit interviews of staff who are leaving, as well as to understand the motivations that keep current staff from leaving, in order to structure a successful recruitment and retention strategy.
Lack of support and backfill can cause rapid burnout among staff. In the absence of additional resources or funding, institutions should highly encourage staff to leverage knowledge, resources, and tools with their counterparts nationwide. Particularly for smaller, understaffed groups, the ability to work with and learn from similarly situated colleagues in other institutions is essential. Institutional leaders should consider increasing opportunities for professional development, conference attendance, and networking more broadly.
Today's professional learning platforms can help establish an environment of continuous improvement and growth. They enable staff to enroll in training and track their professional development plans and progress. They also enable managers to invest more strategically in staff development.
Too often, career growth is structured as a linear path from, say, administrator to senior administrator to manager to director and sometimes farther up the ladder. But many people who have been trained in a particular field are interested in an adjacent field and want to learn those different skills and processes. Some staff may want to slow-walk their career for a few years for personal reasons. The desire for work/life balance shouldn't be mistaken for a lack of commitment or ambition. Institutions need to offer personalized talent management programs with nonlinear options.
Managers and leaders will need to play a large role in accepting the need for the transition from a traditional fixed-schedule, campus-based workplace to a flexible workplace. Their actions and priorities will establish the unit culture and boundaries. They will also need training in how to manage and build community among a hybrid staff and how to change performance metrics to better suit a hybrid work environment.
The commitment to flexible, personalized talent management and work/life balance must begin at the leadership level. Leaders will have to fund and staff such initiatives, rather than leaving this to individual managers or units.
Not every institution will have the funds for a major investment in talent development. More affordable mentoring programs and external training options are offered by nonprofit associations such as EDUCAUSE and NERCOMP.
Strengthening Higher Education
Institutions that can restructure their hiring and retention strategies, benefits, staffing models, and work culture will find it much easier to find and potentially keep talented staff. A more expansive approach to recruitment, in which staff can take a new job without moving or taking on intolerably long commutes, automatically enlarges the talent pool. Institutions that reinvent their benefits packages—emphasizing work/life balance, providing generous retirement contributions or paid time off, and permeating the mission of higher education into every unit and role—can become more competitive and reverse the talent exodus from higher education.
For the IT workforce in particular, the talent problem can be handled by modernizing the technologies, as noted earlier. Moving to more open-source systems or frameworks for custom development will expand the pool of candidates. On a different scale, moving from legacy ERPs to modern ERPs (see IT Issue #10) will not limit recruitment to candidates with niche application programming skills. With this approach, IT leaders not only will address technical debt but also will open the doors for staff with more flexible skills.
Outsourcing is another safety valve. Managed carefully, outsourcing can be an effective way for managers to augment staff members and invest in their development in ways that play to their strengths rather than drain their energy. There are sufficient examples of successful outsourcing IT partnerships that IT leaders can look to and learn from to implement their own strategies.
Thus, for every competence gap, leaders have three possible solutions: developing existing staff, recruiting new staff, and finding a suitable partner to cover the gap. Addressing the talent problem in the institutional technology workforce will strengthen higher education more broadly.
Issue #4. Smooth Sailing for the Student Experience
Using technology, data insight, and agility to create a frictionless student experience
Maya Georgieva, Renee Pfeifer-Luckett, and Sheri Prupis
"We're focused on that service element to the students and the essential one-on-one contact and quick response that students are wanting. How can we deploy our personnel more productively and, at the same time, create more efficiencies and speed of response for both our prospective students and our current students? We're already in that space, but we're thinking about how to do that even better."
—Katherine Frank, Chancellor, University of Wisconsin–Stout
Over the past few decades, we have all grown used to a world of on-demand services. A single device offers access to ordering food, arranging travel and transportation, scheduling home repairs, finding graphic design services, and so much more. To be successful, students need seamless access to campus resources and services—from dining to fitness to course materials. While efforts to provide frictionless student experiences in higher education lag far behind many consumer-level experiences, we have the opportunity to create a student-centered learning environment that provides a plethora of information and learning opportunities through mobile-friendly services.
Today's technologies offer the capability to integrate systems (and thus student services) in a secure, private, and accessible way. Integrated systems also offer access to the data needed by academic leaders to make informed decisions about how to better support students in a personalized way. Investing in technology systems and talent that support students' seamless access to resources, when and where desired, can improve the ability to attract, motivate, and retain students, as well as help students earn desired credentials more efficiently and affordably. Coupling technology with quality teaching staff can thus enhance a student's academic success. Doing so requires faculty and IT staff who are knowledgeable about the use of technology for teaching and learning.
Challenges in 2023
Many institutions lack staff with the skills and experience to apply and support the kinds of new and emerging technologies that will allow a more frictionless student experience. The funding that would enable such investments often goes first to security and even to infrastructure rather to than staffing and technologies that can yield a frictionless student experience.
A more insidious problem may be the changing perceptions about the purpose of higher education. As higher education is increasingly valued transactionally, as a way to get a better job, this diverts attention away from recognizing the greater purpose of higher education: creating well-rounded citizens who contribute to their community, participate in our democracy, and help shape a future that benefits everyone. Providing a frictionless student experience frames students' relationships with their institutions and reinforces a pragmatic view of higher education. Education is more than just the acquisition of knowledge; it includes the application of knowledge that can be made richer through a robust educational technology ecosystem.
Foundations to Build
Institutions need to rethink how they define and operationalize the student journey. Today's students want an institution that acknowledges and supports their diverse academic, social, and personal needs—even beyond graduation. Students seek lifetime learning experiences that lead to continued success, as well as the opportunity to participate in a wide variety of extracurricular activities that help them develop holistically.
Professionals from many different functional areas within the higher education institution must come together to re-architect the student experience. They cannot succeed by working in silos but instead must learn how to work collaboratively and interdependently as a unified team. Siloed services, systems, and data need to be integrated and adapted to provide students with a truly seamless experience. Usage and interaction data emitted from various software systems—such as the student information system, the learning management system, library systems, and the wide variety of student-facing tools provided by the institution—can also give professionals access to useful insights and trends that they can act upon to better support students.
Data can also be used to create reliable, personalized, and compelling experiences for students, beyond simply completing administrative tasks such as course registration and financial aid. Such experiences could offer students an abundance of easily accessible, on-demand resources and could also address students' diverse needs for personalization. Data can be leveraged to bridge students' academic and "real-life" experiences, thus improving their career-readiness.
To produce a frictionless student experience, staff will need an agile mindset, along with the particular skills to be able to use technology in a way that creates data insights. Those skills include user experience design, data fluency, ITIL, and learning engineering. Some staff will need deep knowledge in one or more of these areas, and some staff will need simply to understand what these skills are and the benefits they offer. All staff, though, will need to develop solid data skills, including data management, data protection and privacy, data visualization and interpretation, and decision-making based on data.
Technology is on the cusp of a paradigm shift. Today many institutions are focusing on mobile applications and multimedia. Going forward, though, with the earliest adopters leading the way, institutions will work with extended technologies, such as smart glasses, augmented reality, digital twins, and virtual environments. We will see a continued buildout of the internet of things and Web3 across campus facilities that blend digital and physical environments. Such environments will provide students with transformative learning, living, and working experiences. While this reality may be three to five years away, the work of testing, writing, exploring, and creating new learning models has already begun.
Strengthening Higher Education
Institutions are expanding beyond basic degrees to supporting lifelong learning pathways. Leaders who are committed to this expanded mission need to extend the lifelong learning concept across the services that support students at all stages of their relationship with the institution—including application, enrollment, advising and academic planning, career-preparedness, graduation, and post-student experience. Today, these activities are managed as individual, often separate functions managed by separate offices. The larger, more transformative opportunity with IT Issue #4 is to rethink and expand the entire relationship with students, providing lifelong learning and pathways to employment.
Technology can play a critical role in helping the higher education institution realize this kind of transformation, as long as leaders recognize the opportunity to introduce innovation by rethinking how the institution is engaged with technology (see Issue #1). Technology leaders can help bring stakeholders together to develop and offer seamless and frictionless experiences for students: engaging with students, taking the first steps to reimagining the educational experience, and providing students with a lifelong learning pathway.
Issue #5. Enriching the Leadership Playbook
Leading with humility and candor to engage, empower, and retain the IT workforce
Brian Basgen, Barron Koralesky, Sue Traxler, and Karen Warren
"The lack of personal engagement, of literally not being able to sit at a conference table with people, has put a strain on the development of employees. If you've gone two years without the ability to develop the next round of leaders, you're going to face this challenge at some moment. That is because you weren't able to create, whether through good planning or succession planning, some of the interpersonal, lock-arms-at-a-table skills that come with building out a solid, strong workforce."
—Paul Dworkis, Vice President, Administration and Finance, and Chief Financial Officer, Emerson College
The labor market has been contracting significantly, and at the same time, the demand for technical skills has increased, which means that hiring managers and HR leaders have to do a lot more to retain and attract talent.
Leadership makes an enormous difference in the ability to acquire and retain strong employees. Emotional intelligence in IT leadership has been steadily increasing in importance. Leaders need to be able to understand their staff's perspectives and recognize that staff don't just want, but need, openness and honesty. Leaders who own their fallibility with humor and humility can create a trusting environment. And trust is one of the most important qualities staff look for in their work environment.
As a result of the COVID-19 pandemic, we have all learned that our work and personal lives overlap significantly and that everyone needs flexibility between those lives. Managers who are able to incorporate flexibility into their workplace and management styles can motivate and retain the most talented staff.
IT staff members can sometimes feel disconnected from the mission of the institution. Connecting their technology work directly to students, who then go on to change the world, and to faculty, who are creating new knowledge, allows staff to see themselves as making much more of an impact than they might be able to make in other industries. IT work in higher education is as much about improving pedagogy and the student experience as it is about fixing a broken computer, responding to a ticket, or worrying about a network outage.
Challenges in 2023
The various challenges and traumas over the past few years have demonstrated the need to lead and take care of the whole human. But humans are complex beings, and each person is different. Leaders and managers need to find a balance between leading an organization that is full of complex people and making that organization function efficiently and in harmony to help the institution excel.
The trend of high job vacancies and overstretched budgets will continue in 2023. Some units will have more open positions than existing staff. Some managers will be told they can't replace departing staff. These challenges will simply increase the stress of existing staff.
Some positions can be filled by hybrid or remote workers. And some hiring managers in higher education are losing staff to organizations that permit hybrid or remote work modes. While embracing this flexibility opens the door to potentially larger applicant pools, the IT organization is still competing for a limited number of people who have the relevant technical skills and understanding of our industry. At times, passive hiring (posting openings and waiting for applicants) isn't sufficient. In those cases, hiring managers move to very active and time-consuming recruitment: reaching out to recruit people who aren't looking for a job change or working to develop staff who have the potential but who lack the desired experience and expertise.
A hybrid workforce requires a different institutional culture and management skills. Many institutions have not changed their cultures to accommodate hybrid work, and many managers are still struggling to motivate and manage off-site staff. Campus-based institutions will still need campus-based staff. But even those institutions needn't require every staff position to be on-site at all times.
Whether technology workers are remote, on-site, or hybrid, competition is driving their salaries higher than most institutions are able to accommodate. The IT organization, more than some other areas in higher education, is competing with industry for talent. This is compounded for institutions in major metropolitan areas, where jobs are plentiful and talent is scarce. Addressing this issue requires strong partnerships with the HR and finance organizations to develop a competitive salary structure within the institutional budget.
Foundations to Build
Leaders play a major role in creating the conditions that attract and retain staff. The time has arrived for institution-wide leadership development to become a major strategic initiative.
When the core leadership values include humility, failure becomes not a shameful experience but a learning experience. A culture that supports failing and learning, and growing from learning, will be better positioned in today's environment of ongoing change and uncertainty.
Excessive workloads and unrealistic commitments are burning out staff. Leaders and managers need to work closely with their staff to bring capacity and commitments into alignment. Effective capacity planning up-front, with ongoing updates about workloads, can help managers make adjustments when they see certain teams or certain individuals taking on too much.
Today's leaders and managers need to know how to manage and motivate a distributed workforce. This requires a much higher level of communication between employees and managers and more time spent by managers setting well-defined goals and regularly assessing performance.
Leaders and managers will also need to learn how to build and lead a culture in which change is the norm. Business processes and applications are continually changing. Staff need to learn and relearn and let go of outdated skills and ways of working. This constant change is particularly fraught right now, because many faculty and staff are overworked. The trick will be to figure out how (and when) to introduce a new technology that really will help people and not make them feel as though they're having to do more work or work harder because of the new technology.
No one can guarantee that a particular job or skillset will always be needed. Leaders have an opportunity to recruit and retain talented staff by making their best-possible commitment to support people who are willing to change skills and roles and thus stay professionally relevant. Creating a learning organization, which mirrors an especially appealing mission of higher education, may help stave off the brain drain caused by staff leaving for higher salaries.
Strengthening Higher Education
Leadership with humility and candor will build trust within the staff, who will feel that their department and institution is a safe place to be physically, emotionally, and mentally. High trust and respect will help increase staff's ability to more readily handle frequent change. This new leadership mindset will also empower staff and foster tremendous creativity and commitment.
For those staff focused solely on salary, higher education may lose talent to higher-paying industries. But compensation is only one factor driving attrition; inadequate career development and advancement, uncaring and uninspiring leaders, and lack of meaningful work are also among the top reasons people are quitting their jobs.Footnote5 As institutional management focuses on developing caring and inspiring leaders who possess candor and humility, as it builds an organizational culture that learns as well as it educates, and as it promotes the noble mission of higher education, this sector will more easily attract and develop the talent it needs.
Issue #6. Expanding Enrollments and the Bottom Line
Focusing data and analytics initiatives on identifying academic programs with high potential for recruitment ROI
Jonathan Hardy, Sue Traxler, and Karen Warren
"Enrollment and tuition-revenue dependency has been, is, and will be our largest challenge as an industry—especially as we near the projected drop in demographics and students graduating as high school seniors in 2025. An enrollment-driven revenue stream is highly variable. And high variability on the revenue side is challenging, much more when you have very fixed operating expenses. We don't have a lot of levers to pull, given that our primary expense, for the most part, is our people."
—A University Vice Chancellor of Administration and Operations
Enrollment strategies and challenges at institutions with strong identities and large applicant pools are very different from those at institutions with sharply declining applications and enrollments and, accordingly, resources. Institutions with more enrollment success have the resources to invest in activities that can continue this success. Data is at the heart of these activities, generating analytics to help recruiters decide which prospective applicants to target, where to proactively engage with potential applicants, which guidance counselors and career coaches to build relationships with, and even whether to begin recruitment at middle schools.
Getting the resources to engage proactively with schools and build relationships takes time, money, and staff that not every institution has. The gap between the institutions that are using data and analytics to fuel dynamic recruitment and enrollment programs and those that aren't doing so is widening.
In particular, institutions struggling with low enrollments may want to consider looking beyond the traditional degree model to develop stackable and microcredentials that can attract new kinds of students. IT leaders can help provide analytics to help their institutions better target those populations and identify businesses to partner with to move those initiatives forward.
Challenges in 2023
Funding is the biggest challenge. Institutions are trying to navigate shrinking budgets without raising tuition and exacerbating the affordability problem. For research institutions, grant income can supplement tuition, endowment income, and capital campaigns. Many institutions are primarily dependent on tuition for revenue. For public institutions, reduced state government funding has led to being tuition-dependent while still having the mission of being open-access or nonselective.
The solution—an enrollment strategy fueled by data and analytics—isn't necessarily affordable. This is a different digital divide between the haves, institutions that can invest in data and analytics, and the have-nots, institutions that cannot but would benefit at least as much from such investments. Meanwhile the divide is widening as successful analytics programs yield greater applicants and enrollments.
Creating an analytics program isn't easy, even if funds are available. It often falls to technology professionals to help staff learn how to ask data-relevant questions, create pertinent measures, review findings, and then apply those findings to make changes. These skills don't come naturally to everyone, even as they are becoming necessary for every job.
Changes in prospective student demographics and preferences lead to changes in the data that enrollment programs need. Some of the data that enrollment professionals depended on in the past is no longer relevant for other reasons. For example, as students are now applying to more institutions, institutional acceptances don't correlate with application counts the way they used to. Understanding the trends underlying such changes is an ongoing challenge.
Foundations to Build
Successful institutions will have instilled data literacy as a workforce-wide competency and as part of the institution's culture. People across the institution need a deeper understanding of where the data comes from and what the data means.
Institutions need to invest in their data, from warehousing and analytics to reporting and visualization. For some institutions, the problem is that there are too many tools in too many places. Institutions need unified data platforms with sufficient applications to meet all of their data, analytics, and reporting requirements.
Student information systems and learning management systems may need to be reconfigured or replaced to support new kinds of learners and credentials. Many of today's systems support the traditional full-time undergraduate earning a two- or four-year degree. These systems need to become flexible to meet the educational mission and business model of the institution.
Institutional identity models may also need to be revised. The reporting and role challenges that institutional research and other staff have encountered with "nonstandard" roles such as adjunct faculty will mushroom as educational leaders create programs for new kinds of credentials, such as microcredentials. A large expansion of enrolled students not only will affect IPEDS and other reporting data but also could significantly increase the costs of institutional software licenses that are based on such data.
Many institutions still have diversity, equity, and inclusion inconsistencies in their staffing and faculty, and these have an effect on enrollment. When students don't identify with faculty or staff, they will probably look at other, more diverse and inclusive institutions. Individual department heads and hiring managers generally lack the skills and experience to attract and hire unrepresented faculty and staff. The HR department and the chief diversity officer must implement the resources, processes, and training to make systemic progress.
Strengthening Higher Education
Perhaps more than any other challenge or opportunity, enrollment challenges are driving the transformation of credential offerings. As institutions gain experience with analytics-fueled enrollment programs, they can expand the focus to an adaptive, analytics-informed credentialing strategy. Individual institutions may find new opportunities to differentiate their educational mission—for example, by blending the educational benefits of the community college approach with the educational benefits of the research university approach or by partnering with institutions to create educational offerings that neither institution could do on its own.
An enrollment problem is an existential problem. Institutions that understand how to use data to dynamically address, and even proactively avoid, enrollment issues will become more resilient. They not only will know how to solve the enrollment problem but also will have become stronger by doing so.
Issue #7. Moving from Data Insight to Data Action
Converting data analytics into action plans to power institutional performance, enhance operational efficiency, and improve student success
Brian Basgen, Adrian Ellison, Curt Hillegas, Pekka Kähkipuro, Leah Kraus, and John Stroud
"We have to better utilize technology and information systems to gain insights and drive strategy more comprehensively. If we don't make this a strategic focus, then we won't be successful in our other strategies. We've got to have better technology, better information systems, better insight, and better visualization to drive everything from how we create research and classroom experiences to how we utilize our facilities and optimize our space."
—Brett Dalton, Chief Business Officer, Baylor University
Institutional decision-makers can no longer afford to fall back on what they think they know. This new endemic world is going to be drastically different from the pre-pandemic world, and as a result, higher education needs to continue to evolve. Analytics is one of the more important tools to help leaders and decision-makers understand how well they are operationalizing new strategic initiatives and how effective those initiatives are. Institutions implement a variety of analytics programs that are foundational to both short- and long-term decisions made by institutional leaders. But it's time to grow beyond today's analytics programs and to mature them for endemic management and strategy.
Foremost, the focus of data analytics needs to change from a historical approach (using data to understand what has happened) to a future-oriented approach (using data to project where we are heading) in order to guide institutional strategy as leaders decide on the major initiatives to undertake in the next five to ten years. Leaders have to act forward as well. They need to work with stakeholders in looking at the data and deciding whether and, if so, how to act on it.
Challenges in 2023
Increasingly, the needed data comes from individual cloud solutions adopted by different parts of the institution. That presents a challenging data-management and data-integration barrier that gets more challenging as cloud systems proliferate.
Perhaps the biggest challenge is the capacity of the institutional leadership and workforce to make these strategic and tactical changes. Institutions are struggling with multiple staff vacancies, leaving existing staff with more work than they have the capacity to take on. Inevitably, the less urgent work will be deferred, even if it has the potential to introduce efficiencies. The efficiencies promised by analytics aren't realized overnight. It takes effort to learn and then act on what's been learned and to make mistakes and then adapt as part of the necessary shift from insight to action.
Foundations to Build
When analytics programs move from insight to action, they become drivers of cultural change. At their core, analytics programs examine how people work, when and why that work needs to change, and how it should be changed. These efforts can quickly involve high stakes, particularly when they focus on lower performance and gaps. Leaders can reduce the pressure by flipping the focus and conversation from what's missing to what's working and from what to eliminate to how to improve. Instituting a culture of acceptance and belonging is critical to moving from insight to action. If individuals don't feel safe to experiment and to fall short, the work has failed before it even begins.
Analytics needs an institution-level approach. The institution has to own the data. Leaders of functional offices and academic offices can have stewardship over the data, but they need to cede ownership to the institution in order to maximize impact and contain costs. For example, people need to act on data in a timely manner if it's going to make a difference. Staff need to make the shift from data that simply reports about the past to data that is actionable and operationally relevant in this particular moment. One of the obstacles in making this shift is that departments often want to hold operational data while waiting for updates. This prevents the data from being actionable in the short term.
The scope of what analytics initiatives can accomplish is defined by the level and scope of leadership buy-in. Limited buy-in will result in limited effect.
Acting on data insights requires good data. Good data includes data governance, data definitions, and increasingly, integrated data. IT leaders and professionals are well positioned to be knowledgeable, neutral arbiters of how data is managed throughout the institution.
Data insights require effective tools for data analytics, reporting, and visualization. Those tools need to be used by staff who understand when, why, and how to use them. Good tools will help staff and faculty become more comfortable looking at and using the data.
Data action requires project management tools and the ability to track and visualize leading measures in real time so that the people who are charged with acting on the insights can know how effective their actions are.
Integrated data can make predictive analytics more effective and also begin to lay the groundwork for adopting artificial intelligence and machine-based learning.
New data foundations and applications require new skills. The needed technical skills include master data management, systems and data integration, and business intelligence. Data scientists, particularly those who understand higher education and their institution, will be both essential and hard to find.
Key sections of the workforce will also need new skills. They must be able to understand how to manage, analyze, visualize, and interpret data and how to gain insights and take action. They will need to discard old habits and move beyond working primarily from their gut feeling of how to do their job. Beyond data fluency is data accountability. Today, many jobs require data analysis, but that requirement may not be in the job descriptions. When people get busy or are overextended, they tend to put off what they consider to be less critical work. Sometimes data is put into that bucket, and it really ought not to be for many important roles. Holding people accountable for using data needs to be a core tenet of certain responsibilities.
Too much data can overwhelm people and impede them from gaining insights and taking action. Addressing this problem can mean ensuring that people have access to the subsets of data they need for particular decisions and roles.
Strengthening Higher Education
Analytics is an important component of institutional improvement and transformation. Understanding students' and other stakeholders' current and emerging needs can strengthen the future position of higher education institutions. Analytics programs that include both data insight and action plans can enable leaders to align operations with strategy and ultimately connect with the vision and the mission of the institution. An institution-wide, forward-looking focus is essential.
Issue #8. A New Era of IT Support
Updating IT services to support remote/hybrid work
David Ayersman, Barron Koralesky, and Emma Woodcock
"It's not just the way we work that's become hybrid. It's the IT infrastructure and the services also. What IT departments are managing now is more complex, more widespread and far-reaching, more specialized, and more difficult to secure than ever before."
—Emma Woodcock, CIO, York St. John University, United Kingdom
Just as work and learning have become hybrid, so too have IT infrastructure and services. Now everything is anywhere—from tools to services, and from faculty and staff to learners. IT staff need to support people wherever they are.
Because everything is anywhere, what IT organizations are handling now is more complex and specialized, more widespread and far-reaching, and more difficult to secure than ever before. IT professionals are managing digital environments that are a mixture of old and new architectures, both on-premises and in the cloud. Staff need to continue to learn and to grow their skills and knowledge to successfully manage such environments.
IT leaders must rethink and redesign IT infrastructure and services using industry-standard good practices and adapting them to this new era of IT support. Failing to do so creates a significant risk to institutional viability.
End users have very high expectations for the tools they use to support their learning and work. Changes are required to meet these needs. Some institutions are revising their equipment policies and practices to provision users for distributed, rather than office-based, working environments. Laptops are replacing desktops, and people may be given additional equipment (e.g., cameras and headsets) and applications (e.g., collaboration suites) to collaborate virtually.
Challenges in 2023
The adaptations to pandemic work were hurried, temporary, emergency fixes, and often IT professionals and end users were asked to adapt existing tools to pandemic conditions. IT leaders are now focused on building a more resilient and sustainable infrastructure and support environment for a distributed digital campus, while still giving care and attention to the physical campus. This will take time, resources, and enthusiasm for change. Challenges include creating an institutional culture focused on acquiring new digital skills, improving policies and procedures, building cybersecurity awareness, and continuing to live with an unstable supply chain.
Federal funding helped many institutions adapt to and survive the pandemic. But 2023 will be a much leaner year, leaving leaders to continue these initiatives within their own budget.
IT organizations must provide a robust campus network that is better than ever. This network must be ubiquitous and must support everything from the internet of things to a home-like experience for resident students. At the same time, remote learners' and workers' connection to institutional resources is dependent on their local broadband service. But broadband access is incredibly spotty across the United States and the world, presenting a fundamental challenge to working and learning remotely.
Foundations to Build
Managers across the institution will have to focus more intently to ensure that all staff—whether working on campus, hybrid, or remote—understand the business of the institution and have strong relationships with their constituents. IT leaders will need to work especially hard to retain and increase their role in shared institutional governance.
Delivering a seamless, safe user experience both on and off campus requires the technologies, awareness, and training that provide the foundation for secure access to digital assets at any location. While the IT organization will provide the tools, everyone in the community must increase their skills in using and protecting the information we rely on.
IT staff and users alike need new skills, both technical and interpersonal, to succeed in, and provide support for, everywhere/anytime work and learning. Technical examples include cybersecurity practices, data management, and collaboration tools. IT staff will need to learn how to optimize and simplify computer configurations and end users' system and data management expectations. Complexity is not the friend of usability or security.
Managers and staff need new skills to be able to manage and work productively in hybrid settings. Working from home opens a door to a lot of possibilities related to scheduling and work. Staff can interweave work with chores, family commitments, and self-care. Accountability is the flip side of such flexibility. Staff and managers will need to communicate more effectively and frequently about the status of tasks and about new assignments and issues. Many will find time and project management more challenging when they and their team are in hybrid working arrangements.
Higher education has shown a commitment to valuing and increasing the diversity of institutional communities. Institutional leaders will need to adapt communications, norms, meetings, celebrations, and other elements of work culture to hybrid work to continue to give voice to and retain those diversity elements they have been working so hard to build.
Leaders will need to possess and encourage empathy as a core value and competency in the face of the complexity of hybrid work environments. Everyone will need to stay mindful of whether and when the harmony of work and personal life is getting out of alignment. Most important will be staff who trust one another and remain focused on the institutional mission. All staff must do their part, no matter where they are, so that all can be working together even when they're not side by side at any given moment.
Strengthening Higher Education
Continuing to evolve how IT support is delivered is helping both IT staff and the people they serve become more agile and adaptive. Everyone has learned that if something happens that prevents Plan A, they need to have already come up with a Plan B and a Plan C for getting the very same thing done. Recognition that the world around us is highly changeable has made many people more understanding and accommodating when things do go wrong. IT staff and the faculty, staff, and students they serve worked significantly more collaboratively to adapt to the pandemic. And as a result, they've developed partnerships and collaborative ways of working that should live on.
Now is the time for IT staff to focus even more on the unique and powerful mission of higher education and to unite with faculty and other staff to serve that mission. This focus will strengthen institutions and draw in a better, bigger workforce. Members of the workforce, especially the incoming workforce, want to believe in the product they're working to create. Higher education can offer a place where staff can believe in their work and the difference they're making in the world.
Issue #9. Online, In-Person, or Hybrid? Yes
Developing a learning-first, technology-enabled learning strategy
Renee Pfeifer-Luckett, Pablo Molina, and Sheri Prupis
"One way I see higher education transforming in the coming years is a smarter use of remote learning. What's the right balance between in-person experiences and remote? We'll have more targeted use of remote learning. It's going to look really different across institutions. But all of us will be trying to find the best application for our given populations of students and faculty."
—Dukes Love, Professor of Economics and former Provost, Williams College
The opportunities and needs for technology-enabled learning in higher education have drastically changed over the past three years. The 2020 emergency pivot to online operations due to the COVID-19 pandemic has evolved current and incoming students' perspectives on what they need to be successful in their studies. Faculty members now have a great deal more experience using technology tools to support their teaching. The move to the cloud has also paved the way for more rapid and regular product innovations. Collectively, these changes have shone a bright light on a pedagogical development that experts have long advocated for: backwards course design. Course design should begin with students' learning outcomes, rather than starting with the available technologies or course modality (e.g., face-to-face, online, hybrid, HyFlex, synchronous, asynchronous). Courses should be designed in a way that allows students to achieve their learning objectives, using the technology tools that best gets them there. Students have differing constraints on their time and resources, and ideally, higher education needs to become more flexible to adapt to those differences.
Challenges in 2023
Campus infrastructure, funding, and resources all present challenges for students, who need technology hardware and software, adequate learning spaces, and bandwidth to access learning experiences. Many students lack at least one of these. Classrooms and laboratories need both infrastructure and layouts that accommodate various learning modalities and technology tools. Faculty and instructional designers must devote time to technology-mediated pedagogical design and delivery.
This issue comes with cultural challenges as well. Not only is the technology environment changing, but today's students are expecting some of the learning experiences of their K–12 years. They want seamless, engaging learning on a par with their commercial technology-mediated experiences. Few institutions are ready, or even acknowledge the need, to provide students with highly flexible course modalities (e.g., bricks-and-mortar, online, autonomous, mediated, personalized) and the well-designed, integrated services that students are used to in the commercial world. Offering students a contemporary learning experience puts pressure on an institutional resources. The bigger challenge, however, may be the culture shift that is required to address the gap between how the institution views its digital presence and what students expect. Faculty cannot be left out of this equation. Investment must be made in faculty professional development for course design and delivery and the use of classroom technology.
Foundations to Build
An approach that focuses on using technology to support all course formats will be more successful than one that treats instructional modalities separately. This approach needs to adapt to discrete and often discipline-specific tools and services that instructors, students, scholars, and researchers need to support teaching and learning. Librarians, faculty, instructional designers, and IT staff will be important partners in designing and implementing secure and integrated critical technologies within the institutional infrastructure to support student success.
A learning-first, technology-enabled learning strategy requires strong and solid infrastructure. Technology systems need to be integrated, interoperable, and standardized to lower the barriers to resources when and where the students need them and to generate meaningful metrics to help guide decision-makers about the teaching and learning technology investments that have been and still need to be made.
Investment in faculty support resources is key to being successful with technology-enabled learning strategies. Since the COVID-19 pandemic, some faculty may be less likely to attend traditional face-to-face workshops on campus in large groups. They're asking for more focused, one-on-one or small-group support and coaching on using technologies, adopting active learning practices, and experimenting with emerging solutions (e.g., virtual reality). Institutional leaders need to be ready to fund not only the technologies but also the technology support resources, while also recognizing and rewarding faculty's teaching innovations that improve students' learning outcomes.
Strengthening Higher Education
There is a direct connection between learning strategy and enrollment. Done well, a modernized learning strategy can make possible new, more flexible, and more relevant learning opportunities and credential programs that can attract new student populations.
With pedagogically-driven technology tools, recruiters can reach those students from more diverse populations who may be looking for just-in-time or bite-sized learning opportunities. Technology enables students to enroll in required courses when they need the courses, rather than having to wait for when the courses may next be offered in a traditional classroom and instructor-constrained model. Programs can be designed for working adults, high school students, students with differing abilities, and more.
An institution that creates an inclusive, learning-first, technology-enabled learning strategy that uses new and emerging technologies and is guided by outstanding pedagogical design can create a much more compelling value proposition for students, the community, and industry partners. Institutions continue to vie for the same student markets. Institutions that can truly excel, reach new markets first, and design for the needs of particular niches of prospective students will be more likely to pull ahead of the competition.
Issue #10. SaaS, ERP, and CRM: An Alphabet Soup of Opportunity
Managing cost, risk, and value of investments in new ERP solutions
Kristen Eshleman, Barron Koralesky, Keith McIntosh, and Ravi Ravishanker
"Technology is one of the critical things, maybe even the critical thing, that keeps us sustainable as an enterprise. It allows us to do so many more things than we used to do within a financial model that is strained. The technology enables the administration operations to be at a level of complexity that we couldn't otherwise maintain."
—Andy Shennan, Provost and Lia Gelin Poorvu '56 Dean of the College, Wellesley College
This issue may feel familiar to those who remember the sweeping replacements of administrative applications with a new generation of ERPs at the beginning of this century. Once again, institutions are considering whether, when, and how to adopt an entirely new generation of administrative applications. So much, though, has changed since then. This time we are not looking at the technology as a panacea. Instead, we are leading a change management project that empowers staff to improve our policies and processes and then enable them with the support of technology. Rather than single-vendor, highly customized ERP suites, the new ERPs will enable institutions to transform both the back-end operations and the user experience and will provide new analytics capabilities as well.
The utility of today's enterprise applications can move beyond administrative efficiency to contribute directly to the institutional missions and business model. CRMs can transform institutional advancement and admissions. Today's enterprise applications can provide better analytics and data to inform good decisions. They can also put such information and tools into the hands of all campus constituents, from students planning their academic paths, to faculty designing their curricula, to staff doing their work to make the institution function.
Leadership at every institution understands the strategic value of a welcoming, well-maintained physical campus. Increasingly, however, the digital presence and experience is the primary way the public and prospective students, faculty, and donors form impressions of the institution. If those digital facilities don't look modern or operate in the way that learners and other constituents expect, then institutions are underinvesting in what has become the digital front door of the institution.
The ERPs currently used in higher education are fraught with many different problems and present an unrecognized major institutional risk. Institutions that have ignored regular maintenance of physical infrastructure have incurred "deferred maintenance" costs that far exceed paying for regular maintenance. Similarly, many institutions face a "technology deferred maintenance" problem that has risen from not investing in, or not having a plan to invest in, modern technologies. The generation with the experience and skills to run the turn-of-the-century ERP suites is retiring, and younger professionals have other skills. Thankfully, part of the value of adopting modern ERPs is the fact that they rely more on configuration than on massive customization. This allows us to use precious staff resources to work more closely with our colleagues across the institution as we assist them with process improvement, data management, and business analysis.
Challenges in 2023
Moving to the cloud is not a fast process, nor is it cheap. New ERPs are expensive and involve a budgetary change toward operational costs instead of capital costs. Despite the contributions that a modern ERP and CRM can make to institutional transformation, many leaders will balk at the cost, time, and complexity. New CRMs—with their potential for increased gifts and donations, admissions, and student retention—may be easier to justify than new ERPs. But ignoring an aging and obsolete ERP is a growing risk; making the case for risk mitigation here may help.
The change management challenge is equally daunting. To get the most from new applications, people need to be committed to improvement and open to letting go of how they used to do things. There's a reason change management is at the core of these projects; only when people change the policies and processes will the technology reach its potential. Leaders' advocacy and support can help, but change management takes a lot of preparation and time.
There's another reason change management will be especially difficult in 2023. Most of us have not yet recovered from the stresses, workloads, and limitations of the pandemic. People are exhausted, and change requires time, optimism, and energy. On the other hand, incumbent staff turnover in ERP functional units (e.g., finance, HR, registrar) may present an opportunity for change at some institutions.
Foundations to Build
An ERP project is expensive and involves high stakes for everyone, placing the IT and functional leaders in a very precarious position. Implementing a new ERP is also a lengthy process. In addition, with increased career mobility, the institutional leaders, project sponsors, and project participants may not all stay with the project through the entire process, adding considerable project and intangible human costs.
Too often, major technology initiatives such as a CRM or an ERP begin with senior leaders who hear about other institutions that have adopted new technologies. This leads to "Here is a solution; let's find problems it will solve." Technology leaders need to help develop an institutional culture of "Here are all the problems we need to address; let's find an appropriate solution." This will result in much better outcomes than those from the first approach. Once committed, institutional leaders will also have to be adept at spotting and addressing detractors' efforts to find faculty and other influential people to oppose the project.
The classic people-process-technology triad applies to these projects. In order for any change to happen, people have to want to change and improve. Stakeholders need to update policies and processes, which may have been in place for years across multiple ERPs. Technology can be used to inform the way to improve processes. Many modern ERPs have good practices built into them and can be configured as the basis of what will become iterative improvement over time.
The world of SaaS models, ERPs, and CRMs is constantly changing. Staff will need to evolve continually in order to stay relevant in the work they're doing. Managers need to help their staff evolve, by providing opportunities and professional development and also by creating an environment in which these transitions are encouraged.
The need for analytical skills will continue to grow. "Basic productivity skills" used to refer to word processing and email, but the category is expanding to include data fluency, defined as interpreting and creating charts and plots and graphs, gaining insights, and making decisions based on those insights.
Technology is changing the nature of work and thus blurring once-firm boundaries among roles. Administrative staff will need to replace lower-level administrative skills (which have been automated) with technical skills, particularly when they work off campus. In similar ways, faculty will need to gain proficiency with administrative systems. As technologies become easier to use and more universally embedded in all work, technology staff will evolve from being strictly technical experts to being strong thought partners on the business side of the institution.
Strengthening Higher Education
The ease of use and the seamless integration of these systems make them game changers. The new ERP and CRMs are giving fundraisers, alumni professionals, HR and finance staff, and other administrators access to information and analytics that they've never had before. Replacing systems and processes that required niche knowledge and skills (often possessed by a single individual) with out-of-the-box cloud applications and architectures enables institutions to eliminate single points of failure and to forge relationships with consultants who can be onboarded quickly. Ultimately, everyone reliant on these enterprise systems will be spending more time contributing directly to institutional missions rather than managing systems and processes. These advantages are not immediately apparent. Realizing the value can take a couple of years.
Higher education will not revert to an entirely physical campus and pre-pandemic ways of working and learning. Leaders will inevitably find themselves maintaining a physical and also a digital infrastructure, both of which will need to support the institutional missions and reflect the institutional culture and values. Investing in these new enterprise systems can prepare colleges and universities not just for the hybrid future, but for the hybrid present.
Reflections and Conclusion
Higher education and artificial intelligence could hardly be more different. The use of artificial intelligence is still quite new, whereas higher education is centuries old. Artificial intelligence is changing rapidly, whereas higher education changes slowly. The potential value of artificial intelligence is exciting, even though experts are struggling to fully identify the risks it may pose to individuals and our world. Meanwhile, the value of a postsecondary education is well-documented but nevertheless is under scrutiny and is waning in the eyes of some.Footnote6
Despite these differences, higher education may benefit by adapting its own kind of foundation models from the world of artificial intelligence. The through line between artificial intelligence and higher education involves technology and data. It is technology and data that are transforming learning, the student experience, work, decision-making, and the circumstances under which leaders manage and motivate students. It is technology and data that can be applied to introduce more flexibility, scalability, and efficiency to institutions. It is technology and, especially, data that are introducing new risks to privacy and equity.
Yet in many ways, the influence of technology and data in higher education is still more organic and unconscious than strategic and deliberate. Institutions could share and benefit from underlying foundation models that intentionally account for technology and data. Doing so could help higher education change more quickly, become more affordable, and better address its challenges and improve students' outcomes.
Magic Wands
When we interviewed the 2022–2023 EDUCAUSE IT Issues panelists,Footnote7 we asked them to tell us how they might use a magic wand to make each of the Top 10 IT Issues succeed by changing just one thing, anything, about higher education or the world around us. Their answers said a lot about the barriers that are impeding people and institutions from both optimizing technology and transforming higher education.
Some panelists focused directly on today's technology challenges:
"I would forget about the legacy technology that is still keeping us thinking in the old way. With my magic wand, we would be able to start from a clean table with today's higher education practices and digital opportunities. And there would be no question about IT's involvement in strategic matters."

"I would love to see more mergers and acquisitions among the software companies. If legacy ERP vendors can help the new systems adopt a lot of the knowledge that's been built in over the years, then I believe the volume of customers that can be brought over has the potential to drive down the cost. Currently, that is the problem. A lot of people look at the price tag and say, 'We can't go here.' But if you can just lower it by merging, I think that would do wonders for higher ed."

"What makes all of this more difficult are the vendor solutions that we all work with. I would create a common plug-and-play API interface across all of the systems that we use across institutions, with vendors working together to support each other and to complement each other, rather than trying to build their own version of everything. And that would make getting the most from data much, much easier."

"I would want to see ubiquitous access to broadband connectivity everywhere so that we could have access for everyone from everywhere. That ultimately helps diversity, it helps our enrollment, it helps our institutions be able to think differently and deliver differently."

"I would use my wand very broadly, and I would eliminate all the barriers that are slowing us down or stopping us from doing these things in the remote world."

"If I could wave a magic wand, I'd be wanting an IT leader at the university board level to treat digital investment and design with the same care and attention as the physical. You don't let anyone put up a new building without that design. I'd like to see the same in the digital world."
Some panelists suggested ways to improve privacy and cybersecurity:
"I would increase privacy literacy. The other thing that I would ask for is much more clear legislation that applies to colleges and universities. Right now, FERPA is from, good grief, 1974. That's an old law. We need an update that meets the needs of today."

"I would wave the wand and make all the cybercriminals disappear. Now, assuming that didn't take care of the problem, I would ask for strong, clear regulation and enforcement so that we really reduce all the cyber-risks that are interfering with our mission and the mission of many other organizations worldwide. So please, regulators, please, enforcers, do your jobs better in a very difficult situation so that all of us can carry on with our lives."
Some panelists spoke about innovation:
"I would create a culture of innovation for student-centered experiences on our campuses, digital and virtual and onsite, embracing a digital-first approach to all we do. In the next few years, as virtual worlds become more readily available and accessible, we need to expand our presence in these platforms. We need to be able to live and exist both in the real and in the virtual. We need to offer learning experiences to our students, anytime, anywhere, with a sense of presence and immersion."
Many panelists were concerned about how to better help the people working in higher education:
"The tools that we use in the IT world are designed for the functional offices and IT to work well. Our learning management system isn't designed for the student as the end user, and our financial systems aren't designed for the people who are out at the forefront. I think if we change things around and have tools that are focused so that we're really measuring what people's interactions are, rather than driving the way they do things, then we would actually be able to measure how we can improve things and how we can better align things with what the students, the researchers, the faculty, and the administrative staff want to do."

"I would make others see the value in diverse teams and in the relationship with diverse teams and decision-making, and in making [diversity] from all levels, especially at the top."

"If we're going to get folks to be empowered, to lead with candor, to be empathetic, that's really hard when your battery is on empty. If I could wave a wand and just recharge everybody's battery, because we've got so much change ahead, I would do that, and get everybody a full tank and then we could move forward on all these things, which are going to take a lot of energy to enact."
Finally, some panelists would use their magic wants to change the role of higher education:
"I think that we should change some of the focus of what student success is. Retention, graduation rates, all of those things are important, but we need to look at whether the student is successful. Not student success, but is the student successful? Our goal across our institutions is to graduate students who go out into the world and do amazing things and give back in whatever way that mission is for your institution. The data needs to speak more to the student's successfulness than the numbers during the student's experience at an institution."

"The one thing that I would want to change is how the public, parents, students, community, state, and governors view higher education. Helping the community at large truly understand what education is and the purpose and the mission of education and what it means to be learning and how technology helps us get there is key."

"My magic wand would go toward diversity, equity, and inclusion. I just don't see higher ed moving fast enough in this one particular lens to make me feel comfortable that we've made moderate progress. If I had a magic wand, it would be to make some large-scale systemic changes inside higher ed."
The beautiful thing about magic wands is that they enable people to dream big. One panelist said: "If I really had a magic wand and I could change just one thing, I'd rid the world of hate. Only by creating environments where acceptance and tolerance are the norm can we really ever hope to move society forward."
Foundation Models
For generations, people have turned to higher education to dream big and to realize those dreams. But achieving these dreams requires different responses from higher education over time. Today's times are demanding something more from technology. As a university chief business officer put it, "I really cannot imagine a successful path for our industry, much less for an individual institution, that doesn't involve an increased utilization of technology, as well as enhanced technology." That wasn't the case when this century began. Higher education needs new foundation models, and those models must use technology and data. The 2023 Top 10 IT Issues help describe the foundation models that colleges and universities will develop in 2023 and beyond, framed by the three building blocks of leadership (Leading with Wisdom), data (The Ultra-Intelligent Institution), and work and learning (Everything Is Anywhere).
Acknowledgments
The work of producing this report and associated materials is year-round. It calls on contributions and dedication from our panel of higher education technology leaders and significant effort from EDUCAUSE staff. The technology leaders who participated this year contributed time that they didn't have and experience that they had in abundance, and I am more grateful than I can say for both. Without these leaders, the report would inevitably go astray in places and lack texture throughout.
Within EDUCAUSE, I am surrounded by colleagues who are smart, kind, funny, collegial, and dedicated. So many of my colleagues are essential to this work! In particular, Emily Kendall and Jamie Reeves have been my ongoing collaborators, taking over when I was on medical leave, providing much-needed advice and encouragement, and working with me throughout the year to get this stuff done. Teddy Diggs is the best editor ever. Gerry Bayne created a terrific video that somehow distills this long report into a couple of minutes. Zach Peil has recently joined us to contribute his data and graphics design expertise with great competence and consideration. Connie Ferger and her team bring their marketing expertise to help position and promote this work. My enduring thanks to them all.
Notes
Center for Research on Foundation Models, Stanford Institute for Human-Centered Artificial Intelligence, "On the Opportunities and Risks of Foundation Models," arXiv, revised July 12, 2022.

Jump back to footnote 1 in the text.

Once a year, members of the EDUCAUSE IT Issues Panel select a slate of 15–20 topics they believe will be the most important IT-related issues facing higher education institutions. EDUCAUSE members receive a survey with those issues and are asked to prioritize them. The 10 issues with the highest-priority scores become the Top 10 IT Issues. This methodology also enables EDUCAUSE to determine the Top 10 IT Issues among various types of institutions. For 2023, 14,103 email invitations to complete the survey were sent to EDUCAUSE members, and 626 (4.4%) completed the survey. Where multiple representatives from a single institution completed the survey, we selected the response from the representative in the highest-ranking position to determine the Top 10 IT Issues. The final Top 10 IT Issues list is thus based on the responses of 388 U.S.-based respondents. Although more survey responses are always desirable, this final response rate is still within the acceptable range for a confidence level of 95% and a 5% margin of error.

Jump back to footnote 2 in the text.

Irving John Good, "Speculations Concerning the First Ultraintelligent Machine," Advances in Computers 6 (1966), 33.

Jump back to footnote 3 in the text.

Center for Research on Foundation Models, "On the Opportunities and Risks of Foundation Models."

Jump back to footnote 4 in the text.

Aaron De Smet, Bonnie Dowling, Bryan Hancock, and Bill Schaninger, "The Great Attrition Is Making Hiring Harder," McKinsey Quarterly, July 13, 2022.

Jump back to footnote 5 in the text.

Jason Wingard, "Higher Ed Must Change or Die," Inside Higher Ed, August 16, 2022. Jump back to footnote 6 in the text.↩

Each year the IT Issues initiative kicks off with about two dozen interviews of the IT Issues panelists' presidents, chancellors, provosts, CBOs, and other senior-most institutional leaders. We ask them to talk about the most pressing and strategic issues, challenges, and opportunities their institutions are facing, now and in the near future. Our panelists use the summaries of those conversations to identify how technology can contribute to the most important priorities for higher education.

Jump back to footnote 7 in the text.
---
Susan Grajek is Vice President, Partnerships, Communities, and Research, for EDUCAUSE.