The EDUCAUSE 2021 Top IT Issues examine three potential scenarios for the role of technology in higher education after the pandemic: restore, evolve, or transform.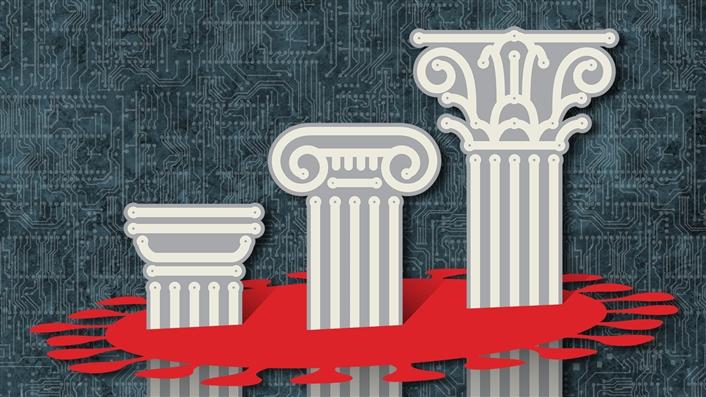 The COVID-19 pandemic has challenged all industries and sectors, and higher education was no exception. The diversity of campus cultures, financial health, business models, and students led to a similar diversity in the impact of and response to the pandemic. There was no pandemic playbook for higher education, and 2020 has been a year requiring a decade's worth of effort and change.
And yet, the pandemic will end. At some time in the future, epidemiologists will no longer appear regularly on news programs, and public spaces will no longer be marked with circles every six feet. What will be left, what will we face on the other side of COVID-19, and what role will technology play in the recovery ahead? How might higher education emerge from the pandemic stronger and fitter for the future? These are the questions the 2020–2021 EDUCAUSE IT Issues Panel has explored this year.
Alternative Futures
Throughout the pandemic, we have all learned a different way to think about the future. We've learned the futility of making long-term plans to mitigate a disease with symptoms, diagnoses, treatments, and prognoses that are complex and poorly understood. Most of us have learned that obstinacy, cheerleading, denial, and magical thinking are not effective ways to manage a pandemic. We have also learned the usefulness of considering scenarios and increasing our agility and flexibility. Scenarios help us anticipate alternative potential futures, so that we are prepared not only for what we might hope or dread but also for what actually happens. Agility and flexibility help us move quickly and adaptively as circumstances change and new information comes to light. Now is time to consider how higher education will emerge from the pandemic and how information technology can help.
With this in mind, EDUCAUSE took a different approach to this year's IT Issues project. You will find no "Top 10" IT Issues for 2021. With planning horizons sharply attenuated, we thought a single list of Top Issues was too constraining. Instead, we used a scenario approach to consider three different ways institutions might emerge from the pandemic. This year we offer three Top IT Issues lists, and we examine the top 5 issues within each scenario. As we considered potential scenarios that might guide an institution's pandemic recovery planning, we made three assumptions.
Assumption 1: The pandemic will begin to resolve sometime in 2021.1 One or more effective vaccines will become available and distributed. Leaders, students, and other stakeholders will be able to begin planning their recovery paths.
Assumption 2: Our scenarios should be high-level views of possible recovery visions. The three scenarios we chose are very general and based on how an institution's vision, culture, and business model may influence its approach to recovery.
Assumption 3: A single scenario would probably fit very few institutions. Leaders might, for example, adopt one scenario to guide financial health and another to guide education and academic work.
Using these assumptions as a guide, the panel chose three scenarios:
Restore. We will be focused on figuring out what to do to get back to where we were before the pandemic.
Evolve. We will be focused on adapting to the new normal.
Transform. We will be focused on redefining our institution and taking an active role in creating the innovative future of higher education.
Next, the panelists identified nineteen potential Top IT Issues for 2021. That is no different from our process in a normal year, when IT Issues panelists select 15–20 issues for members to vote on. This year, however, the panelists created three versions of each issue, one for each scenario.
Details about our methodology are available in Appendix A. In summary, our survey asked IT leaders from EDUCAUSE member institutions to first pick their preferred scenario-based version of each of the nineteen potential issues and then prioritize the issues they had picked. From these selections, we compiled lists of the top 5 for each scenario (see table 1).
Table 1. 2021 Top IT Issues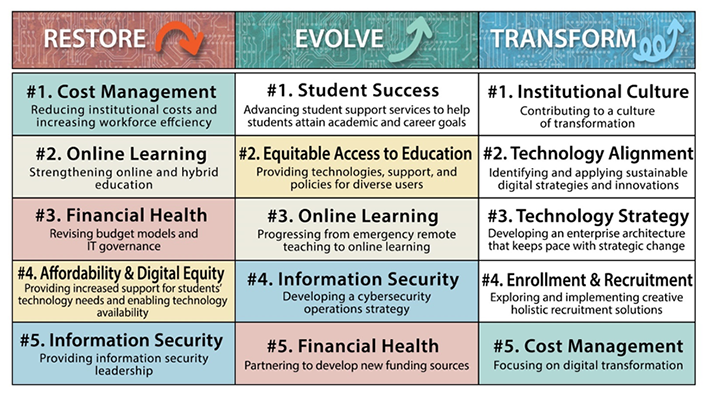 Using correlation analysis, we found patterns in how respondents chose issues within and across the three scenarios (see figure 1). For example, people who rated the Restore version of Cost Management particularly highly (or lowly) for their institution were significantly more likely to also rate the Evolve version of Equitable Access to Education highly (or lowly). There was a great deal of crossover between Restore and Evolve issues. We found the least crossover between the Restore and Transform themes and within issues in the Evolve theme.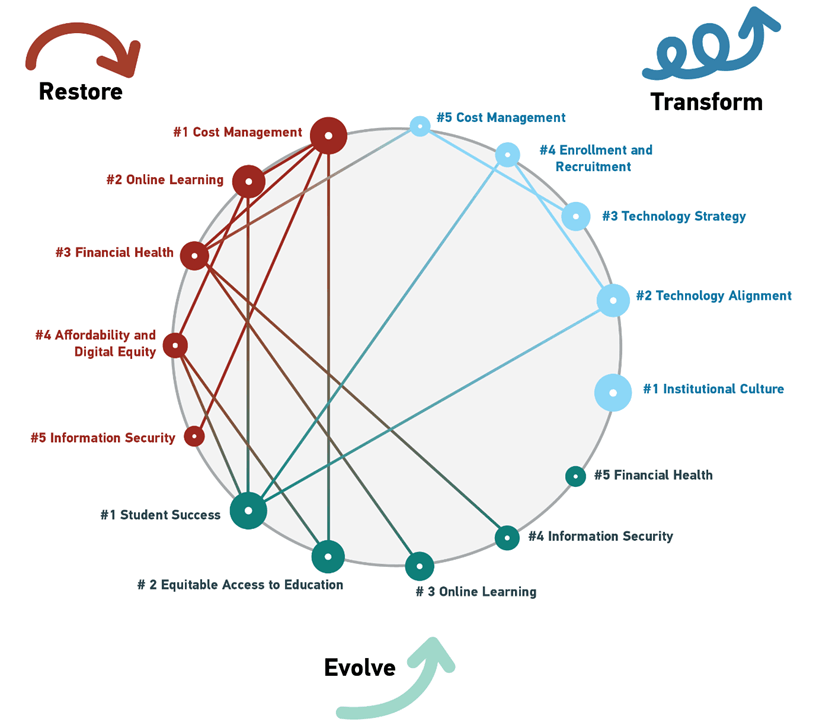 The Three Scenarios
The EDUCAUSE 2019 Top 10 IT Issues report likened the impact of technology on higher education to the human genome project. "Top 10 IT Issues, 2019: The Student Genome Project" highlighted using data to understand students and help advance their success.2 This year we can once again apply genetics to the role of technology in higher education. This time, though, we take an existential and evolutionary perspective. A pandemic can wipe out a population, or it can trigger adaptive mutations that make the species stronger and fitter for the future. What impact will COVID-19 have on higher education, and how will colleges and universities emerge from the pandemic?
Restore
Restoring conditions to where they were before the pandemic is not possible. Thanks to the Internet Archive, the internet may have a Wayback Machine, but the real world does not. And yet the desire to restore pre-pandemic conditions may exert a strong influence.
The Restore scenario is a story of institutional survival focused on reclaiming the institution's pre-pandemic financial health. When asked to pick their institution's likely post-pandemic approach for each issue, fewer than 10 percent chose Restore except for those issues related to financial health and business model. About one-quarter (24%) of respondents felt the Restore scenario fit their institution for those issues. So it's not surprising that two finance-related issues—Cost Management and Financial Health—were among the top 5 issues for the Restore scenario. Even the Information Security issue in the Restore scenario is qualified by the need to be budget-conscious.
The institutions at greatest financial risk may also be those whose students are struggling the most. Institutional technology leaders choosing the Restore version of issues were focused on helping their students gain access to institutional resources and to learning anywhere, anytime. The Online Learning and Affordability and Digital Equity issues both describe strategies for helping students access education ("providing on-demand support") and digital resources ("enabling technology availability").
COVID-19 is very likely to be the extinction event for many institutions whose business models were already precarious or fragile going into 2020. Colleges and universities placed squarely in the Restore scenario may be those whose survival struggles are the greatest.
Evolve
"There's a group of folks who are not native technologists and for whom the current situation is a massively depressing model. If we don't find ways to engage them, they may really suffer. We saw something interesting with our students. Some who do really well with the structured day in college did not do well going home. On the other hand, many students who are good at adapting to unstructured events, and who tended to not do as well in a structured instructional environment, did a lot better with at-home instruction."
—David Seidl, Vice President for Information Technology & CIO, Miami University
The set of issues in the Evolve scenario describe a student-centric institution that is managing its primary risks. These issues apply to institutions that will choose to incorporate the impact and lessons of the pandemic into their culture and vision.
Three of the top 5 Evolve issues pertain to developing a post-pandemic institution that will emphasize the student experience. This type of institution is adapting to students' needs instead of expecting students to adapt to the institution. Three pillars of the student experience are represented: attaining academic and career goals (Student Success), equity and access (Equitable Access to Education), and best practices in technology-enabled teaching and learning (Online Learning).
The two remaining Evolve issues focus on managing two pervasive institutional risks: Information Security and Financial Health. Information security concerns subsided a bit in the early weeks of the pandemic but began to intensify later in 2020. This risk cannot be neglected.
Transform
"Many students, faculty, and staff have now discovered they actually can learn and work remotely more effectively than they ever imagined. This worldwide realization is going to permanently change the landscape for years to come. Institutions that are able to quickly adapt and change with the world around them will survive. Those that don't will either have many difficult years or cease to exist."
—Kirk Kelly, Vice President for Information Technology and Chief Information Officer, Portland State University
The Transform scenario involves epigenetic change: the potential for environmental influences, such as lifestyle or pollution, to permanently change a person's DNA (and thus introduce a new hereditary trait or change an existing one).3 Some leaders in higher education plan to use the pandemic to launch or accelerate an institutional transformation agenda. The world around them has changed, and so must they. Institutions that are focused on these issues are starting with Institutional Culture: they've learned that culture eats strategy for breakfast, so they're planning to breakfast on culture. Technology issues are heavily represented in the Transform scenario but always in the context of the role of technology and its relationship with institutional priorities and ambitions. The Transform issues of Technology Alignment and Technology Strategy suggest that leaders at institutions that have heavily leveraged technology to adjust to the pandemic will continue to strengthen the role of technology and its alignment with institutional strategy.
Students and their importance to the institution appear as the Enrollment and Recruitment issue in the Transform scenario. As one panelist said, "This issue is at the heart of what defines an institution and its ability to deliver on its mission." Institutions taking a transformative approach to enrollment and recruitment plan to make advanced uses of technologies and analytics to recruit students and to help them succeed.
The Transform scenario is not without its financial issue: Cost Management. Institutions with transformational ambitions plan to make cost management a core objective of digital transformation.
Overlapping Futures
The Restore and Evolve scenarios overlap considerably. They share three issues (albeit different versions): Online Learning; Financial Health; and Information Security. Two other issues are very similar in each scenario: Affordability and Digital Equity (Restore) and Equitable Access to Education (Evolve). The former focuses on supporting students' technology needs and the latter on reducing equity gaps and supporting diversity.
The Evolve version of Financial Health is quite different from its Restore counterpart. The Evolve focus is on increasing revenues and funding sources and on evolving the institution's business model. The Restore version takes a more traditional approach by focusing on cutting costs. Will the institutions opting for that approach cut their way to fiscal health— or to extinction?
Online Learning is another top issue shared by Restore (at #2) and Evolve (at #3). The Restore version takes a structural approach to online learning—emphasizing supports, processes, and policies—whereas the Evolve version focuses on advancing the quality of online learning.
Information Security appears in both scenarios as well. The Restore version is a tactical one that covers returning to campus as well as cost-effectiveness and recovery. The Evolve version takes a strategic approach and also expands the scope of cybersecurity efforts to include off-campus locations, in recognition of the need to adapt to constituents whose technology environments will never fully return to campus.
Finally, the issues in the Transform scenario are almost entirely unique to that scenario. Only Cost Management overlaps, with the Restore scenario. The Restore version of Cost Management describes the use of particular technology solutions to reduce costs, whereas the Transform version expands the role of technology (digital transformation) in order to not only reduce costs but also maximize value. Collectively, the five issues describe a strategic approach to using technology to transform the institution.
Since our scenarios describe archetypal approaches to pandemic recovery, very few institutions will be situated within a single scenario; most will fall into two or even all three. A good way to use the scenarios for planning is to consider the issues that best describe the approach you think your institution will likely take to shape its post-pandemic future, and then ask how the future might turn out differently if your institution took one of the other approaches.
What will be left, and what will we face, on the other side of COVID-19? What role will technology play in the recovery for higher education?? Will the pandemic prove to be higher education's extinction event, or will this ecosystem emerge stronger and fitter for the future? Let's put ourselves in the post-pandemic future and reflect on what it might bring.
Additional Resources on the EDUCAUSE Top IT Issues Website
A video summary of the 2021 Top IT Issues
The 2021 Top IT Issues infographic
Top IT Issues panelists' views on collaboration and partnership
The 2021 Top IT Issues presentation at the EDUCAUSE 2020 Annual Conference
2021 Higher Education Trend Watch report
2020–2021 EDUCAUSE IT Issues Panel Members
| Name | Title | Organization |
| --- | --- | --- |
| Link Alander | Vice Chancellor / Chief Information Officer | Lone Star College System |
| Deborah L. Anderson | Vice Chancellor for Student Success | Ivy Tech Community College of Indiana |
| Kirk M. Anne | Director of Research Computing | Rochester Institute of Technology |
| Sol Bermann | CPO & CISO | University of Michigan |
| Timothy M. Chester | Vice President for Information Technology | University of Georgia |
| Geoffrey Cirullo | Director of Technology Services & Deputy Chief Information Officer | California State University, Stanislaus |
| Brian Coats | Associate Vice President, Technology Operations & Planning | University of Maryland, Baltimore |
| Melissa Kramer Cresswell | Director of Client Engagement and Planning | Bryn Mawr College |
| Rebecca Frost Davis | Associate Vice President for Digital Learning | St. Edward's University |
| Niranjan Davray | Chief Information Officer | Colgate University |
| Patrick J. Feehan | Information Security and Privacy Director | Montgomery College |
| DP Harris | VP-CIO | Loma Linda University |
| Kirk Kelly | Vice President for Information Technology and Chief Information Officer | Portland State University |
| Cynthia Herrera Lindstrom | Assistant Vice Chancellor Vice Provost for IT & Chief Information Officer | University of Illinois at Chicago |
| Donna Liss | Chief Information Officer | Truman State University |
| Joe Mancini | Executive Director, IT | Montgomery County Community College |
| Shannon McCarty | AVP of Center for Innovation in Learning | National University |
| Cindy J Mitchell | Chief Information Officer | Colby College |
| Greg Pitter | Director of Application Services | Portland Community College |
| Carrie Rampp | Vice President & CIO | Franklin & Marshall College |
| Jay Rozgonyi | Associate Vice Provost for Pedagogical Innovation and Effectiveness | Fairfield University |
| David Seidl | Vice President for Information Technology & CIO | Miami University |
Scenario 1: Restore
We will be focused on figuring out what to do to get back to where we were before the pandemic.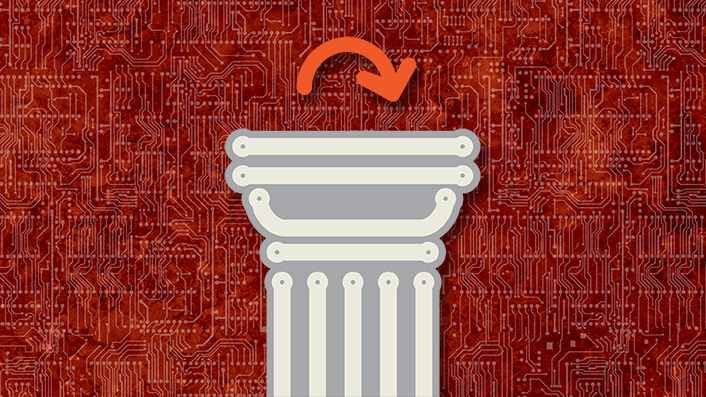 Restore Issue #1: Cost Management
Reducing institutional costs and increasing workforce efficiency through process redesign and automation, data and analytics, and other technology solutions
Melissa Kramer Cresswell, Geoffrey Cirullo, and Donna Liss
"We can't just do everything that we've been doing a little less. We need to figure out the things that we can still go 100% on and the things where maybe if they aren't done at all anymore, the impact will be least. I think we run the risk of becoming altogether mediocre if we kind of do everything in a partial way. We need to figure out what is most strategically important and most visible and do those things 100% and reduce costs by doing other things 0%."
—Melissa Kramer Cresswell, Director of Client Engagement and Planning, Bryn Mawr College
Few higher education institutions can afford not to focus on cost management. Because people constitute the largest proportion of budgets, staffing reductions are inevitable. Although staffing levels may decrease, institutions will hope to restore their pre-pandemic services and service levels. Leaders will have difficult choices to make and will attempt to do more with fewer FTEs. Technology, of course, is where minds will turn to, and hopes will be pinned on productivity gains through automation and business process reengineering.
Business process reengineering requires in-depth understanding of partner areas, and even then change can be hard. However, the pandemic has created a moment in time when the voices that once said "we always do things like this" may be muted, creating an opportunity for change.
Few IT departments will have increased resources to address expanded expectations. Stakeholders will need to choose the highest priorities, and institutions with effective IT governance will find it easier to prioritize demand. Gathering data to identify the biggest pain points for students, faculty, and staff can help guide prioritization.
Relationships and how resources are shared and used will make or break this effort. There is an opportunity to build on collaborations created or strengthened during the pandemic.
What Makes This Issue Difficult to Address in 2021?
Institutions' ability to set the right priorities and make enough progress to truly manage costs will be the greatest challenges. 2021 is bound to be an extraordinarily difficult financial year for most institutions, as funding from governments, donors, and enrollments may diminish.4 Financial pressures could spur faster, greater change, but they could also cause leaders to make strategically unsound choices (e.g., uniform cuts) that feel easier but damage the very areas that drive value.
Institutions seeking to restore their pre-pandemic culture and ways of working may be at greatest risk, because they may be most resistant to the kind of culture changes needed to preserve mission and value and most susceptible to institutional political pressures.
What If the Pandemic Is Not Resolved in 2021?
The longer the pandemic lasts, the more serious higher education's financial challenges will become. More institutions may close or merge. Cost management will be more important than ever. Business process reengineering and other cost management efforts will continue, but with a different frame of reference: effective online and hybrid learning and research and remote work will be top priorities.
Institutional leaders will need to work even harder at the state and federal levels to assert and lobby for the ongoing impact of the pandemic on higher education and what stands to be permanently damaged and lost without more support.
Restore Issue #2: Online Learning
Strengthening online and hybrid education by providing on-demand support for course development and delivery and advocating for processes, policies, and support structures to increase student and institutional readiness
Rebecca Frost Davis, DP Harris, and Jay Rozgonyi
"Having some of our best faculty now teaching online, they're bringing their innovation to online teaching and learning, and I do think that's going to help a lot of our online faculty. Now that these expert instructors have focused on online learning, and really concentrated, we're going to have some phenomenal online classes as they begin to share."
—Rebecca Frost Davis, Associate Vice President for Digital Learning, St. Edward's University
The abrupt and now sustained move to remote education will have a lasting impact on institutions. Even faculty at higher education institutions whose mission and value are tethered to a campus-based experience will have gained significant experience at teaching and supporting students digitally.
As institutions work to restore their very traditional culture, they will need to recognize that the world is changed. Virtual interaction must remain part of how they operate. Continuing to treat online and face-to-face as two separate and separable delivery methods is a false dichotomy. Students will expect a seamless integration of digital and physical elements in their coursework and learning, and faculty will have gained enough experience to provide it.
EDUCAUSE research has shown that faculty with online teaching experience are more supportive of online teaching.5 Before the pandemic, faculty could often choose whether or not to teach online. Many of the best face-to-face instructors had no interest in reimagining how to teach their courses online; in fact they couldn't imagine how online teaching could possibly re-create the magic they were able to work in a physical classroom and had no motivation to do so. But the pandemic supplied the motivation, and many institutions were wise enough to spend the summer of 2020 intensively training faculty in online teaching, to improve upon the emergency remote teaching that had taken place in the spring. Faculty learned how to translate their student-centered pedagogies to online and hybrid formats.
In 2021, institutions will need to build on the gains they've made. They will need to review the processes, policies, and support structures they put in place to support educational continuity during the pandemic and select and standardize those most consonant with their traditional mission and available resources. Students will expect a more flexible, hybrid learning environment, and faculty must be able to teach that way. The barriers between campus-based faculty and online faculty will have softened. As some of the best faculty brought their innovation to online teaching and learning for the first time, they have developed some phenomenal new online classes. As faculty become more sophisticated users of learning tools, they are pushing technology staff harder to find answers to their questions, which provides those staff with an engagement opportunity that should be capitalized on.
Strengthening online and hybrid education will be much easier if the increased, pandemic-induced collaboration between areas, schools, divisions and departments, and faculty and staff can continue. Stronger collaboration across disciplines, among instructional designers, technologists, and faculty, and between campus-focused and online-focused faculty will be particularly important to blend face-to-face and digital learning even at those institutions seeking simply to restore their traditional missions and experiences.
What Makes This Issue Difficult to Address in 2021?
The big wildcard for 2021 will be the lessons that faculty, administrators, and students and family learned from the pandemic. If all goes well, students will be delighted to return to pre-pandemic higher education and will remain resigned to its costs. If all goes well, administrators and faculty will agree on how to integrate online learning into a restored institutional culture.
At some institutions whose pre-pandemic academic culture was highly traditional and averse to change, faculty in particular may strongly advocate for a return to that normalcy and resist adopting any accommodations made during the pandemic. Those institutions may have to deal with a backlash against online learning, and the progress made in integrating online elements into teaching may evaporate. This will likely clash with the view of administrators who are advocating for incorporating more agility and flexibility into teaching and learning design and delivery.
Students may eagerly embrace campus-based education after the deprivations of the pandemic, or they may find classroom-only learning provides an impoverished learning experience compared with hybrid learning. Those paying the tuition will have had many months to think deeply about what they get for their money and may question the costs much more critically than before the pandemic (which was becoming rather critical even then). The climbing walls and sushi bar clichés of the higher education experience may seem tawdry after the pandemic, as these consumers focus on getting concrete and lasting educational value from their investments. Institutions will need to critically review and explicitly restate their value proposition in ways that measure up to new expectations.
What If the Pandemic Is Not Resolved in 2021?
Many institutions have spent the better part of this year in relative denial about the extent to which the pandemic imperils campus-based higher education. As institutions open, close, and reopen in fits and starts, they will exhaust their faculty, staff, and students—and resources. If the pandemic does not resolve in 2021, institutions will need to standardize their learning delivery. They will need to move beyond maintaining educational continuity to incorporating digital as business as usual for the near-term future.
Restore Issue #3: Financial Health
Revising budget models and IT governance to preserve critical IT operations and capacities in the face of institutional financial challenges
Geoffrey Cirullo, Cynthia Herrera Lindstrom, and Joe Mancini
"We are supported by tech fee and state funds, but we expect the state not to collect all the funds that they normally do, so that will affect our budget. And the tech fee funds will be affected if there are drops in enrollment. So, it's going to be a double whammy of financial constraints on being able to sustain this through 2021. Not only on our providing services on the IT side, but also on the students that are coming in. We have a very large eligible student population, and if this continues through 2021, their ability to deal with the technology needs with hotspots or internet access and/or computing will continue, and it will be just as difficult for them because of the financial situation that their families are going through, which are normal for us. Now, they may be even worse."
—Cynthia Herrera Lindstrom, Assistant Vice Chancellor Vice Provost for IT & Chief Information Officer, University of Illinois at Chicago
Funding for technology is more crucial than ever. The pandemic has emphasized institutions' and students' reliance on technology, and many institutions have needed to direct more funds toward the IT organization and other units responsible for online learning. With increasingly limited resources, however, spending more in one area needs to be offset by spending less in other areas.
Technology offers a way for institutions to help restore their financial health if it is well-managed and well-governed. Institutions need effective IT governance to help them prioritize IT investments and initiatives collaboratively across the institution. This is nothing new, but institutions lacking effective IT governance will not be able to make good decisions about where to spend on technology, how and when to pool resources across institutional budgetary units, and how to commit to the savings that process improvements and other reengineering changes can deliver.
Containing costs extends beyond IT governance. IT managers need to examine their operations and services to determine which might be dismantled, which outsourced, and which sustained.
Technology proved essential to business continuity during the pandemic, more so than other kinds of disasters that institutions had considered in disaster recovery planning. The pandemic has also highlighted the need to critically review and expand institutions' business continuity scenarios.
What Makes This Issue Difficult to Address in 2021?
The IT organization will be part of a very large group of areas competing for funds and attention. All will argue that new investments and/or preserved budgets are essential to the institution's future success. The most effective and respected CIOs will stand a better chance of prevailing, but the competition will be widespread.
The financial stressors of 2020 will compound in 2021. Institutions spent far more to mitigate COVID-19 than they received from the CARES Act.6 Many institutions have leveraged vendors' free offerings that campuses may now be reliant on but that are going to have a cost going forward. Many institutions also sustained revenue losses from decreased enrollments and, even with enrolled students, fewer room and board fees. Publicly funded institutions expect reduced state funding. Tuition income from international students has dried up, and many worry it will never return. And, of course, many institutions were already spending at unsustainable levels. Growth in spending and declines in revenue will carry into at least the first half of 2021.7 Student technology fees are a funding source for many IT departments; declining enrollments reduce that revenue at a time when technology spending needs to increase.
Much about 2021 is uncertain, making it difficult to target spending and spending levels on the greatest needs. Will the pandemic resolve in time to restore full face-to-face education? Will 2021 enrollments rebound? Will higher education receive the funding it needs to continue managing and to recover from COVID-19? Institutions can't wait for these questions to be answered. They need to act now. Restoring financial health in 2021 needs to begin in 2020.
What If the Pandemic Is Not Resolved in 2021?
The investments that IT leaders made to address the IT services and levels of services needed to respond to the pandemic will remain and need to be enhanced to some extent. Pilot or stop-gap mode will give way to full operational support. This is the moment when want and need must be assessed and when product duplication at all levels must to be eliminated to focus on core capabilities and functionality. As more work of all types moves online, simplifying the product ecosystem may ultimately be welcome to users who are overwhelmed by having too many choices
IT leaders will need to become more creative in finding funding sources and will experience more competition for existing funding sources.
As broadband insecurity joins food and housing insecurity as a critical need for many students, institutions will need to consider IT funding to help students. This tends to be aligned with student success, student affairs, and enrollment management programs. IT professionals can help business units providing such support by providing minimum technology standards and helping to order and distribute needed equipment.
Restore Issue #4: Affordability and Digital Equity
Providing increased support for students' technology needs and enabling technology availability from anywhere, particularly off campus
Donna Liss, Shannon McCarty, and Greg Pitter
Those living with abundant resources may have difficulty recognizing the extent to which others live with scarcity. With the news and entertainment industries filled with examples of the benefits and pleasures of ubiquitous high-speed, high-throughput network access, the fact that more than ten million Americans lack access to broadband and the tools needed to fully use it can be easily overlooked.8 Higher education institutions' continuity plans during the pandemic depend on students having reliable access to streaming and networked resources, but many students—unexpectedly, many at most institutions—cannot afford a device other than a smartphone and either cannot afford high-speed broadband or live in an area that lacks it. Digital access can now be added to the list of students' support needs, along with food, housing, transportation, and mental healthcare. Poor access to technology not only impedes access to online materials but also makes interacting with faculty and collaborating with other students much harder.
Before the pandemic, network access was treated as a campus infrastructure problem. In response to students' needs, institutions worked to extend Wi-Fi capability outside classrooms and dormitories to public and outdoor spaces. The pandemic has highlighted the need for institutions to understand which students have access off campus and how to accommodate those who do not.
"I think what we're going to see and what we've already seen is a number of students basically self-filtering themselves out of higher education because they don't have access to the internet or the technology that they need or because there's one computer in the house and they want their younger sibling to be able to do their high school work."
—Greg Pitter, Director of Application Services, Portland Community College
Before the pandemic, administrators and IT leaders assumed that students who enrolled in online programs did so by preference and thus had the ability to access those programs. In actuality, many students were choosing online courses out of necessity because they didn't have the transportation or the childcare or the schedule that in-person classes require. Their educational equipment may have consisted of a smartphone and a data plan, and their educational experience suffered as a result. As the pandemic swept away all options except for online learning for most students, this challenge became both more evident and more widespread.
During the pandemic, administrators and IT leaders treated digital access as an educational continuity requirement. They scrambled to provision students with hotspots and laptops and parking lot access. When the pandemic resolves and previous levels of education and research are (hopefully) restored, institutional leaders will need to redouble their attention to the role that digital access plays in student success, retention, and completion. They will do so with a much better understanding of the circumstances in which their most underserved students are striving to learn and to succeed.
What Makes This Issue Difficult to Address in 2021?
The difficulty in completing the last mile of broadband access lies in the business model, not the logistics. As long as many students live in digitally underserved locations, they will be educationally disadvantaged. Funds may be available to help students with financial need, but some funds have restrictions that prevent their use for equipment and access.
Perhaps even more difficult is identifying the students who need access and making them aware of what assistance is available. Students may self-filter out of higher education because they don't have access to the internet or the technology that they need, or perhaps because there's only one computer in the house and they want their younger siblings to be able to do their school work.
Perhaps most difficult of all is matching students to the mode of learning that best fits their learning style, lifestyle, or living environment, rather than the only learning mode they can hope to afford.
What If the Pandemic Is Not Resolved in 2021?
The need to better provision and support students' access will continue. Institutions will need to find funds to help them do such things as buy large numbers of laptops and hotspots (including the monthly service costs) to distribute to students and also help students learn how to take advantage of cable providers, free internet service, or lower-cost services. Doing what it takes to retain enrolled students will be expensive, and this will put additional pressures on already strained budgets and may even threaten institutional survival.
A prolonged pandemic might trigger changes in accreditation or even US Department of Education regulations related to requirements for field experience in such areas as teacher education and nursing.
And students themselves will make choices. Some may withdraw rather than continue to struggle to learn in difficult circumstances. Others, living in rural areas without good broadband access, may move to locations closer to their institution or with better digital access.
Restore Issue #5: Information Security
Providing information security leadership that supports faculty, students, and staff returning to campus, while being budget-conscious and ensuring a safe and secure recovery
Brian Coats, Melissa Kramer Cresswell, Niranjan Davray, and Donna Liss
"Some institutions might be in deep financial trouble already, and if there are things that continue to deteriorate in terms of the vaccine future—and also in terms of what happens in our economy at large, what happens in terms of the political climate, what happens in terms of whether we have immigration policies that allow our international students to come in or not come in—that could have a significant impact. Then resources will be strained across the board, and information security may not have the right resources to protect the data, the people, and the mission."
—Niranjan Davray, Chief Information Officer, Colgate University
The digital borders separating institutions from the rest of the world were always highly porous at best. As information assets and end users moved en masse to homes and parking lots this spring, the notion that those assets primarily reside and are used on institutional devices on institutional networks has become unrealistic if not implausible. The faculty, students, and staff may return to campus after the pandemic, but many may continue to work from home at least part-time. The number and variety of personally owned devices that store, transmit, and use institutional data has increased permanently.
Many institutions initially relaxed their security protocols somewhat this spring, as did the government (e.g., HIPAA compliance). While information security concerns never disappeared, they did subside in the early months of the pandemic, despite notable exceptions like Zoom videoconference bombing. The reprieve is ending, however, as new security challenges are again on the increase. Institutions that have not made efforts to secure end-point devices at constituents' homes may face renewed security challenges and will need to address them.
Resuming campus-based activities will not happen all at once. Constituents are much more likely to trickle back in, and operations on campus may resume, shut down, and resume again as institutions respond to waves of infection. Security officers will need to implement and reinforce strong policies, procedures, and operations to ensure secure and private working environments. Those measures should extend to any device and location used for work. Training and awareness are more critical than ever, and security practices should encourage constituents to share best practices with family and others sharing their computing environment.
What Makes This Issue Difficult to Address in 2021?
There's a reason Information Security was #1 in the Top 10 IT Issues lists from 2016 through 2020: data breach/loss is one of the greatest sources of risk for higher education institutions. In 2021, however, even major risks will have to queue up for resources and attention. Resources will be strained across the board, and information security units may have far fewer resources than they need.
Staff and faculty moved quickly to address the pandemic. They accomplished months of work in weeks, and in days they made decisions that used to take years. As institutions move to restore operations, they will need to balance that newfound agility with the potential to create or overlook security holes by making mistakes and missing things as staff experience burnout. The situation calls for speed, agility, and enforcement of security standards regardless of location, but both the comfort of the familiar (i.e., the pre-pandemic environment) and flagging energy and commitment may stand in the way.
What If the Pandemic Is Not Resolved in 2021?
Institutions' economic troubles will deepen if the pandemic lasts into the 2021–22 academic year. Security threats will not lessen, but with reduced budgets, institutions will have to prioritize their security spending carefully. Security leaders will have to work with institutional leaders to identify and mitigate the top risks. This will be especially difficult with fewer staff and the same amount of work. But those paying tuition are already in a litigious mindset as they question paying the same amount as before the pandemic, for what they perceive to be a more impoverished educational experience. If institutions experience increased numbers of breaches, they may have to deal with a wave of litigation.
Scenario 2: Evolve
We will be focused on adapting to the new normal.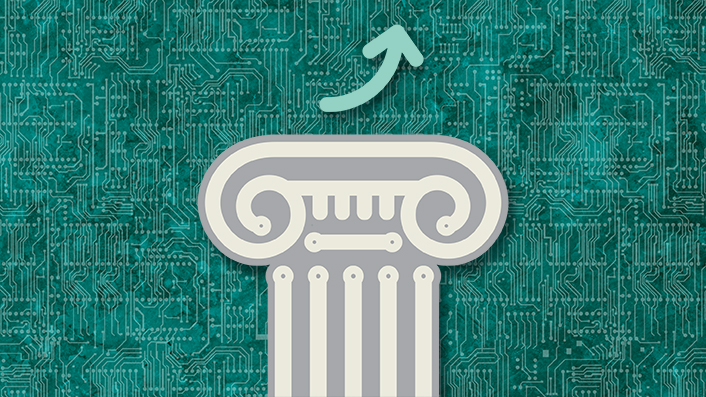 Evolve Issue #1: Student Success
Advancing student support services to help students attain their academic and career goals by integrating data systems, user interfaces, policies, and guided pathways
Kirk Kelly, Cynthia Herrera Lindstrom, Shannon McCarty, and Greg Pitter
"When I think of the new normal, what I'm really thinking of is opportunities to empower students and to create more accountability, especially for the adult learner. It's a great opportunity to create transparency for these students so they have access to their own data, they have access to their progress within a degree program. Perhaps they have access to compare themselves with other students so they know how they're tracking and can self-reflect and self-adjust. I think of the new normal as an opportunity to involve the learner and focus on self-directed learning. As we've moved to online, and everything's become a little bit more trackable and transparent, I'm hoping that the new normal incorporates these practices, and we really empower students in their chosen pathways."
—Shannon McCarty, AVP of Center for Innovation in Learning, National University
Student success has been the centerpiece of many institutions' strategic plans for several years. It is as important as ever, but institutions' student success focus has evolved during the pandemic. The rapid shifts to remote or online education emphasized the importance of digital infrastructure. Students, faculty, and staff now rely on technology to learn and work in ways never imagined just a few months ago. New and newly enriched data sources are offering opportunities for understanding and tracking students' progress and providing feedback.
Our understanding of the many factors that influence students' ability to complete courses and credentials has deepened, as the pandemic has highlighted students' many and disparate struggles and challenges, from broadband access to economic insecurity to family dynamics to racial injustice. Student success efforts thus must be holistic and comprehensive. If data is to guide decisions about students, it must reflect the whole person, not just their academic persona. Since using more data about students will exacerbate privacy challenges, leaders of student success initiatives must recognize that privacy is a major challenge and is critical to building trust with students and other constituents.
Some institutions, consumed with simply attaining academic continuity, may have paused student success initiatives during the pandemic. As the pandemic resolves, they will be able to refocus on student success, but with an evolved understanding of what is required to improve it, as well as an expanded skillset of ways to engage with students through online video advising, chat, and other solutions central to remote operations.
What Makes This Issue Difficult to Address in 2021?
The financial challenges brought on by the pandemic will stand in the way of major new investments in student success. Enrollments and revenues are down, state budgets are stressed, and institutions will have to confront the expenses they incurred in responding to the pandemic. It will be difficult to suggest an investment in technology or a major project when most institutional leaders will be considering employee layoffs, compensation reductions, and other cost reductions.
Many students will be in a worse condition to continue, let alone thrive. Those who were worst off before the pandemic will have suffered the most. At a time when institutions' resources to support students will be reduced, students will need the support more keenly than ever before.
What If the Pandemic Is Not Resolved in 2021?
In many ways, the pandemic has just accelerated the change that was already underway. For many institutions that were already struggling financially, the pandemic has levied a financial blow they may not survive. Ongoing financial difficulties will continue to make prioritizing student success initiatives and new capabilities difficult.
Some institutions were already planning a strong move to online advising and student services, and they are now embracing it much more quickly than planned. A prolonged pandemic will continue the accelerated pace of change.
For many students, the pandemic has introduced or amplified life challenges that have made their success more difficult. The longer the pandemic goes on, the worse those challenges will get. The hardest-hit students are likely to be those who faced the biggest barriers to success in the first place and who already relied on campus services and resources. Advisors, faculty, and others will need to make extra efforts to reach and help support those students in specific and differing ways. Outreach may be particularly difficult without any face-to-face opportunities. Counseling is a particular issue due to limitations on where counselors can practice. Mental health as a component here, particularly if the pandemic isn't resolved in 2021.
Online education and student services offer more opportunities to gather and apply data in increasingly targeted ways. A prolonged pandemic may provide opportunities to more precisely support students—opportunities that will benefit students after the pandemic ends. Other potential areas for lasting benefits include accreditors' changes in policies and the US Department of Education's removal of barriers to completion for nurses, educators, and others.
Evolve Issue #2: Equitable Access to Education
Providing technologies, support, and policies for diverse users and equitable access to bridge the digital divide and reduce equity gaps
Greg Pitter, Carrie Rampp, Jay Rozgonyi, and David Seidl
Institutional leaders have evolved from treating student success as a student's responsibility to treating it as the higher education institution's responsibility. A similar shift is now happening with equitable access to education. Rather than assuming that students have access, leaders are recognizing that it is the institution's job to provide that access.
"A great digital divide has been laid, and that became even clearer during the pandemic. Institutions of higher education as a collective can have a lot of power and influence, and they have changed our nation for the good in seismic ways at certain pivotal points in our nation's history. There is a lack of broadband in rural areas and abysmally served, economically depressed areas of our country. We're all trying to support students who arrive on our campus and have been disadvantaged in terms of their access for their entire youth. This is a moment for our collective institutions to advocate for resources to be put in place to ensure that this problem is addressed."
—Carrie Rampp, Vice President & CIO, Franklin & Marshall College
The pandemic has shown just how deep the digital divide is and how many people are on the wrong side of it. Equitable access to education means equitable access to a baseline level of technology and connectivity. Institutions will increasingly need to work to make that access possible for all students.
Providing equitable access to education extends far beyond network connectivity and requires understanding the full range of challenges that students face. Videoconferencing opens new opportunities for building that empathy as faculty and staff gain glimpses into students' home lives and challenges.
Addressing these challenges is critical because they fall disproportionately on already disadvantaged student populations. Institutional leaders need to improve their ability to understand the challenges facing these students if they hope to narrow achievement gaps and provide more equitable student success. One way to improve understanding is by ensuring that staff reflect the diversity of the student population. IT departments whose staff makeup doesn't reflect the student population may make decisions without understanding student and campus needs.
Evolving from where the pandemic has placed higher education will include a new empathy for students' equity gaps. This may be a time when many stakeholders, fueled by a new urgency, will partner across our ecosystem to address these gaps.
What Makes This Issue Difficult to Address in 2021?
As Martin Luther King said: "We are now faced with the fact that tomorrow is today. We are confronted with the fierce urgency of now." Competing urgencies will highly challenge institutional leaders. The new urgency related to educational equity will clash with institutions' struggle for existence as the pandemic has placed them in financial extremis. The requirement to grow and evolve will clash with a backlash against further or sustained change from faculty, alumni, and board of trustee members who would rather revert to legacy culture than adapt to a new normal. Empathizing with students' needs may be difficult for staff who've been burnt out by a marathon-length sprint to accommodate pandemic operational needs. The sheer diversity of needs and situations remains a key part of this challenge as well. For many institutions, the campus creates a controlled environment in which the menu of options can be more limited. Multi-modal instruction, the toggling between face-to-face and lockdowns, and revised housing situations all create a need for more individualized capabilities—at a greater cost and effort.
The key will be to recall King's next words in the quotation above: "In this unfolding conundrum of life and history, there is such a thing as being too late. This is no time for apathy or complacency. This is a time for vigorous and positive action." It rests on higher education's leadership to advocate for and prioritize educational equity in the midst of so many other needs.
What If the Pandemic Is Not Resolved in 2021?
Many of the emergency measures instituted in 2020 are not sustainable. A prolonged pandemic will motivate institutions to instill more permanent solutions. Among them will be to incorporate educational equity initiatives into student success initiatives. Students' digital equity needs must be understood and accommodated based on students' circumstances and their educational goals. Students in degree programs that require laboratory access or other learning environments that aren't possible to simulate digitally will need different accommodations.
More permanent solutions may also be instituted beyond institutions, and these may spur more comprehensive solutions. Enacting the Emergency Broadband Connections Act proposed in the US Senate in 2020 may become much more necessary. Cooperation between institutions9 and with community groups and local K12 school districts to support students who are in their geographic area may also become more common.
Evolve Issue #3: Online Learning
Progressing from emergency remote teaching and learning to online learning by advancing best practices in technology-enabled teaching and learning
Rebecca Frost Davis, DP Harris, and Jay Rozgonyi
"We need to reconceive online classes to take advantage of the strengths of that environment while minimizing its weaknesses. We have to stop offering multiple-choice tests that can't be policed (and stop trying to spy on students with webcams because we think that will stop cheating), and we have to reconsider the type of LMS tools we use. The standard LMS sequesters students from one another and provides almost no way for them to easily and dynamically collaborate. People are used to communicating in the same space, getting notifications on their phones, and being able to chat quickly with each other. That's what people expect in their work now—and it's an approach that all of education, but especially our online education, has to reflect."
—Jay Rozgonyi, Associate Vice Provost for Pedagogical Innovation and Effectiveness, Fairfield University
Teaching and learning in higher education will never be the same. The pandemic has concentrated attention on what matters most to students, why they choose an institution, what they want to learn, what they're hoping to gain from higher education, and which institutions can best provide them with what they need to succeed afterward. The pandemic has forced faculty, instructional technologists, librarians, and others to interrogate every aspect of teaching and learning to identify what matters most.
All faculty, students, and administrators alike now widely understand the differential capabilities of digital and physical environments for teaching and learning. They will be ready to help build the 2020+ era of higher education.
Institutions need to reconceive learning experiences to leverage the strengths and minimize the weaknesses of digital and physical and blend them to maximize learning. Students will want to retain and expand on the flexibility that the pandemic circumstances brought, so that they can continue to learn at a time and in a modality that best suits them. Courses with a single learning modality will become less frequent, and both students and faculty will move as seamlessly across them as we all do now across social media platforms.
This change will not happen on its own. Faculty will need continued help in transitioning their courses to an on-demand, hybrid experience commensurate with their students' expectations. Learning environments will need to adapt. Learning management systems that sequester students within their single learning environment will either lose market share or evolve to work as part of a Next Generation Digital Learning Environment (NGDLE), which will finally come into its own. The NGDLE concept itself will continue to evolve as well.10 Among the most important learning components that both faculty and students expect will be the ability to collaborate and communicate extensively and in a way that moves across individual courses, and beyond, to integrate extracurricular collaboration.
The forced and then enthusiastic collaborations across the institution induced by the pandemic fostered new and deeper collaborations among instructional technologists, digital pedagogy experts, librarians, faculty, and others. These mutually supportive communities will help institutions evolve and adapt to the new normal.
What Makes This Issue Difficult to Address in 2021?
As the adrenaline of 2020 wears off and the pandemic enters its endgame, the self-interests of various stakeholders will kick in and make managing continued change particularly difficult. Some alumni, faculty, staff, and other members of institutional communities may strongly advocate for restoring the previous culture instead of evolving to 2020+ models of online learning. And yet, the very different economic circumstances of 2021 may override any hopes of turning back.
What If the Pandemic Is Not Resolved in 2021?
Accommodations to the pandemic may simply begin to feel like business as usual, but with much more severely constrained resources. Institutions will introduce more online programs at both the undergraduate and the graduate and professional levels. Library collections may become fully digital. Academic leaders will carefully analyze which courses and academic programs will reward the effort to move online, which warrant the risks and overhead of remaining face-to-face, and which can no longer be continued at all.
Cuts to budgets and staffing will deepen if institutions cannot deliver educational offerings that attract enough students. Furloughs may turn into layoffs, and temporary benefit and salary reductions may become permanent. Faculty and staff alike may retire rather than continue to work in the new, more restrictive environment.
Evolve Issue #4: Information Security
Developing a cybersecurity operations strategy that effectively detects, responds to, and mitigates security threats regardless of where students, faculty, and staff are located
Brian Coats, Melissa Kramer Cresswell, Niranjan Davray, and Donna Liss
The move to completely remote education, research, and work will become permanent in many aspects. Although many faculty have always worked from any location at any time, even they will move more kinds of work (including some teaching) off campus. For others, the opportunity for more flexible working times and locations will be too useful to rescind. These changes can offer institutions a competitive advantage, whether it helps them attract better talent or enables them to act more innovatively with their education, student services, research, and even healthcare operations.
"If we embrace the idea that we don't need the physical borders in order to be secure, we can start to delve into some areas that previously felt out of reach. Our peer institutions are certainly going to be having these same conversations, so to stay competitive in the marketplace, we need to figure out how to embrace this idea of ubiquitous access with global reach."
—Brian Coats, Associate Vice President, Technology Operations & Planning, University of Maryland, Baltimore
Making permanent the security policies and practices adopted for the pandemic, as described in the Restore version of this issue above, is only the start. To evolve to the new normal, institutions should consider adding infrastructure and services to support secure collaboration and learning tools, using data-leakage protection, and employing new techniques that may involve dark web tracing or social media accounts as well as keeping track of all the places that data may be stored, transmitted, or used.
Approximately 40 percent of institutions still lack a full-time information security lead.11 This must change if an institution hopes to do more than simply restore its previous academic and administrative environments. Chief information security officers (CISOs) provide more than just additional staffing; they bring the expertise and focus needed to develop and implement a security strategy that is risk-based and proactive.
Although this issue focuses on data security, data privacy concerns are too closely related and too important to go unmentioned. As instruction moved online, some institutions saw a definite uptick in students who questioned the data privacy of instructional technologies. All of those responsible for institutional data security and privacy should work together to help shape the greatly expanded footprint of institutional operations in ways that safeguard data and individuals' privacy.
What Makes This Issue Difficult to Address in 2021?
Numerous institutions have ventured into the unknown to adapt to the pandemic. Those that plan to continue to operate with an expanded off-campus footprint will be working to rethink many of their most fundamental operations. No matter how smart and talented the leadership, this is not something to figure out from first principles. Leaders will need to find and engage the right advisors, whether they are external consultants or colleagues at institutions that have already done this well.
Lurking behind all the policies and procedures, all the potential threats, all the focus on security, is a threat just as real and arguably greater: giving data assets away to solution providers. Data has become the coin of the realm. Many, many vendors' business models depend on providing valuable services freely or cheaply in exchange for unfettered access to people's data. The economic challenges of 2021 will tempt many decision-makers to acquire very useful and inexpensive tools or systems that also harvest student, faculty, and staff data and use it for any number of lucrative and unknown purposes. This is, frighteningly, not new practice. But without good procurement policies in place, and with a lot of pressure to make progress quickly and cheaply, the great data sell-off will continue—and expand.
What If the Pandemic Is Not Resolved in 2021?
Information security will need to support off-campus uses of data in a more comprehensive and permanent way. Practices and protocols that were provisional or stop-gap in the early stages of the pandemic will need to be reviewed and upgraded or revised. Policies, procedures, and training that were written for the workplace will need to be adapted to home and other off-campus environments. The longer the pandemic goes on, the more pervasive and permanent the initially temporary accommodations will become. Security officers and those responsible for data governance and compliance will need to consider the implications of continuing to operate in that provisional mode versus investing in more permanent solutions.
Evolve Issue #5: Financial Health
Partnering with advancement, research, and other institutional areas to develop new funding sources and partnerships
Geoffrey Cirullo, Cynthia Herrera Lindstrom, and Joe Mancini
"The value of innovation increases proportionally during times where there is no precedence. This is where we find ourselves. To keep pace with the changes we are already experiencing, to solve problems we haven't seen before, we'll need to invest in innovation. By their nature, innovative solutions carry more risk. It's always been more challenging to justify funding for novel approaches from shared resources. As such, partnerships with new funding sources that enable such advancement are critical."
—Joe Mancini, Executive Director, IT, Montgomery County Community College
Institutional stakeholders now strongly and uniformly recognize the need to fund technology for institutional services and for students' connectivity. Financial creativity will be needed if institutions are to evolve to meet the demand for technology in 2021. IT leaders at some institutions are already collaborating with functional areas such as alumni relations or on specific research initiatives to fund the development and delivery of new services and capabilities. Grants, support from technology solution providers and other companies, and partnerships with local communities and employers are all potential sources of funds and income.
What Makes This Issue Difficult to Address in 2021?
Moving beyond traditional funding sources and initiating new partnerships involve some level of risk. Will partners deliver on their commitments? Will collaborating with certain funders or partners potentially conflict with the institution's values? Will new income sources risk the institution's nonprofit status? Will the IT organization's commitments result in some kind of conflict of interest or commitment? Will certain partnerships risk revealing personal information? Colleges and universities are notoriously risk-averse and may either balk at even a whiff of risk (and walk away from potentially promising opportunities) or lack enough experience to manage certain risks for the first time (and take on more risk than they realize).
Mustering the energy and vision to imagine and initiate new partnerships will be especially hard when so many IT leaders and professionals, as well as potential partners, are weary from the unrelentless rate of change. People quip that in 2020 a day is a month and a month is a year, and yet that is the toll imposed by so much change and uncertainty. New partnerships introduce new work and new ways of working. Taking them on may be one change too many.
Finally, institutions are all competing at the same time for the same partnership and funding opportunities, which was less likely in pre-pandemic times. The opportunities may be there, but in limited supply.
What If the Pandemic Is Not Resolved in 2021?
Institutions' and students' financial problems will deepen, perhaps past the chance for recovery. New partnerships and funding sources will become absolutely essential to diversify revenue and funding beyond the traditional sources. On a hopeful note, perhaps community colleges and other local institutions that have made ongoing and well-known contributions to the well-being of the local city or region will find their communities playing an active role in advocating for support for community colleges and raising funds for their survival.
Scenario 3: Transform
We will be focused on redefining our institution and taking an active role in creating the innovative future of higher education.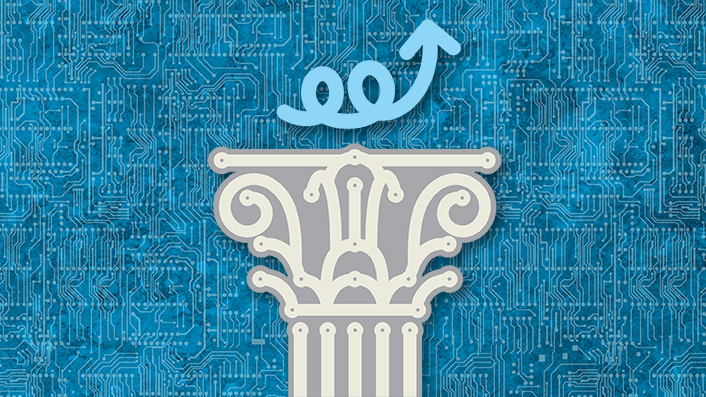 Transform Issue #1: Institutional Culture
Contributing to a culture of transformation by modeling agility and future thinking when designing IT programs and services
Sol Bermann, Niranjan Davray, and Joe Mancini
2021 will be another year of uncertainty. The only thing we can be certain of is that the need to adapt will continue. Institutions can change in response to the present or in anticipation of the future. Institutions that choose to anticipate and prepare for the future will embrace innovation paired with flexibility and agility to enable them to adjust their plans quickly in response to new circumstances and needs. Such innovation and agility are what students, faculty, and staff have come to expect as consumers.
"In many ways, IT is like having robust utilities. But not just dependable utilities; rather, ones that can innovate and transform how we do teaching, learning, and research at scale. IT needs to be ahead of the curve, offering solutions for problems that maybe our faculty, staff, and students don't know exist yet. IT shouldn't be just at the table; in some cases we should be leading the discussion, we should be leading the transformation of education and research, and we should be pulling along faculty and students and researchers in improving the way they do their work."
—Sol Bermann, CPO & CISO, University of Michigan
COVID-19 is an accelerator. It jolted institutional leaders out of their ideation and slow, marginal innovations into rapid and ongoing transformation. Resistance was futile or quickly overcome because the future of institutions was at stake. The pandemic culture has been one of transformation, future-thinking, and agility. It has primed institutions to continue in that mode, although hopefully much less frantically.
What Makes This Issue Difficult to Address in 2021?
The pandemic has not been the only disrupter. We are surrounded by enormous challenges, any one of which would be formidable, including climate change, Black Lives Matter, deep political divisions, income disparities, the surveillance culture, growing distrust in institutions, and the student debt crisis. These challenges influence and interact with one another. As institutional leaders plan an approach for the future, they need to consider all these challenges holistically.
Institutions don't do the hard work of innovation, people do. Transformation, agility, and future-thinking will be up to people, and those people will begin 2021 exhausted and strung out from 2020. That is not the optimal mindset for change, and indeed for many, "COVID fatigue" has induced or exacerbated mental health problems.12
Two particular opportunities exist for faculty and staff. Faculty adopted more technology and re-created their courses more quickly in the last months of 2020 than in the last several decades. Will they continue from where they were at the end of 2020, or will they discard their online teaching efforts and revert to a mode of teaching they may prefer and believe to be better? For many institutions, reality will not be so binary, but the patterns of faculty teaching as the pandemic resolves will be important to track. The pandemic has shown staff, supervisors, institutional leaders, and HR officers that a large proportion of employees can work productively from home. Will that practice be widespread after the pandemic, or will work move back to campus? Will working from home continue to be as appealing when half the organization is office-based?
What If the Pandemic Is Not Resolved in 2021?
If the pandemic is not resolved, the need for transformation will grow. If the pandemic continues, institutional leaders will accelerate transformations that have already begun. They will have no choice because economic pressures will become even more intense. Costs will need to decrease, not just be contained, without reducing the quality of education or the student experience. Campuses may have to make difficult decisions, as at-risk institutions may be forced to make cost cuts across the board.
Students will need incentives, financial aid, and support more than ever before to encourage them to enroll, stay enrolled, and successfully complete their degrees. Institutions may restructure their credential offerings, in collaboration with accreditation organizations, to provide more flexible, lower-cost credential opportunities.
Transform Issue #2: Technology Alignment
Identifying and applying sustainable digital strategies and innovations that are driven by the institution's ambitions and transformational goals
Kirk M. Anne and Brian Coats
"From a business point of view, we're starting to realize that, yes, we can have remote workers and we do not need all the office space, that we are able to continue doing business and actually doing business a little better. We've seen cross-functional meetings that before were almost impossible to schedule. We've seen a different style of project management now, because we've had to be able to turn on a dime. We're embracing rapid decisions and rapid action. And we're able to see a little bit of diversity because now we can reach out and expand, we can bring in people from all over."
—Kirk M. Anne, Director of Research Computing, Rochester Institute of Technology
Institutions adapted to the restrictions and circumstances of the pandemic faster than most people familiar with higher education would ever have thought possible. Disciplines and topics that many thought could happen only face-to-face moved online. Work that previously had to be done on campus was done remotely. Decisions that took months to make in the past were now made in hours. Institutions found themselves on the path of digital transformation, a path that for many was unthinkable at the beginning of 2020.
In 2021, institutional leaders will need to decide whether to stay on that path. As the pandemic resolves, they will need to determine what to do with the transformative emergency measures they put into place to adapt to the pandemic. They will need to align the technology choices they made and those they still need to make with the institution's post-pandemic priorities and funding. CIOs will require effective IT governance that is strongly aligned to institutional strategic planning and initiatives.
One of the biggest and perhaps most lasting changes from the pandemic has been to elevate the role of information technology. For years EDUCAUSE has advocated for IT leadership to become part of institutional leadership, not out of self-interest for the profession but because the experience of other industries has demonstrated that the most transformative and successful organizations view the IT department as a strategic partner and, in many ways, as a strategy driver.13 COVID-19 moved IT leaders and IT strategy from the background to the foreground to help lead transformation and strategy. IT leaders need to retain that role in 2021 and beyond if institutions hope to transform teaching, learning, research, administration, and their business models. That transformation is needed if higher education is to remain a public good and survive.
In some cases, moving education and work online will turn out to offer unanticipated opportunities and efficiencies that shape institutional ambitions. Online programs may enable institutions to serve new markets, whereas remote work may help institutions operate more efficiently and attract better and more diverse academic and administrative talent. New relationships formed during the pandemic may enable new cross-institutional collaborations. CIOs will need to focus on making emergency pandemic services and spending durable and sustainable.
What Makes This Issue Difficult to Address in 2021?
The pace won't decelerate in 2021, and leaders will have many decisions to make—quickly. The resolution of the pandemic is likely to be slow and uneven, with continued uncertainty about when to reopen campuses, how, and how quickly. Deciding which pandemic-induced innovations to continue may be controversial. The goodwill or at least forced flexibility of faculty to teach online and of supervisors to manage remote staff might change into resistance when leaders propose making some of these changes permanent. Leaders will have to set forth a strong vision and rationale for transformation and institute change-management activities, such as training.
What If the Pandemic Is Not Resolved in 2021?
Technology, process, and policy choices and changes that were provisional and stop-gap for 2020 will need to be adapted and improved for long-term use. The pandemic will feel like life as usual, and that may reduce strong calls to revert to the pre-pandemic role of technology.
Transform Issue #3: Technology Strategy
Developing an enterprise architecture to enable business outcomes, manage data to enable decision-making and future opportunities, streamline business processes, and enable digital resources to keep pace with strategic change
Kirk M. Anne, Sol Bermann, and Geoffrey Cirullo
Although enterprise architecture (EA) can be limited to architecting technology solutions, as an IT organization's EA practice matures, CIOs will use it to help "IT become more aligned with strategic business outcomes, making the IT spend more effective for the institution and increasing transparency and trust."14 This is the EA level that institutional leaders who are focused on transformative change will aspire to.
This is EA's moment, for a couple of reasons. First, the pandemic has shone a spotlight on higher education's reliance on information technology, a reliance that has been growing almost exponentially for years. CIOs who were previously sidelined now have a seat at the table. Presidents, provosts, and boards recognize that a technology strategy is needed to survive the pandemic. EA is a powerful tool that, when guided by concrete business outcomes, can encompass both IT and institutional services, processes, and strategies. Involving IT leaders in strategically enabling business outcomes and data-informed decision-making enables them to use EA to orchestrate technologies, processes, and data to deliver the best value to the institution.
"We need to start to move to applications in an architecture that enables people to do their work from anywhere."
—Geoffrey Cirullo, Director of Technology Services & Deputy Chief Information Officer, California State University, Stanislaus
The second reason for EA's particular importance is the mass migration of users, devices, and data to home environments. Although many constituents previously worked off campus, the pandemic moved new activities and almost everyone off campus. Institutions whose EA depended on campus-based access had to develop architectures that enabled people to do work from anywhere. A work-from-anywhere organization provides a new opportunity for diversity and inclusion in the faculty, staff, and student populations. That is new, and that will last.
A good EA needn't require a huge investment. Much of EA deployment occurs in the cloud, and thrifty CIOs are finding ways to adopt more flexible and scalable cloud environments, such as Google Workspace or Microsoft Office 365, cost-effective compared with similar services hosted in-house.
As institutions take an active role in creating the innovative future of higher education, treating IT capabilities as an administrative commodity and optimizing on cost alone will not work. When this crisis is over, there will be a next one. Institutional leaders must make strategic investments in IT services and staffing that can support the institution now, in order to be prepared for tomorrow.
What Makes This Issue Difficult to Address in 2021?
2021 will not be a year when CFOs are enthusiastic about new investments. Internal competition for whatever funding might be available will be fierce. Any investments or initiatives to introduce new technologies or improve business processes will have to demonstrate rapid and sizable savings.
IT initiatives are business initiatives, and everyone's focus in 2021 will be splintered. Higher education leaders are being pulled in a million directions with pressures from faculty, students (and often their parents), and donors as institutions try to respond to and hopefully recover from the pandemic. IT strategy and its importance may become an afterthought.
What If the Pandemic Is Not Resolved in 2021?
Institutions' digital transformation will continue, but with an imperative to reduce costs, simplify and automate work, and find partnerships that increase income or share costs. Reliance on IT capabilities and staff will continue. Institutions should try to avoid directly cutting IT budgets. In fact, they may need to make additional investments, particularly in tools, technologies, and people that support remote or hybrid operations. IT budget managers will need to shift IT spending to areas that need it most and away from services and initiatives that can be retired or paused.
Transform Issue #4: Enrollment and Recruitment
Exploring and implementing creative holistic solutions for recruitment, including analytics-based marketing around student career outcomes, technology-enabled transfer agreements and partnerships, and use of social media to build student communities
DP Harris, Carrie Rampp, and David Seidl
This issue is at the heart of what defines an institution and its ability to deliver on its mission. Each institution has a different core value proposition and target student population that will influence its enrollment goals.
Enrollment and recruitment practices and strategies are in a great deal of flux now. Much of what has happened over the past ten to fifteen years had a bit of a "kitchen sink" approach—that is, trying anything that might work. Most institutions have used new technologies—including analytics tools and techniques, targeted social media, and a richer online experience for applicants who can't get to campus—in all kinds of ways.
Add to that, the pandemic has broken enrollment models; tried-and-true formulas aren't working at the moment. In 2020, higher education enrollments did not plummet across the board. Enrollments have declined by only 3 percent overall, but first-year enrollments have suffered the most: 16 percent lower than last year, on average; at community colleges, the decrease in first-year students is 23 percent.15
"We're paying very close attention to what the market is asking for. Historically in higher education, the professors tell students what it is that they should be learning. We are spending a lot of time in the hospitals and the clinics and other places asking, what does the student of the future need to look like? And we are asking students, asking professionals, what career are you looking to go into, what growing do you need to do, what program do you want us to be offering?"
—DP Harris, VP-CIO, Loma Linda University
At this particular moment, sophisticated and evolved recruitment strategies supported by technology could not be more important. Those institutions that took the "kitchen sink" route need to hone in on where to invest and focus; those institutions that underinvested will find that their ability to continue to thrive truly may be at risk if they don't move the needle.
There is an opportunity to imagine a different strategy entirely and layer those efforts with analytics to see what new strategies will work for the institution. For example, do middle school and early high school on-premise programs, coupled with marketing efforts, build a rich targeted applicant pool that has a positive impact on yield and student quality? Does targeting a new region or corridor of the country with a more personalized approach yield more applications? Are there rich datasets out there to be mined? At the institutional level, what does a successful student look like? In the market at large, which potential applicants could bring an increased and more successful focus to recruitment?
More specifically, students (and often their families) are looking for metrics that point to the probability of their long-term personal success as a result of attending a particular institution. Beyond pointing to some charts and tables, most institutions have not yet figured out how to seamlessly demonstrate success after college as part of their recruitment strategy. Translating how particular majors can relate to a career trajectory remains something difficult for many families to understand—most notably, families for whom the student is the first to attend college.
Institutional collapses will almost certainly increase in the coming months and years. Areas where small institutions abound will be particularly affected. Institutions determined to take an active role in transforming higher education may use recruiting as an opportunity to attract new kinds of students, such as adult learners changing or advancing their careers.
What Makes This Issue Difficult to Address in 2021?
There was no playbook for recruiting and enrollment during a pandemic. Previous models did not apply, and the uncertainty will continue in 2021. Admissions offices are working on intuition and guesswork.
It is often a visit to campus that persuades a prospective student to enroll. Technology has proved to be an excellent alternative for task completion and focused collaborations, but institutions have struggled to capture the magic of a campus visit or to provide a technology-mediated, rich student experience. Much will depend on two things: when a vaccine is widely available and current students' experiences. If students had a rewarding 2020–21 academic year, that may carry a good deal of weight to decisions being made by prospective students for the 2021–22 year.
In September 2019, the Assembly of the National Association for College Admission Counseling voted to strip provisions from its Code of Ethics and Professional Practice at the behest of the Justice Department.16 Recruiting can now be a constant, and the cutoff dates and other norms that enrollment management teams worked with are no longer in place.
What If the Pandemic Is Not Resolved in 2021?
Recruiting for online education is entirely different from recruiting for face-to-face education. Institutions will need to break through the no-campus-visit barrier to successful recruiting. They will have to get creative about using technology to replicate the intimacy of a campus visit. Direct translation will probably be less successful than a reimagining of the social and emotional recruitment journey that capitalizes on digital strengths. Online-only institutions know how to do this. It will be time for all institutions to master it.
Transform Issue #5: Cost Management
Focusing digital transformation efforts and IT service delivery on helping the institution maximize value and reduce overhead
Geoffrey Cirullo, Melissa Kramer Cresswell, and Donna Liss
"We can further manage our costs by simplifying. In a recent survey, students mentioned that we are providing too many new platforms for them to learn, and they want us to edit down the options. They noted that we might think these tools are helping them, but the tools are just adding more stress on them. We need to be more deliberate about the environments we are asking everyone to use, take full advantage of what integrated systems we already have in place, and simplify where we can."
—Donna Liss, Chief Information Officer, Truman State University
Cost management that is part of a digital transformation effort looks very different from cost management driven by desires to revert to 2019. Institutions embracing digital transformation to guide cost management are working to increase agility and reduce redundancy. They are hoping to decrease the time it takes to change solutions and introduce services, moving the time from years to months or even sometimes weeks. Effective techniques include minimizing customizations, selecting one solution that is good enough for most instead of several that are ideal for all, and standardizing on one set of solutions to provide a streamlined user experience, as well as a more maintainable architecture. Each of these techniques cuts costs and enables the institution to accomplish more, more quickly.
Students will probably welcome the changes. One of the EDUCAUSE IT Issues panelists summarized students' feedback as, "You guys are using too many things. We can't learn them all, and you're just throwing new things at us because you think that might help us." More focus, informed by ongoing feedback, can help.
Although cost management is rarely described as exciting, it can be. The pandemic has spurred a great deal of digitalization and digital transformation.17 Hybrid and hi-flex learning are examples. Institutions have defined different teaching modes to help instructors select the most effective one for their teaching style and content. Such carefully constructed educational scenarios for the pandemic could extend afterward, when institutions might, for example, provide a more relevant set of learning environments for instructors and learners—some digital, some physical, some hybrid—and contain costs by using demand management to reduce the number of traditional classrooms and help fund new teaching and learning modes.
Another way the pandemic has spurred hopefully enduring digital transformation is academic and administrative leaders' increased reliance on technology to solve problems. They recognize the ways in which technology can directly benefit their work, are more comfortable using collaborative tools, and are more aware of the ongoing investments required to have an effective digital infrastructure. Leadership commitment is essential, because digital transformation is not a single initiative but, rather, is a series of initiatives, and higher education is still very early in its journey.18
What Makes This Issue Difficult to Address in 2021?
Institutions' financial difficulties will almost certainly increase in 2021. Today's COVID-19 reimbursement funds will be spent without any assurance of more, although the need for financial support won't go away. Many institutions have deferred much-needed digital maintenance and investments this year or chosen month-to-month contracts to reduce longer-term commitments. 2021 may bring even more restrictions. Such hand-to-mouth financial management of technology will become increasingly untenable, particularly starving the investments needed for digital transformation.
The pandemic has forced risk-averse decision-makers into assessing and then managing, rather than avoiding, risks. The risks will deepen in 2021, and institutions that have not developed ways of quickly measuring what's working, determining leading indicators, and then rapidly acting on them may stall at the very time when they have to move faster.
What If the Pandemic Is Not Resolved in 2021?
Again, so much depends on government support for higher education's pandemic efforts. IT leaders have been provisioning students, faculty, and staff for remote learning and work. Those needs may continue without any clear funding source or strategy, especially in cases where institutions have not prioritized among in-person, hybrid, and fully online modes and are instead resourcing all three, full tilt. This is not sustainable at current or, inevitably, reduced funding levels. And it may introduce downstream costs for a refresh cycle several years from now.
Institutions' reliance on technology will continue. The longer it continues, the more likely this reliance is to extend beyond the pandemic.
Reflections and Conclusion
It only took a pandemic to dislodge Information Security from its lock on the #1 spot in the Top 10 IT Issues lists for the past five years. That's probably in part due to the quiescence of information security issues and incidents in the early months of the pandemic, although attacks have since renewed and new risk vectors have appeared.
Additionally, though, the pandemic diverted attention away from many critical institutional priorities. In addition to Information Security, the issues of Student Success, Data and Analytics, and Privacy have all been important recently, yet only Student Success appeared this year—and only in a single scenario (Evolve). The panelists confirmed that managing the pandemic upended IT priorities and that many have receded into the background, at least for now. They will very likely return as institutions regain their equilibrium.
Binary Thinking
Binary thinking is the fallacy that any question has one of only two possible answers. If the pandemic has taught us anything in 2020, it's the perils of binary thinking. The pandemic presented a risk that needed nuanced management. Not every location was a hotspot. Few institutions were either completely shut down or 100 percent open and operating normally. Regardless of the decisions made at the institutional level, students, faculty, and staff had to make individual decisions about where to learn or teach or work based on their own personal set of risks and circumstances.
Although binaries are easy to understand and convey, they are also rarer than good manners and are both dangerous and divisive. Gender, sexual orientation, ethnicity, and yes, even political persuasion are proving themselves to be multidimensional and continuum-based. So too are the many, many possibilities for higher education.
The pandemic has demonstrated the usefulness of online learning, not as the alternative to classroom learning but as a modality to infuse into pedagogy. The hybrid flexible (HyFlex) option is the order of the day, providing both instructors and students with extensive flexibility for when to learn and how to learn, class by class instead of course by course or program by program. HyFlex will certainly be succeeded by something even richer and better. Extended reality (XR) technologies and artificial intelligence (AI) are just two examples of maturing innovations that will provide options making today's digital learning and teaching modes seem as primitive as overhead projectors or chalkboards. Binary thinking suggests that the application of technology to teaching and learning is good or bad, effective or ineffective. That kind of mindset ignores reality and leads to poor choices.
Work location also needs to become a nonbinary issue. Although the Work from Anywhere issue didn't appear on any Top 5 list (see Appendix B), it has permeated thinking about the work environment that will be expected by the post-pandemic workforce. Just as students want the option to move fluidly between online and classroom-based learning within the same course, and even lecture, so also staff want a kind of HyFlex working environment. Managers and HR leaders need to consider how to structure such working conditions in ways that increase both staff engagement and staff productivity and perhaps even reduce expenses.
The Innovative Future of Higher Education
The pandemic has been a global catastrophe of proportions unprecedented in our lifetimes. It will prove to be an inflection point. We will remember life before the pandemic and compare it with a significantly different life after the pandemic. Higher education will not be the same. For some institutions, the pandemic will indeed be an extinction event. Others will strive to evolve, and our data suggest that many of those will incorporate some transformational elements and will also try to restore their previous financial health or cultures. But the pandemic will lead other institutions to reinvent themselves and, in doing that, contribute to higher education's epigenetic change. It is that epigenetic change that will keep our industry from the fate of the dinosaurs or, much more recently, the telegraph.
The COVID-19 pandemic has vaulted higher education several years ahead in the process of digital transformation, in the adoption of online learning, in the idea of working from home, in the need to replace outdated business models, in the response to public scrutiny of the costs and value of higher education, and in the cultivation of agility in decision-making. Racial injustice, the current political polarization, and the unfair and uneven impact of the pandemic on people of different ethnicities and means have forced broader and deeper awareness of the many inequities in our world, and particularly within the United States. Our current crises shine a harsh light on our challenges, but they also bring an opportunity for our institutions to align with a new clarity of purpose and sense of urgency. 2021 will require that the higher education industry and its leaders answer the difficult questions and start moving forward to emerge from this pandemic—by restoring, evolving, and/or transforming.
Acknowledgments
The pandemic has made everything more difficult, and the EDUCAUSE IT Issues project was no exception. We had to re-imagine every step of the project for pandemic times, retaining as much as possible for continuity while evolving and transforming other aspects of the work. At every stage, this year's IT Issues panelists helped guide and conceive the changes. I owe them a debt of gratitude that I hope to express and repay soon, face-to-face, at an EDUCAUSE event. They were terrific! EDUCAUSE is lucky to attract such dedicated, smart leaders, particularly at a time when all plates were overflowing with challenges and commitments.
Team EDUCAUSE was no less dedicated and instrumental to the project's success. Jamie Reeves is my partner in every aspect of the work. She makes life both easier and a lot more fun. Teddy Diggs is simply the best editor ever, and if the article is easy to read, she deserves much of the credit. Ben Shulman, Mark McCormack, and Christopher Brooks helped us puzzle over the methodology and analysis, which was just as difficult as the rest of the project this year – thank you!
And I'd like to give a final thanks to Lisa Gesner, who retired from EDUCAUSE this year. I miss her deeply, but her teachings live on in this project and so many other places.
Appendix A: Methodology
The 2020–2021 EDUCAUSE IT Issues panelists worked throughout the late winter and spring of 2020 to consider signals and drivers of change and major trends that might be relevant to the use of technology in higher education in 2021. They identified 33 potential 2021 IT Issues and later narrowed that list down to 28 and to a final 19 for consideration by members in our annual IT Issues survey. That process is consistent with the work in previous years.
However, the 2021 IT Issues project included two major departures from the past. First, the panel decided that with so much uncertainty due to the COVID-19 pandemic, the IT Issues project needed to offer alternative views on 2021. The panel thus selected Restore, Evolve, and Transform as potential scenarios that would be broad enough to accommodate a great deal of uncertainty. The member survey would enable respondents to pick issues based on the most likely scenario for their institution. But the panelists took an additional step that became the second major departure. They felt that no institution would see itself in just one scenario; different scenarios would probably apply to different focus areas of the institution, at different times. So they sorted the issues among five focus areas:
Culture and workforce (3 issues)
Education and academic work (3 issues)
Institutional financial health and business model (3 issues)
Recruiting and supporting students (4 issues)
Technology and data (6 issues)
EDUCAUSE staff constructed a member survey that first asked respondents to pick the most relevant scenario for each of the five focus areas. Next, the survey presented all three versions of the 19 issues and asked respondents to select the issue that might best fit their institution's priorities in 2021. Finally, the survey displayed respondents' preferred version of each of the 19 issues and asked them to rate the importance of each issue.
The Top IT Issues for 2021 were the five issues within each scenario with the highest average importance. As always, the ratings were based on the subset of the 557 participants who were the highest-ranking technology leaders at US institutions, for a final dataset of 323 people. Because each respondent rated the importance of only 19 of the possible versions, 91 people (on average) rated each issue version: the number of respondents ranged from only 22 (for the Transform version of Student Success) to as many as 172 (for the Restore version of Affordability and Digital Equity).
Appendix B: IT Issues That Did Not Make the Lists
IT leaders from member institutions had the option to vote for 19 issues. Of those 19 issues, 11 appeared in the top 5 list for at least one scenario. The 8 issues that appeared in no top 5 scenarios were Risk Management, Work from Anywhere, Agility and Change, Data and Analytics, Digital Transformation, Technology-Enabled Curriculum, Holistic Student Experience, and Institutional Innovation. The issues that did not make the top 5 cutoff within each scenario are listed below. All of these issues can still be considered important, however. The lowest rating for any issue was 7.1 (on a 10-point scale), for the Restore version of Institutional Innovation. Every other issue received a rating of 7.5 or higher.19
Restore
Technology Strategy: Prioritizing maintenance of core services, infrastructure, and initiatives to adapt to reduced IT funding
Technology Alignment: Ensuring institutional IT reflects the institution's priorities and culture
Enrollment and Recruitment: Engaging accepted students early and often to help them take best advantage of the institution's comprehensive technology support and resources
Risk Management: Developing options for the continued delivery of core institutional services in light of the growing risks of operational disruptions
Work from Anywhere: Providing infrastructure and software to support permanent increases in remote work and access to campus technology resources
Equitable Access / Diversity, Equity, and Inclusion: Providing resources, access, and training to eliminate barriers to institutional technology services
Agility and Change: Focusing IT priorities on supporting the institution's efforts to adjust to its changed circumstances
Data and Analytics: Ensuring system interoperability, scalability, and extensibility, as well as data integrity, security, standards, and governance, across multiple applications and platforms
Student Success: Improving student success and advising services through increased self-service and online options
Digital Transformation: Providing tools and training to increase the productivity of students, faculty, and staff engaged in digital knowledge work
Technology-Enabled Curriculum: Reestablishing IT service models to support the level of curriculum development that matches the institution's late-stage and post-pandemic academic vision
Institutional Culture: Incorporating institutional practices adopted during the pandemic, such as role flexibility and cross-institution collaboration, into the ongoing IT organization's culture
Institutional Innovation: Restoring and adapting IT service levels to support the recovery of traditional institutional culture and missions
Note: Restore had only 18 issues because panelists opted not to create a Restore version of Holistic Student Experience because the issue is innately aspirational and forward-looking.
Evolve
Technology Alignment: Aligning IT investments and initiatives to the institution's new priorities
Enrollment and Recruitment: Improving student recruitment and student onboarding to hybrid learning through the use of data, analytics, CRMs, and other tools
Work from Anywhere: Supporting and expanding teleworking through investments in mobile, virtualization, and other infrastructure technologies
Technology-Enabled Curriculum: Providing technology support, tools, and training to increase student and faculty digital literacy and data analysis and discipline-specific technology skills
Digital Transformation: Advancing the digital transformation of work by incorporating ubiquitous availability, mobile access, and universal design in business processes and services
Agility and Change: Contributing to the institution's increased capacity for change with more-agile technology strategies and services
Technology Strategy: Delivering an online and mobile-enabled technology infrastructure to support and adapt to evolving student success goals and systemically track outcomes and positive gains
Affordability and Digital Equity: Lowering costs, reallocating resources, and fostering government and industry partnerships to address students' food, housing, tuition, and digital access needs
Data and Analytics: Expanding and improving the institution's data infrastructure to inform institutional decisions
Institutional Innovation: Serving new markets and new learners by expanding technologies and capabilities for hybrid and online teaching and learning
Cost Management: Contributing to institutional cost management by accelerating digital transformation efforts that are focused on cost management, containment, and reduction
Institutional Culture: Meeting evolved community expectations of high-quality IT service that includes remote, asynchronous, and self-service tools
Risk Management: Building on lessons learned during the pandemic to improve institutional risk management and business continuity
Holistic Student Experience: Applying data, technologies, and user-centered design to deliver student services more effectively and efficiently, whether in person or remote
Transform
Information Security: Adopting tools and approaches that will unify and simplify cybersecurity operations, through efforts to consolidate and share cybersecurity services and resources within or across institutions
Agility and Change: Helping the institution achieve its aspirations to create new educational, operational, and/or business models through transformational and agile technology strategy and investments
Institutional Innovation: Contributing to institutional differentiation by developing transformed, digital-first (rather than digital-enabled) services in key areas, providing technologies needed for new degree offerings, or collaborating with other institutions to expand access to digital resources (e.g., LMS, catalogs)
Financial Health: Designing and delivering a flexible enterprise architecture that can enable more innovative institutional partnerships, business models, and initiatives
Technology-Enabled Curriculum: Contributing to the integration of technologies more deeply into courses (e.g., virtual experiential learning) and academic disciplines (e.g., programs built around AI, robotics, remote work)
Equitable Access to Education: Advancing equitable access to IT resources for learning with articulated timelines for change and accountability at all levels
Student Success: Empowering students to design their own educational experience and levels of engagement through the use of an array of technologies, from AI and analytics to chatbots and social media
Holistic Student Experience: Applying data, technologies, and user-centered design to develop an integrated and intuitive digital student experience across the entire student life cycle (including admissions, matriculation, advising, degree planning, extracurricular and social experiences, graduation, alumni experience, returning learners)
Risk Management: Developing digital resources and platforms that help the institution quickly adapt missions and activities to more frequent and extreme risks
Work from Anywhere: Using business analytics to design, implement, and optimize digital workflows that can support working and learning from anywhere
Online Learning: Redesigning learning by pairing learning science with technology to match learning modes to desired learning outcomes
Digital Transformation: Advancing the digital transformation of education by supporting on-demand learning outside the constraints of academic calendars and structures, and of work by incorporating ubiquitous availability, mobile access, and universal design in business processes and services
Affordability and Digital Equity: Eliminating technology disparities via commitments to accessibility and mobile-first systems, increased support, and an SIS that can support more-flexible credentials, schedules, and curricula
Data and Analytics: Applying institutional data and analytics infrastructure to new business and funding models that differentiate the institution
Notes
---
Susan Grajek is Vice President, Communities and Research, for EDUCAUSE.