Leveraging backward design, cross-unit collaboration, and the LMS, advising programs can promote student success while building students' skills, fostering metacognition and empowering academic achievement.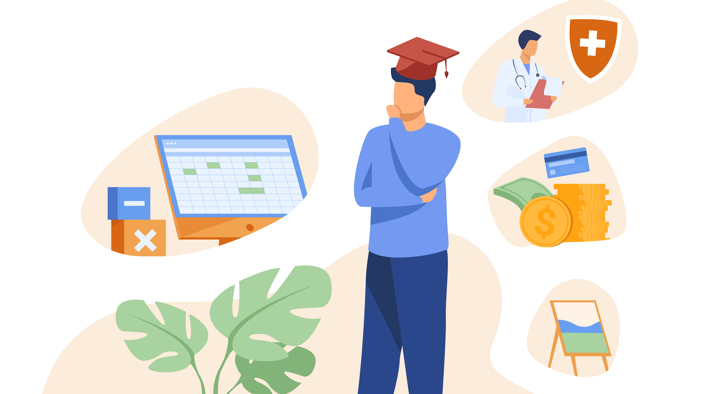 Situating advising as a teaching practice recognizes the valuable role advisors play in a student's academic career. At every step of the college journey, advisors serve as mentors and teachers by enhancing the learning process through guidance and recommendations, developing students' critical thinking and decision-making skills, encouraging exploration and discovery, and fostering self-awareness. Quality advising is fundamental to student success, but how do you promote advising as teaching?
At the University of Florida (UF), advising teams across multiple colleges are re-envisioning advising as teaching and are partnering with instructional designers to develop "flipped advising" courses. Flipped advising leverages existing and familiar technology, such as the learning management system (LMS), to support the design of a learner-centered advising approach and to extend the value proposition of digital transformation in higher education. By flipping advising (applying a flipped learning model to the advising process), providing materials and opportunities for engagement through an LMS, and using data to identify students who need additional support, advisors can create a learner-centered space that encourages engagement and personal development in a holistic approach to student success.
Advising as Teaching
Learner-centered advising transforms the advising session with active learning and engagement strategies such as flipped pedagogy. In this format, advisors are not prescribing or instructing passive students but are facilitating learning through meaningful discussions and opportunities that allow students to process, evaluate, and articulate their goals and decisions.Footnote1 Deborah Mayhew, Director of UF's First Year Engineering Advising and Student Development at the Herbert Wertheim College of Engineering, has measured positive changes in the program since adjusting their advising practices and resources, attributing these successes to "the effective delivery of an advising model which requires students to engage with information, prompts intentional reflection, and allows them to prepare for an in-person advising meeting where they can discuss the material and apply it to their academic pathway" (personal communication).
To flip advising and maximize learning outcomes, start with a backward design approach. This framework consists of three stages, which guide advisors through reconceptualizing their advising model and philosophy around advising goals rather than content:
Identify desired results
Determine acceptable evidence of learning
Design learning experiences
This approach results in restructured processes and resources, better comprehensive support, and more opportunities for student ownership and engagement.
Stage 1: Identify Desired Outcomes
In courses and curricula, backward design requires that instructors define learning outcomes first; instructors and administrators implement this by defining program and course goals and then aligning those to specific learning outcomes (rather than starting with instructional materials and assessment methods—hence the "backward" moniker).
Learner-centered advising begins the same way. Advisors start by creating an advising philosophy with goals for their program and students. To be effective and comprehensive, goals should span all three learning domains: cognitive (knowledge), psychomotor (skills), and affective (values). After establishing goals, advisors create specific learning outcomes that will measure indicators of student progress using various learning levels (e.g., Bloom's Taxonomy) and learning domains. Beginning with specific outcomes helps focus advisors on the vision for the program and overall student success. All subsequent assessments and material are aligned to these outcomes.
At UF, advisors across campus were looking for ways to increase student preparation and ownership and to promote reflection and effective decision-making; these skills and values were captured as goals for the advising program, and advisors then wrote specific, actionable outcomes. Instructional designers worked with advisors to ensure strong alignment between these outcomes and program advising goals.
Stage 2: Gather Evidence of Learning
Once outcomes are defined, the next step is to consider how students will show what they've learned through assessments. Assessments are any activity or assignment for which students are provided feedback that helps them evaluate their knowledge and performance and learn from their work. Assessments should align directly to the learning outcomes defined in stage one. How will students demonstrate their knowledge, skills, and values? How will they know what they've learned and with what level of proficiency?
Housing some advising materials and assessments in a flipped advising course complements the advising session by preparing students and advisors before an appointment, which can afford the advisor the opportunity to provide feedback during the advising session. Advisors can also collect information from students that enables them to recognize and respond to issues that may jeopardize academic progress. These strategies support learner-centered advising by guiding students through meaningful and timely assessments such as discussions, reflections, and academic plans that support metacognition, student ownership of their success, and developmental advising. Advisors at UF have noted that including various types of assessments in their advising practice gives multiple opportunities for communication to take place in a format that is comfortable for the student.
Stage 3: Design Learning for Engagement
Backward design outlines content selection and the design of learning experiences as the last step in the design process. This keeps content focused on helping students achieve specific learning outcomes, rather than including content that seems important but doesn't have a specific utility. In academic curricula, instructional content and experiences can include readings, lectures, discussions, and group projects and should also include any skill development required for success in a course or program.
Designing and organizing content into an LMS provides many benefits that encourage student engagement. Using the LMS to organize advising content can reduce the cognitive load students take on when navigating new materials or processes, which can be especially challenging for first-generation college students.Footnote2 Specifically, advising content can be organized to guide students on a learning path, can include reminders and to-do lists, and can be accessed at any time. These features allow students to spend more time checking and reflecting on their progress, which can lead to better decision-making.
Providing content in multiple formats is often easier through use of an LMS, where students can access any kind of digital document, video, or audio recording and can even participate in group discussions in the digital learning environment. Pre-advising assignments can ensure students are prepared for appointments, and students can submit information in multiple formats. These additional means of engagement and representation allow students to engage in the way that is most comfortable for them and promote a Universal Design for Learning approach, as well as improved accessibility of materials.
Advisors can customize advising content and curricula in a way that is difficult to match in traditional advising programs. Students may be able to take a different learning path through a flipped advising course if they are part of a cohort or are pursuing a minor or certificate in addition to their degree, and assignments and messaging can be differentiated accordingly.
Advising programs may even include the option for students to meet with an advisor in small groups. Group advising is more than a way to manage student caseload; it can build a sense of community and increase student confidence in asking questions, and it emphasizes advising as teaching. In a group setting, advisors can share ideas that might not have come up in a one-on-one advising session. Moreover, group advising might help prevent some effects of implicit bias because many student identities are represented. For example, an advisor might not prioritize mentioning study abroad opportunities to a student who is a parent or works full-time in addition to their studies, but a group session gives advisors and students a chance to share opportunities broadly. During the UF summer 2020 orientation, called UF Preview, students met their advisors online in groups of 10–12 before scheduling one-on-one sessions to register for courses.Footnote3 Feedback from students was positive, and they suggested adding more opportunities for interaction among their groups.
Providing increased flexibility in scheduling various types of advising appointments by allowing automatic scheduling of meetings and the option to meet with an advisor via web conference can also increase engagement. This flexibility can increase equity for students who may have difficulty attending face-to-face campus meetings due to limited access to transportation, demanding work or extracurricular schedules, or other personal or family responsibilities, and such accommodations have been especially important as institutions navigate the pandemic.
Advising to Foster Student Development
Leveraging the LMS in the advising process can foster student self-reflection and metacognition as well as create opportunities to embrace a more learner-centered approach. Using this model, advisors—and teams of advisors—can provide introductions to their advising team, including the following:
Physical location, with campus maps and travel instructions with accessible building entries highlighted
Opportunities and requirements for advisor access, including appointment scheduling, walk-in accommodation, and advisor assignment
Administrative paths and orders of operations, including timelines for filing financial aid and other paperwork, registering for courses, and submitting information with the bursar and other campus offices
Advisors can record video introductions for their students to review, which provides some familiarity for new students with both the advising space and its staff and can reduce anxiety about initial advising appointments.
Introducing content at meaningful places along a learning path defined in the LMS can help students prepare for their advising appointments and anticipate critical milestones in their academic career. For the first appointment, for instance, students might be required to review campus policies and register for required courses. They may also be required to complete pre-advising assessments illustrating their review of and familiarity with those campus policies and reflecting on their reasons for selecting certain courses. Assessments throughout the semester or when preparing for registration again can prompt students to identify what they've learned, any perceived gaps in their own knowledge, and whether those gaps should be addressed with coursework, tutoring, or other strategies. Reviewing this reflection prior to a student's arrival for an advising session can allow for a deeper conversation about student progress and interests. This process also helps students embrace a growth mindset and employ metacognition for academic success.
Delivering content at relevant times helps guide and scaffold learning experiences and provides space for intentional reflection. In the First Year Engineering flipped advising course at UF, students are introduced to topics in a specific order to guide their first year in the program; each topic prepares students for the next: students are first introduced to their advisors and support network in a module titled "Meet Your Advisors." Next, they navigate exam and transfer requirements in "Understanding Your Academic Record" before moving into "Finalizing Your First Semester." Upon completion of these first three modules, students have a solid plan for their first semester, have met with their advisor, and have reflected on their learning experiences thus far in their academic career.
Leveraging the LMS to Promote Data-Driven Student Success
The LMS provides data that help advisors track mastery of learning outcomes, recognize and respond to at-risk students, and analyze details to improve advising practice. In stage one of backward design, advisors establish advising course goals and objectives that align to assessments that will provide tangible evidence of student success. The process of creating and tracking goals and objectives helps advisors ensure alignment and accountability. For example, if an advising course goal is "students will be able to create a balanced five-semester plan that includes academic requirements and co-curricular activities," then advisors can track progress toward this goal through assessments in the LMS such as degree quizzes, reflections, or academic plans.
If the LMS offers integrated tools for establishing outcomes and creating rubrics, advisors can monitor and coach for student progress more easily. Utilizing these tools in the LMS gives advisors options to provide feedback and guidance while also collecting and analyzing data to improve their advising services. Advisors at UF have used these tools to illustrate student needs and progress and share evidence of effective practice to administrators during evaluations or site visits. Advisors also use the data to inform advising practice and shape resources and services.
In addition to fostering student development, advising that provides a sequenced, scaffolded experience for students makes it easier for advisors to spot disengaged or off-track students. By creating modules in the LMS or groupings of content around shared objectives, advisors can implement assessments that capture any issue, concern, or confusion the student is facing.
Quantitative feedback can be collected from course activity analytics and quiz statistics, but the LMS also allows advisors to collect qualitative feedback through course feedback surveys and reflections. Multiple advisors at UF have described the ability to incorporate reflections in the LMS as one of the most significant ways to inform advisors of common student concerns while encouraging students to contemplate and make decisions. Advisors consider both quantitative and qualitative data when reviewing their advising resources and services to identify locations of potential improvement for clarity, efficiency, or thoroughness.
Summary
At UF, advisors have seen increased student preparation and engagement after implementing a flipped advising model that embraces advising as a teaching practice. The demand at the institution led to the development of Advisor Self-Service Resources, an open course that guides advisors through the process of mapping a course using backward design. Following these principles and waiting to design learning experiences until after goals and student outcomes have been identified helped advisors create an aligned and measurable curriculum based on goals and outcomes. Once this curriculum has been outlined, advisors can make use of the LMS to deliver content and assessments to students. This approach centers student success and empowers the whole studentFootnote4 through learning, engagement, self-discovery, and metacognition; it also emphasizes the essential role of advisors in the student experience and their academic careers.
While it is tempting to assume that the LMS might automate some advising processes or generally make the process more systematic, the advising process still relies heavily on human-to-human interaction. The LMS allows for that interaction to be deeper, more meaningful, and more developmental rather than prescriptive and cursory. Whether or not the flipped model is applied, thoughtful and strategic use of the LMS can support a learner-centered approach to advising and a holistic approach to student success.
Notes
Elizabeth Wilcox, "An End to Checklist Thinking: Learning-Centered Advising in Practice," NACADA Clearinghouse, July 26, 2016.

Jump back to footnote 1 in the text.

Dan Barrett, "The Unwritten Rules of College," Chronicle of Higher Education, September 21, 2015.

Jump back to footnote 2 in the text.

Leslie Mojeiko, Allyson Haskell, Steve Carter and Shannon Dunn, "3 Reasons to Go Online with New Student Orientations," EDUCAUSE Review, October 6, 2020.

Jump back to footnote 3 in the text.

Dana C. Gierdowski, D. Christopher Brooks, and Joseph Galanek, EDUCAUSE 2020 Student Technology Report: Supporting the Whole Student, research report (Louisville, CO: EDUCAUSE, October 2020).

Jump back to footnote 4 in the text.
---
Leslie Mojeiko is an Instructional Designer at the University of Florida.
Allyson Haskell is an Instructional Designer at the University of Florida.
Shannon Dunn is an Assistant Director at the University of Florida.