Managers should avoid spinning up project teams too quickly. Diverse project teams can help organizations find solutions to problems that might seem out of reach.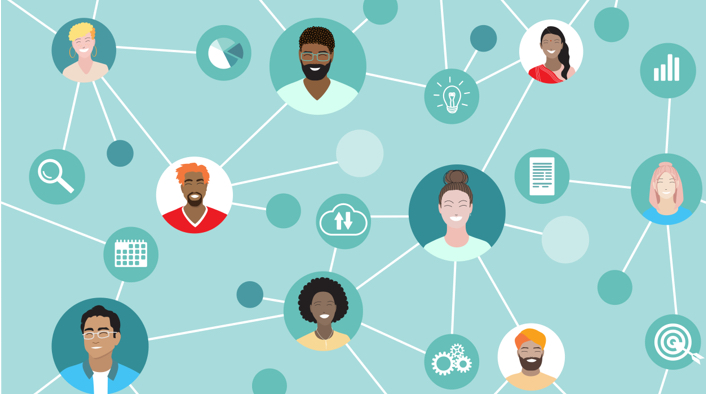 The coronavirus pandemic has changed the world. Employees are working off-site and online, and are spread out. The days of being able to stop by someone's office to check in are gone. The loss of this type of networking may also impact a manager's ability to create diverse project teams. Creating diverse project teams in a chaotic environment like this is important, but it can also be very challenging. Some leaders may choose the path of least resistance and create homogenous teams, as it can be easier for leaders to contact employees who are readily accessible. As a manager, your employees, or those you have direct contact with, can often become the first people you choose as team members. Avoiding this pitfall may prevent some of the common issues that can occur with homogenous teams, such as groupthink, imbalanced power dynamics, and blind obedience.
The following techniques can be used to ensure your teams are diverse and effective.
Communicating with Potential Team Members
To create a diverse team, you first need to reach out to potential team members and explain the purpose of the project. On campus, this might look like reaching out to other departments or divisions (tech or otherwise), soliciting team members during a virtual meeting, or sending invites through an email list or group chat. You can also communicate with stakeholders and project owners to find potential team members whom you may not have considered. Communication is also essential once the team is assembled because members need to understand the "why" of the project and why they have been chosen. Choosing team members who have different educational or cultural backgrounds will help the team look at issues that may arise with a fresh perspective. Letting team members know that you appreciate their outlook and ideas will help them take ownership of the project and buy into the outcome.
Connecting with Potential Team Members
Connecting with other people is no easy task right now. Before COVID-19 reshaped our world, you could have checked in with multiple people with quick in-person visits. Now more than ever, you need to be precise as you decide who should be on your project team. Contact people who have the skills you are looking for. Think of which groups might be affected by the outcome of the project and check in with the leaders of those groups. Create a list of people who might be interested in working on the project. Develop a dream-team roster and make sure that you include people with a diverse range of ethnicities, cultures, backgrounds, and genders. Keeping a log of the strengths and weaknesses of potential team members is an excellent way to be precise in choosing current and future team members.
Define the Channels of Communication
Specifying which communication tools team members should use to ask questions or posit ideas will help to avoid confusion. For example, you could ask team members to use collaboration software like Teams, Slack, or Hangouts to check in with each other and meeting software like Zoom, Webex, or GoToMeeting for project meetings. Try to choose systems that your campus already uses so team members won't have to learn a new system—something that could hinder communication.
Don't be Passive in Your Team Creation
Finally, don't be lazy. With so much change going on right now, it is easy to fall back on practices that will lead to the creation of a homogenous team (reaching out to people you already work with, focusing on experts only, and making smaller teams, for example). These methods may seem like easier ways to build a team, but falling into these common traps is a disservice to yourself, your team, stakeholders, and the project owner. Push past the shortcuts and look for a way to focus on the mission and vision of your organization, and keep in mind how having a diverse team will help to advance those goals.
Focus on Why You Want a Diverse Team
According to a McKinsey & Company study, "companies in the top quartile of gender diversity were 15 percent more likely to have financial returns that were above their national industry median."1 This study shows that diverse teams are correlated with greater achievement than their more homogenous counterparts. By creating teams that are diverse, you will become an agent for change, demonstrating that hiring more diverse employees can help the organization to improve its performance.
There is no end in sight for the coronavirus pandemic, and the new normal is now just normal. The projects that we as managers take on are expected to be beneficial to our organizations. Project owners are still looking for the best outcome for their projects. A diverse team will approach problems from multiple angles, communicate effectively, and think outside of the box. By avoiding the pitfalls that can result from spinning up a team too quickly, diverse teams can help to further equity at higher education institutions and help project teams find solutions to problems that might seem out of reach.
Note
Vivian Hunt, Dennis Layton, and Sara Prince, Diversity Matters, research report, (New York, NY: McKinsey & Company, February 2015). ↩
---
Andy Cadotte is the Information Technology Manager at Student Health Services for Oregon State University.