Supporting transformational leadership requires higher education institutions to take intentional risks and be disruptive in their hiring practices.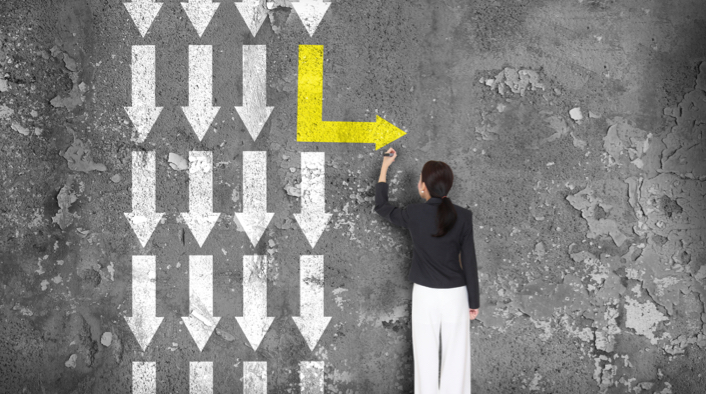 Higher education institutions are undergoing significant change in response to shifting demographics, decreasing state support with consequent budget cuts, and shrinking numbers of traditional students—all now common challenges in the higher education narrative. But those same challenges can create new opportunities that can allow for more meaningful change in our field.
One of the ways Buffalo State College has responded to the evolving higher education landscape is to fashion new and innovative leadership roles. In 2017, Buffalo State created a unique position: chief information officer and vice president of Enrollment, Marketing, and Communications. I was appointed to this position in 2018. This new role was formed with the goals of breaking down silos, realigning resources, and better supporting strategic priorities (all acutely needed in higher education) within the context of transformational leadership. When I asked President Katherine Conway-Turner how she came up with such an eclectic and provocative position, her answer was simple: "With where higher education is today, we must take intentional risk with the way in which we look at higher education leadership."
My twenty-year tenure in higher education has taken me on a very unconventional and exciting journey to leadership. I have a master's degree in project management and a doctorate in educational leadership, and a diverse, nontraditional background in marketing, communications, enrollment management, alumni relations, and information technology. During my last job search, I was truly looking for a needle in a haystack, and there it was at Buffalo State College! This position gives me the pleasure of leading more than 275 staff members and students in one of the largest, most uniquely designed divisions within Buffalo State College. My division brings together professionals in information technology, enrollment, and marketing and communications, creating the perfect trifecta of collaboration, skill, and talent to effectively serve the mission of the institution and assist with accomplishing its strategic goals. Taking on this role has turned out to be one of the best professional decisions I have ever made. And it turns out that Buffalonians are some of the nicest people I have ever met.
The IT office is sometimes seen as a black box—a place where faculty, staff, and students put in a ticket and hope for the best. That is not the case at Buffalo State. As a strategic leader in this position, I am able to facilitate beneficial, cross-divisional conversations. For example, collaborative meetings with the Enrollment Management office and IT department ensure that the IT department understands how its programming, project management, and implementations impact the enrollment cycle. Without these collaborative interactions, key staff would be uncertain or unaware of divisional strategic priorities. This hinders their ability to understand how their day-to-day work fits into the bigger picture and how they can effectively and efficiently meet deadlines.
Buffalo State has realigned how the Marketing and Communications office works with the Admissions office. Admissions no longer drives the creation of marketing content. The Marketing and Communications office now works alongside the Admissions office on its yearlong communications plan so that all initiatives are preplanned and understood. The Marketing and Communications office, along with the Admissions and IT offices, is also included on projects such as the ongoing management of the Buffalo State Slate customer relationship management (CRM) system and the implementation of mobile applications. Having all the right divisional partners at the table from the beginning helps to prevent misunderstandings, encourages thoughtful questions, and, ultimately, sets the stage for success. Reporting to the same vice president ensures that priorities are understood across the division.
Now more than ever, nontraditional roles like mine are needed in higher education. Most (if not all) colleges and universities are continually assessing and maneuvering support services to meet constantly changing student needs. Institutions are prioritizing retention efforts to retain the students they worked so hard to attract. The continued decline in enrollments and lower number of students1 mean institutions have significantly fewer financial resources to work with in an environment where everyone is being asked to do more. And all of this work must be done in an uncertain and tumultuous higher education landscape. Leadership roles can no longer function in silos. Synergies must be created, collaborations must be pursued, and salary savings must be realized. Intentional risk must be taken to formulate roles that strategically integrate dependent and collaborative areas within an institution.
Additionally, higher education institutions must encourage the hiring of candidates with diverse backgrounds from both within and outside of academia. Some institutions are beginning to see top leadership roles such as provost and president filled by CIOs (including those from corporate America) and other diverse candidates, bringing with them fresh and innovative perspectives. There was a time when these contenders would not even have been considered for such positions. This shows how higher education is evolving. I am looking forward to what the future holds for other innovative leadership roles at colleges and universities.
Using words like "risk" alongside "higher education" is certainly a change for a traditionally risk-averse environment. However, with this type of thinking, colleges and universities can better respond to change. Not only must institutions take intentional risks, but they also must be intentionally disruptive. Making purposeful, meaningful, and deliberate moves will allow higher education institutions to respond to the ever-changing needs of current students and support them through to graduation.
Note
Dian Schaffhauser, "Higher Ed Enrollment Decline Continues; For Profit Shrinkage Slowing," Campus Technology, December 17, 2019. ↩
---
Jacquelyn Malcolm is CIO and VP for Enrollment, Marketing, and Communications at SUNY Buffalo State.