Even though the coronavirus pandemic has disrupted the traditional work rhythm, employees still want professional development opportunities.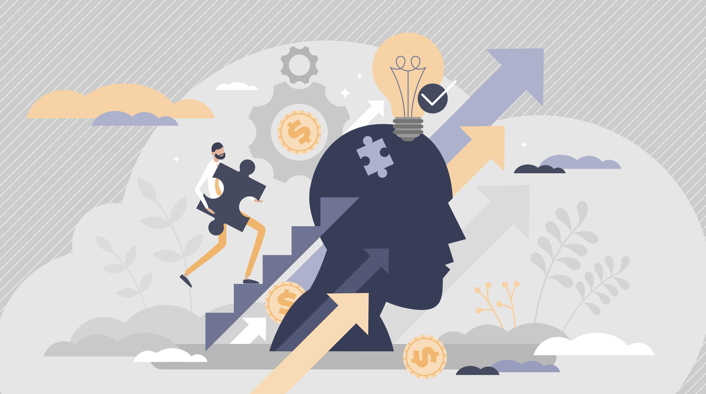 Institutions of higher learning, corporations, and other organizations face uncertain challenges and an uncertain future. Yet, the need for colleges and universities to develop and educate their workforce while carrying on with their core mission continues despite a myriad of constraints—many of which are completely outside the institutions' control. Support for the professional growth and development of staff and line positions at these organizations is perhaps more important than ever, especially given the environmental conditions caused by the coronavirus pandemic. Even though their traditional work rhythm has been disrupted, employees at higher education institutions still want professional development opportunities. A full 94 percent of employees indicated that they would stay at a company longer if it invested in their career development.1 There is no reason to think this desire has changed during this turbulent period.
However, protracted off-site development events have become a bit of a luxury. Most in-person events have been curtailed or even eliminated during this trying time. Instead, organizations and institutions are forced to seek professional development opportunities that are offered in-house or virtually, as well as various self-paced options. Fortunately, many opportunities abound—especially self-paced, online training and development opportunities. In fact, one online training purveyor reported that 58 percent of employees prefer opportunities that allow them to learn at their own pace. The same report revealed that 49 percent of employees prefer to learn when the need occurs—making accessible, independent online learning the most suitable type of learning for an increasingly diverse, multigenerational, and non-co-located workforce.2
Consistent, high-quality professional development has many advantages. Every organization should build these opportunities into its annual planning to ensure workforce continuity. Here are just a few of the many affordances high-quality professional development provides:
Increases the collective knowledge of the team
Improves job satisfaction
Promotes employee retention
Promotes and improves succession planning
Promotes an employee-centered culture that values the workforce
Reduces employee turnover and low morale
Provides just-in-time, skills-based training
Provides expanded opportunities for personal employee growth
Provides currency with evolving changes in technology, systems, and organizations
Promotes diversity, equity, and inclusion (DEI) in the workforce3
There are many opportunities and resources for IT line and staff personnel to gain insightful, valuable professional development that is cost-effective, high-quality, and, above all, rapid. Among the best sources of rapid professional development are professional associations and organizations that provide development opportunities for experienced and entry-level personnel alike. Many of these organizations are free or relatively inexpensive to join. The following are a variety of recommended organizations and services:
EDUCAUSE
EDUCAUSE is perhaps one of the best resources for professional development. This organization has long provided a wealth of rich opportunities to the higher education community.
Community Groups

These groups cover specialized areas such as accessibility, learning-space management, project management, instructional design, and more. Most Community Groups, which are led by members of the higher education community, offer information-packed live sessions with wrap-around resource sites and repositories.

Institute Programs

The EDUCAUSE Institute programs—New Managers Institute, Management Institute, Senior Directors Institute, Learning Technology Leadership Institute, Leadership Institute, and Leading Change Institute—have all moved online for 2021, offering ongoing opportunities that professionals can take advantage of from their home campus.

Courses and Webinars

Content is developed dynamically to provide just-in-time information and education in response to current events. For example, several events were offered as campuses pivoted to hybrid and HyFlex delivery modes.
Book Study Groups and Book Clubs
Book study groups and book clubs are informal professional development opportunities whereby staff collectively read books that are germane to specific professional development topics and then convene for structured conversations.4 Some of the topics that can be discussed include the following:
Developing leadership skills
Managing distributed teams
Acquiring or improving soft skills, such as emotional intelligence and mindfulness
Creating a more inclusive workplace through language and interactions
Coaching and Mentoring
Informal coaching and mentoring opportunities are often offered through human resources offices or other campus organizations. There are also a number of formal opportunities:
EDUCAUSE mentoring program and circles
Peer-to-peer coaching (as opposed to top-down coaching)

Monthly opportunities to convene and discuss
Other On-Campus Opportunities
Some professional development opportunities, such as the following, may fall outside of the direct reporting structure:
Diversity, equity, and inclusion (DEI) training

Some campuses offer DEI workshops or training to all faculty, staff, and, in some cases, students. The University of Denver, for example, offers DEI professional development for its entire campus community.

Security awareness training
Service management training
Leadership training

Business schools often host leadership training that may be free or, at the very least, does not require travel.
Free Resources
The CIO or other leadership personnel can curate a list of potentially free resources and webinars from YouTube Live, TED, and other sources that personnel can leverage to develop leadership traits on their own time.
Short Courses Offered by Training Vendors
Topics range from soft skills to coding and programming, to instructional design and design thinking. Most courses can be completed in under two hours. Certificates that may apply toward professional advancement can be generated.5
Self-Paced Certificate and Credit Courses
Courses offered through various universities on topics ranging from COVID-19 contact tracing to leadership in learning environments to technical writing are available. Most of these courses take between twenty and thirty hours to complete but are normally free and offered online. In some cases, certificates of completion are awarded after an optional subscription fee is paid. Many of these subscriptions are under $100 and can be used for an entire year to enroll in other courses.
Technical Certifications Offered through Corporations
Topics range from productivity skills, such as Microsoft Office products, to cloud computing and security. Microcredentials are often awarded following completion. These courses can take anywhere from a few hours to a few days to complete. One company offers several professional development courses through podcasts, including courses on leadership and leadership development.
Many companies offer courses and certification for their specific product lines, such as 3D printers and servers.
Coding Courses and Bootcamps
Several companies offer a variety of virtual bootcamps and coding courses. Topics typically include coding and programming, website development, and other technical skills.
Extemporaneous Communities of Practice
Scholars and support staff may form a community of practice and meet virtually (using a variety of web-based tools and resources) to discuss relevant topics.
Career fairs (where job-search strategies, including resource banks such as Accelerate to Industry (A2i), might be discussed)6
Postdoctoral research symposiums
Career panels
A recent article by Brandon Busteed featured in Forbes predicted that many corporations may never return to in-person training and professional development.7 The rapid pivot online this past spring revealed that corporations not only saved money when they moved professional development online but they also yielded comparable results to on-site, face-to-face events. What that means for higher education is yet to be seen, but it may follow suit. Higher education has an advantage over other organizational types because it has a well-positioned and well-established network of resources and organizations that stand ready to support professionals seeking to upskill and reskill. By contrast, corporations often tend to seek opportunities within their companies and within their own vertical service sectors. This is a great opportunity for higher education to rally around its community and promote opportunities across institutional boundaries and across institutional types. The more that members of the higher education community can share and collaborate with one another—even virtually—the better the professional development opportunities will be.
Notes
---
Robert Gibson is the Director of Learning Technologies at Emporia State University.