Providing accessible online learning resources can feel daunting, but two strategies can set you up for success.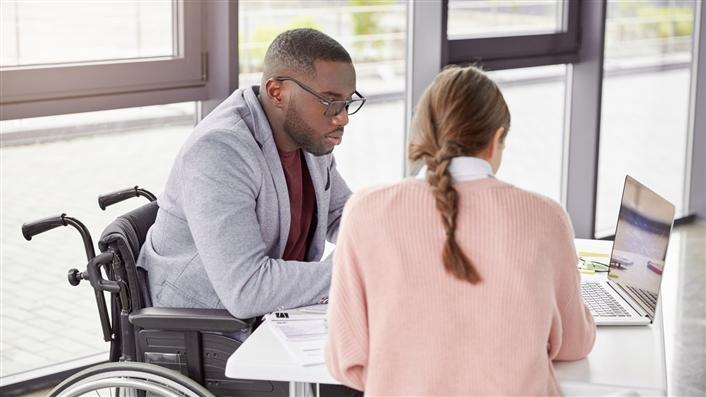 Ensuring that all of an institution's online learning resources are accessible can feel like an overwhelming challenge given the number of higher education experiences that rely on digital content. But a crucial part of establishing an inclusive campus is to make sure your online learning experiences are both usable and accessible.
Although everyone can likely agree on the value of accessible course content, there are differing opinions and strategies on how to work toward accessibility and on the role of faculty in these initiatives. As we have wrestled with these issues at Utah State University, two things we have done are helping us move the needle on accessibility and get more people involved in the process.
Step 1: Make Space for Reactive and Proactive Accessibility
Accessibility efforts can be reactive or proactive, and both approaches have an important role in higher education.
Reactive Accessibility
We often talk about accessibility as a specific type of accommodation for a specific individual—for example, a student who is hard of hearing and require captions on videos content. Most organizations have a process in place to support these types of accommodation requests in the learning management system reactively.
That is, when a student with a disability requests enrollment in a course, someone is notified that the course content needs to be made accessible to that specific student. This type of reactive accessibility work is essential and should be a priority. However, if you are always focusing on reactive fixes, it can be difficult to feel like you're getting ahead in fixing existing problems before new ones crop up.
Proactive Accessibility
With a process in place to ensure you meet specific student needs, you can begin to proactively identify accessibility pain points and come up with a plan for addressing them. Dedicating resources to this type of effort can go a long way toward raising awareness of accessibility as a good practice and prevent the need for some accommodation requests.
The idea is to identify high-impact problems and work with content creators to fix those problems and create content that is accessible from the beginning. We have found that conversations with faculty about proactively integrating accessibility into their teaching practice are received much more warmly than from compliance-driven accommodation requests.
Step 2: Prioritize Accessibility that Benefits Everyone
Proactive accessibility gives us the opportunity to prioritize accessibility efforts based on the value they provide to all students.
Curb-Cut Principle
The curb-cut principle is the idea that some accommodations intended for specific audiences provide benefits to others as well. For example, sidewalk curb cuts for wheelchair users are also beneficial for bicycles, shopping carts, and strollers.
This same principle applies to digital accommodations. It can be very helpful to identify some accessibility fixes that are likely to have a greater impact than others. For example, captions are essential for students who are deaf or hard of hearing but are also beneficial to second-language learners or anyone in a noisy environment.
Getting Faculty On Board
How do you convince faculty of the value of accessible content in the absence of immediate student need or accommodation requests? We are finding success by starting faculty training sessions and conversations with a focus on things they can do that will have a significant impact on students both with and without disabilities. Some of these topics include:
Including captions on videos
Converting inaccessible PDF files to accessible HTML content
Using headings to organize content
Adding meaningful text to links
Faculty can quickly and easily see the immediate value in making these types of changes and catch the spirit of accessibility that can then carry over into implementing additional accessibility practices.
Accessibility can be both a tremendous challenge and an opportunity for instructors. The way we frame the discussion and share the value of inclusive content for everyone can have a significant impact on how much accessibility work gets done and what types of habits faculty are willing to integrate into their teaching practice.
---
Christopher Phillips is the Electronic and Information Technology Accessibility Coordinator at Utah State University.