Faculty explore various uses of a new technology that incorporates hand-drawn elements into online lectures.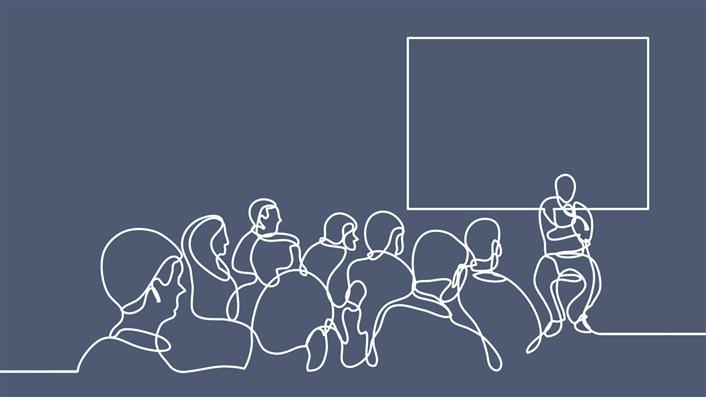 A few years back, two professors who had previously only taught in face-to-face courses found themselves developing online courses, deprived of their beloved chalkboards. Matt Anderson at San Diego State University and Michael Peshkin at Northwestern University knew they wanted to preserve the immediacy afforded by drawing by hand while lecturing, but turning away from the camera to draw was even more unacceptable than turning away from a live classroom.
Setting out to solve the same problem, they arrived independently at the same solution: a transparent glass board with lighting inside the glass, so that drawing "glows" on the board in front of the instructor. Video could be filmed from the opposite side of the board, so that the instructor always faced the camera. A horizontal flip of the image obviated the need to learn to write backwards.
The two experimented, finding that regular window glass was too tinted to adequately conduct light into the glass from its edges, but low-iron architectural glass was much clearer. The ink in neon markers glows beautifully (see figure 1). With a few other tricks, the two ultimately arrived at the same technological apex. Soon, they also found each other online and became friends and collaborators. They shared stories about development and were surprised at how similar their experiences were. Born of necessity, Learning Glass and Lightboard ushered in a novel approach to lecture capture. (For more information on the origins of their inventions, watch this EDUCAUSE interview with Anderson and Peshkin.)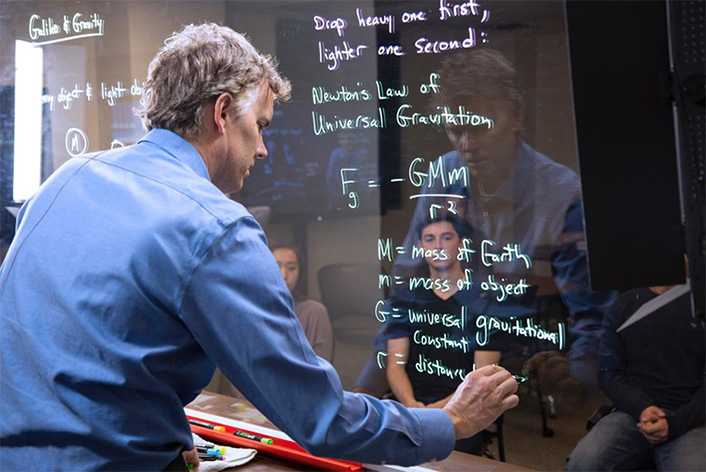 Since that time, the technology has spread throughout the nation and indeed the world, with hundreds of users across three continents. While most of the adoption has been in college and university settings, K–12 institutions and private companies have started to adopt the technology. It has found use in online settings (synchronous or asynchronous), flipped classrooms, supplemental materials, and even live classroom settings.
Here are some exciting and unusual use cases that highlight the approach:
Active learning classroom: San Diego State University has developed an active-learning classroom with a Learning Glass front and center. This 30' x 30' room contains a large (4' x 8') Learning Glass at the front of the room, high-end AV equipment, six round tables for seating up to 36 students, table mics for communicating with the students, high-definition TV monitors around the periphery of the room, and all the bells and whistles one might expect from a smart classroom. The space allows for direct interaction with students while recording the class for future viewing.
Integration with PowerPoint: Northwestern's studio highlights the integration of graphic material from a PowerPoint presentation into a Lightboard video (see figure 2), all done in real-time without the need for post-production editing.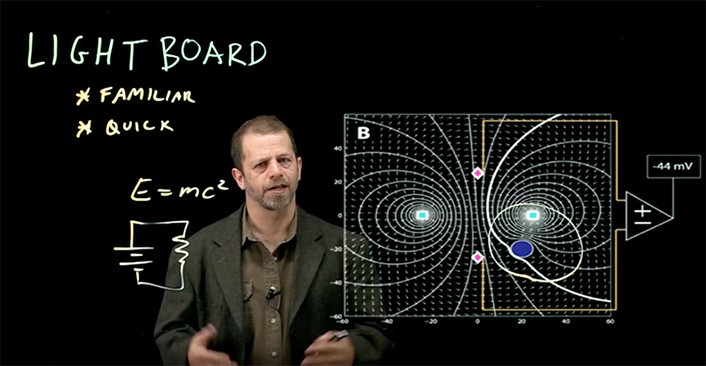 These scenarios represent just a few examples of interesting use cases for this technology in higher education, and Anderson and Peshkin would like to hear about others. Please comment below and include a link to your own Learning Glass or Lightboard videos and resources, as well as any suggestions you have for Anderson and Peshkin as they continue development on these tools.
---
Matt Anderson is Senate Distinguished Associate Professor of Physics at San Diego State University and CEO of Learning Glass Solutions.
James Frazee is Senior Academic Technology Officer and Director of Instructional Technology Services at San Diego State University.
Michael Peshkin is Bette and Neisen Harris Professor in Teaching Excellence in the Department of Mechanical Engineering at Northwestern University.