The annual NMC Higher Education Horizon Report is a recognized resource that explores emergent areas likely to have an impact on learning, teaching, and creative inquiry; this post offers an insider perspective on three projects from the field that were featured in this year's report.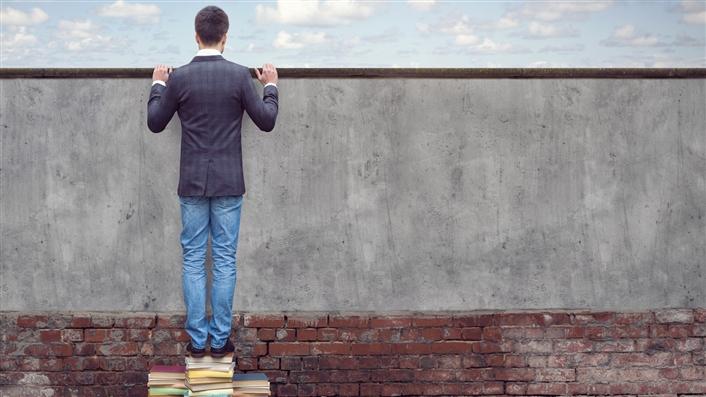 No crystal ball exists for predicting the future of any field, including higher education, though one would certainly come in handy—especially with regard to massive shifts in institutional focuses, evolving technologies, and emerging models. In lieu of a crystal ball, the annual NMC Horizon Report provides in-depth coverage of international trends, developments, and challenges across teaching, learning, and educational technology from professionals in the field who are both experimenting with them and experiencing them. It is a recognized resource that explores emergent areas likely to have an impact on learning, teaching, and creative inquiry.
Earlier this summer, EDUCAUSE solicited projects from the field that illustrate the six developments in educational technology identified in the report: analytics technologies, makerspaces, adaptive learning technologies, artificial intelligence, mixed reality, and robotics. More than a hundred submissions came in from across the globe, and eighteen were ultimately selected for inclusion.
An EDUCAUSE Live! webinar hosted by Malcolm Brown, Director of Learning Initiatives, offered an insider perspective on three projects also featured in the report.
Bay Path University: Boosting Student Engagement and Comprehension with Adaptive Learning
The first exemplar focused on adaptive learning and open educational resources (OER). Jeremy Anderson, Deputy Chief of Academic and Administrative Technology at Bay Path University's American Women's College, shared how his team was able to bring two new tools, OER and adaptive learning, to scale, using an approach with a concept map that layered students' adaptive learning experiences alongside relevant faculty training and performance indicators.
His team found that piloting and scaling OER not only paired well with an adaptive learning strategy but also reduced costs for all American Women's College online students. The $350 each student saved could help defray other expenses.
"We're focusing on math, English, humanities and sciences, and subjects along those lines because those have the highest potential impact," Anderson said. "What's been great is that's also the place where you'll find most of the OER. We've been building vertically in our science and business programs, which are also our largest-enrollment programs; the result of all of this has been that we've scaled up rapidly both in the number of OER courses as well as the number of adaptive courses."
The team focused on low-cost service providers and what Anderson referred to as "the open stacks of the world." He mentioned Ed Map, which helps faculty navigate the creation of new course materials by matching an access librarian with a subject-matter expert from the institution. "On top of that, we've got our own subject-matter experts who create their own material and write all of the hundreds of text questions using OER," Anderson added. Naturally, orienting students and faculty to this self-directed learning approach and its associated new tools required training webinars and videos as another key part of the equation.
The result? A vast majority of students felt more engaged in their learning and indicated that their comprehension was improving. "Students love the fact that with adaptive learning, they're able to see the same concept in a number of ways—text, video—and it's all tailored to their learning preferences," Anderson said. "A big theme with our faculty was that teaching isn't a black box anymore. Instead, it's 'I know from day one exactly how everyone is doing on every concept in my course.' So you're able to be really intentional in how you work with students. Ultimately it's not about taking faculty out of the equation—it brings them even more closely together." Aspects of faculty development had to be adjusted as well, Anderson noted, moving from a "sage on the stage" model to "guide on the side."
Over the coming months, his team will examine hard data to validate those perceptions, thanks to a grant from the US Department of Education.
Humber Institute of Technology: Using VR and AR for Emergency Training
In the second project exemplar, Eileen DeCourcy, Associate Vice President of Teaching and Learning at Humber Institute of Technology and Advanced Learning, described a challenge facing students in emergency medicine: preparing for catastrophic mass casualty events. The institute has implemented virtual and augmented reality into the curriculum of its paramedic program in order to create a realistic experience for first- and second-year students to assess mass casualty victims and practice systematic triage. By constructing environments familiar to students, such as public spaces, airports, and subway stations, DeCourcy and her team believe they have created a convincing backdrop for the type of practice that cannot easily be orchestrated in the real world.
VR goggles transport students to vivid trauma scenarios where they can interact with victims to understand what happened; in the process, they're able to build technological, communication, and resiliency skills that could save lives in the future. The emphasis is on practicing stress management while completing a critical task: assessing casualties and prioritizing findings while assessing the possibility of ongoing dangers—active shooters, acts of terrorism— all of which must occur within forty-five seconds. Faculty can adjust the experience to increase the level of the challenge and difficulty in real time in ways that are appropriate to students' current capabilities.
"Paramedics are at a very high risk of becoming diagnosed with PTSD (Post Traumatic Stress Disorder), and our faculty are interested in actively helping our students develop the resilience that will prepare them to respond productively in all types of crisis situations and environments," DeCourcy noted.
Students also have served as AR content creators. The Humber Institute's lab is outfitted with motion-capture cameras and a number of software and hardware components, but developing the various scenarios for use within the program led the team to hire students in game design, computer science, and programming. DeCourcy noted that significant peer-to-peer learning occurred in the process.
James Madison University: Teaching Students to Solve Real-World Problems
Sean McCarthy, Associate Professor of Writing, Rhetoric and Technical Communication at James Madison University, introduced JMU's X-Lab, where interdisciplinary faculty teams lead students on project-focused courses that solve problems for real clients using AR, blockchain, hacking for defense, and Internet of Things, among others. McCarthy said they use design-driven methods, design thinking, and lean Launchpad for working on complex robotics and emerging technologies.
Innovation can't happen in a vacuum, of course. The X-Lab collaborates with other institutions of higher education, as well as external experts; its highly popular drone course on unmanned systems has involved participation of four American and overseas universities in the areas of physics and industrial design. Additionally, X-Lab faculty members stress the study of ethics in their classes and ask students to consider the human and environmental contingencies of new technologies, such as drones.
Students also work with VIP experts and entrepreneurs from their desired space. In the course of their project work, they use online collaboration and publication tools and communicate their findings to professors and clients, as well as to the general public and media.
"The X-Lab is flexible and agnostic and is adaptable as its program is iterated upon and built," McCarthy said. In what is a unique organizational structure, the center reports directly to the provost's office rather than being housed within a traditional college or discipline.
Download the full NMC Horizon Report: 2018 Higher Education Edition for more information.
---
Kristi DePaul of Founders Marketing provides editorial support and regular contributions to the Transforming Higher Ed column of EDUCAUSE Review on issues of teaching, learning, and edtech.