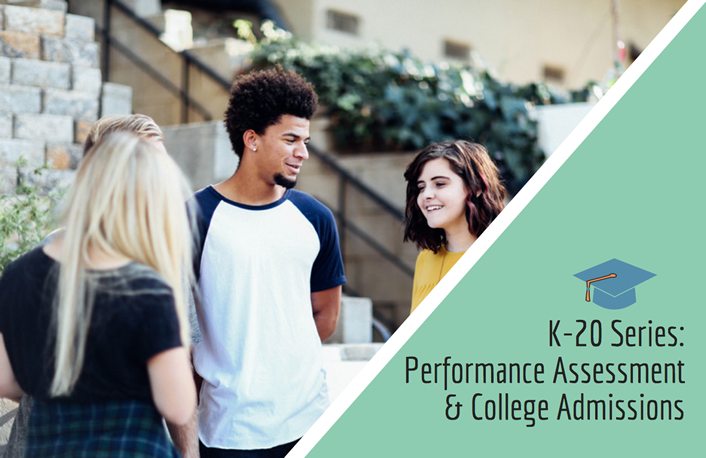 At this time of year, there's a sense of excitement and anticipation as students begin packing for their new homes: dormitories and apartments on the campuses of postsecondary institutions across the country. It's a far cry from the nervous and frenetic nature of application season.
But then, that makes sense given the incredibly competitive landscape of college admission these days. Many college hopefuls have spent years cultivating an academic and experiential resume that would make a lot of working professionals look lazy by comparison. And yes, even those with 'perfect' 4.0 GPAs aren't immune to admissions-related panic.
The question remains: do the ways in which we assess students' high school experiences impact their eligibility for college?
Peter Ross believes that they do. As Director of Strategic Initiatives for the Learning Policy Institute, his work currently centers upon the stewardship and analysis of deeper learning initiatives, and their applicability across the K-12/higher ed continuum.
Led by President and Charles E. Ducommun Professor of Education Emeritus at Stanford University professor Linda Darling-Hammond, the Institute produces and synthesizes high quality research and carries it into policy work. Deeper learning is one of four areas of focus for the Institute, and one where assessment plays a pivotal role.
"The notion behind connecting K-12 performance assessments with higher education admissions, placement and advisement is that there's considerable work being done in high schools now where students are completing performance assessments aligned with deeper learning competencies," Ross said.
"They paint a complex portrait of each student as an individual showing what they have accomplished and signaling their potential for work to come. Yet those assessments — which are really rich and sophisticated in terms of the breadth and depth of their documentation — are not being systematically infused into college admissions or college placement for courses or even for advisement purposes."
The Institute aims to change that. Led by Senior Researcher Roneeta Guha and Ross, LPI launched a deeper learning performance assessment initiative in Washington D.C. this past June in partnership with EducationCounsel. K-12 and higher education stakeholders from throughout the nation joined them to explore possibilities of how these sophisticated assessments can be used in higher education admissions, advisement and placement.
And although these are admittedly the early stages, Ross remains optimistic about next steps which include task forces that will explore:
Accrediting Students' Work – Developing a system to accredit the quality of K-12 performance assessments will allow for variation among those systems while clearly signaling quality to higher ed without the need for familiarity with the nuances of each K-12 school's unique system.
Building Tools and Processes – Figuring out how to accomplish the above so that higher ed can have access to more sophisticated data on student performance in a way that does not increase administrative burden. One possibility is the use of a digital platform with a dashboard that would show accredited scores and also allow higher ed to drill down for further information as needed (e.g., the ability to dive into specific projects from a student's chemistry class if he or she is on the margins for admission into a scientific major).
Developing a Research Agenda – Continuing to build a body of evidence on performance assessments and their role in preparing students for higher education will help K-12 and higher ed leaders better understand the key features of high quality performance assessment systems and their benefits for students, particularly those from historically underserved communities.
Launching a Communications Campaign – building greater awareness of performance assessments and its potential for bridging K-12 and higher education – and improving teaching and learning – through presentations to key stakeholder groups, regular public-facing writing, and other efforts.
Many present at the June meeting recognize that higher ed admissions processes send a strong signal to K-12; currently, admissions departments do not systemically support or include these types of assessments. Providing admissions officers with a clearer sense of who prospective students are and what they're capable of is ultimately the goal, and will communicate to the K-12 sector that this is an area worthy of resource investment.
Not to be overlooked is the student experience. A significant catalyst for deeper learning assessment is its ability to level the playing field for high schoolers of all backgrounds, particularly those from historically underserved communities.
"This work is powerful and particularly helpful for students of historically underserved communities, enabling them to be prepared for rigors of higher education and 21st century workforce in a different way than multiple choice traditional assessments," Ross added.
There are many interesting scenarios in which this could play out.
"Imagine a multiple choice test or essay in biology; what we're looking toward is more akin to what a doctoral student would do with their defense," Ross explained. "Instruction tied to performance assessment is different in that, in the end, it requires a public defense of their work. To get there, students design an experiment, conduct it, gather findings, and then present them to a public panel that includes teachers, community and family members, and someone from the field (such as a biotech company). And similar to the experience of a doctoral student, there are often revisions that have to happen. There's a revise and resubmit process, which is much more sophisticated and more true-to-life to the experiences students will encounter either in college or on the job."
Wouldn't this represent a heavier lift for high school educators? Not necessarily, Ross said — the school and its pedagogical instruction have to be designed differently, of course, but it can be woven into the ongoing daily curriculum and iterated upon throughout the course of an academic year. Beyond that, the ability for students to build key 21st century skills such as presenting and interpersonal communication, negotiation, and social and emotional learning represent an enormous opportunity.
"What exists now is in pockets in a variety of U.S. states," Ross said. "For example, Envision Schools in California have made huge progress. We think this is the direction that will allow more students to have access to deeper learning and would give higher education administrators a much more accurate portrait of students' diverse competencies."
Such assessments are currently being used across a variety of disciplines, including mathematics, English and language arts, foreign languages, science, and social studies.
Looking ahead, what will success look like? Within a near term window, the Institute will have formal deeper learning assessment pilots underway with institutions and (more critically) entire university systems. If the initiative continues to gain interest and ownership across K-12 and higher education, and produce greater knowledge regarding how these assessments can serve the needs of both educational sectors, that will be the kind of momentum worth celebrating.
---
Kristi DePaul of Founders Marketing provides editorial support and regular contributions to the Transforming Higher Ed column of EDUCAUSE Review on issues of teaching, learning, and edtech.