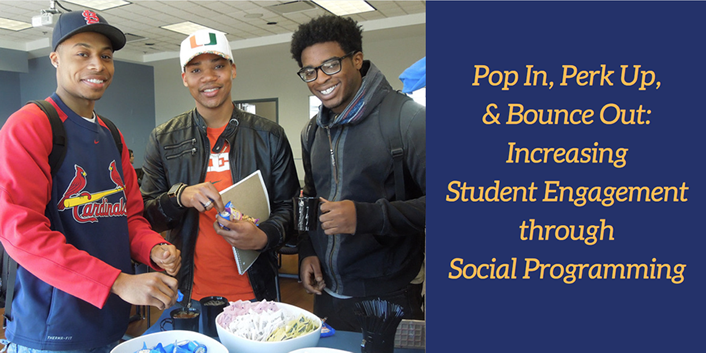 Most college students know that advising centers exist to help them, even if they're not totally sure how. Yet getting them to set up (let alone show up to) formal appointments is another story. It's the reason why our advising team began to explore some unconventional approaches to acquainting the students with our services.
Our lower division business students at Middle Tennessee State University are primarily enrolled in general education courses for the first two years, with limited exposure to the Jones College of Business. Additionally, many of our upper division students viewed us as only registration assistants. Therefore, increasing student engagement became a major focus for the advising center.
After failed attempts to attract students to academic-based programming (i.e., student success workshops and seminars), we decided on a change of direction: pizza. Yes, we simply advertised 'FREE PIZZA' with the hopes of socializing with students while they ate. Our first event, which later became Lunch On Us, was a huge success! We had a great turn-out and gave away 25 large pizzas within about half an hour. We realized we were onto something, and created a series of social-based programs offering free food to entice our students to participate.
Lunch On Us
About one month into the semester, we invite students to have Lunch On Us. We offer free pizza and a place to hang out and take a break for a few minutes between classes. With music playing and our advising staff mingling, the atmosphere is relaxed and informal. We take this opportunity to check in to see how the semester is going, provide some motivation, and steer struggling students toward the appropriate resources.
Pop In
Immediately following our long semester breaks, the advising center hosts Pop In, an appointment-scheduling blitz. Students are drawn in by the smell of fresh popcorn, and advisors are ready to quickly schedule advising appointments for the upcoming registration cycle using iPads. In the spring of 2016, we scheduled 391 appointments over just two days. In the fall, we increased the number of scheduled appointments to 476. After only three semesters of hosting the event, students now tell us the smell of popcorn triggers them to schedule an advising appointment on their own! Pavlov's theory, perhaps???
Perk Up and Bounce Out
Our end of semester events are scheduled for the week prior to finals. We've found that this is a great timeframe for motivating students through remaining projects and exams. Perk Up is held in the fall. We offer coffee, hot chocolate, Pop-Tarts and encouragement to propel students through the last few days of the semester.
Bounce Out is our spring term event, which provides some much-needed stress relief and celebration surrounding the end of another successful academic year. We bring in inflatable games and provide snacks such as lolli-waffles and nachos. We have a great time engaging students in friendly competition and encouraging them as they prepare for the week of finals. The success of this event has led to a corporate sponsor providing the opportunity for even more fun and games!
By strategically planning events throughout the semester, we've found creative, out-of-the-box opportunities to check in with students and connect with them in a personal way. It has become evident that students are much more willing to open up about how things are going through a casual conversation in lieu of a formal advising appointment. Our students have become more open and likely to seek our assistance when problems do arise because of the relationships we have established. No one could have guessed the success these small events would elicit, but the appreciation students have shown is immeasurable. I would encourage other advising teams to consider embracing similar types of fun outreach initiatives; the results speak for themselves!
---
Amber K. Bollinger is an academic advisor in the Jones College of Business at Middle Tennessee State University.