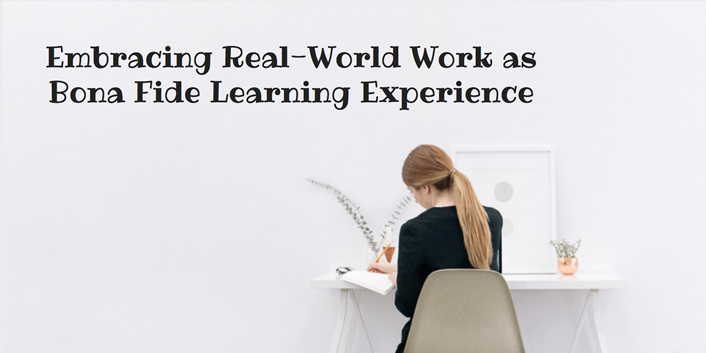 Potential degree seekers may see the sharp tuition increases, ballooning student debt and a dearth of job prospects facing college students as reasons to forgo college in favor of entering the workforce. These circumstances may actually make a college education a less logical (and potentially even more damaging) prospect for many degree seekers.
Add to that the fact that today's 'traditional' college students are adult learners who are juggling jobs and families, and the more immediate opportunity costs of pursuing a degree quickly add up.
These individuals aren't entirely wrong: some students would certainly be better off in the near term, if only financially speaking, by seeking work experience instead. They will be missing out on the long-term benefits of a college degree--and as a result, institutions would be losing out on their fastest-growing demographic.
Recognizing this issue, some colleges and university systems are exploring ways to make academic credit profitable in the short-term as well as the long-term.
Disconnection Breeds Inefficiencies
Perceptions of the real world of work and the ivory towers of academia have seemed to exist on different planes. In one instance, apprentices acquire the skills of the trade on the job; in the other, students are immersed in theoretical concepts and some practical application, but may not be ready for more than the lowest of entry-level roles.
We've heard the phenomenon of being overeducated and 'underexperienced', and we know employers struggle to find employees with the right skillset among the ranks of recent graduates. Isolated attempts to bring the world of work into the ivory tower have met with limited success. Internships for college students are abundant, but they frequently lack structure and defined professional objectives.
It all leads to a sobering and humbling reality for those who earned a credential in the hopes of securing a brighter future.
Crossing the Chasm with Apprenticeships
While competency-based education programs like those at College for America have sought to bridge the gap between existing skills and experience and the requisite academic steps toward a degree, the concept of giving educational credit for actual work experience is still in a nascent stage.
A new trend is emerging — one that doesn't require aspiring professionals to choose between the two paths: apprenticeships. Some institutions are embracing apprenticeships as credit-worthy learning experiences. One college in Maine recently received a $291,000 grant to give academic credit for real-world work experience.
Jobs for the Future has added a Center for Apprenticeship and Work-Based Learning, bringing this 'tried and true training model' into classrooms, labs, and boardrooms across the United States. Even the Chronicle of Higher Education has stated why colleges need to embrace the apprenticeship.
What is an apprenticeship, exactly? It's a professional relationship that consists of onsite training and very little of the drama seen in the eponymous American reality TV show. While the two are often mentioned in tandem, internships and apprenticeships are different. Both may end with a formal job offer and a significant amount of hands-on experience, but apprenticeships are always paid, are typically long-term, and involve some kind of formal employment contract.
Here's the kicker: while internships are regularly completed in exchange for credit, apprenticeships typically are not. If institutions begin accepting the latter as qualifying experiences toward a degree, students stand to not only realize significant cost savings, but also potentially much shorter paths to graduation.
Earning While Learning
As those within it are well aware, the state of higher education isn't without irony. While many colleges boast of exposing students to 'real world' professional experiences, comparatively few currently accept experiences like apprenticeships as academically legitimate pursuits. Making the shift isn't a straightforward process, but there are resources available.
The Council for Adult and Experiential Learning (CAEL), a nonprofit organization, has sought to connect the disparate worlds of higher education and the public and private sectors. Their team has created Standards for Assessing Learning so that institutions can accurately assess and offer credit for students' prior learning, whether it took place in a classroom or on the job.
There's supporting evidence underscoring this effort: CAEL's Fueling the Race research study showed that students who earn credit for their prior learning are two and a half times more likely to persist to completion.
In its ebook on State System Prior Learning Assessment Adoption, CAEL offers strategies and lessons culled from a three-system initiative in the approaches that the Montana University System, the Ohio Department of Higher Education and Texas A&M University System have taken toward accepting experience in exchange for credits. The two-year Lumina Foundation project involved efforts spanning collaborative planning, inventorying and developing guides for policies and practices, examining and bolstering institutional capacity, and raising awareness. (Here's an example of a PLA guidebook.)
Other valuable lessons on timing and sequencing, as well as engaging key stakeholders are contained in the ebook, which closes by optimistically stating that: "It is likely that in the next several years, we can expect to see replications and enhancements of this model and continued transformations across the nation."
It's a change that stands to benefit both students — especially adult learners — and the workforce.
---
Kristi DePaul of Founders Marketing provides editorial support and regular contributions to the Transforming Higher Ed column of EDUCAUSE Review on issues of teaching, learning, and edtech.