Recently, I began riding bikes with the Baton Rouge Bike Club. This has been a most enjoyable experience that is challenging me in new ways. In this blog, I will share observations about technology and the role of CIOs relative to my newfound hobby.
The Limitations of Old Technology
In February, I began riding with the Baton Rouge Bike Club using my comfort-class bike, referred to as "Old Faithful" by a fellow cyclist. Old Faithful is a step above a cruiser and appropriate for short, leisurely rides. At the start of my first outing of 20 miles, the leader looked at me and my bike and asked whether I had my cell phone in case I could not make it. What a vote of confidence! I did make it, but I was absolutely exhausted by the end. The group rode up and down the Mississippi River levee service roads easily, whereas I was huffing and puffing and would have walked my bike if not for my pride. On smooth surfaces, the other riders surged forward, whereas I struggled to simply keep up. I was limited in how far and how fast I could ride on my old bike.
After about six weeks of this, I decided that if I was going to ride with this group long term, I would need to upgrade my bike. This is how it is with technology. You can get by with less than ideal IT solutions; however, at some point, you will hit limits that keep you from reaching your goals. An institution that runs with outdated technology will have to expend more effort to complete the same amount of work as its peers. This not only is inefficient but also can prevent the institution from accomplishing its mission. For example, outdated enterprise systems can prevent a university from offering first-rate student and employee self-service and can hinder automation, creating unnecessary overhead that drains university resources. An aging Wi-Fi deployment may inhibit the use of mobile devices to enhance learning. Weak or nonexistent research computing support and the lack of a high-performing research network will almost certainly impede faculty productivity. As is often the case with legacy technology, my old bike served me well (and I loved my old bike), but it was not appropriate for reaching my new goals.
The Enabling Power of New Technology
As with technology, research was required to select from among a myriad of choices a bike that was appropriate for the intended use. After carefully studying the available options, I purchased a beautiful new endurance-class road bike (as you can see in the picture below). With the new bike, I immediately gained several miles per hour and attained my goal of riding at a pace and distance comparable to that of the other riders in the group. I now can sail up and down hills, thanks to improved gears. The new bike feels like an extension of me in that when I am riding I am not sure where I stop and where it starts. When I need to go fast, it goes fast, and when I need to stop quickly, it stops quickly. This is the mark of elegant, well-designed technology (i.e., it works smoothly and in full support of the task at hand without interruption or distraction). State-of-the-art technology, when applied in smart, appropriate ways, is a powerful enabler.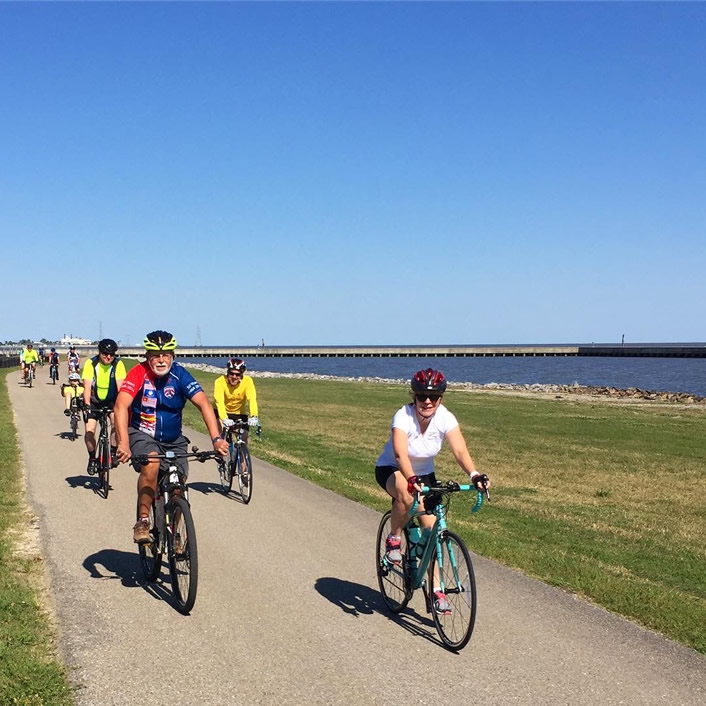 Like most technology deployments, several iterations of adjustments were required to get my new bike "just right." The tension of the chain had to be adjusted after I rode it for the first time. As I gained experience with the new bike, I realized that I could make small adjustments (e.g., seat height and angle) for a better ride. It took time for me to feel comfortable with the new bike. This is reminiscent of software "go lives" where, even in the most skillfully managed projects, a follow-up process is required to track and resolve issues. A change-management plan is needed to help people understand how their work will be affected and become proficient with the new technology. Calm, trustworthy leadership is required to assure people that, with time and persistence, the new solution will work well for everyone.
Expectations for Technology and CIOs
Technology touches virtually every aspect of a modern university — teaching and learning, research and scholarship, analytics to support decision making and planning, operations, communications, marketing, athletics, safety, risk management, and on and on. In a recent ECAR research report1 and the blog "CIOs Do It All," Jeffrey Pomerantz describes the wide scope of responsibility for CIOs in higher education. As is noted in the report, many (including myself) think the CIO position is the best job on campus due to the numerous collaborative relationships, the constant stream of new challenges, and the strategic importance of IT. It is great fun and immensely rewarding to be at the center of positive, transformational change.
CIOs and IT organizations that have hit their stride make their work look easy. People outside the IT organization are typically unaware of the careful planning and expertise that go into this appearance of effortlessness. I confess that I have not reached the point of making riding my new bike seem easy and effortless. Much more practice is required! Yet, even though I have only had my new bike for a couple of months and it far exceeds any bike I have ever owned, I expect it to perform flawlessly on every outing.
As a CIO, I have regularly reminded employees that a good day is a quiet day. No one pats you on the back when the Wi-Fi works flawlessly even though it is carrying twice the load as the previous semester and is available in 20% more spaces. Not many outside of IT and administrative units realize the millions of dollars of financial aid disbursed correctly and conveniently to students at the start of every semester. Most people are unaware of the advanced planning that is required to anticipate load on the system and to prepare for student "stampedes" as they register for classes and view grades. Those of us in IT understand that these expectations are part our jobs. Technology becomes visible when it fails, and then it becomes very visible!
The reality is that the better technology works, the more invisible it becomes. Accordingly, there is a danger of taking technology, as well as the people who understand, design, and deploy technology, for granted. CIOs must constantly advocate for IT and educate the campus on the critical role of the people who make technology "magic" happen.
Understanding the Goals of the Ride
We have discussed the limitations of legacy technology, the enabling power of new technology, and expectations for technology and CIOs through the lens of my experiences as an aspiring cyclist. There are factors critical to success of a CIO/cyclist that are independent of the underlying technology. Specifically, even though I now have near-perfect technology in the form of a new road bike, I will be at a severe disadvantage if am unclear on the details and goals of each ride.
At the start of our bike club rides, the leader explains the objectives by summarizing the route; telling us about hazards such as potholes, road construction, or looming bad weather; and reminding us where we will regroup if we get separated. Imagine how this would go if I could not hear this explanation firsthand and had to ride a quarter mile behind the group guessing what was coming up next. My ability to complete the ride safely and with the other riders would be severely hindered.
This is what it is like when the CIO is disconnected from leadership activities at a university. There is a danger of the CIO being relegated to chasing issues rather than being out in front of them. Now, more than ever before, IT is critical to the success of the university. The broad range of responsibilities for a CIO requires a high level of respect and authority. There are countless scenarios where IT can bring value. It is the CIO who will see the connections and put together the people and resources to deploy technology in smart, creative ways to advance the mission of the university. The CIO is best able to understand needs, recommend solutions, collaborate across the campus, and develop relevant strategy when she can hear about university goals and mission firsthand and participate as a respected member of the leadership team.
Summary
These musings from atop my bike can be summarized as follows:
To compete and stay relevant, universities must take advantage of current technology appropriate for the challenges ahead.
Technology is pervasive and has enormous enabling power within universities and beyond.
It takes patience and trust to adapt to new technology.
The better technology works, the more invisible it becomes. We must value the people that make IT work well.
A university can set up for success by ensuring that the CIO is a respected member of the leadership team.
Here's to successful CIOs and cyclists!
Note
Jeffrey Pomerantz, IT Leadership in Higher Education, 2016: The Chief Information Officer, research report (Louisville, CO: ECAR, March 2017).
---
Kathy Gates is the chief information officer emerita for the University of Mississippi.