"How can you afford to invest in the professional development of your staff the way you do?," asked one CIO of another. The second CIO paused, reflected for a minute, and then chose his words carefully, "How can you afford not to?"
This real conversation, which took place a few years ago, is as relevant today as it was then. Technology organizations across higher education must invest in their workforce in order to be able to address the increasing technology demands from our campuses.
We'd like to share our unique approach to leveraging a professional development planning process, all while connecting staff development with organizational needs.
The Business Case for Professional Development
For years, EDUCAUSE has used the Top 10 IT Issues to illustrate the evolution of our technology services as well as the changing demands of our workforce. In 2016, EDUCAUSE listed "IT Workforce Hiring and Retention" and "IT Organizational Development" as prominent issues. Regarding organizational development, EDUCAUSE framed the issue as "creating IT organizational structures, staff roles, and staff development strategies that are flexible enough to support innovation and accommodate changes."
As we consider the technology services, people, and skill sets our campuses need today, we need to pay as much, if not more, attention to those that will be needed tomorrow. Looking forward, we will see continual shifts to the cloud, increased security demands, and transformations in our teaching and learning spaces, just to name a few. The skill sets needed (technical and nontechnical) to be successful in those future environments require a proactive and purposeful approach to building organizational capabilities. A reactive or just-in-time strategy on skills development will stifle our organizations' ability to support and enhance our institutions for the future.
Coupled with this increase in technology service demand is the changing demographic of our workforce. Many of our Baby Boomer staff are, or will become, eligible for retirement in the next few years. As following generations look to fill these gaps, there simply aren't enough working-age people to replace them (see this chart).
So we are at a crossroads: we have changing (and in many cases increasing) demand for technology services and fewer staff with which to fill those roles. In addition, we are competing for the same workforce that Google, Facebook, and other Fortune 500 companies are. In higher education, we simply don't offer the same salaries or lavish perks that these companies can offer.
We need to make a choice about our workforce and its future. If we don't make a proactive choice, we will be forced to be reactionary, and that's something no one wants to be.
Our Differentiator: Professional Development
"You cannot change your destination overnight, but you can change your direction overnight." — Jim Rohn
Imagine if we shifted our mental models from how we have traditionally approached professional development and instead viewed it as a strategic differentiator. Imagine if this shift in perspective led us away from viewing professional development as a "cost" to be contained (and likely the first cut in a budget exercise) and instead as a direct alignment to advancing our campus's future strategy.
Frankly, in higher education, we do offer staff something the private sector can't. We offer the opportunity to work at institutions that make a true difference in the betterment of our society. Whether it's a student finding her career or life's passion, a faculty member enhancing teaching and learning, or a researcher making a great discovery, what we do matters — and that's powerful. We can, and should, be leveraging professional development more intentionally to build skill sets that directly impact these missions.
If we can increase the development of our workforce, both through formal and informal experiences, we will increase retention of our current staff, entice new staff to join our organizations, and build the organizational capacity for taking on new projects.
Within User Services at the University of Wisconsin–Madison, which is part of the Division of Information Technology, we have made professional development just this kind of differentiator. In alignment with EDUCAUSE's recommendation to "create a professional development and growth plan for all employees," we created an individual professional development planning (PDP) process for our team in 2014. We recognize that by identifying our desired destination on both a departmental and individual level, we can focus our attention on developing the skills and abilities that will prepare us to be successful in the future.
Our Process
Each year, we have staff participate in the performance review process (illustrated below) with their manager to identify the competencies and development activities that will allow them to grow in a current role or transition to a new role.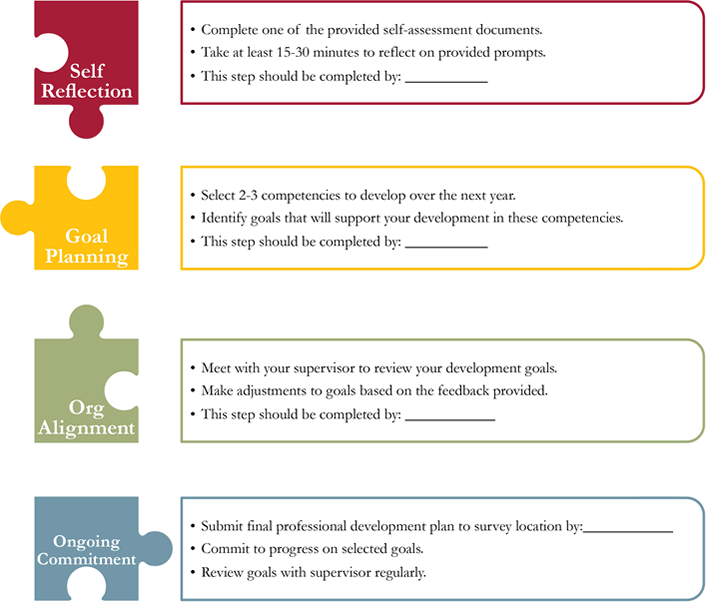 We believe that staff working with their managers is a critical component to the success of professional development. In the EDUCAUSE Review article "Retaining the Higher Education IT Workforce," Jeffrey Pomerantz notes that
staff members whose managers encourage them to pursue these professional development activities are significantly less likely to go job hunting. It might not be the specific professional development activities that are important here; rather, a manager's encouragement might be most important.
An important step in the process is to have employees meet with their supervisor to review initial goals and adjust them based on the provided feedback.
Our Innovative Approaches
In considering the theme prevalent across higher education of doing more with less, we must be innovative in how we provide professional development opportunities to our staff. Traditional approaches to professional development can leave staff and managers wondering about the true value gained from such activities. Our team has been able to pivot from traditional thinking and apply the following approaches that have led to substantial returns on our development activities.
Data and Analysis
A key component of the PDP process is that it has allowed us to collect data on the competencies staff have identified for development. Analyzing this data helps us tailor the opportunities we offer as a department throughout the year. Also, by having this data, we are able see staff alignment to specific competency areas (e.g., technical skill sets, customer service, and project management). Out of the 250+ PDP goals our team members listed this past year, 58% were focused on soft skill development and 42% were related to technical skill development.
Hands-On Experiences
Another way we have enhanced the professional development experience is through creating job opportunities that highlight future workforce demands. One example is the embedded agent program within our help desk. In this process, we contract with a technical group in our division (LMS, portal) to provide additional, higher-level support responsibilities. For our team members, they get to spend 25–50% of their time increasing their technical depth and expertise, all while providing another group with an enhanced level of support.
Soft Skill Development
A common misconception by staff can be that technical skills are the only skills that are rewarded when developed. For many, the impact of successful technical skill development is more tangible and easier to identify than soft (people) skills. While technical competence is the ticket to entry for most positions, it's people skills that differentiate individuals and provide long-term career success. For our team, we have selected 10 different competencies (e.g., conflict management, interpersonal communication) that staff can choose from as they are developing their PDP goals. Last year's PDP process saw over 140 goals related to soft skills development.
Departmental Project Teams
Project teams represent a way to involve not only subject matter experts but also those looking to develop additional skills. We've leveraged this by having our leadership team create projects that align with our departmental and campus strategic priorities. The projects address key issues such as enhancing customer service delivery and improving internal efficiencies. Staff are then matched to different project opportunities based on their PDP goals. This process has proven to be a valuable way to connect staff, particularly emerging leaders, to opportunities that reinforce effective teamwork, collaboration, communication, relationship management, and innovation. For example, last year we created a project team to review our process for customer inquiries and user issue resolution in a way that better advocated for the customer. The result of this project not only created a better process for our customers but also allowed multiple staff members to collaborate and make data-driven decisions that positively impacted our department.
Cost-Effective On-Site Training
Many people associate professional development with off-site training that can come with a high cost. We recognized that we can't afford to send all of our staff to these opportunities, so we changed our perspective to think about how we might provide opportunities to develop desired skill sets on our campus. For example, we leveraged staff PDP goals and the scale of our department to provide agile scrum project management training for a large cross-departmental group, implement a department-wide Pluralsight.com technical training program, and create a leadership discussion series. Not only were these cost-effective — they also allowed our staff to learn from their peers and collaborate on similar developmental interests.
Conclusion
As we move forward, all of our institutions will have to make choices. We will have to choose what to fund, what goals to advance, and what work to make a priority. As you make these choices for your institution, we ask you to consider how you can afford not to invest in professional development.
Through the choice to invest in our people, making their development a goal and our collective priority, we create the foundation for the future. We ensure that our institutions are ready to meet the challenges of tomorrow and are able to do so with a sustainable, knowledgeable, and passionate workforce dedicated to the mission of higher education.
---
Brandon Bernier is the Director of User Services, Division of Information Technology, at the University of Wisconsin–Madison.
Jaclyn Zavoral is the Employee Programs Coordinator for User Services, Division of Information Technology, at the University of Wisconsin–Madison.