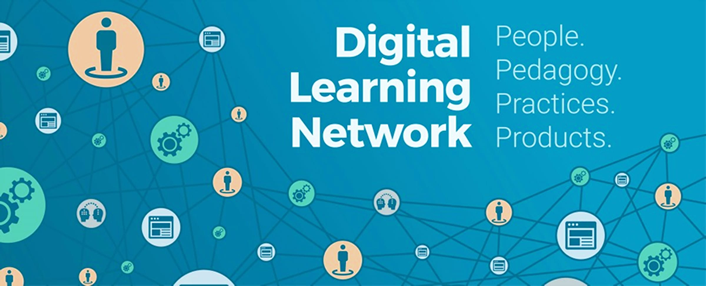 Technology has made our world much, much smaller. Smartphones and social media have played an integral and intersectional role in connecting us to applications, and ultimately, to one another.
Today, the prospect of having a synchronous conversation with a group of far-flung colleagues (and absolute strangers) isn't only possible; it has become downright commonplace.
Such is the utility of social media, and one channel in particular: Twitter. If you've yet to participate in such an activity via social media, rest assured that there is one waiting for you in a niche of your choice.
For those interested in digital learning, in fact, there is the #DLNchat hashtag — short for Digital Learning Network. What began in August 2016 as an hourlong Twitter chat has already garnered a significant following. It was launched alongside a community website established by EdSurge, which serves as a rich collection of resources that includes educators' stories, product profiles, and myriad opportunities to connect with other digital learning leaders.
Held typically on the second Tuesday of each month, the DLNchat is a collaborate effort.
Higher Ed media outlet EdSurge has worked with a number of partners over the past couple of years to help advance digital learning in the postsecondary sphere; those included Tyton Partners, OLC, and WCET, to name a few. (All of these have served as partners on the #DLNchat as well.) They've defined themes and questions to spur discussion. Once a topic is selected and framed as a question, it is then shared with EdSurge's Twitter followers roughly two weeks out, and an email reminder is sent to their DLN listserv.
Why invest time and energy in building this digital property and creating an ongoing dialogue? EdSurge's Allison Salisbury elaborates.
"We had found that many of our readers who were interested in digital learning kept asking similar questions across their campuses — but they didn't know one another," she said. "We noticed that there are many folks who work for community colleges, for example, who simply didn't have travel budgets to accommodate conference attendance, and as such, they didn't have a strong network of peer colleagues with whom they could consult."
Making the community more accessible and visible to itself became the goal. "In working with partners, we asked: just how do we stimulate rapid-fire conversations and ideation related to a topic around digital learning?"
Salisbury says they've received an enthusiastic response from higher ed professionals who are focused on digital learning.
"Our traction has been pretty surprising," she noted. "When you think about it, this is a niche community within higher education — if you narrow that group to folks who are on Twitter, and then only to those who are actively participate in chats — it's quite impressive to be at this over 200 people per chat."
Participants can count on interacting with individuals, including other higher ed staff and faculty from all kinds of Carnegie classifications, rather than industry folks.
"We had been optimizing for administrators, but expected to see edtech companies and industry watchers participating as well," Salisbury added. "Instead, we found few companies and a very strong condensity of administrators. Our goal is to reach those who sit at the intersection of organizational change, teaching and learning, and the emerging role of technology. If you imagine a Venn diagram, their roles would be at the center."
Edtech products are discussed, experiences are shared, advice is offered, and constructive debates even take place. Beyond all of this, however, the DLNchat represents yet another way to widen one's professional network.
"There have even been a few people who have fashioned meaningful relationships with colleagues whom they've met through the chat!" Salisbury said. "We have a lot of repeat participants — first, they're Twitter friends, and then become friends in real life."
If you miss a chat, don't worry — EdSurge curates and stores tweets in a Storify archive that can be accessed later.
Most recently, a group of around 20 teaching and learning professionals gathered together to participate in the chat in person at the EDUCAUSE Learning Initiative Annual Meeting in Houston, Texas. The convening was the result of conversations between EdSurge personnel and ELI director Malcolm Brown and associate director Veronica Diaz.
Spending time together while chatting live, participants were able to put a face to a Twitter handle around the topic of communities of practice. (To view this particular chat, check out #ELI2017 on Twitter.)
"Our hope is to connect people who are in engaging in longer-term collaborations," Salisbury said. "We're excited about the momentum that we're helping to build around this topic, and the ability to make this community even more visible to itself."
DLNchat members also can sign up for an invitation-only program from EdSurge called LOOP, which matches innovators in higher ed with one another for a 1:1 Google Hangout session on Fridays. (EdSurge is able to offer LOOP for free thanks to support from the Bill & Melinda Gates Foundation.)
Those who are actively pursuing and examining digital learning tools and methods are encouraged to lend their voices to the discussion.
"We believe that the people doing the most interesting work are the digital learning leaders on the ground at universities who are forging the way," Salisbury said. "They're not always coming from a 'name brand' university, yet they're often the pioneers of this work who are carving out new roles. We want to showcase their work and provide a platform for them to share their perspectives."
Interested in participating? Advancing your knowledge and creating powerful connections are just 140-characters away. Mark your calendars for the next DLNchat: April 11 from 4:00–5:00 p.m. EST.
---
Kristi DePaul of Founders Marketing provides editorial support and regular contributions to the Transforming Higher Ed column of EDUCAUSE Review on issues of teaching, learning, and edtech.