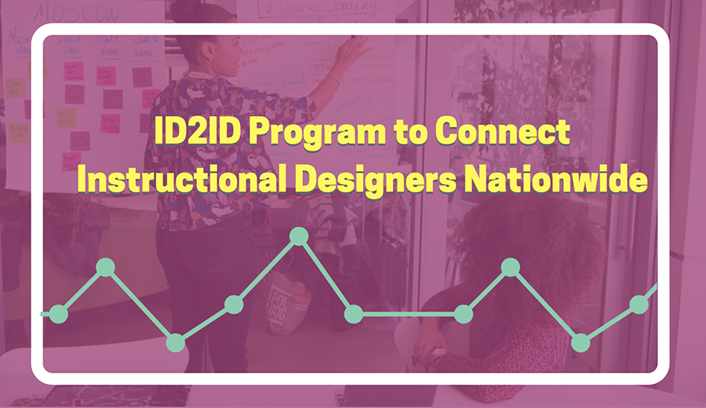 Sometimes grassroots ideas spread like wildfire — even in higher education.
What began as an organic movement within Penn State's instructional design community has grown into a national partnership program between the university and EDUCAUSE Learning Initiative (ELI).
Rewind the clock to four years ago, and the ID2ID program was just launching at Penn State; this was no small feat, as it incorporated many of the university's 150+ instructional designers across campuses throughout Pennsylvania. Its purpose: to provide instructional designers an opportunity to engage a community of colleagues that share the same passion for advancing teaching and learning. It was designed for participants to grow professionally through focusing on common areas of interest; peer partners or mentor/mentees could focus on any aspect of faculty development, academic transformation, digital literacies, accessibility, assessment, open education, or learning spaces.
Now, program leaders Kyle Bowen and Angela Dick are expanding ID2ID to institutions of higher education across the U.S.
"Initially we saw the need to for a program like this to pare down the natural silos that occur among far-flung colleagues," Dick said. "It worked really well here, allowing us to build a better community of practice, advance initiatives on campus and produce artifacts that show both how the instructional design community is growing, and the fresh approaches they're taking toward learning design."
After an early pilot with the University of Nebraska-Lincoln, the team took took scale into consideration and began a dialogue with EDUCAUSE leadership about broadening the program. Now, the nationwide effort will examine the instructional design profession — and at no cost to its participants.
ID2ID applications will be accessible beginning April 17; anyone with an instructional design background will be eligible to apply. Matches will be based on professional strengths, areas of interest, and 2017 Key Issues that applicants specify. Other nuances that will be taken into consideration include applicants' timezones, as well as their institution's Carnegie classifications and that of their desired counterpart.
"The evolution of learning design is becoming more diverse and complex," Bowen added. "A growing set of topics influence how learning is done, including the design of spaces and the use of emerging technologies. This changes how instruction is designed and how students are engaged. It's more important than ever for this community to have access to others with different experiences and abilities, in order to provide as much support and development in the process."
Once pairs are selected, a virtual kickoff ceremony will be held via video-conference, where Bowen and Dick will share basic guidelines and expectations for the program, which will run for six to eight months. "Each pair will work on goals that they've developed together, deciding on what they want to achieve together," Bowen noted.
He added that ELI makes for an excellent partner in this kind of program, because so many of the areas of focus that the organization has are in alignment with instructional designers at higher ed institutions. "They've already developed a conversation around this within their instructional design constituent group, and have cultivated a robust community," Bowen said. "Working with ELI means that we'll be able to make the biggest impact through aggregated artifacts and more wide-ranging conversations. We're partners in transforming learning."
In the coming weeks, an advisory board will be assembled as the program's governing body.
"For those interested in contributing to a growing field by participating and forging new paths in learning and design, this program represents an opportunity to be part of a larger conversation, not just the one happening on your campus—here, you're exploring instructional design outside of your institution, connecting and sharing your passion with others," Dick said.
Bowen agreed, pointing to the intersection between technology and academics.
"It's an exciting time for instructional design, which is evolving in academia; today, these professionals act as creative collaborators, working alongside faculty members," Bowen said. "The role is morphing into a type of subject matter expert who looks at key issues relevant to enhancing learning: analytics, learning spaces, and faculty development. We're pushing the envelope forward in many ways."
The two have high hopes for the program, viewing this as the first iteration of what will be an enduring partnership.
"What I hope to see as ID2ID moves forward is essentially the ability to network and grow our profession," Dick noted. "To be able to start identifying and surfacing emerging opportunities or key issues relevant to instructional design before they're even announced through ELI or other sources would be fantastic. After collectively working on these points and initiatives, and seeing benefits at each institution as individuals are collaborating with one another, will further indicate that these efforts are making an impact on the field at large."
Interested in learning more? Visit the ID2ID program webpage.
---
Kristi DePaul of Founders Marketing provides editorial support and regular contributions to the Transforming Higher Ed column of EDUCAUSE Review on issues of teaching, learning, and edtech.