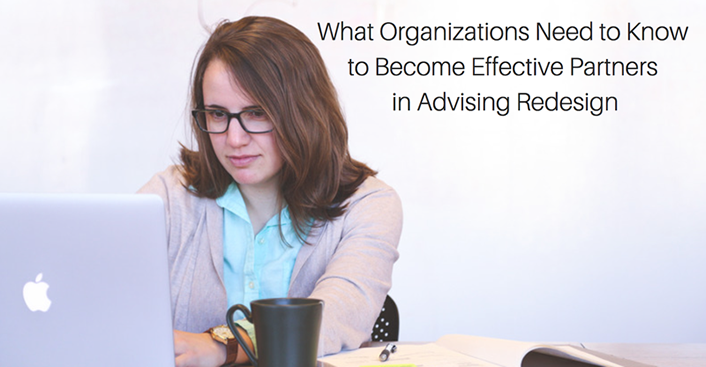 They say "many hands make light work." Implementing an effective advising redesign takes many hands from both inside and outside the institution. Schools use vendors, consultants and nonprofits to help them as they undertake this massive institutional change. On our journey as we have spoken with various outside agencies, we have frequently heard the phrase, "based on experience with our four-year schools (or industry partners)…" and then they will try to retrofit a solution that works well in one of these other environments to a two-year environment that is not quite the same.
While I understand that there are some very basic similarities between two- and four-year institutions, there are some very important differences as well. Specifically:
Our Students Are Not the Same
While many of our students could have chosen to go to a four-year institution, they have selected the two-year environment because to them it is:
Less intimidating and more manageable
Provides customized options for their goals, such as:

one or two years of coursework to gain experience or boost their confidence before they consider transferring to a four-year institution
a few classes before they apply to professional school (many of our students already hold degrees)
earn a degree/credential that prepares them directly for the workforce

Provides coordinated, customized support for students who often don't know what they need yet. Specifically, this means meeting the students where they are (no matter where that may be) and includes both academic and non-academic support. For two-year students, this support is almost equally as important as the academic programs.
Many of our students have complex life situations. For example, as an advisor at a two-year school it is often necessary to:
Help students balance school with demanding work schedules (including shift work)
Help students balance school with family care commitments (some of our nontraditional students are taking care of both their children and their parents)
Follow up with students who have temporarily stopped out
Find creative ways to get information to students that do not spend as much time on campus as their four-year counterparts
Guide first generation students through a path that is unfamiliar and oftentimes difficult to navigate
Help nontraditional students feel comfortable with a process that they may have left years ago and are returning to for different reasons, and with various skills/deficiencies
Our Credentials Are Not the Same (And There Are a Lot of Them!)
Two-year schools can offer customized options because we offer degrees of varying length, depth, and purpose. An affiliate who is trying to map out programs or understand credentials will find that two-year schools have diplomas, certificates, and different types of Associate Degrees (some applied and some customized for transfer). Some programs are eligible for financial aid and some are not, which may be a critical piece of information in the student's decision making process.
By understanding and acknowledging these differences, outside agencies can help two-year institutions to change their structures and processes in a way that is both appropriate and meaningful. By providing tools with simple, jargon-free options, outside agencies can also help students navigate difficult processes. Tools and processes that are flexible and accessible can help institutions reach students who have a lot of options, are extremely busy, and do not spend a great deal of time on campus.
We are so fortunate that our external partners work extremely hard to be customer service oriented. Just like fingerprints, no two students are exactly alike. Embracing the diversity of students, programs, and credentials that fill a two-year campus will help outside agencies become effective partners during the change management process involved in advising redesign.
---
Laurie Fladd is Associate Dean of Science and Mathematics at Trident Technical College.