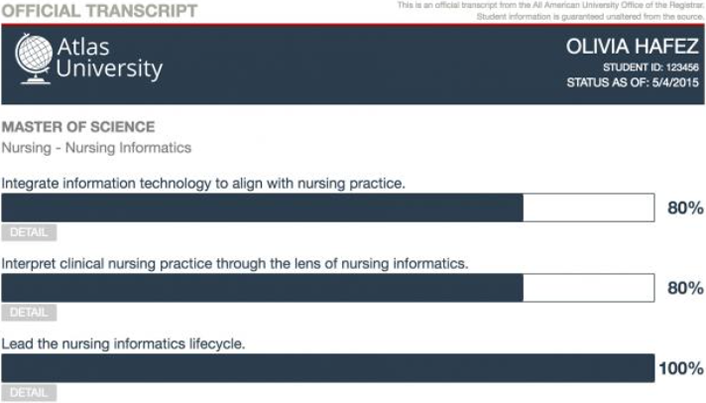 Can a student's learning experience be accurately summarized in a list of courses and grades?
A number of higher ed leaders agree that it cannot — and that transcripts should evolve to encompass a variety of activities, accomplishments and experiences beyond those that occur within the traditional academic environment.
What could this new kind of 'learner record' look like? Who should be able to control the information displayed within it? And what are the implications for teaching and learning?
The University of Maryland University College (UMUC) seeks to answer these questions. UMUC is one of four institutions cited in a recent ELI 7 Things You Should Know About brief, The Evolution of the Transcript.
Joellen Shendy has served as a registrar at UMUC for five years. When asked, she readily suggests that this area is ripe for disruption, and has real potential for impacting students. She believes that both academic competencies and service learning, internships, volunteerism, study abroad experiences and more belong in a new digital format that will better serve students, institutions and future employers.
Shendy also acknowledges that a chasm has existed between students securing an education and graduates being able to articulate all that they've learned throughout a degree program. "An extended transcript builds on the veracity of a student's academic experience; it's all part of the same ecosystem," she says.
It comes as no surprise, then, that Shendy is playing a central role in the university's new experiential transcript effort.
"We're in a new era of added value," Shendy said. "Universities can now build platforms to signal what a learner actually knows and can do — something that truly speaks to their skills and abilities — in a way that helps them successfully enter the workplace."
Together with University of Wisconsin Extension, UMUC is running a pilot facilitated by IMS Global through Learning Objects for a new transcript tool. The fact that it's open-source was intentional, Shendy notes. The system displays students' skills in multiple contexts, showing a more holistic and well-rounded picture than the transcripts of yesteryear, which only verified the requirements toward a specific degree. Shendy added that both students' and employers' needs are helping to drive the design.
"Everything about this tool has to scale," Shendy added. "Once we receive student and faculty input, for example, we'll be closer to understanding just how granular we should go with regard to competencies and learning artifacts." The new transcripts will accommodate attaching artifacts such as multimedia materials including simulations, PowerPoint presentations, videos and other resources.
UMUC is exploring different user experiences, such as students' ability to highlight specific experiences relevant to certain job requirements so that they stand out when a given employer reviews their transcripts. Shendy notes that permissions could allow for data to be digitally discovered by employers, and that new tech developments like blockchain could serve to safeguard student records and other data.
"I believe that this tool can help to bring more parity to higher ed," Shendy says. "We as institutions must look at how we can take advantage of opportunities that technology can provide to help students find paths to a profession, to persist in their degrees and succeed, and to bridge the gap between academia and the real world."
For now, UMUC students will be able to explore the university's experiential transcript in a beta launch; one day, it just might be the very tool that helps them to secure their dream job.
---
Kristi DePaul of Founders Marketing provides editorial support and regular contributions to the Transforming Higher Ed column of EDUCAUSE Review on issues of teaching, learning, and edtech.