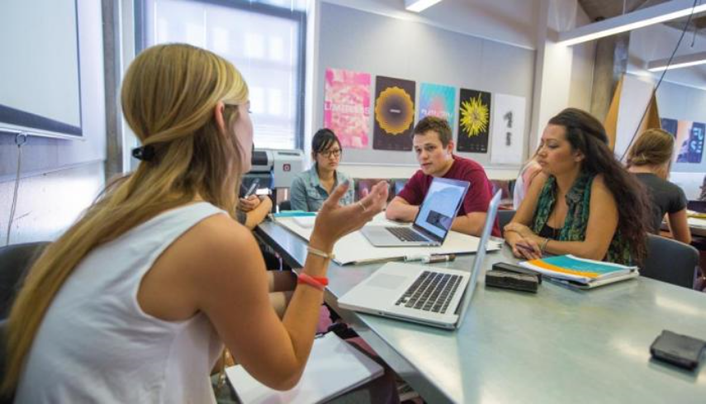 First-movers and early adopters throughout industry know that innovation rarely — if ever — happens in silos. Within the higher education landscape, Arizona State University (ASU) is no exception to this rule.
With a number of first-of-their-kind programs and projects, ASU has made a name for itself as a trailblazer among its peers. With a student population hovering around 80,000, the institution is proving that a larger size organization can, in fact, be agile.
To learn more, I recently spoke with Wayne Anderson, Director of Strategic Design and Development in EdPlus — a division of ASU that focuses on innovating within the digital teaching and learning space.
Launched in 2014, the group primarily focuses on efforts that prioritize student needs, as well as those that could serve as a model to advance learning worldwide. Through practical research, user-centered design and strategic partnerships with outside organizations, EdPlus functions more like a fast-moving private sector R&D arm than a traditional academic lab.
The emphasis, Anderson explains, is on broad impact. Projects fit into an array of core competencies, designed via a life cycle that combines design thinking with the ADDIE model (analysis, design, development, implementation, evaluation).
Those competencies include:
Instructional design;
Adaptive learning;
Partnership relations;
Student support for success;
Partnership technology integration; and
Agile development.
How are EdPlus projects initially identified?
"We examine projects that don't fit in with online programs in order to find out how to do them well, and also to determine what resources are needed to move them forward," Anderson said. "When an effort returns positive outcomes, we then consider: 'How can we grow this?' — and work to find the answer."
Their mission? To answer what has become a perennial question for educators: How can we continue to evolve the personalized experience for our students?
"The nature of our group — working closely within EdPlus and the rest of the university — is to focus on these emerging initiatives, which often are moved toward operations after we lead the strategy phase. This involves building infrastructure, as well as what partnerships we need to consider, and who should be involved. We go through this in order to determine if something is an interesting idea or a viable opportunity."
What's it like to be steeped in 'transformational' project work?
"The funny thing is that our day-to-day work — that is, analyzing and reviewing the various projects — can feel like a tidal wave of information and ideas. You focus on what's on shore, but the rest of the wave moves on, influencing the university, and ultimately, the greater higher ed community."
Personalization factors into many parts of the student experience. For example, student retention and persistence remain an important goal for many institutions.
At ASU, their answer to fulfilling these needs for first-year students started by flinging the doors to general education requirements wide open.
The Project: Global Freshman Academy
What's involved: Students enroll in accredited online courses and pay for tuition only upon passing the course with a C or better. This initiative offers flexibility to today's traditional students who are typically over 25 years old, and may likely have other needs or constraints in the form of family and fulltime work. The GFA changes the academic relationship because students elect to receive credit and pay tuition at the end, there is no admission or application process and it potentially has a lower cost of attendance.
"This project is newly launched; the Global Freshman Academy completed its first course last fall," Anderson said. "We created and released a total of seven courses during that timeframe. For us, it's not about the number of students who matriculate; we know that many students may have some college credits, but no degree. We focus on the number that graduate."
The Project: Action Lab
Many higher education leaders have opined that promising applications and tools developed by private edtech companies often don't meet their intended needs. Universities also recognize that learning analytics impact all facets of academic and administrative operations, including student services.
What's involved: Through its Action Lab, a 'dedicated digital teaching & learning laboratory,' Arizona State University conducts research in cognitive science, adaptive learning and social science, translating learning analytics into practical approaches to scalable student success. The Action Lab evaluates educational technology offerings and digital materials from academic publishers. As a result, several of ASU's large-scale introductory courses in history, philosophy, and biology can now be personalized to create more active learning experiences, where faculty build out questions in tools that enable engagement.
The Project: The Starbucks College Achievement Plan
In what was a major statement on workforce development, Starbucks' partnership with ASU enables college access to benefits eligible Starbucks employees. The move has already made a significant footprint, Anderson explained, and could serve as a model for other companies looking to invest in their employees. (More than a hundred Starbucks students graduated from ASU this year alone!) Most of them already had some college credits; the initial student cohort also had to fall within other criteria, including that they held junior-level status upon enrolling. The program has since been opened to any Starbucks employee at any level of college attainment, including none.
"Part of the Starbucks project involved a significant amount of student resources in enrollment, as well as success coaches," Anderson said. "Simply helping a prospective student to get in the right position so that they know what's available, in addition to the long-term implications in terms of loans, can be a challenge. This is a commitment. So we developed a model with trained coaches to help them to navigate these decisions."
The Project: ASU Online
What's involved: With over 100 fully online undergraduate and graduate degree programs, managing ASU Online is indeed a massive undertaking. Students can begin coursework in any of six start times within the academic year. While the program offers a robust support system to its students — consisting of a success coach, financial aid adviser, enrollment adviser, and academic adviser — Anderson acknowledges that it's no surprise that the average ASU Online student is 32 years old.
"We're still on the fence about whether putting an 18-year-old into ASU online is the right experience," Anderson said. "A certain level of maturity is critical to success in these programs, and even with our support system, we know that online degrees are ideally for those who are self-motivated. Typically, these traits are present in those who are returning rather than new college students."
The Project: Mayo Clinic Partnership
Ed reformers have long beaten the proverbial drum that 21st century education can't look like that of the 19th or 20th centuries. At long last, the movement has reached medical education.
The Mayo Clinic, renowned for its innovative research and world-class medical practice, recently partnered with ASU on a collaborative effort that touches all aspects of medicine and its intersection with business: research in bioinformatics, bioengineering, and supportive technologies; joint education programs in law, business, and nursing. The first of its kind Science of Health Care Delivery degree prepares current and future health care workers to systematically address the critical and complex needs of the health care system.
This partnership will have a brick-and-mortar component as well: in 2017, a Mayo Medical School campus will open in Scottsdale, Arizona.
To learn more about ASU's innovation initiatives, visit the EdPlus website.
---
Kristi DePaul of Founders Marketing provides editorial support and regular contributions to the Transforming Higher Ed column of EDUCAUSE Review on issues of teaching, learning, and edtech.