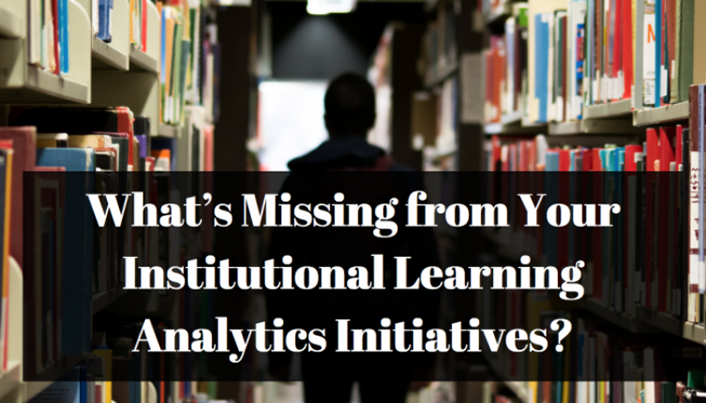 Throughout higher education, institutional learning analytics are inspiring interest and gaining traction as an exciting new strategy for improving college student experiences and success. Together with information technologists and institutional research, effectiveness, and assessment experts, faculty from curricular departments and student support professionals from co-curricular units are using data to assist students and enhance learning environments on our campuses. This effort to make a difference in students' lives encompasses nearly all areas of the academy.
Only one major piece is missing from this picture: the library.
Once lauded as the guardians of the "heart of the university," librarians are too often absent from essential campus initiatives focused on student-centric missions today. Indeed, librarians possess a range of abilities that can be harnessed to stimulate, streamline, and sustain student learning initiatives.
So, why should librarians be involved in learning analytics efforts?
1. Librarians have MAAD (metrics, assessment, analytics, and data) skills.
All of these skill areas can be leveraged to help address problems and opportunities surfaced by learning analytics.
2. Librarians are stealthy silo-busters and builders of assessment culture.
Culture is among the biggest obstacles to maturing learning analytics efforts throughout an institution. In order for learning analytics systems to be fully realized, a campus must not only understand, but also value and enact data-driven decision making.
Librarians espouse and practice evidence-based decision-making and action-taking. They have their own body of assessment literature and strive to incorporate assessment into all levels of library practice. They also work with colleagues and units across their institutions as a part of their regular practice.
As a result, librarians are well-prepared to approach learning analytics efforts holistically and view the continuous improvement possibilities offered by learning an analytics data positively and proactively — a perspective that is essential for establishing and developing an organizational culture that embraces learning analytics.
3. Librarians are passionate about enhancing student learning through excellence in pedagogy.
The basic goals of any learning analytics effort include the desire to improve student experiences and outcomes. Learning analytics seek to describe and diagnose trouble spots for students so that teaching can be improved, at-risk students can be helped, and all students can succeed.
In academic libraries, many librarians specialize and focus on instruction, and these librarians can help their campuses develop educational strategies, policies, and practices to support learning analytics efforts. They can provide guidance on the right types, times, and tones of interventions for students who are struggling. Librarians also possess knowledge of outcomes assessment, backwards design, and a range of instructional approaches to address curriculum or content trouble spots. On any campus, librarians should be involved in the effort to address the pedagogical problems identified by learning analytics systems.
4. Librarians are intervention gold.
While many institutional learning analytics efforts are currently focused on describing and diagnosing student success facilitators and barriers, an overarching goal of such systems is to actually identify when students can benefit from some kind of intervention. Interventions might include alerts, scripted or personalized messages, or either suggested or required referrals to support services.
Students are now encouraged to contact support services like advisors, tutorial services, and faculty; librarians should be added to that list. When students struggle in curricular or co-curricular experiences that require research or other levels of information searching, evaluation, and use, librarians should be their first point-of-contact for assistance and instruction. Therefore, institutions leveraging learning analytics to intervene and encourage student success should include librarian support in the range of interventions offered to students.
5. Librarians get excited about data ethics.
Learning analytics present a number of data issues. Naturally, learning analytics systems are only as good as the data and the algorithms they utilize, and both are subject to challenges. In addition, many systems are closed or proprietary — a potential problem that has uncertain implications for the future, according to EDUCAUSE Learning Initiative and the EDUCAUSE Center for Analysis and Research.
Data completeness should also be part of the campus conversation on learning analytics. Currently, only a handful of institutions include library data in their learning analytics data frameworks, an omission that leads to an incomplete picture of student learning on campus. In addition to data quality and completeness issues, learning analytics initiatives also raise a number of ethical questions:
Are institutions who possess learning data required to act on it?
Might learning data be used inappropriately, and what safeguards are required to prevent that?
What are the privacy implications of increasing the level of individual student data maintained in these systems?
Librarians are professionally trained in privacy and information ethics, and should be included in data-related conversations and policy-making at their institutions.
For all these reasons, higher education institutions should include librarians as key partners in the learning analytics dialogue and processes on campus. (Go ahead — ask a librarian!)
Tell Us
Are you collaborating with your campus librarians in the implementation of learning analytics? What advice might you have for others looking to do the same?
---
Megan Oakleaf is an Associate Professor of Library and Information Science in the iSchool at Syracuse University.