Hybrid teaching has the potential to transform higher education. But questions remain.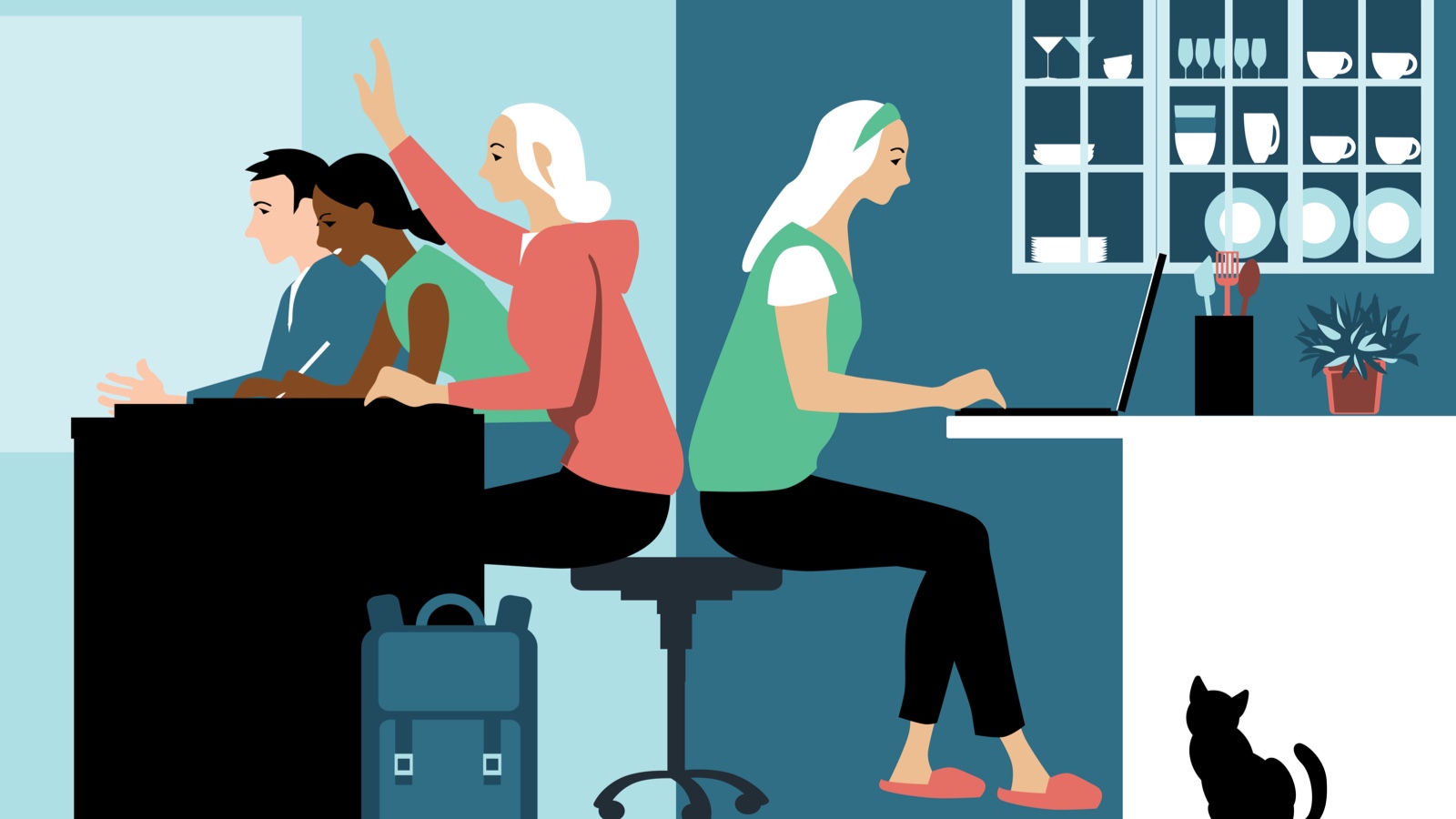 Hybrid teaching allows for a more bespoke learning experience, one in which students can work at their own pace and have access to a variety of resources online. At the same time, they can still engage in face-to-face discussions and activities with their peers and instructors during in-person classes. In addition, hybrid teaching models can increase access to higher education. By offering online components, hybrid teaching allows institutions to reach students who may not be able to attend classes in person due to geographical, time, or financial constraints.
Hybrid teaching has also had an impact on the type of learning environment that students prefer. As a result, colleges and universities should be developing spaces for student-centered, social, and active learning.
Overall, hybrid teaching has the potential to transform the way we think about and deliver higher education. While this model may not be suitable for every subject or every institution, it is certainly a viable and promising option for many. The following questions are based on my own research, my professional experience, and the views of other educators.Footnote1
1. What Are the Key Principles for Creating Hybrid Learning Spaces?
The first principle is inclusivity. This principle focuses on breaking down the barriers that separate remote and in-room students. At City, University of London, we began by thinking about an equitable model,Footnote2 but an inclusive model is more appropriate. Lecturers need to ensure that everyone is seen, is heard, can share content, and has equal ability to participate.
The second principle is approach and planning. The physical environment can provide cues and specify preparation by incorporating supportive learning spaces and inclusive technologies and by reinforcing the institutional plans and effective communication.
The third principle is social connections. Social contacts bring people, technology, and place together to facilitate learning.
The fourth principle is sensitivity to presence inequality, so online and on-site students can contribute equally.
The fifth principle is flexibility, my favorite word. This term highlights how important it is for learning spaces to easily adapt to different modes of teaching and learning.
The final principle—although this list is not exhaustive—is engagement, a vital consideration when designing hybrid learning spaces. (More on this later.)
A relatively small amount of literature exists researching hybrid teaching. One reference for us at City was a review of the literature written prior to the COVID-19 pandemic.Footnote3 Led by Annelies Raes and colleagues from KU Leuven in Belgium, this review influenced the development of our own practice and forms of academic support.
Design principles for creating hybrid learning spaces include embedding agency, student voice, codesign, connection, authenticity, and active learning into the DNA of teaching, learning, and assessment. Communicating clearly, thinking through the activity, and keeping technology simple are also important design principles for space-agnostic learning.Footnote4
Absorbing the lessons of the pivot to online learning during the pandemic, Alexandra Mihai of The Educationalist offers very pertinent advice about time on campus. She suggests: "Use classroom time for the activities where the teacher really brings added value" and "use student colleagues' presence as an asset."Footnote5 This should guide the more practical responses in rethinking our learning environment. The most effective design will depend on the specific needs of the institution and the goals of the hybrid learning model. However, after collaborating on the design of a number of hybrid teaching spaces, I can suggest a few key considerations:
Flexibility: Hybrid learning spaces, like any other spaces in higher education, should be designed to accommodate a range of teaching and learning styles, as well as different modalities (e.g., in-person, remote, asynchronous). This may include flexible seating arrangements (City has a number of theseFootnote6), movable furniture, and an educational technology setup that supports a variety of teaching and learning methods. Making do with existing technology or simply adding a webcam to the space is not sufficient.
Accessibility: Hybrid learning must be designed to be accessible to all students, regardless of their location or ability. This may necessitate making use of assistive technologies, captioning or transcription services, and on-campus physical accommodations that support students with disabilities.
Technology: Hybrid learning spaces should be equipped with high-quality and appropriate technology that supports effective communication and collaboration between in-person and remote learners. This includes high-speed connectivity, videoconferencing tools with interactive benefits, capturing visualisers and whiteboards, and remote access to software and learning materials.
2. What Is the Best Way to Set Up Technology for Hybrid Teaching?
Firstly, course material as well as the design of the classroom must be carefully evaluated, alongside the demands of both in-person and online students, when setting up technology for hybrid teaching. The quantity of cameras, monitors, and microphones needed will vary depending on the size of the class, the nature of the activities, and the technology budget available. I would advise having at least two cameras in the classroom, one focused on the lecturer and the other on the entire classroom, including the whiteboard or other sources, to enable effective hybrid teaching. Additionally, LCD screens are required for online students to be visible so they can participate in class discussions and activities. Effective hybrid teaching also demands clear and consistent audio. Additional technologies may be required, such as software and hardware for interactive exercises, as well as online forums for debate and working on course material. To ensure that the technology matches the needs of the course and the students and is installed and configured properly for best performance, instructors should engage with IT and AV professionals as well as educational technologists—this is where I became involved.
For an effective hybrid teaching room, optimizing the location of cameras, microphones, and screens is essential to ensure that both in-person and remote learners have a high-quality learning experience.
Cameras should be placed in a location that allows remote learners to see their lecturer and any presentation materials. A front-mounted camera with a wide-angle lens can capture an all-inclusive view of the students in class, including the lecturer on the move. Additionally, a rear-mounted camera with PTZ (pan, tilt, zoom) control will provide an alternative view of the front of the classroom and would favor the whiteboard or projection screen. The eye-line is vital here: to allow for a more natural two-way dialogue, the camera should be next to the rear-mounted screen.
Microphones should be placed in a location that allows remote learners to hear the instructor and any questions or comments from in-person students. A wireless lapel microphone worn by the instructor can provide high-quality audio, while ceiling-mounted omnidirectional microphones can capture audio from the entire classroom. These need to be programmed to mute when not required.
A large projection screen or high-definition monitor should be placed at the front of the classroom, with any presentation materials displayed using a computer or visualiser (document camera). LCD screens must be placed in a location that allows in-person learners to see their fellow students online (in gallery or speaker view), as well as any shared presentation content, and that allows remote learners to see the same materials via videoconferencing software. At City we have found that rear-mounted LCD screens are important for the instructor to see the gallery view above those in the room. This enables the instructor to look from the front at all the students, both those online and those in class. We have referred to the work of KU Leuven in this development.

Footnote

7
In addition to these general guidelines, the specific placement of cameras, microphones, and screens will depend on the layout of the classroom and the specific technology being used. I recommend that administrators or instructors consult with AV professionals to ensure that the hybrid teaching room is properly designed and equipped for effective hybrid learning.
The most effective videoconferencing tool for hybrid teaching will depend on the specific needs of the institution and the lecturers. It is important to consider factors such as ease of use, compatibility with other tools and platforms, and the specific features and functionality that are required for effective hybrid teaching. At City, University of London, we use Zoom and Microsoft Teams. Both have features such as screen sharing, breakout rooms, virtual backgrounds, polling, and recording capabilities.Footnote8
3. How Should In-House Teams Support Hybrid Teaching?
IT/AV technical teams play a critical role in supporting hybrid teaching classrooms, alongside the valuable assistance provided by educational technologists and learning developers. These teams are necessary to provide the following practical services, which facilitate hybrid teaching:
Set up and maintain equipment to ensure that all the necessary tools, such as cameras, microphones, speakers, and displays, are ready and in good working condition. Technical teams should also be on hand to troubleshoot any technical issues that may arise before sessions.
Provide technical support during class. Support teams should be available while the class is in session, to provide practical support to both the lecturer and any students tyring to connect to the session. This includes monitoring the audio and video quality, troubleshooting any issues that arise, and providing guidance on how to use the equipment and conferencing software.

Footnote

9
Ensure accessibility. All support staff should ensure that the hybrid teaching setup is accessible to all students, including those with disabilities. This may involve providing closed captioning, sign language interpretation, or other accommodations on campus as needed.
Maintain security and privacy. IT support should ensure that the hybrid teaching setup is secure and that the privacy of all is protected. This may involve using secure videoconferencing software, implementing password protection, or taking other measures as needed.
4. How Should Academic Staff Be Supported in Hybrid Teaching?
Supporting academic staff in hybrid teaching requires a collaborative approach and thoughtful and determined planning. Teaching in a synchronous hybrid environment calls for a set of skills and strategies different from those used when teaching in a traditional in-person or fully online environment. Lecturers need to be able to balance the needs of both in-person and remote students, while ensuring that both groups are receiving an equal and engaging learning experience. They also need to be able to design, manage, and assess instructional approaches that accommodate the different learning styles and needs of their students, regardless of students' location.
There are several best practices for hybrid teaching. One is to deliver content in a way that considers when, how, and why the content is being taught.Footnote10 Another is to build the course around what students need to learn and plan effective interactions.Footnote11 Differentiating activities for in-class and online students, making use of simple-to-use tools, and fostering a learner-centered approach are also important. The seminal article "Place and Space in the Design of New Learning Environments" highlights the importance of the interactions among academics, students, and their shared content.Footnote12
Here are some key positions to consider:
Professional development: Provide ongoing professional development opportunities for academic staff to help them develop the skills and knowledge they need to teach in a hybrid environment. This could include pedagogic training, instructional strategies for successful implementation,

Footnote

13 and best practices for managing hybrid courses.
Access to technology: Ensure that academic staff have access to training and opportunities to experiment with essential technology and tools to facilitate hybrid teaching. These tools could include hardware, software, and online platforms for delivering content, facilitating discussion, and assessing student learning.
Collaboration and networking: Encourage collaboration and networking among academic staff to share ideas and best practices for teaching in a hybrid environment. These interactions could occur via online forums, peer-to-peer mentoring, and communities of practice (CoP). City has recently set up a CoP with practicing academic staff and educational developers.
Flexibility and support: Recognize the many challenges that come with teaching in a hybrid environment and offer flexibility and support for academic staff. This might include workload adjustments, in-class support from colleagues or graduate teaching assistants, access to educational technology support staff, and opportunities for feedback and reflection with course managers.
Feedback and evaluation: Provide regular feedback and evaluation to academic staff to help them improve their teaching and course design in a hybrid environment. This could include student feedback, peer review, and institutional evaluations.
By providing these types of support, higher education management can help academic staff feel confident and prepared to teach in a hybrid environment and, ultimately, foster successful learning outcomes for students.
5. Can Hybrid Teaching Be Adopted for Both Small- and Large-Group Teaching?
Hybrid teaching can be adopted for both small and large group teaching in seminar rooms and lecture halls, but the implementation may differ depending on the size of the class and the course content.
During the early days of the COVID-19 pandemic, City colleagues conducted a literature review of hybrid teaching; this led to our institutional approaches and resulting academic guidance.Footnote14 In small classes, hybrid teaching can allow for more personalized learning experiences, better interactions, and greater flexibility for students. In these cases, lecturers can facilitate discussion and collaboration between students both in person and online, while also providing opportunities for individual feedback and support.
In larger classes, hybrid teaching can help to overcome the limitations of traditional lecture-based teaching by providing more opportunities for interaction. Academics can use online tools, such as polling software and chat functions, to facilitate real-time discussion and peer-to-peer learning even with a large group of students. However, implementing hybrid teaching in large lecture halls does come with greater challenges, particularly with managing technology and ensuring that all students are engaged. The other significant factor is that, facing profound social and cultural changes in the wake of the pandemic, we need to enhance class time to improve the student's experience of being on campus. Lecture-based teaching with didactic delivery of information has been rightly questioned before, and now many wonder if this format is suitable for higher education. A student-centered approach provides application of information through discussion, collaborative and interactive activities, and appropriate assignments.Footnote15
At City, University of London, we adopted the word inclusive as part of the name for our hybrid teaching project. Students must have access to the necessary tools and resources for hybrid education, and this may require additional teaching staff, as well as training for both lecturers and students, to ensure a more equitable and effective adoption of a new pedagogic approach for this type of teaching.
The COVID-19 pandemic prompted many institutions to explore alternative models of teaching and learning, and it is likely that some of these changes will continue. Colleges and universities may continue to adopt blended learning and flipped classroom models that incorporate both in-person and online learning experiences. This could help address some of the challenges associated with large lecture classes and provide opportunities for more personalized and interactive teaching.Footnote16
6. How Can Student Engagement Be Encouraged in Hybrid Teaching?
Engaging students in a hybrid teaching environment requires deliberate planning and the use of effective strategies. The following are some promising techniques that we collected from our own practice at City and from our literature review:Footnote17
Active learning: Incorporate activities that require active participation, such as group discussions, collaborative projects, and practical activities. Yes, online activities can work. This helps empower students in the learning process.
Clear expectations: Clearly state your expectations for participation, assignments, and deadlines. This encourages students to stay focused and on track.
Interactive technology: Use interactive technology—such as online discussion boards, videoconferencing, and online polls—to facilitate engagement and collaboration.
Feedback: Provide regular feedback on students' progress and offer opportunities for students to reflect on their own learning. This encourages students to stay motivated and to be invested in the learning process.
Personalization: Customize learning by offering choice in assignments and assessments and allowing students to explore topics of interest.
Support: Offer support through office hours, online forums, and individual feedback. Students need to feel connected and supported in their learning, especially since their experiences during the COVID-19 pandemic.
Clear communication: Communicate frequently and clearly with students, providing updates on course content, expectations, and changes.
7. Why Is Hybrid Teaching So Important for Inclusivity and Accessibility?
Hybrid teaching is important for inclusivity and accessibility for several reasons:
Flexibility: Hybrid teaching allows students to choose whether to attend class in person or remotely. This key benefit can increase access for students for a number of reasons. Those who have mobility or transportation issues are able to participate in courses, as are those who work and cannot attend classes on campus, students who live overseas, and those who have medical conditions that make it difficult to attend in person.

Footnote

18
Accessibility: Hybrid teaching can also increase accessibility for students who have disabilities. For example, students who are deaf or hard of hearing can benefit from closed captioning or sign language interpretation, which can be more easily provided in a hybrid teaching environment.
Personalized learning: Hybrid teaching can provide opportunities for personalized learning, which can benefit students who learn at different paces or in different ways. For example, students who need more time to process information or who prefer to learn at their own pace can watch recorded lectures and participate in online discussions.
Simplicity: The adoption of hybrid teaching and the integration of new tools for learning should always be appropriate to the educational goals of each institution, especially when designing modalities for an inclusive and accessible learning experience.

Footnote

19
Increased participation: Hybrid teaching can also increase participation for students who are withdrawn or who might be uncomfortable speaking in front of a large group. In an online environment, students can participate in discussions through chat or other tools, which can help them feel more comfortable.
Mitigation of external factors: Hybrid teaching can help mitigate external factors that might impact a student's ability to attend class regularly. For example, if a student has a sick family member, or if they live in an area with inclement weather, they can still attend class remotely without missing out on important material.
8. What Can Higher Education Do to Support Students' Transition from Remote to In-Person Learning?
The COVID-19 pandemic has had a significant impact on students' psychological needs. It disrupted the normal routine of students' lives, causing uncertainty, fear, and anxiety. Nearly all students experienced some challenges to their mental health and well-being as a result of the pandemic.
The pandemic forced many students to participate in remote learning, which limited their opportunities to interact with peers and lecturers in person. Being socially isolated led to a complex mixture of feelings, including loneliness, stress, frustration, anxiety, and in some cases depression. For students, as for many of us, the pandemic created a climate of uncertainty and fear, and this strain has been compounded by concerns about academic performance, financial pressures, and family illness. Studies suggest that the pandemic has generally had a negative impact on students' mental health, their perceived quality of education, and their lifestyle.Footnote1 Pandemic-related stress also negatively affected students' learning performance. In higher education, 'many students had to adapt to new learning environments, such as remote learning or hybrid models, while being in lockdown and unable to travel home. The pandemic required many students to spend more time than ever before learning new technologies and ways of working, which has contributed to increased stress levels, eye strain, and other physical and mental health concerns.Footnote21
The return to in-person learning on campus presents other challenges for students:
Mental health: The pandemic left an unpalatable legacy for many students, and some may still be experiencing physical and mental health issues, such as long-term COVID-19 symptoms, anxiety, and depression, as well as concerns for their financial future. Colleges and universities should up their game to highlight mental health resources and communicate about those support services that help students to cope with these lasting issues.
Social adjustment: After many months of remote learning and social isolation, some students may still be struggling with the adjustment to in-person social interactions on campus. Colleges and universities can help support social adjustment by creating opportunities for students to connect with each other and to rebuild a sense of community.
Educational adjustment: Students almost certainly face academic adjustment challenges now that most have returned to face-to-face teaching. This may include getting used to a new schedule, adapting to evolving course modalities, adjusting to new learning environments, all the while being more mindful of their health and well-being.
9. What Types of Learning Spaces Should Be Developed Post-Pandemic?
Now that the pandemic is effectively over, we should reconsider our approach to learning spaces. First, by being forward-thinking with our academic aims and objectives, we should focus on what type of future-proofed learning environment we should be developing. In essence, by reframing the campus as a hybrid social environment and activity-based workspace, we must look at the modalities needed for delivering effective and appropriate pedagogies. We need to listen to what students want and see how they occupy the campus post-pandemic, while keeping in mind what employers are looking for in our graduates. A progressive approach would be to create new spaces that are designed with different zones for hybrid, group, and individual study and not just replicate the campus with traditional large and expensive lecture theatres. All of us in higher education should take these considerations into account when listening to the needs of students, and then develop learning environments accordingly.Footnote22
Below are some key requirements based on what we now know and believe to be important:
Versatility: I hesitate to use the word flexible, as it is not always clear what this term means in this context. Nevertheless, designing and developing flexible learning spaces—ones that can easily be adapted to accommodate changing educational needs—is critical. This should include more group-based, power-enabled, and active learning furniture layouts, as well as appropriate technology that supports hybrid teaching and learning.
Social learning spaces: Students may be craving more opportunities for collaboration and social interaction with their peers. This is not a new theory,

Footnote

23 but the pandemic sharpened the focus on its importance for higher education. Creating more social learning spaces that encourage teamwork can help students to feel engaged and connected.

Footnote

24 Informal spaces, such as lounges or common areas, can foster a sense of community and belonging among students, while also providing them with a space where they can work and collaborate outside of the classroom.
Outdoor spaces: The pandemic highlighted the importance of outdoor spaces for learning and recreation.

Footnote

25 More outdoor learning spaces at colleges and universities would allow for fresh air and opportunities for outdoor physical activity.
Mental health and wellness: Creating learning spaces that prioritize mental health, such as quiet spaces for reflection and meditation, can help support students' well-being.

Footnote

26
Health and safety: Learning spaces should continue to facilitate cleanliness and hygiene best practices. This could include touchless classroom technologies, improved air-filtration systems, and ongoing cleaning procedures.
10. How Can Hybrid Learning Provide a New Skill Set for Graduates?
Today's workplace requires certain skills and knowledge that the hybrid learning experience can help develop:
Digital literacy: Digital technologies are being adopted across many industries. As a result, graduates need to be proficient in using these digital tools and platforms, such as videoconferencing, online collaboration tools, and project management software.

Footnote

27
Remote work skills: The trend toward remote work is likely to continue, with hybrid work becoming firmly established, especially for those in professional careers. Students moving into the workforce need to be able to work independently, manage their time effectively, and communicate clearly and professionally in virtual environments.

Footnote

28
Resilience and adaptability: Graduates need to be able to adapt to rapidly changing circumstances and to cope with stress and uncertainty. Adaptations to the hybrid teaching and learning experience made during the COVID-19 pandemic may become standard in the workplace, which shows the importance of building skills in flexibility and self-assurance.
Interpersonal skills: Good interpersonal skills—such as empathy, communication, and collaboration—have always been vital for graduates. The shift to hybrid learning during and since the pandemic has highlighted the importance of a diverse skill set that combines traditional academic abilities with digital competencies.
Critical thinking and problem-solving: These attributes are crucial, more so now that we are witnessing workplaces that are becoming increasingly hybridized and that are adapting to the rise of artificial intelligence systems. Graduate students who can navigate the challenges and opportunities of this new hybrid learning and working landscape will be better equipped to excel in their studies and future career.
Before the Covid-19 pandemic, higher education grappled with substantial issues in addressing complex financial and sociopolitical circumstances. Now, college and university leaders are pondering how to adjust to an unpredictable future. A viable strategy that involves prioritizing students' learning needs today, allayed with the growth of hybrid teaching and mulitimodal working, could become the optimal approach. The pandemic underscored the opportunities, value, and challenges associated with hybrid teaching in higher education. Now is the time for institutions to adapt and offer lifelong skills development alongside hybrid teaching and learning activities to enable graduates to become more resilient and better equipped for the workplace of 2023 and beyond.
Notes
---
James Rutherford is Senior Educational Technologist at City, University of London.