The Digital Learning Strategy Guide can help institutions develop a robust, flexible, and personalized framework for a digital learning strategy informed by digital transformation.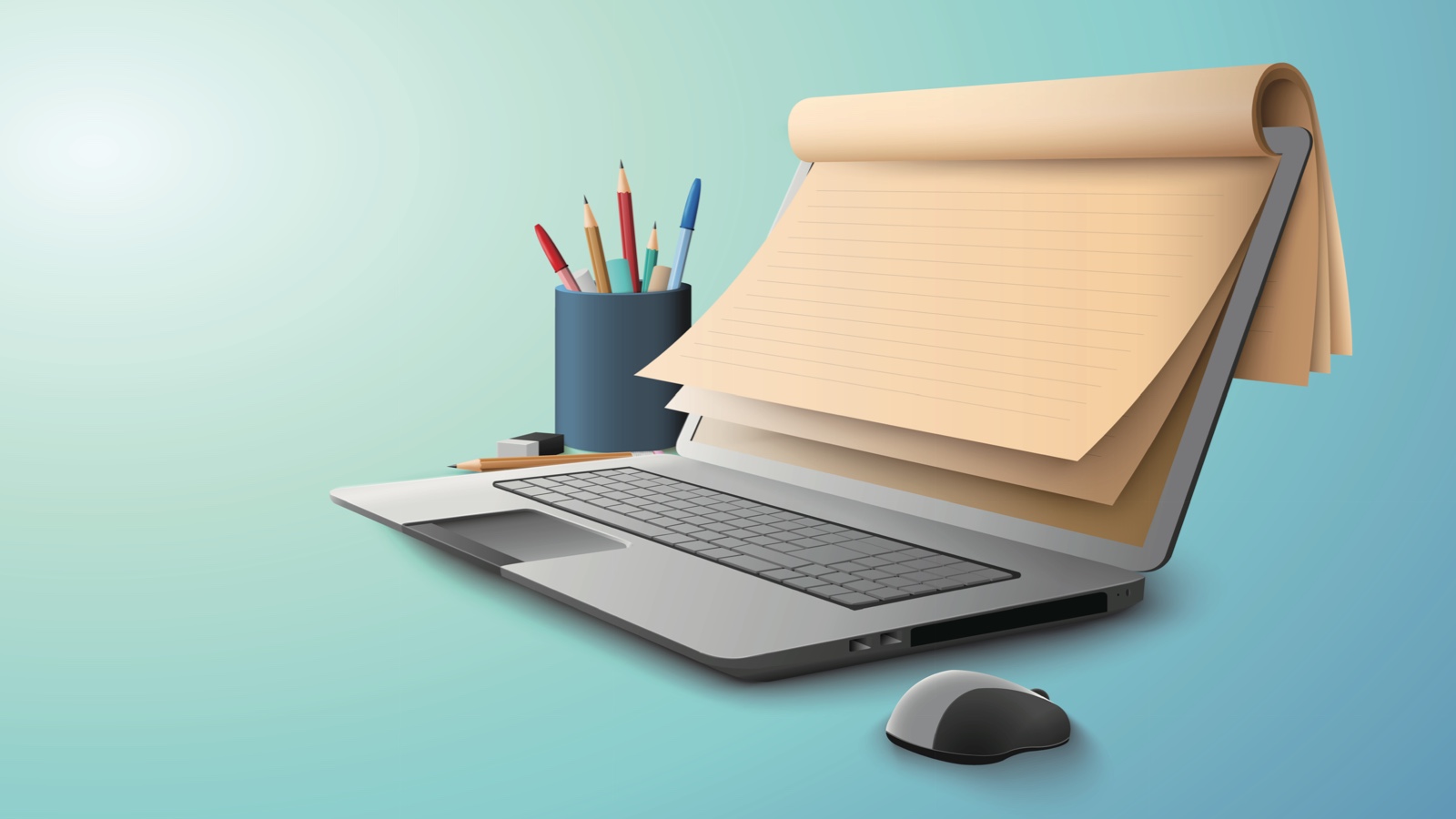 The EDUCAUSE Digital Learning Strategy Working Group:
Ann Blackman (co-leader), Jennifer Culver, Brian Gall, Ray Garcelon, Carlos Guevara, Nichole LaGrow, Tracy Mendolia-Moore (co-leader), Jennifer Rider, Rebecca Stein, and Susan Van Alstyne
A digital learning strategy (DLS) is a defined plan of technological systems, workforce development, and cultural changes that support the digital learning initiatives of an institution. As a component of the institution's digital transformation, the DLS enables learning transformation by ensuring flexible and equitable pathways to student success. It furthers the institutional mission by aligning resources and providing a shared vision for all students, faculty, staff, and administration.
A DLS is relevant and applicable to all forms and types of teaching and learning, even in a residential learning environment where all courses are face-to-face. And because each institution is unique, the DLS is not limited to a single format or approach.
Since almost all learning is touched by technology, a DLS is nearly synonymous with a learning strategy writ large. But here we call out the impact of digital transformation, making this a novel framework that could not have been developed a generation ago.
The Five Elements of a Digital Learning Strategy
A DLS consists of five elements (see figure 1):
Student Support
Enrollment & Academic Planning
Faculty & Staff
Digital Learning Design
Learning Technology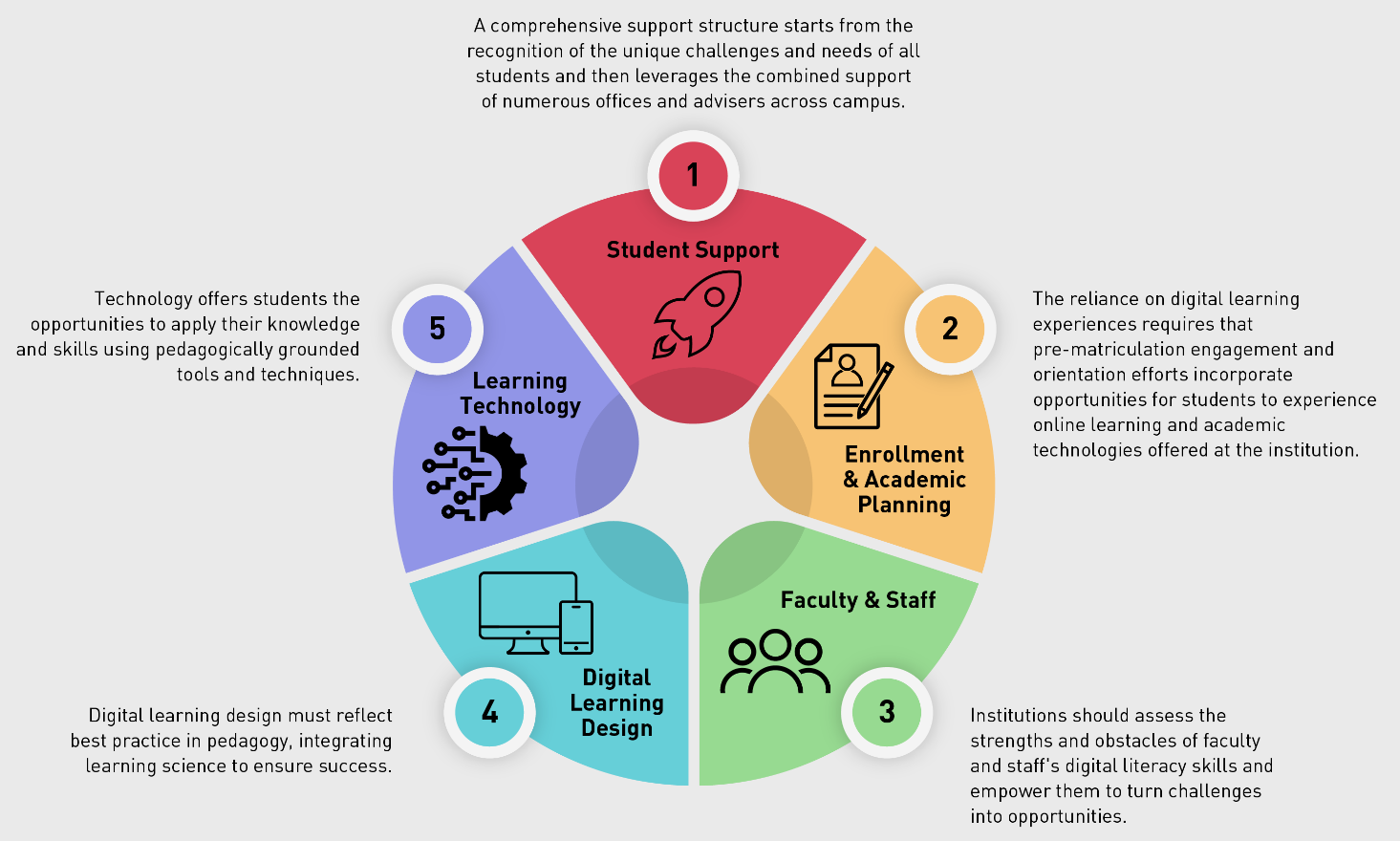 Focusing on these five elements is supported by an EDUCAUSE QuickPoll conducted in 2022.Footnote1 According to the findings from that poll, among those respondents who indicated that their institutions have or are currently creating a DLS, roughly three-quarters included strategies to support the changing needs of students and 88% included strategies to develop new teaching and learning opportunities. Further, 91% of respondents felt that enhancing learning with technology was an important part of a DLS, and 74% saw the importance of a DLS on enhancing recruitment, retention, and success.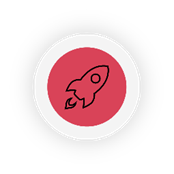 Student Support
Student success, retention, persistence, and graduation require both an inclusive perspective of our students and an integrated method of intervention. A comprehensive support structure starts from the recognition of the unique challenges and needs of all students and then leverages the combined support of numerous offices and advisers across campus. Integrated information allows ease of use, enables communication across units, and drives data-informed decision-making by giving staff a full picture of the student (information from SIS, prior contacts across the institution, and previous strategies attempted, such as mental health support, learning support, or tech support). A DLS can support student success by tracking service metrics through data dashboards that allow for quality improvement, implementing academic alerts and interventions, and/or using predictive analytics to support timely student advising.
By using such data and creating integrated student support, a DLS can help students manage the cognitive load associated with learning new academic technologies, close digital skills gaps for those students entering the college or university with less experience or exposure to technology, create equitable learning experiences, and facilitate access and ability by making full use of campus resources and supports. With a DLS, student success can grow through an increased sense of belonging, community, and support.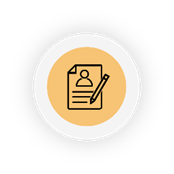 Enrollment & Academic Planning
Traditionally, enrollment management focused on student engagement to the point of matriculation. As institutions increase transfer opportunities, high school and college dual-credit programs, and retention efforts, enrollment management has shifted to be an integral part of student success. Moreover, the reliance on digital learning experiences requires that pre-matriculation engagement and orientation efforts incorporate opportunities for students to experience online learning and academic technologies offered at the institution. Such efforts ensure a smoother onboarding experience for students, contribute to a sense of belonging, and provide a starting point for students' academic success in our increasingly digitized learning environments.
Additionally, enrollment management technologies can be used to enhance and streamline students' academic progress through curricular management. For example, automated systems now help students track their degree progress, identify course options, and if they change majors, ensure that their course pathways are optimized toward their degree. Scheduling systems allow students to add their work schedule or personal obligations so that each semester they can create a course plan that reflects their availability.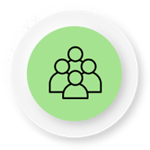 Faculty & Staff
Digital transformation in higher education necessitates having faculty and staff who are adaptable, innovative, and lifelong learners. Institutional leaders must identify and capitalize on institutional strengths and obstacles. The goal of this DLS framework is to provide guidance for an inquiry-based approach to analyze the status of the institutional foundations, the level of preparedness of faculty and staff, and the existing structures to support and promote change.
Knowing what is needed to empower faculty and students to advance from basic access to digital literacy to digital fluency to digital citizenship provides institutional leaders with a roadmap for allocating resources to advance in various areas. The roadmap also assists in identifying reskilling and upskilling needs for faculty and staff so that they can better prepare students to be self-directed learners and improve digital learning skills. A critical part of establishing an institutional DLS is to eliminate silos across academic, administrative, support, and service units. By developing processes and protocols for the adoption and implementation of new technologies that involve all stakeholders, institutions can reduce or eliminate silos.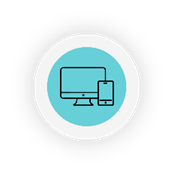 Digital Learning Design
Learning now goes beyond the traditional time spent on campus and can cross geography, modality, and time zones. Digital learning design encompasses all digital learning environments in which students interact with academic content, including the learning management system, campus resources, and videoconferencing systems. Digital learning design represents the place where digital tools and modalities meet best practice in pedagogy, allowing anyone to learn anytime, anywhere.
Learning has a new, elevated global reach, and with that comes a need for faculty and staff to design equitable learning environments and have an awareness of diversity as learning communities expand. For students to be successful, faculty and staff need to meet students where and when they are available. This requires flexibility as well as openness to different cultures and novel ways of considering interaction and high-touch experiences. Digital learning design must reflect best practice in pedagogy, integrating learning science to ensure success. The student experience must be at the forefront of digital learning.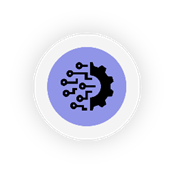 Learning Technology
Enhancing and extending learning with technology, grounded in sound learning theories, provides a potential to increase the level of competencies that are desirable for both the learning process and the workplace. An organization should choose technologies that provide a support structure that enables the effective use of learning technologies.
Learning technology offers students opportunities to apply their knowledge and skills using pedagogically grounded tools and techniques. Innovative technologies such as simulations, alternative/virtual reality, immersive experiences, and case-based real-life scenarios can transform learning. Additionally, future-forward technologies such as artificial intelligence applications can expand the student's learning environment as well as maximize mundane processes. Technology also allows the use of authentic assessments to measure the desired course and program-level outcomes in a chosen profession. Guided by learning theories, technology offers faculty the opportunity to more fully and precisely develop and deliver curriculum. Technology offers staff the ability to work with students and meet them where they are in terms of 24/7 support and when students need help the most. Technology offers administrators the tools necessary to integrate data to make sound business decisions that affect all areas of the institution and the delivery of services.
Why Is a Digital Learning Strategy Significant?
The significance of a DLS is to support institutional leaders in making data-informed decisions around scalable and adaptable strategies, given the history and capacity for digital learning. A DLS helps ensure equity and access for all students, including the most vulnerable populations, by maintaining community, inclusivity, and innovation in digital learning spaces. Factors of student success such as student engagement, flexibility, access, and equity are influenced and driven by an institution's DLS. Other important factors of student success surface within DLSs, such as faculty training, distance education course and program offerings, and student support and orientation to digital learning. Students' preferences for digital learning options are clear and go far beyond a global pandemic, which is why digital learning transformations are driving higher education institutions to adapt their landscape and prepare for a new future.
The Digital Learning Strategy Guide
To help you through the development of a robust and adaptive framework unique to each institution, we have created the Digital Learning Strategy Guide. Expanding on the five elements noted above—Student Support, Enrollment & Academic Planning, Faculty & Staff, Digital Learning Design, and Learning Technology—the DLS Guide provides thoughtful questions and considerations that will assist you in developing an institutional framework.
The "Strategy Guide" tab in the DLS Guide is the full list of questions and recommendations. Across the bottom you will find separate tabs with questions that apply only to each job function.
The DLS Guide is as flexible as you want it to be. Explore the questions, engage your campus partners, and execute the innovative ideas that are needed on your campus. Remember, a DLS is meant to grow and evolve, as a way to further build on the components already in place at your institution.
The Digital Learning Strategy Guide is available to download and personalize. This tool can be sorted, saved, and changed to meet the needs of each institution.
Note
Nicole Muscanell, "EDUCAUSE QuickPoll Results: Transforming Teaching and Learning with a Digital Learning Strategy," EDUCAUSE Review, August 22, 2022.

Jump back to footnote 1 in the text.
---