QR codes can complement the design of more interactive and engaging learning experiences in higher education.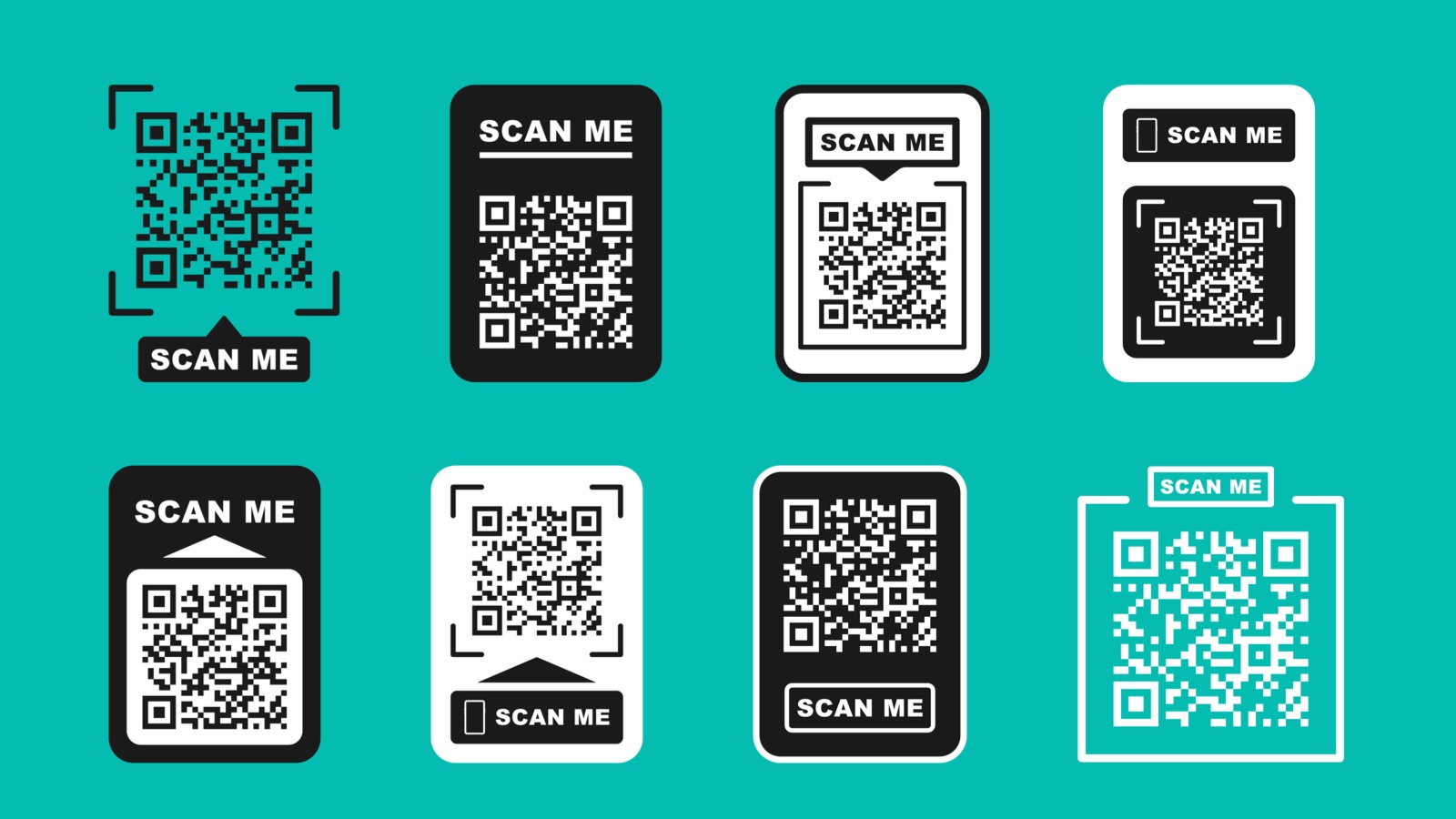 My obsession with QR (quick response) codes began over a decade ago, when I was a 5th- and 6th-grade classroom teacher. I used QR codes on bulletin boards so that during Open House, families could scan them to view students' digital work. I also used QR codes for assignments so that students could easily check their answers. When I transitioned to higher education and became a professor in 2013, QR codes came right along with me, and I have used them in ever-expanding ways. With their simplicity and versatility, QR codes lend themselves to a wide variety of uses in the college/university classroom.
What Are QR Codes?

EDUCAUSE defines QR codes as "two-dimensional bar codes that can contain any alphanumeric text and often feature URLs that direct users to sites where they can learn about an object or place." QR codes have been used in various industries and settings, including museums (to provide visitors with additional information about the artwork on display) and airlines (to make the boarding process more efficient).Footnote1 There has also been a resurgence of the use of QR codes during the COVID-19 pandemic. For example, many restaurants have transitioned to using QR codes to give patrons access to menus in a way that minimizes contact with shared surfaces.
How to Create and Scan QR Codes
QR codes can be created using websites that generate QR codes or certain web browsers, like Google Chrome. The iPhone and iPad have a built-in app called Shortcuts that can also be used to create QR codes (see figure 1). With the Shortcuts app, you can create QR codes that link to websites, contact information, calendar events, and even wireless networks (to make it easier for others to join a network).Footnote2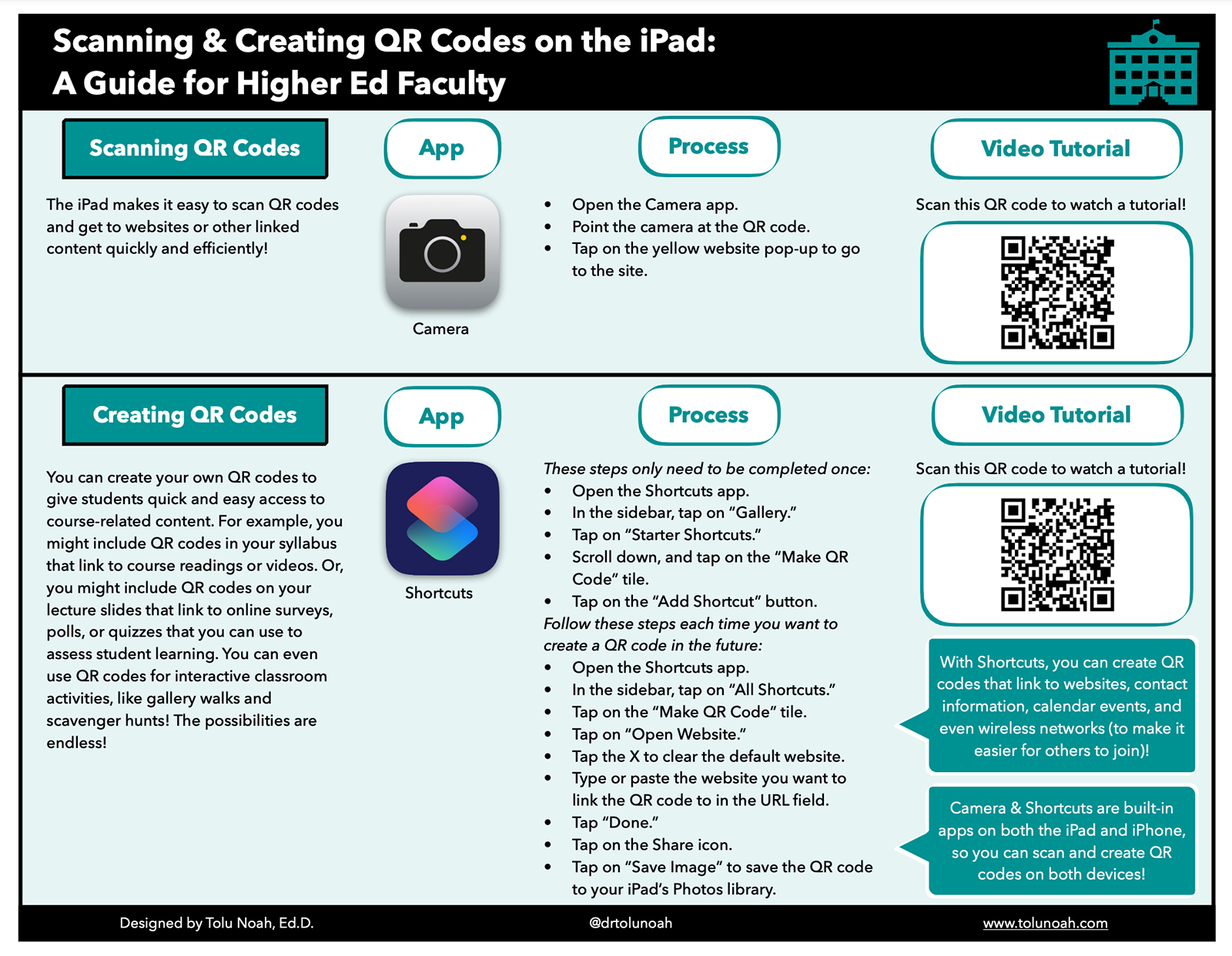 To scan a QR code, you can use a mobile device with a camera, such as a cell phone or tablet. In fact, the cameras on most newer iPhones, iPads, and Android devices have built-in QR code reader functionality.Footnote3 If using an older device, you can download a third-party app to scan QR codes, such as QR Droid or QR Reader for iPhone.
How to Use QR Codes in Class
QR codes are useful for many teaching and learning tasks in the higher education setting. Faculty and students can easily generate QR codes that link to a wide variety of online content including maps, charts, graphs, audio or video clips, photographs, quizzes, surveys, PDF documents, websites, and collaborative documents. The possibilities for how QR codes can be incorporated into courses of any discipline are endless. Below are just eight ideas.
#1. Provide Access to Course Content
One of the easiest ways to use QR codes is to provide students with quick and easy access to course materials. For example, QR codes in the syllabus can link to course readings or videos. Or QR codes on slides can quickly direct students to a website that they will be using in class. You can also create a QR code that points students to an online hyperdoc containing links to all of the resources that will be used that day. This becomes a "one-stop shop" for students during class and streamlines the navigation process.
#2. Connect with Students
QR codes can be helpful for getting to know your students and helping them get to know you. For example, a QR code in the syllabus can link to a video of you introducing yourself to the class. You can also create a student survey in Google Forms or another online survey tool and use a QR code to link to the survey. You can add the code to your syllabus as the first "assignment" that students need to complete. QR codes can also make it easier for students to get in touch with you: a QR code on your office door can provide your contact information, office hours, and/or a website where students can sign up for a time to meet with you (e.g., via Calendly or SignUpGenius). In addition, QR codes can be used to check in with students about their experience in your course, again by linking them to online surveys or forms. For example, I created a Mid-Course Feedback Form in Google Forms, based on a template that my university provided.
#3. Encourage Collaboration
You can create QR codes that link to online collaborative documents (e.g., Google Docs, Google Slides, Microsoft OneDrive files). Students can use these collaborative documents for brainstorming activities, shared writing exercises, presentations, and other discipline-based tasks with their peers. For example, if students are working on a small-group activity (e.g., analyzing a case study or learning about an important legal case), QR codes can link to collaborative documents for each group. Students can then access their group's collaborative document and work together to complete the task. Collaborative documents also work well for virtual synchronous instruction, as they can provide structure for breakout room activities.
#4. Assess Student Learning
QR codes are very helpful for formative assessments. They can link to online quizzes, polls, and surveys (e.g., Kahoot!, Poll Everywhere, Mentimeter, Google Forms). You can then place these QR codes on your lecture slides at strategic pausing points. When it is time for students to complete an assessment, they can use their phones to scan the QR code and go directly to the chosen assessment tool.
#5. Provide Examples
One of my favorite ways to use QR codes is to provide examples of a concept that students are learning about. For example, during my lecture on English language learners (ELLs), I had students do a Tic-Tac-Toe QR code activity. The handout had nine boxes, each of which contained a QR code and the title of the video it linked to. Each video showed a classroom teacher demonstrating how to use a specific teaching strategy with ELLs. I told my students to choose any three boxes in a row, watch the linked videos, and reflect on what they observed. Afterward, we had a whole-class discussion about their observations. The Tic-Tac-Toe QR code activity worked well because it not only allowed students to see examples of teaching strategies in practice but also gave students choice in what they watched (based on their particular interests). Also, when students heard their peers discuss the videos they had watched, students were intrigued to check out the other videos too.
#6. Provide Additional Support and Feedback
QR codes are great for providing immediate support. For example, when creating the assignment guidelines for a research paper, you can include QR codes that link to citation, grammar, or other writing resources. Or, when crafting a practice or review assignment, you can include QR codes that link to tutorials that students can watch if they are stuck on a problem and need help. Do you have specialized equipment that students should use? You can create QR codes that link to tutorials or directions, then print the QR codes on labels and stick them directly on the equipment so that help is only a scan away. QR codes also work well for providing students with feedback about their work. You can use an online tool like Microsoft Flip to create audio or video recordings of your feedback. Then you can share those recordings with students via QR codes.
#7. Make Learning Interactive
QR codes can easily be printed on copy paper or labels, making them an excellent tool for interactive learning experiences such as gallery walks, scavenger hunts, peer review, "walk and talks," and simulations.
Gallery Walks. Create QR codes that link to short passages of text, images, datasets, video clips, or audio clips related to the topic you are teaching. Tape the QR codes up around the room. Provide students with a graphic organizer, guided notes sheet, or reflection sheet to complete as they scan the QR codes and examine each resource. Afterward, facilitate a whole-class discussion about their observations and the emerging themes. For example, in my "Diversity in the Classroom" course, I used QR codes and graphic organizers to help students unpack the concept of microaggressions. In my "Intro to Teaching" course, I used QR codes to help students explore examples of ways that teachers integrate technology into their instruction.
Scavenger Hunts. Use a scavenger hunt activity to get students up and moving as they review a course-related concept. Make a set of QR codes that link to questions for students to answer, problems for them to solve, or quick tasks for them to complete. Place the QR codes in strategic places throughout the classroom, building, or campus. Then have students work in pairs or small groups to complete the hunt. They can document their work by recording their responses on a sheet of paper (if answering questions or solving problems), or they can take pictures or record short video clips as evidence of their completion of each task. You could even have students submit their scavenger hunt evidence online via GooseChase.
Peer Review. Have students generate a QR code that links to their work online, or ask students to submit their work to a cloud-based storage system (e.g., Google Drive or Dropbox) and create the QR codes yourself. Tape the QR codes up around the room, or create stations in the classroom with a few QR codes at each one. As students walk around the room or rotate through the stations, they can scan the QR codes to read their peers' work. They can also use sticky notes or index cards to record feedback about each person's work. Alternatively, you can make the entire peer review process digital by having students share a link to their work on Padlet, where they can also post feedback for their peers.Footnote4
"Walk and Talks." Give participants a topic or question, and have them take a short walk with a partner to discuss it.Footnote5 You can level up this experience by creating QR codes with discussion prompts. Tape the QR codes up in strategic places around the building or campus to create a "discussion path." Then give students 10-15 minutes to walk the path with their partner, scan the QR codes, and discuss the questions. You can even scaffold the questions so that they become more complex as students walk or so that they prompt students to examine an issue from multiple perspectives. Afterward, facilitate a whole-class discussion about the experience.
Simulations. Use QR codes to simulate real-world experiences. For example, in their book Innovations in the Simulations Lab, Sarah Manacek and Lorraine Pitcher, nursing faculty members, describe how they have used QR codes to simulate barcode scanning. First they created an online spreadsheet that included a list of scheduled medications for a sample patient, and then they created a QR code that linked to the spreadsheet. They printed out the QR code and placed it on the wristband of a mannequin patient. Nursing students used iPads to scan the QR code on the mannequin's wristband so that they could practice the proper protocol for administering medications.Footnote6
#8. Extend Learning Opportunities
Want to encourage students to go further? QR codes can help with that. Include QR codes that link to supplementary information or resources on your handouts and slides. You might even challenge students to find additional articles, videos, or other resources about a course-related topic and to create QR codes for sharing their findings with peers. Students can also use QR codes to connect with a wider audience. For example, they can create PSA videos or websites and post QR codes around campus to draw attention to critical issues. If they are doing poster presentations or other types of research presentations, they can include QR codes that link to their references or other related resources.
Important Considerations
When planning to have students use QR codes for classroom activities, instructors should ensure that all students will have access. Some students may not have smartphones or tablets, and others may have limited cellular data. If this is the case, consider utilizing QR codes for small-group activities in which only one student in the group would need to have a device. Instructors can also reach out to campus academic technology departments to see if they have tablets that can be checked out for classroom use. Lastly, conducting QR code activities in settings where students will have access to free campus Wi-Fi is desirable, but backup plans are needed in case the Wi-Fi happens to be spotty or down that day.
In a study about using QR codes in field-based courses, David Chapple, Bruce Weir, and Ricardo San Martin found that training students in the scanning process before doing QR code activities is critical for success. We often assume that students feel comfortable with technology simply because technology is so prevalent. However, the study authors found that this is not always the case and that students would benefit from being informed about how QR codes will be used.Footnote7
Conclusion
QR codes open up a world of possibility in the higher education setting. They provide a quick and easy way for students to access instructional materials, and they complement the design of more interactive and engaging learning experiences.
Notes
---
Tolulope (Tolu) Noah is Instructional Learning Spaces Coordinator at California State University, Long Beach.
© 2022 Tolulope (Tolu) Noah