Higher education institutions must recreate and redefine their value by investing in tools to improve student success. For higher education to remain relevant in the post-pandemic era, both physical and virtual learning spaces must be incorporated into pedagogical practices.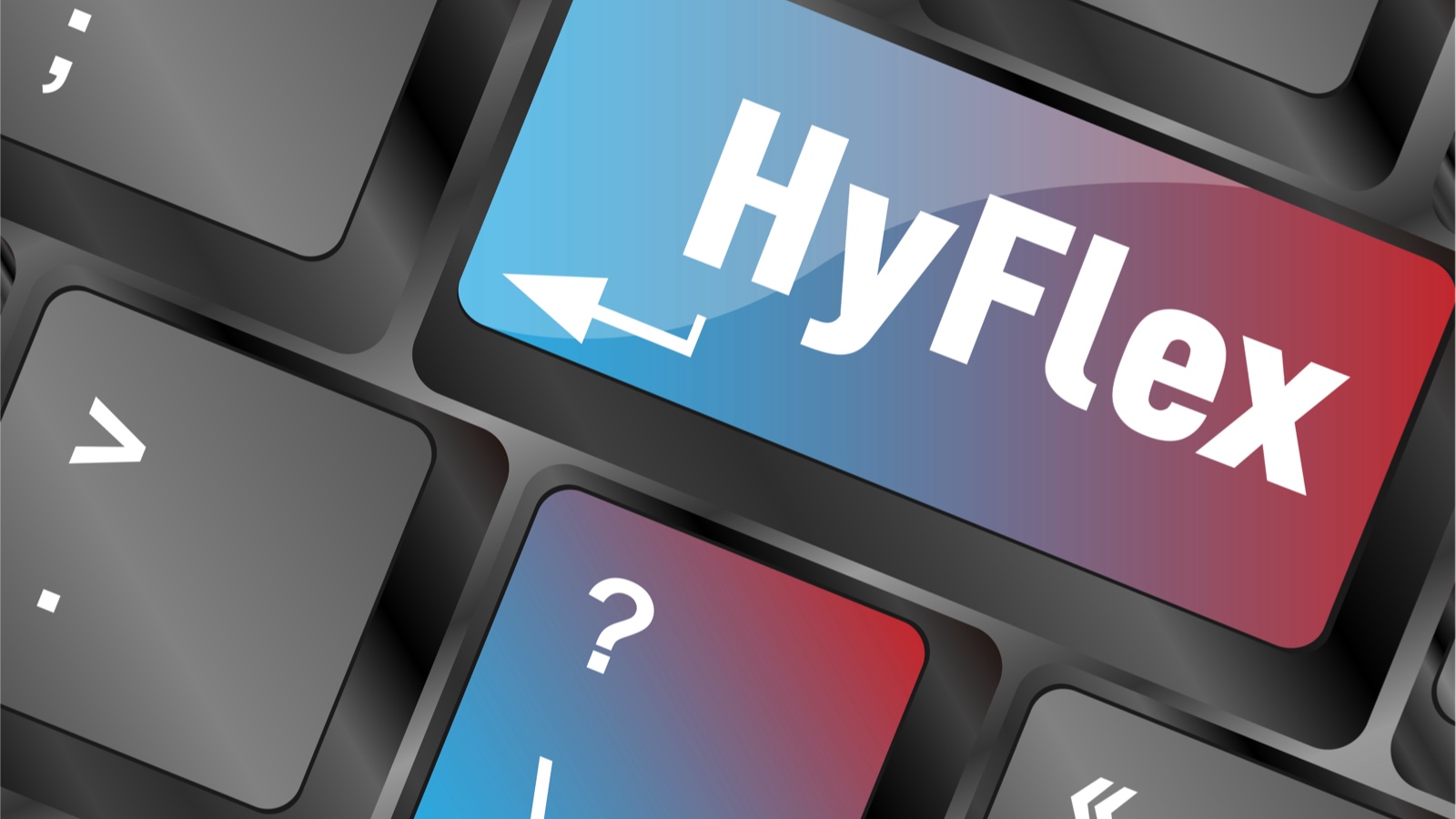 The future success of higher education is at stake. The pre-pandemic days of students attending their classes either fully in person on campus or fully online are gone. If nothing else, the COVID-19 pandemic has taught educators that students want to tailor their experience based on their personal preferences, whether that be planning how they want to attend class or deciding the hour before class what works best for them. The perceived negative stigma of students completing their coursework online is diminishing, as this is the "new normal" for the modern-day workforce.
Higher education institutions must use this post-pandemic reality as the impetus for recreating and redefining their value by investing in tools to improve student success. The collective learning space—physical and virtual—must be incorporated into pedagogical practices and teaching and learning strategies at colleges and universities worldwide. Enhancing course offerings by implementing a HyFlex strategy for academic programs will augment the student experience and help higher education institutions remain relevant in the changing educational landscape.
Understanding HyFlex: Is It the Future of Higher Education?
The word "HyFlex" has been used to describe a learning space, but the meaning of the term extends beyond that. HyFlex is an ideology, a way of doing business, and a strategy for providing expanded educational opportunities to students. The term HyFlex was coined by Brian Beatty at San Francisco State University and refers to classes that allow students to attend face-to-face or online, synchronously or asynchronously.Footnote1 While the HyFlex model has been implemented to varying degrees at higher education institutions, enterprise-wide HyFlex adoptions are scarce. In most cases, HyFlex has been implemented within an academic program or unit to increase enrollment numbers when physical classroom space is limited. Recently, the HyFlex model has been used to ensure educational continuity and to meet social distancing guidelines in response to the COVID-19 pandemic.Footnote2
Although HyFlex seems like a simple concept, it can be extremely complex to implement successfully. Executing a HyFlex model involves much more than embedding videoconferencing equipment and network and internet connectivity into an existing physical classroom. HyFlex merges the dichotomy of in-person and online learning. The goal of HyFlex is to make the online and in-person experiences equal for students. Participation in the class is necessary regardless of where and how students attend.Footnote3 The online experience should not be a lesser version of the in-person experience; it should be an alternative to it.
The pandemic forced higher education institutions to respond quickly and provide an online or hybrid educational component to their courses. For some educators, the pivot to online instruction highlighted the relevance of teaching and learning in the classroom and solidified the educator's preference for in-person education. However, online learning can be impactful for students who require an alternative experience. HyFlex redefined what "successful learning" looks like and where it can occur—expanding the boundaries of the physical classroom into the virtual realm. The proverbial Pandora's box of available instructional techniques, internet-based connections, and opportunities to emphasize educational purpose over location has been opened and cannot be closed.Footnote4
Exploring HyFlex Research
While enterprise-wise implementations of HyFlex are not common in higher education, the model itself is not novel. Many institutions and academic programs have rebranded their specific version of HyFlex learning. Some of the terms institutions use to refer to HyFlex learning are Mode-Neutral, Multi-Access Learning, FlexLearning, Converged Learning, Peirce Fit, Multi Options, Blendflex, Comodal, Flexible Hybrid, Synchronous Learning in Hybrid Environments (SLIDE), gxLearning, Blendsync, and Remote Live Participation (RLP).Footnote5
Research indicates that students' needs may change unexpectedly during a course, and physical and online spaces are needed to meet students' preferences and needs. An experiment involving the implementation of HyFlex instruction in an undergraduate social welfare policy course found that most students chose to participate online. Specifically, 72 percent of the students attended most classes online, while 28 percent attended in person. Forty-four percent of students completed everything online, 17 percent completed all activities face-to-face, and the remaining 39 percent blended their learning according to their personal needs.Footnote6 Additional research on what drives students to choose one delivery format or the other and how the availability of those choices impacts student success would also be beneficial.
Researching HyFlex implementations can be complicated because many factors influence its success, including faculty preparedness, support and technology infrastructure, and students' preferences. For example, in one study, graduate students were surveyed during the gradual implementation of a HyFlex environment. Overall, the students responded positively to the HyFlex learning environment; however, the researchers noted that several design principles had to be considered, including the design of the learning activities, a strategic partnership between the learners and the instructor, technology training, and clear video communication.Footnote7 Initial research suggests that HyFlex learning is a promising learning strategy for higher education institutions.
The reality is this: HyFlex does not have that extensive body of support research, but hundreds of institutions of all types are using HyFlex, and many of these institutions have been conducting initial studies of their own to test and revise their approaches and documenting the achievement of their unique set of HyFlex goals.Footnote8
Improving Student Experiences Using HyFlex
HyFlex learning helps to enhance the student experience and improve student outcomes. With each passing year, technology is increasingly integrated into peoples' lives and experiences. Educators must course-correct to allow greater flexibility for students, and institutions must invest in the infrastructure that supports this level of flexibility.
Students' lives often change from week to week due to challenges arising from home life, work expectations, or illness. Students who cannot attend face-to-face need a viable option, and those who do not have reliable internet connectivity need a different option. By accommodating both formats and capitalizing on technology, HyFlex offers students greater flexibility to choose the learning modality that works best for them at any given time.Footnote9 Students can decide if a topic requires them to engage face-to-face with an instructor, join remotely one day, or go to school every class.Footnote10 While some students may not always be able to participate in their preferred modality, HyFlex allows them to learn course content in a way that fits their current life circumstances.Footnote11 Higher education is shifting into alternate methods of educational delivery to allow students to enhance their educational experience and still meet the daily demands of their lives.
While HyFlex learning can result in greater student engagement and success, some drawbacks are worth noting. As stated previously, the student and instructor must trust each other and be partners in learning to ensure the success and long-term benefits of the HyFlex model for the student. The student must be an engaged learner and an active participant in the educational process. HyFlex learners must be self-disciplined and manage their time wisely to ensure they are meeting the course objectives, especially if they choose an asynchronous option. Online students may have difficulty connecting personally with their instructors, especially if the class size is large. Conversely, online students may occasionally use the anonymity of an online environment to escape the instructor's attention.Footnote12
The other perceived drawback to learning in a HyFlex environment is the lack of social engagement and support among students. Research indicates that some students miss the support structures associated with being able to engage in a face-to-face learning environment, including sharing notes with their peers, studying together, or swapping stories about their course experiences.Footnote13 However, a well-designed HyFlex course accommodates these types of social activities and creates an environment where students are accountable for their learning.
Preparing Faculty for HyFlex Teaching
The onset of the COVID-19 pandemic in early 2020 forced instructors across higher education to change their teaching practices. They were required to learn a multitude of new technologies quickly and adapt their instruction to a fully online environment in a matter of days or weeks. Because of this abrupt pedagogical shift, many instructors experienced change fatigue. Planning for and teaching in a HyFlex environment may seem to be even more of a daunting task for instructors than the COVID-19 pivot was. Although the HyFlex blended approach may allow for greater student autonomy, such offerings demand additional planning and preparation.Footnote14
Choosing to teach a course in the HyFlex format may seem like a "traditional versus online" pedagogical issue; however, the technology-enhanced format should provide a cohesive educational experience in both settings (face-to-face and online), allowing students to benefit regardless of their desired learning modality.Footnote15 The challenges associated with teaching to both formats and creating rich, interactive learning experiences can be overwhelming. An insufficient technological infrastructure, for example, may make students who are learning virtually feel like they are not being treated as equals compared to their in-person classmates.Footnote16
Planning for and designing a successful HyFlex course requires faculty to craft a comprehensive instructional strategy for engaging with and assessing students. Teachers must develop a rapport with each student and assess students at multiple points during the course to ensure that they have a positive experience and achieve the learning outcomes of the course.Footnote17 Building in opportunities for peer interactions and team-based collaboration across both learning modalities is important. Teaching in a HyFlex learning environment is challenging for some educators because they may not be fully competent at communicating with in-person and remote learners at the same time or integrating traditional materials with advanced technologies (e.g., chat rooms, virtual white boards, cameras, etc.).Footnote18
Navigating the physical learning space to accommodate in-person and remote students in a HyFlex learning environment can also be intimidating for instructors. First, not knowing the number of students who will join from each modality makes creating instructional plans for group activities or simulations complicated.Footnote19 Second, the physical space must be designed to ensure that online and in-person students have an equitable and engaging experience with the instructors. Designing for online and live streaming in a physical classroom may be constraining for instructors because it requires them to limit their movements or physical interactions within the room. From a teacher's perspective, the HyFlex setting affords an extended interactional space where the teacher has a direct connection and control over some aspects but an indirect connection to and no control over other aspects. This means that in a HyFlex setting, instructors must interact with several learning spaces without having direct power to design the interactions within them.Footnote20
Instructors are crucial for ensuring the success of any HyFlex implementation. They can make the difference between positive or negative student experiences and potentially impact the overall success of a HyFlex strategy implementation at an institution. Additional research is needed to investigate how colleges and universities can prepare instructors to design, development, and implement HyFlex instruction. "Giving careful attention to the design process will help ensure the course is well prepared to address the learning needs of HyFlex learners."Footnote21 Perhaps a larger investment of resources should be dedicated to a robust faculty training and development program.
Building Infrastructure to Support HyFlex
The term "HyFlex" is often mistakenly used to describe a learning space that also offers some sort of videoconferencing connectivity. However, a HyFlex implementation is so much more than a classroom technology investment. HyFlex is an institutional strategy. Most educators believe that adding a web conferencing technology (i.e., Microsoft Teams or Zoom), a web camera, and a microphone to a classroom enables HyFlex learning. While these tools certainly provide an online experience for students who are attending class virtually, they do not provide an equitable learning experience for them. This strategy was implemented as a bandage during the COVID-19 pandemic to ensure the continuity of higher education operations, but it was a short-term fix for what has become a long-term issue.
Most colleges and universities that adopted HyFlex teaching during the pandemic did not have the required infrastructure to enable the equitable learning experiences and outcomes that characterize the HyFlex teaching model.Footnote22 In a HyFlex environment, equitable or equivalent instruction is achieved by designing alternate approaches to learning that challenge students and keep them engaged, regardless of their modality choice.Footnote23 Many higher education institutions retrofitted classrooms and supplied instructors and students with rudimentary guidelines for using the technology rather than the hands-on training that is typical with the traditional HyFlex approach.Footnote24 The primary challenge for most institutions is investing in the technology infrastructure that is necessary to support an equitable approach to HyFlex learning, especially for online students. At a minimum, HyFlex classrooms must be set up with a camera, videoconferencing capabilities, live-streaming technologies, and recording and playback capabilities.Footnote25 However, for many learning spaces, this minimum setup is insufficient to provide equitable learning for both in-person and online students.
To provide an equitable learning experience, then, what aspects of the physical classroom experience are important for the online student, and vice versa? Some research suggests that quality microphones are the most important technology addition in the physical space to ensure online students have an optimal audio experience.Footnote26 Classroom technology must also enable intimate and engaging instructor-student and student-student experiences. More sophisticated room-control systems and programming may be needed depending on the desired level of interaction between instructors and students. Finally, and perhaps most importantly, the organization's network must be capable of providing stable and consistent connectivity for students joining online. The student's remote network must also be robust enough to ensure a successful HyFlex learning experience.
While the performance and adequacy of technology is critical to HyFlex learning, technology can also be detrimental to the experience if it is not managed appropriately. The most sophisticated tracking cameras and multipoint microphone arrays cannot overcome the challenges of juggling both in-person and online students.Footnote27 Perhaps treating a HyFlex learning experience like an educational production is a more appropriate way to achieve positive learning outcomes. In such a "production," the infrastructure goes beyond technology and includes a team that enables the instructor to teach instead of competing with all the forces of a hybrid learning environment (i.e., chat rooms, live streaming, recording, etc.). The largest institutional investment, therefore, may be the teams of people who help train faculty, serve as learning designers and classroom technology professionals, and run the HyFlex course.
"[T]he best HyFlex classrooms have someone assisting the faculty member. These assistants are often called upon to take an active role in the in-class sessions, helping the instructor incorporate questions and feedback from remote learners in real time. In some cases, media professionals participate in the class session to capture both faculty and students for the streamed and recorded versions of the class session.Footnote28
While the infrastructure needed to implement a HyFlex learning model may deter institutions from making the necessary investments, by attending to student needs, providing faculty development, and increasing teaching assistant support, HyFlex can be a fruitful way to balance enrollment and space needs for higher education.Footnote29
Creating a New Higher Education Standard Around HyFlex
Higher education has fundamentally changed due to the impact of the COVID-19 pandemic. As the "new normal" sets in, much of the worldwide workforce has moved to either a fully remote or hybrid work environment. Higher education must adopt a similar approach to allow future and current students the flexibility to learn in a way that supports their life circumstances. HyFlex can help to increase course offerings, provide flexibility, increase enrollment, and build faculty capacity; therefore, higher education leaders need to seriously assess the challenges and opportunities the modality might present to their institution.
Support teams, classroom technologies, and professional development resources are all part of a successful HyFlex implementation.Footnote30 While the costs for supporting a HyFlex infrastructure are not insignificant, can higher education institutions afford not to make the investment? In the past, most students were limited to choosing a college or university that was close to their homes. Today, students have the option to attend a multitude of higher education institutions from the comfort of their homes. Still, a subset of students exist who may want to experience a physical, close-knit higher education community but may not be able to enroll full time because the commute is too daunting for them. Typically, this would drive those students to enroll in an online-only program instead of a local institution. A hybrid approach to education delivers more flexibility for those students who are alienated by the "either or" modality of instruction.
As the world continues during the pandemic with an expected return to "normal" within the foreseeable future, some old teaching methods, assessment, and student engagement will inevitably fall away. The imperative of colocation of teaching and learning has diminished. Teachers and students could be in separate physical locations, if necessary, without significant disruptions to the course learning outcomes. Innovative practices involving hybrid learning are in use, evolving for future utilization. HyFlex teaching methods, in which the student may attend either in person or online, allows educational stakeholders to feel safe in their choice of educational delivery. The puzzle of student engagement and fulfilment of the social aspects of learning remains in question.Footnote31
Other untapped benefits of HyFlex implementations across the higher education continuum are augmented student retention and graduation rates. Utilizing the technology and the HyFlex learning model will not only improve class attendance but also students' ability to stay on top of their coursework. Additionally, faculty can hold additional office hours virtually to assist students who are struggling. HyFlex and similar learning modalities may provide more opportunities to measure and improve student engagement by increasing interpersonal interaction and supplying a high-quality learning environment.Footnote32
Once the pandemic has passed, the ability to shift between residential and online instruction may begin to be seen as a core competency for higher education institutions.Footnote33 Colleges and universities must take a multipronged approach to prepare themselves for this shift. A HyFlex implementation can only be successful if multiple stakeholders are involved in the planning, strategizing, and design process. A HyFlex approach includes investments in technology, personnel, faculty development, and student support. HyFlex will become the "new normal" for higher education institutions, and institutions must be prepared to meet the demands of this model.
Conclusion
Higher education can remain relevant only by adopting new technologies and teaching strategies that provide the most flexibility to students. If colleges and universities choose to adopt a HyFlex strategy, they should plan on investing time and money on its implementation.Footnote34 After everything that has happened over the past two years, can higher education institutions and educators afford not to invest in doing things a bit differently? Today's workforce is more flexible than ever because of the pandemic, and teaching and learning should be in alignment with workforce needs to prepare students for their professional lives.
Notes
---
Jodie Penrod is Senior Director, Technology, for the Heritage College of Osteopathic Medicine at Ohio University.