Campus leaders are beginning to explore leveraging analytics as a vehicle for supporting diversity, equity, and inclusion (DEI). Critical steps include identifying barriers and engaging in collaboration that brings together experts across disciplines: DEI, analytics, data literacy, and strategy.
EDUCAUSE is helping institutional leaders, IT professionals, and other staff address their pressing challenges by gathering and sharing data. This report is based on an EDUCAUSE QuickPoll. QuickPolls enable us to rapidly gather, analyze, and share input from our community about specific emerging topics.Footnote1
The Challenge
As IT leaders look for ways to operationalize their commitment to DEI, the intersection of DEI and data analytics is becoming a popular conversation topic. Specifically, stakeholders are asking how they can leverage data analytics to proactively focus on DEI goals and move beyond the familiar adage "Do no harm." The challenge is to bring stakeholders together to apply analytics skills and practices to DEI goals.
The Bottom Line
The higher education IT community has an opportunity to provide leadership for institutions seeking to use data analytics for DEI goals. As this application of analytics is emerging, IT will play a pivotal role in improving equitable access to education by transforming institutions' technology strategies.Footnote2 Many IT units can contribute specific technical expertise such as data governance, integration, analytics, and reporting. A particularly pressing challenge evident in responses to this poll is the need to infuse DEI expertise into analytics work. Cross-functional teams including IT professionals and DEI experts will be able to leverage analytics for DEI goals, especially with the support of leadership. As institutional efforts to use analytics to advance DEI goals begin or continue, the IT community will find new ways to participate in and support these collaborations.
The Data: Getting Started with Analytics to Support DEI
Institutions are taking their first steps. More than half of respondents reported either that their institutions are in the early stages of using analytics to support DEI goals (43%) or that they have adopted analytics to advance DEI goals across multiple departments (18%) (see figure 1). Further, 20% of respondents reported that even though they are not currently using analytics to support DEI goals they are developing plans to do so. Respondents from larger institutions were more likely to report that their institutions have already adopted analytics to advance DEI goals to some extent: 64% of respondents from institutions with full-time enrollment (FTE) of 5,000 or more indicated they are in the early stages of using analytics to support DEI goals or have adopted analytics to advance DEI goals across multiple departments, compared with only 46% of respondents from institutions with FTE under 5,000. This difference is a potential indicator that the availability of resources is one of the major factors at play for institutions undertaking analytics to advance DEI goals.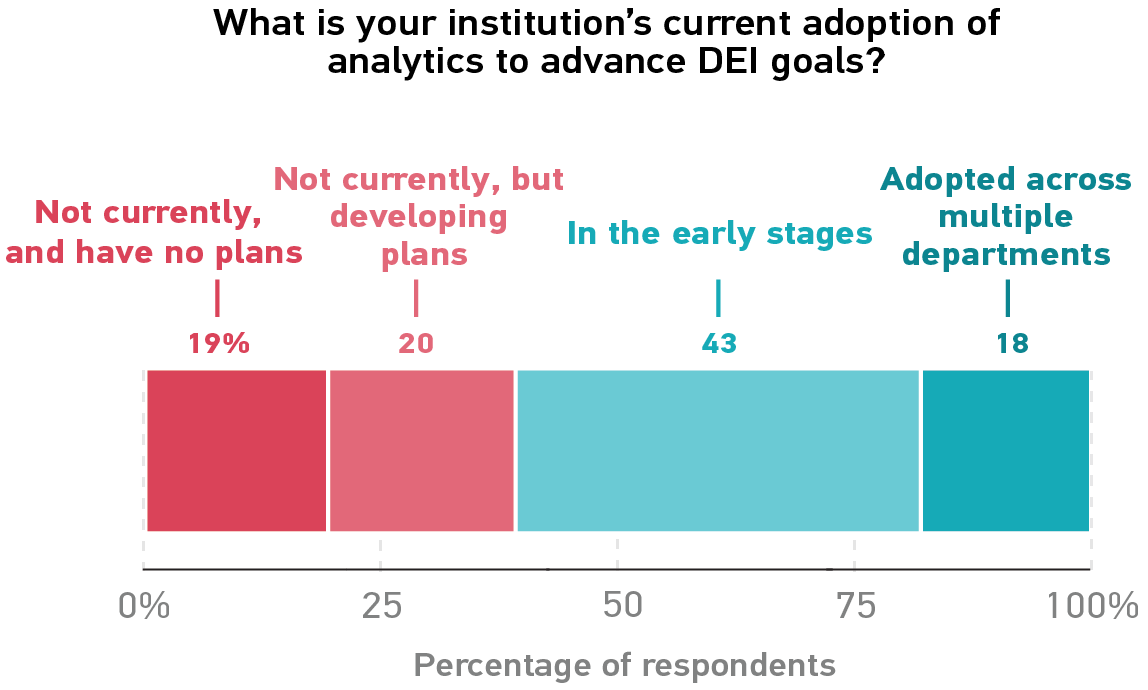 Institutional leaders are taking note of the primary knowledge and skills they need on their teams to get this work started.
Institutions need data governance infrastructure and personnel:
"Basic data governance: what data exists, where does it live, and who has access to it."
Analysts need an understanding of DEI issues and principles in addition to their general data analysis skills:
"A fair understanding of DEI married with a good understanding of data and a passion for thinking of out-of-the-box solutions."
Consumers of analytics want data visualizations and dashboards to be more available so they can turn plans into action:
"Being able to present up-to-date, actionable data in a relatively simple, understandable dashboard is important. It allows advisors to better manage their time to target those students most in need of intervention."
Teams are looking for strong leadership with clear goals and strategies:
"DEI goals must be clearly defined.... Leadership must have clear and well-defined linkages between organizational vision/mission, DEI goals and objectives, and supporting metrics."
Siloed experts need to collaborate across departmental boundaries:
"A partnership between IR, for their depth of knowledge in the data, and Information Services, for their technical skills. We are also meeting with various stakeholders on campus to get their input."
The Data: Barriers and Gaps
Institutions need a variety of expertise. When asked which elements are needed but currently lacking at their institutions to pursue analytics initiatives to advance DEI goals, 79% of respondents identified three or more items from the list (see figure 2). Over half of respondents (53%) indicated that they need DEI expertise across the institution. This is supported by open-ended comments, where one respondent asserted, "Having data is one thing, but we need knowledge about what to do when the data reveals inequities."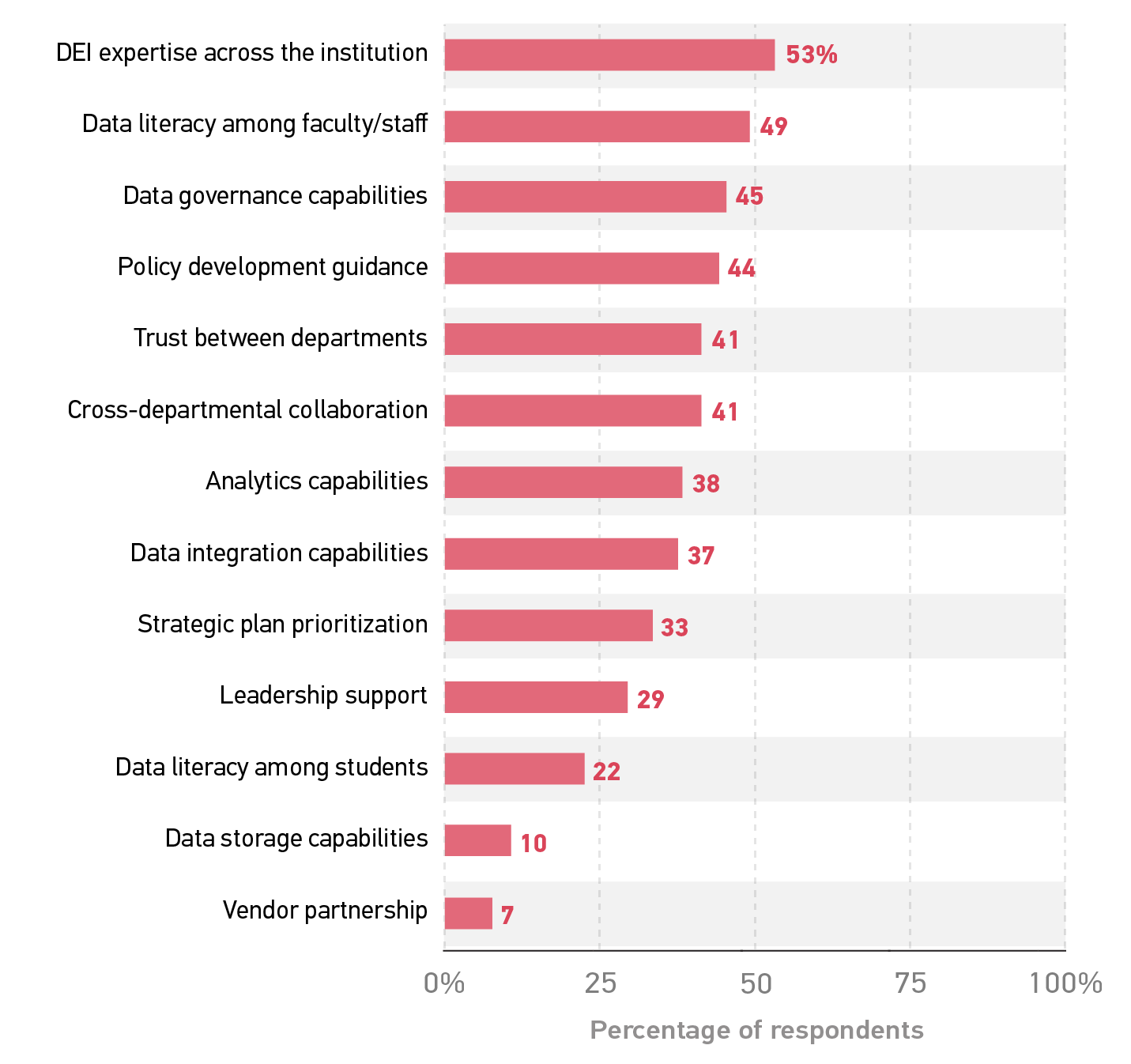 Respondents also identified gaps in foundational capabilities such as data governance (45%), analytics (38%), and data integration (37%). In open-ended data, respondents provided more nuance, coupling data skills with DEI and education content knowledge:
"Knowledge of appropriate data management and statistics; domain knowledge of institutional DEI goals."

"An understanding of what the data represents and how to use it, and more importantly, what it does not represent."
Respondents also pointed to a gap in cross-functional work by identifying a need for trust between departments and for cross-departmental collaboration (both 41%). As one respondent described:
"The analytics component is being driven more out of the Institutional Research and Effectiveness office in collaboration with our Diversity Officer and less out of IT…. There was not much of a concept of analytics and interpretation of those analytics."
Stakeholders offer a range of suggestions for overcoming barriers. In open-ended data, respondents described a variety of approaches for addressing the obstacles to using analytics to advance DEI goals.
Leaders play an important role in bringing stakeholders together to overcome siloes:
"Leadership involvement has been a very important strategy…as many false starts had happened prior to the Provost getting involved."
Narrowing the focus to critical, smaller first steps combats inertia by generating momentum for larger future efforts:
"We are starting with Data Governance to define terms better and improve data collection business processes."
Establishing strategic elements such as goals and processes provides teams with a shared vision and action plan, preventing disparate efforts and wasted resources:
"We have a Strategic Enrollment Management group that works together to set goals, tactics, and strategies that support DEI work. We actively have goals that target enrollment and retention for historically underserved populations."
DEI goals should be integrated into strategic planning rather than isolated from the institution's central mission. This helps overcome barriers related to buy-in and longevity:
"Our institution has woven DEI into the strategic plan rather than having the goals exist outside of the long-term roadmap for the university."
The higher education community needs to shift narratives toward understanding how analytics can support DEI goals:
"People have not bought into the idea that analytics help with DEI.... They're mostly worried about analytics causing harm."
Common Challenges
Institutional silos prevent essential collaboration. Higher education leaders understand that using analytics to further DEI goals requires an expertise trifecta: technical data analytics skills, content knowledge of educational principles, and familiarity with DEI issues and practices. Teams of experts are required to effectively cover all the bases, but higher education silos make it challenging to bring everyone to the table. The most pressing challenge appears to be the lack of infusion of DEI knowledge into existing analytics processes.
A lack of agreement about the goals and normative practices for using analytics to support DEI leads to inertia. Overall, faculty and staff are just beginning to leverage analytics for DEI goals. As individuals and distinct disciplinary communities continue to grapple with appropriate goals and best practices for their work, lack of common ground can stall efforts. One respondent explained that at their institution they need "folks to understand that analytics can help, not just harm, students of color."
Promising Practices
Connect leaders and communities. Change in higher education rarely happens without buy-in from key stakeholders combined with supportive leadership. Respondents mentioned the importance of leadership throughout this QuickPoll: from presidents and provosts who lead strategic planning to deans and chairs who participate in analysis and reporting. Technology solutions such as reporting software and dashboards can help leaders stay connected to analytics projects, from design to implementation. EDUCAUSE is also helping our community connect on these topics. Check out our DEI-related community groups and our analytics-related community groups.
Start with where you are. Each institution is at its own stage of progress implementing analytics to support DEI, and each institution has its own unique needs, challenges, opportunities, and resources. Respondents described a wide range of promising practices, all speaking to the uniqueness of their situations. You can use our Analytics Self-Assessment Tool to understand what your institution's current analytics capabilities look like. Respondents at some institutions are planning and strategizing, others are gathering data from their communities to understand current needs, and others are developing analytics systems that have already been in place for years. To learn more about infusing analytics into your work at almost any stage, take a look at the EDUCAUSE Showcase "Why Analytics Is Your Superhero." Also, be sure to visit the EDUCAUSE Showcase "Steering Analytics Toward an Equitable Future" (launching later this month).
Notes
QuickPolls are less formal than EDUCAUSE survey research. They gather data in a single day instead of over several weeks and allow timely reporting of current issues. This poll was conducted between January 31 and February 1, 2022, consisted of 9 questions, and resulted in 187 responses. The poll was distributed by EDUCAUSE staff to relevant EDUCAUSE Community Groups rather than via our enterprise survey infrastructure, and we are not able to associate responses with specific institutions. Our sample represents a range of institution types and FTE sizes, and most respondents (91%) represented U.S. institutions.

Jump back to footnote 1 in the text.

Susan Grajek and the 2020–2021 EDUCAUSE IT Issues Panel, "Top IT Issues, 2021: Emerging from the Pandemic," EDUCAUSE Review, November 2, 2020.

Jump back to footnote 2 in the text.
---
Jenay Robert is Researcher at EDUCAUSE.