Many higher education HR and IT employees would like to continue working remotely but might not be permitted—a situation that could have dire implications for recruitment and retention.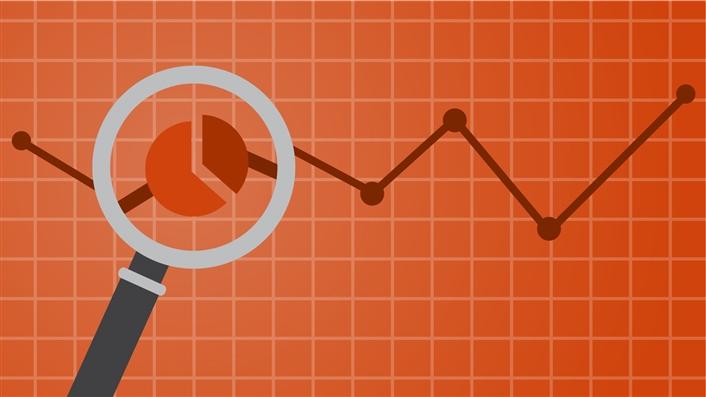 EDUCAUSE is helping institutional leaders, IT professionals, and other staff address their pressing challenges by gathering and sharing data. This report is based on an EDUCAUSE QuickPoll. QuickPolls enable us to rapidly gather, analyze, and share input from our community about specific emerging topics.Footnote1
For this QuickPoll on the remote workforce, we partnered with CUPA-HR to design the survey, collect the data, and analyze the results.Footnote2 As the association for HR professionals in higher education, CUPA-HR provides leadership on higher education workplace issues in the United States and abroad. CUPA-HR monitors trends, explores emerging workforce issues, conducts research, and promotes strategic discussions among colleges and universities.
The Challenge
Two topics that are top of mind for IT and HR professionals in higher education are (1) remote work and (2) recruitment and retention. Given data that show many candidates seek jobs with flexible schedules and remote work options, as well as data that show employees are more satisfied in jobs with more flexible work options, it's reasonable to suspect these topics are related.Footnote3 Developing policies that create more flexible work environments for employees may result in improved recruitment and retention.
One challenge is that many higher education leaders view their mission as being intrinsically tied to their presence on campus. Anecdotally, many leaders are resistant to normalizing the remote work arrangements that made it possible to keep institutions open throughout the pandemic. However, our IT and HR constituencies are reporting that after getting a taste of remote work, many employees do not want to return to working on-site, which is prompting some to seek employment elsewhere. Likewise, vacant professional positions are going unfilled, as potential applicants are seeking more flexible work arrangements outside of higher education. This is producing what has been termed a "talent tsunami."Footnote4
The Bottom Line
After a year of working remotely, most higher education HR and IT employees prefer at least partially remote work arrangements, but many have been required to return to on-site work this fall. Higher education leaders who require their entire workforce to return to on-site work full time risk exacerbating a looming talent tsunami. What's more, a work environment that doesn't offer such flexibility and is bolstered by policies and institutional culture may also impede progress in diversity, equity, and inclusion efforts.Footnote5
The Data: Ideal versus Actual
Remote work is the ideal. We asked IT and HR employees what they consider to be an ideal work arrangement for their current role: completely on-site, mostly on-site, hybrid (partially on-site, partially remote), mostly remote, or completely remote. Four out of five respondents for both HR (see figure 1) and IT (see figure 2) told us that their ideal work arrangement is at least a partially remote environment. More than a third of HR professionals (36%) and IT professionals (42%) prefer a mostly or completely remote work arrangement.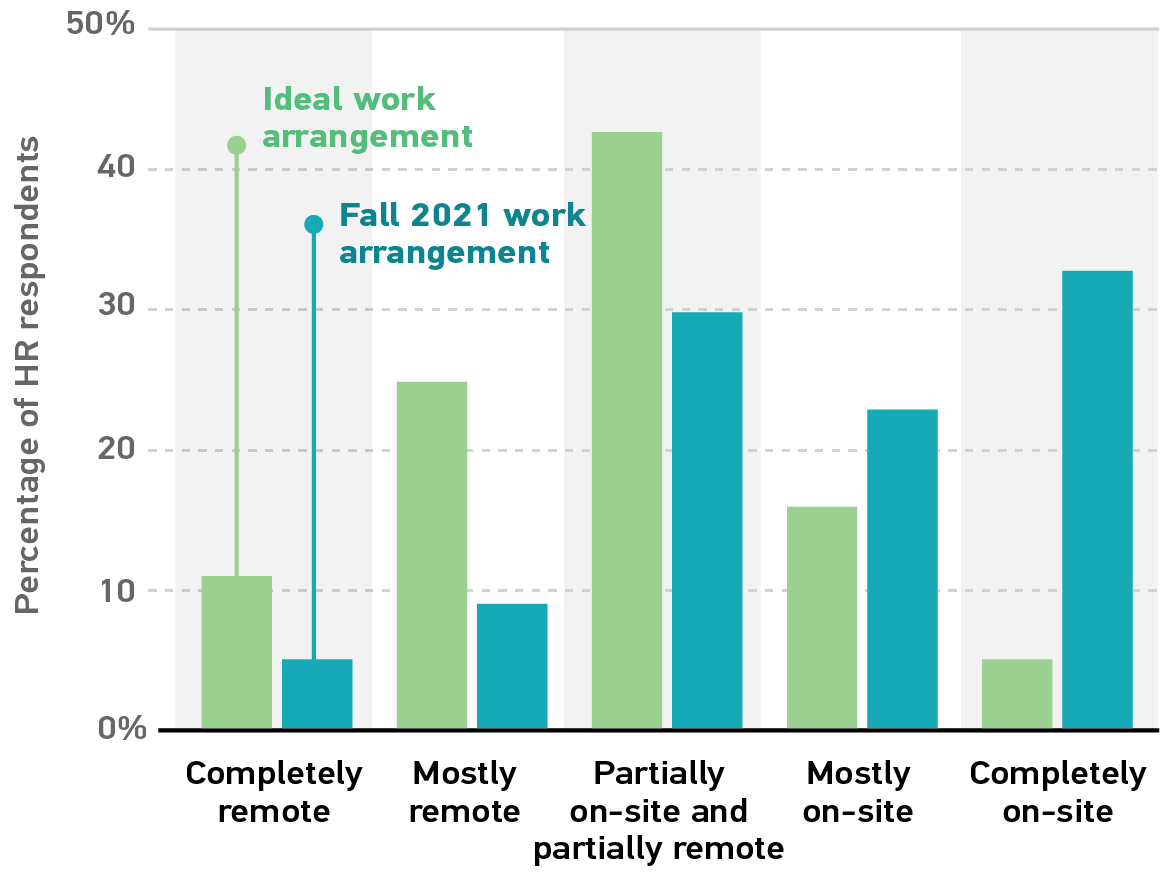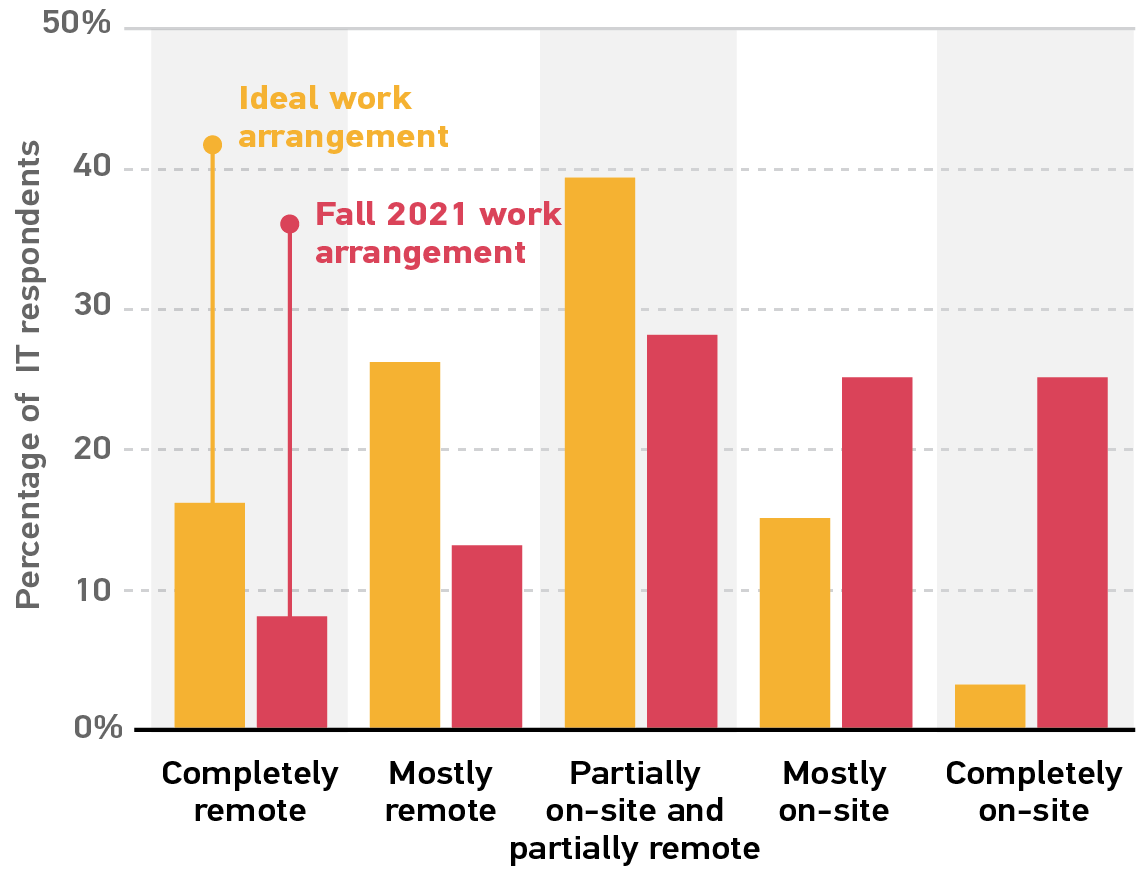 On-site work is the reality. A majority of HR (56%) and IT (51%) professionals are working mostly or completely on-site this fall. Only 21% of IT (see figure 2) and 14% of HR (see figure 1) employees are working mostly or completely remotely this fall, and fewer than half reported being able to work in a hybrid environment. The discrepancy between HR and IT employees' ideal and actual working arrangements is highly significant.
Departmental affiliation matters very little in terms of ideal and actual working arrangements. Although the ideal of a completely remote working arrangement for IT professionals (16%) is slightly higher than that for HR professionals (11%), IT and HR respondents are remarkably similar across the other categories of ideal work arrangements. Similarly, although HR professionals are slightly more likely to be working completely on-site (33%) than their IT counterparts (25%) this fall, differences in the remaining actual working conditions are trivial. The observed differences between ideal and actual work circumstances on these margins may be more of a function of the type of work that IT (computer-oriented) and HR (people-oriented) professionals do on a daily basis than of any systematic policies.
The Data: Helpful Things
Flexibility is the name of the game. Respondents were asked to select up to three policies, resources, or services that would be most helpful in supporting their current role. Nearly nine in ten respondents stated that having a flexible work environment (i.e., the opportunity to work remotely) would be most helpful (see figure 3). More than half of respondents also told us that having flexible work hours would be helpful. These responses do not vary much between HR and IT employees.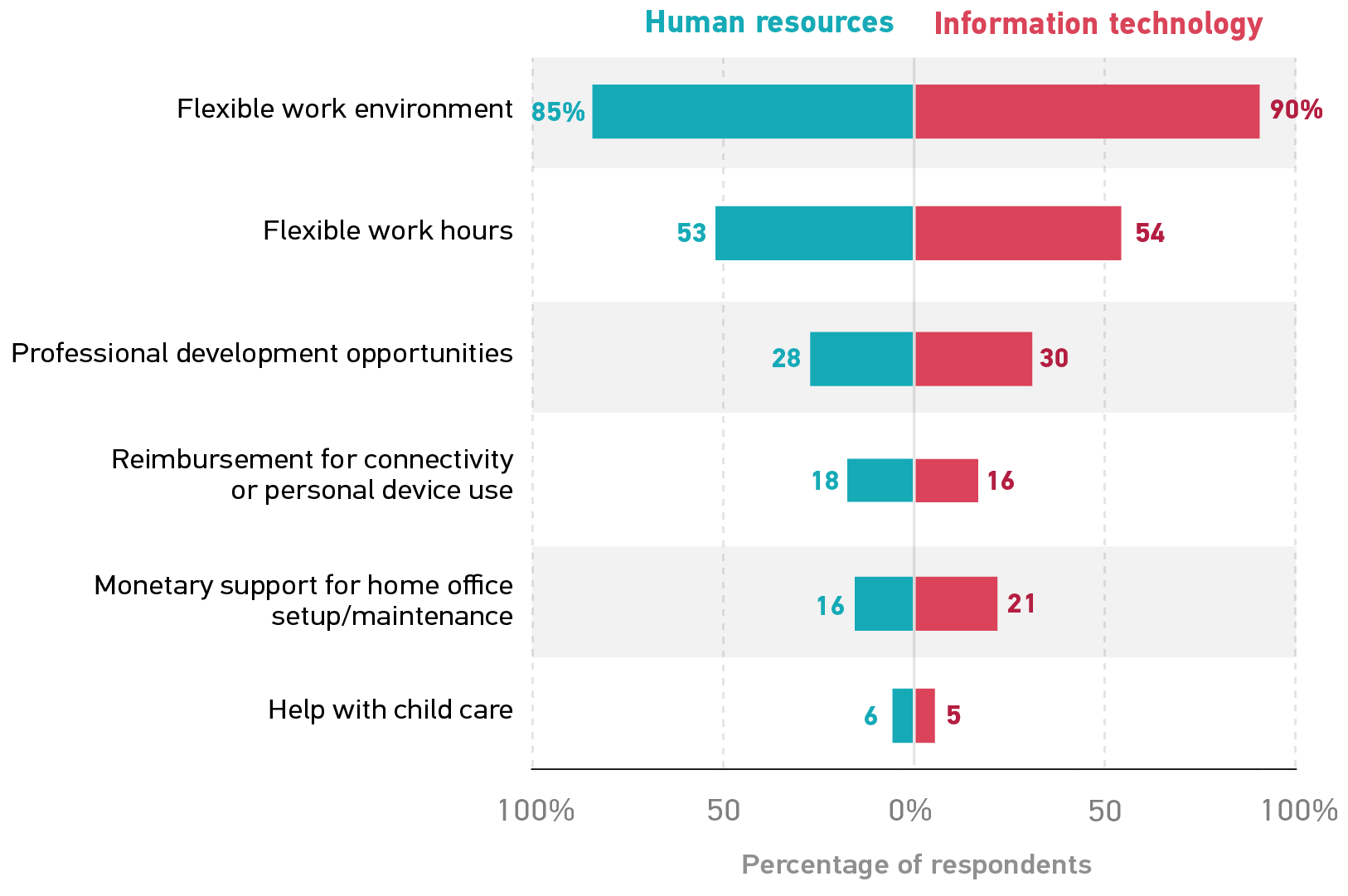 The Data: Leadership Preferences for Their Staff
HR and IT leadership (mostly) gets it. We asked respondents in leadership roles which work arrangement they prefer for the staff they supervise. A majority of HR (55%) and IT (51%) leaders said they prefer a hybrid working arrangement for their staff (see figure 4). HR and IT leadership appear to be less interested (2% each) in exclusively remote working arrangements than their staff (11% and 16%, respectively). Particularly striking, however, is that their responses are much more reflective of employees' ideal work arrangements than their actual work arrangements. This suggests that the lack of alignment between employees' ideal and actual work arrangements might not be due to their immediate supervisors' preferences but could be tied to policies that are set at higher leadership levels or even by an institution-wide policy.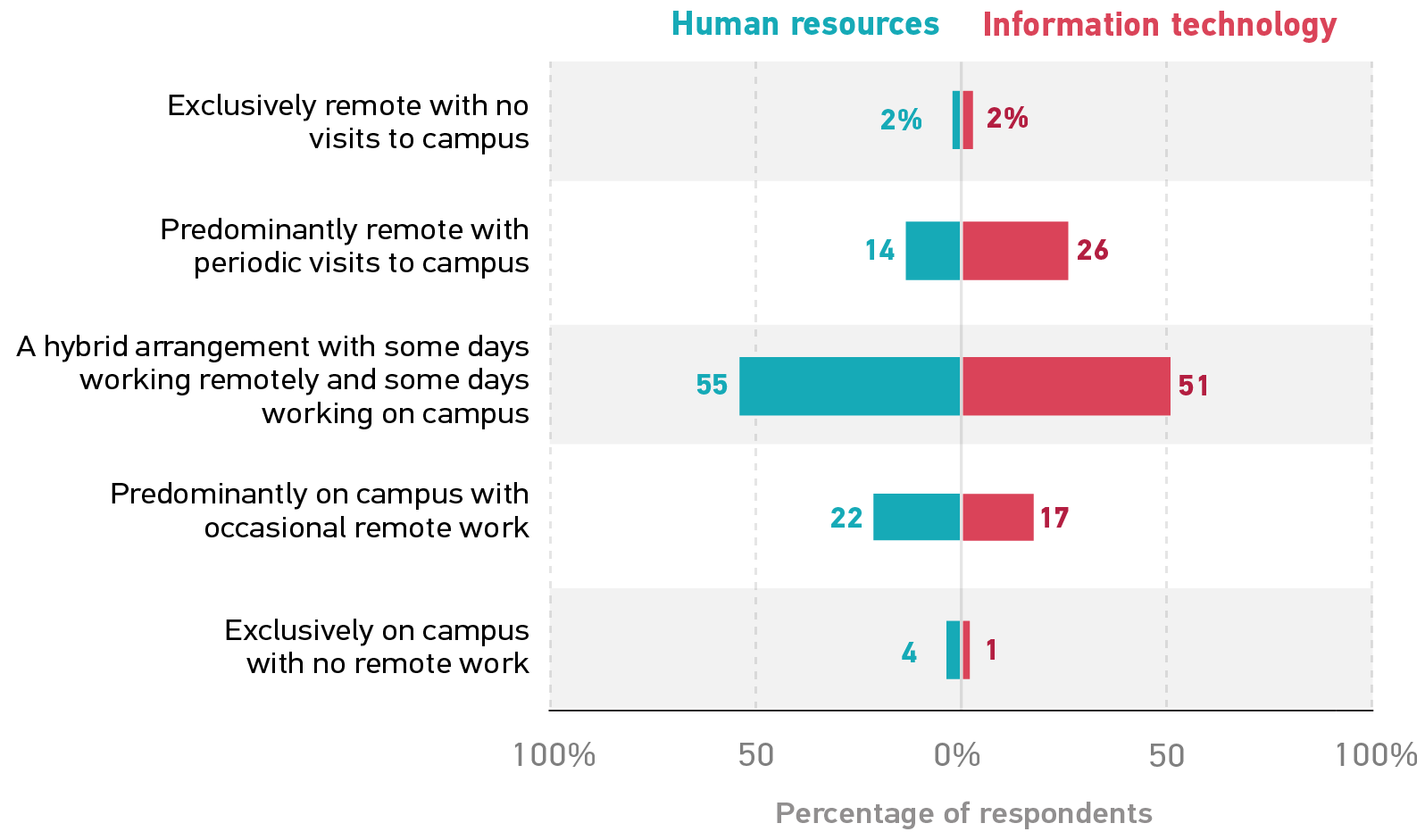 Preferences for staff work arrangements are shaped by stark differences in opinions about work. HR and IT leadership respondents who expressed preferences for their staff to work exclusively or predominantly remotely cited staff productivity under remote conditions, concern about the health and safety of their staff and families, better quality of life for employees (e.g., providing childcare, eliminating commutes, maintaining work/life balance), and employee morale as rationale for their preferences. Individuals preferring predominantly or exclusively on-campus work arrangements pointed to campus expectations to be present in order to serve; the importance of team-building; friendships and workplace culture; and the need to complete physical tasks (e.g., deliver mail, hand out checks, collect paperwork).
The Data: Likelihood of Job Hunting
Prepare for a mass exodus. We asked HR and IT employees about their likelihood of looking for other employment opportunities within the next 12 months. The good news is that more than half of HR and IT higher education employees are unlikely or very unlikely to be leaving in the next year (see figure 5). The bad news is that more than two out of every five HR and IT employees are at least somewhat likely to be looking for a job in the next year. Of those, 16% of HR respondents and 17% of IT respondents are very likely to be on the market for new employment in the next 12 months.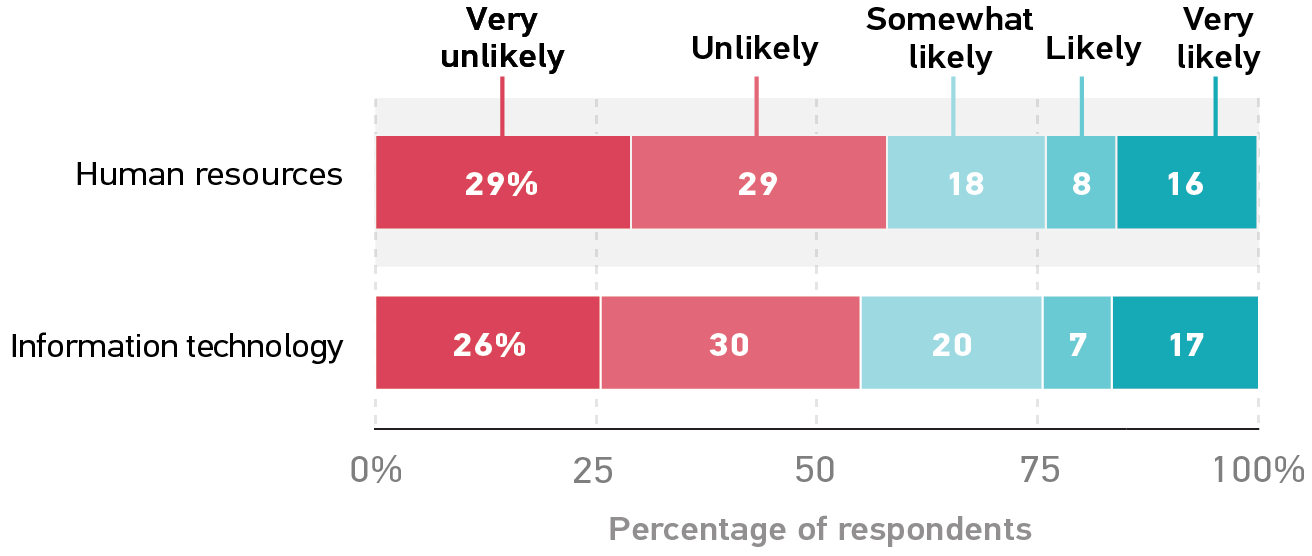 The likelihood of looking for a new job is related to work arrangements. Preliminary analysis suggests that HR and IT employees whose ideal work arrangements are more remote in orientation are significantly more likely to be seeking new employment opportunities; respondents who prefer more on-site work arrangements are less likely to be thinking about leaving. Indeed, several respondents shared stories similar to this: "We are losing talented employees because of a lack of enough remote work policies in place." Conversely, respondents' whose actual work arrangements provide more remote opportunities are less likely to be job hunting. We will be conducting a separate, deeper, and more complex analysis of these data to better understand the complexities of how ideal and actual work arrangements shape the probability of staying in or leaving one's job. For now, however, we think these data suggest that institutions that rush quickly back to the pre-pandemic norms of predominantly on-site work with few remote work opportunities risk losing talent.
Common Challenges
Senior institutional leaders are viewed as a major obstacle to remote work.
"We still have some senior leaders who believe that butts must be in seats on campus in order to ensure work gets done. We survived and thrived during the complete shutdown in a remote environment. You have to trust that people will do their jobs, and you have to manage by results, not by physically seeing someone onsite."
"The school's leadership has learned nothing from the pandemic and continues to be out of touch with reality."
"Institutional leaders have openly stated their personal preferences against remote work, regardless of the fact that we work in a small university town with a limited local hiring pool."
Institutional policies governing work arrangements are an impediment to expanding the remote work opportunities in higher education.
"The university hasn't updated our telework policy yet, and flexibility is limited by the existing policy."
"Our institution has telework policies in place but does not actively encourage them."
"My institution has no remote work policy."
"The policy [is] set by the school with little consideration for productivity or equity."
A yearning for what was ignores what is and threatens what could be.
"At the institutional leadership level, there is an overall desire to maintain the 'old culture.' I think we have been slow to realize that 'old' culture has changed, morphed into something new during the pandemic. Now it is a question of wrapping our arms around what our new culture will become as we push into the future."
"[There is an] institutional belief that 'in person' is better than remote from a relationship management perspective."
"There is a culture of reluctance to offer remote work in some areas, and there is a belief...that fully remote work detracts from a robust student experience."
Promising Practices
Evidence of the efficacy of remote work arrangements is abundant.
"The technical staff have exhibited a productivity boost that is outstanding. The number of projects that have been completed is staggering. The communication between these individuals is improved with the use of...messaging."
"Our Compensation Team has worked totally remote from March 2020 until June 2021 when we returned to campus two days a week and worked remote three days a week. The team was very productive working remote 100% and is wanting to continue if possible."
"Mostly app dev staff, who have demonstrated over the last 12 months that they are more productive working remote. Improved morale and increased efficiencies were seen during that time. Sick time usage also went down because staff did not have to take a half day or full day off when needing to visit a doctor's office."
"The entire HR team has said many times that we are much, MUCH more productive working from home. This has proven true for me personally."
HR and IT leaders see remote work arrangements as being critical to the health and well-being of their staff.
"Allows for more flexibility with work/life balance and avoids costs of commuting."
"Without the hassle and energy-draining traffic, they are able to make better use of their time. They're generally healthier, happier, and have better work/life balance."
"Until the vaccination rate is much higher and children can get the vaccine, I want as few of my staff as possible having to commute and share space."
Remote work is seen by HR and IT leaders as critical to recruitment and retention.
"We have a difficult time finding qualified people for our roles when hiring. Having more flexibility should make it easier to fill these roles."
"I also see this as a retention issue—and we're in a position where if we lose staff, we won't be able to rehire."
"Increased remote work gives me one more tool to drive retention without trying to raise salaries on a limited budget."
"[Remote work] greatly increases retention, recruitment, and employee morale."
Notes
QuickPolls gather data in a single day instead of over several weeks, are distributed by EDUCAUSE staff to relevant EDUCAUSE Community Groups rather than via our enterprise survey infrastructure, and do not enable us to associate responses with specific institutions.

Jump back to footnote 1 in the text.

The poll was conducted on August 16–27, 2021, consisted of 19 questions for IT professionals and 17 questions for HR professionals, and resulted in 2,147 responses. Poll invitations were sent to participants in EDUCAUSE community groups focused on IT leadership. Our sample represents a range of institution types and FTE sizes, and most respondents (99%) represented US institutions.

Jump back to footnote 2 in the text.

Brie Weiler Reynolds, "2017 Annual Survey Finds Workers Are More Productive at Home, and More," FlexJobs.

Jump back to footnote 3 in the text.

Brad Federman, "Turning the Tide on the Talent Tsunami," HR Professionals Magazine, August 2021.

Jump back to footnote 4 in the text.

Jose Maria Barrero, Nicholas Bloom, and Steven J. Davis, "Don't Force People to Come Back to the Office Full Time," Harvard Business Review, August 24, 2021.

Jump back to footnote 5 in the text.
---
D. Christopher Brooks is Director of Research at EDUCAUSE.
Jacqueline Bichsel is Director of Research at CUPA-HR.