With cross-campus support, the University of Central Florida created a culture of interprofessional collaboration and campus-wide engagement in order to implement a unique student-facing tool that has proven to be a timely and viable digital solution for robust academic planning during challenging times.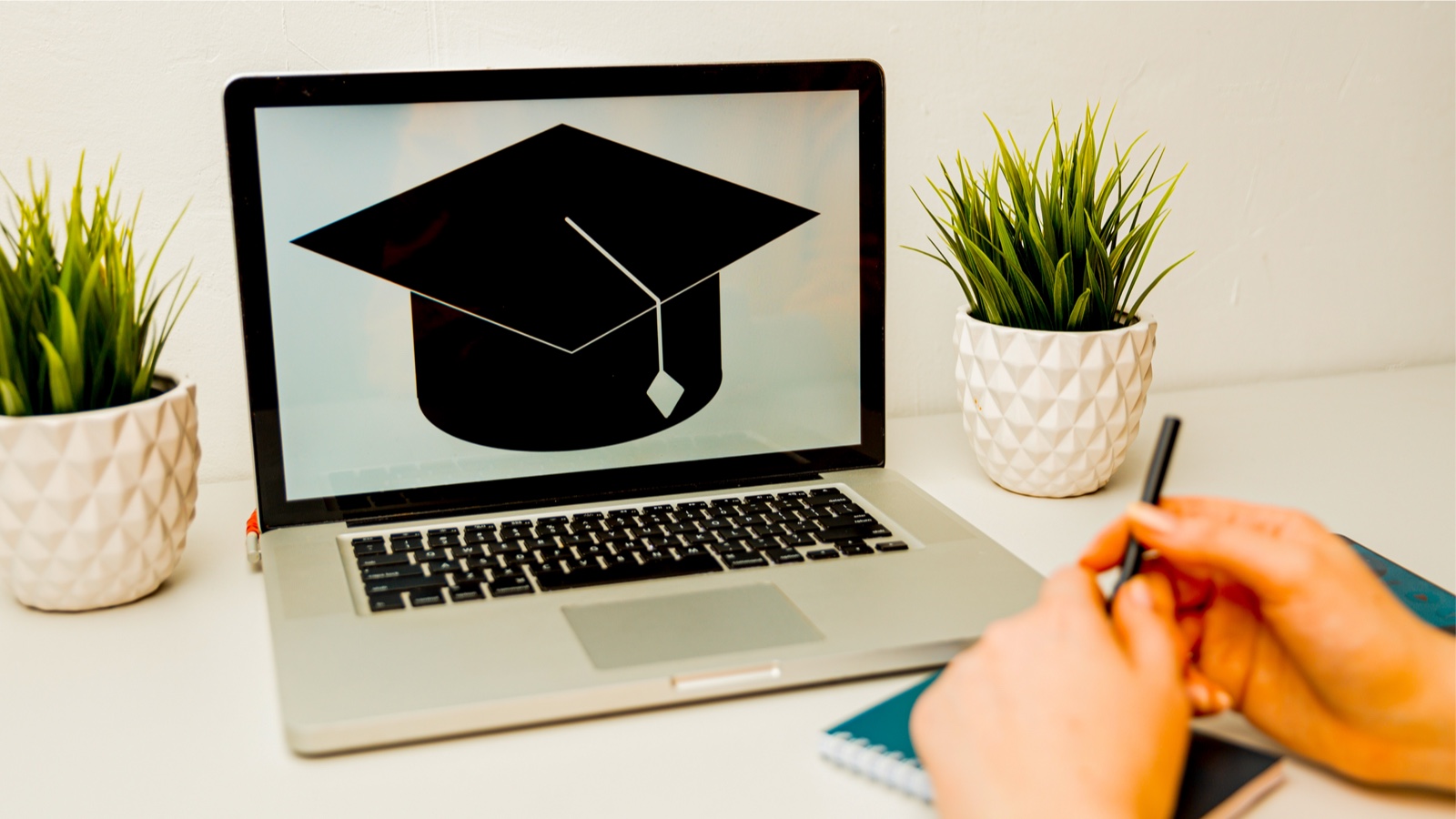 Academic planning is a key variable of undergraduate students' success in higher education. It is also a complex value proposition, particularly when students' successful completion of an undergraduate degree program is defined by outputs such as academic performance, time to degree, employment, and/or acceptance into graduate or professional schools. The optimal plan consists of a semester-by-semester sequence of curriculum, co-curricular learning experiences, critical courses, and relevant milestones.
Yet good academic planning can be disrupted by challenges such as the 2020 COVID-19 pandemic and social unrest in the United States, both of which placed students at risk for timely degree completion. Advising, academic coaching, and other student support systems had to move online quickly to take full advantage of technologies such as Zoom videoconferencing, Microsoft Teams, and other collaboration and communication tools. The situation was further compounded by mental health challenges associated with COVID-19 and remote learning, as students reported increased levels of stress, depression, and suicidal thoughts.Footnote1
To create strategies and interventions that will be successful in these challenging times and that appeal to students based on their behaviors, attitudes, and lifestyles, student success personnel and other campus leaders must understand the populations they serve. The majority of undergraduate enrollment at our colleges and universities today are likely to be Millennial and Generation Z students. These students share three traits: technology use; diversity; and parental guidance and support.
Both Millennial and Generation Z students are characterized as digital natives, which can be viewed as an asset when all colleges and universities converted face-to-face classes to virtual platforms during the COVID-19 pandemic in the spring and summer 2020 academic year. Yet though these two generations of students interact daily with technology as an integrated part of their daily routine, they are not necessarily proficient in information literacy.Footnote2
Second, the Millennial generation has been described as the most "racially and ethnically diverse adult generation in the nation's history," while Generation Z is described as even more diverse.Footnote3 Digital natives and a more diverse student body demand nimble academic planning tools. Such tools should meet students' needs while providing the advising community with rich data to mitigate any inequities evident in course-taking patterns and progression to degree completion.
Finally, Millennials have experienced the over-involvement of their parents in their daily routine and activities and may be less resilient when challenged academically or when academic guidance or information is unclear. Like Millennials, Generation Z students have also received adult oversight that has sheltered them from failure.Footnote4 Because of this guidance from parents and others, current undergraduate students have become accustomed to a certain level of support and may expect, when they enter postsecondary settings, the same level of support.
A Dynamic Digital Planning Tool
One of the many responsibilities of higher education institutions is to ensure, to the extent possible, that students stay on track to achieve their academic and career goals. During those times when students' progression and time to degree might be compromised, colleges and universities should be positioned to use technology as a viable solution for keeping students on track. Millennial and Generation Z students, in particular, expect institutions to have a certain level of sophistication when it comes to integrating technology solutions.
That level of sophistication requires campus-wide coordinated planning, cooperation, and student engagement. As campuses ready the environment for technology deployment, a roadmap to successful project deployment should be in place. Any technology employed must be created with the end in mind—that is, students' academic and career goals.Footnote5
In 2015, twenty-six colleges and universities were awarded grants—through EDUCAUSE and with funding from the Bill & Melinda Gates Foundation and the Leona M. and Harry B. Helmsley Charitable Trust—to implement "comprehensive" Integrated Planning and Advising for Student Success (iPASS) technologies.Footnote6 This opportunity compelled the institutions to adopt and implement technology-driven solutions for enhancing student success. Five years later, these technologies also helped to mitigate the consequences of the pandemic and social crises.
The University of Central Florida (UCF) was one of the grant recipients. The solution we implemented in fall 2019 was Pegasus Path—a dynamic student-facing academic planning tool. Pegasus Path has proven to be a timely solution to a rapidly changing higher education landscape. It is responsive to the characteristics and advising needs of Millennial and Generation Z students through use of student-facing technology, real-time guidance (which they have become accustomed to), and up-to-date matriculation information. Embedded within this tool are alerts and pop-up messages designed to keep students on track for successful degree completion in a timely manner.
Implementing and engendering wide adoption of a new technology solution in higher education requires a methodical approach in order to ensure that target outcomes are achieved. Technology implementation is not a small undertaking. For institutions, this is an expensive, multi-year project requiring deconstruction of existing systems and the transfer of data from "legacy systems" to a new system. At UCF, there was a desire to create a student-facing degree-planning tool that would transform the academic planning experience, improve efficiencies in degree planning, and meet students where they are (the digital world). This desire created the right set of conditions for implementing and later adopting Pegasus Path as a degree-planning tool.
Four conditions led to the successful implementation of Pegasus Path: (1) strategic stakeholder involvement; (2) early identification of "must have" functionalities; (3) phased implementation; and (4) communication and training.
Strategic Stakeholder Involvement
Implementation required buy-in from and involvement of stakeholders not only at the inception of the project but also during adoption. The stakeholders were drawn from various units and groups across campus. At the onset, having the support and funding from the Office of the Provost, academic deans, and other senior leaders was imperative. Engaging students, colleges, and the Institutional Research, Student Affairs, and IT organizations was also important. These various stakeholders were strategically involved in different stages of project implementation and adoption (see table 1). For instance, 91 percent of the stakeholders were involved in project visioning, gap analysis, and identification of functionalities. A similar percentage of engagement was evident during implementation of the tool. The strategic utilization of stakeholders was intentional to avoid "burn out" and was complemented by planned progress communication that was shared throughout the project.
Table 1. Stakeholder Involvement
| Stakeholder | Project Visioning, Gap Analysis, and Functionalities | Vendor Selection | Implementation (Data Cleaning, Collection, Coding, Testing, Validation) | Adoption |
| --- | --- | --- | --- | --- |
| Student Government Association (SGA) Representative and Other Students | X | X | X Testing only | X |
| Associate Deans (Core Group of 3) | X | X | X Data Cleaning and Validation only | X |
| Associate Deans (General) | X | | X Data Cleaning and Validation only | X |
| Advising Directors | X | X | X | X |
| Undergraduate Program Coordinators | | | X Data Collection, Testing, and Validation only | X |
| Vice/Assistant Vice Presidents | X | X | | |
| IT Designee | X | X | X | |
| Pegasus Path Team | X | X | X | X |
| Institutional Research (IR) | X | X | X | X |
| Registrar | X | X | X Data Cleaning only | X |
| Student Affairs | X | X | X Data Validation only | X |
As Pegasus Path was being implemented, two enterprise-level technology tools—a degree audit tool and an advising and predictive analytics tool—were at different stages of implementation. Recognizing that there was "initiative fatigue,"Footnote7 the vice provost for teaching and learning took three strategic steps: (1) identified and assigned lead personnel for the project, including a senior system analyst, an assistant dean, and two functional specialists (the Pegasus Path Team); (2) initiated phased implementation; and (3) found funding to hire temporary support staff and to market the new tool. The Pegasus Path Team was responsible for every aspect of the project.
Early Identificiation of "Must Have" Functionalities
The goal of the Pegasus Path Team was to transform the undergraduate academic planning experience through a holistic, dynamic, and individualized tool. This required engaging stakeholders (including students) in facilitated discussions to envision the ideal functionalities of the Pegasus Path degree-planning tool. In these discussions, the stakeholders were adamant about having a single, integrated platform that could be individualized for each student and that would provide all the information needed for academic planning. These discussions yielded a document that listed the following "must have" functionalities, which were later co-opted as a checklist for vetting vendors:
Mobile
Individualized and dynamic with real-time updates (intuitive or adaptive to students' entry/progression behavior)
Includes alerts
Integrates with a student's degree audit and predictive analytics advising tool
Displays semester-by-semester curriculum progression
Displays success markers (critical path courses)
Displays academic milestones
Displays "challenge course combinations"—courses that when taken together result in high drop, failure, or withdrawal (DFW) rates
Displays relevant co-curricular learning experiences for a student's chosen major
Allows students to build a semester schedule and register for classes
Tracks students' progress
Generates reports
The above functionalities underscore the plan to implement a tool that would empower students to map out their undergraduate experience by displaying curricular and relevant co-curricular activities for their major. Of equal importance were academic milestones, critical path courses, and the ability to show academic progress and time to degree.
Phased Implementation
Due to enterprise-level projects that were ongoing at the time, a decision was made to implement Pegasus Path in phases. The phased implementation allowed university stakeholders to learn more about the tool and ask for additional enhancements as needed.
Communication and Training
Strategic communication to the campus community and training for end users were critical for the successful implementation and adoption of the degree-planning tool. Communication was accomplished through multiple avenues such as campus-wide emails, faculty-focused publications, social media postings, presentations at leadership forums, faculty conferences, and a dedicated website. Essential in our communication was a feedback loop through focus groups and direct messages from end users and other stakeholders, allowing for constructive input during implementation and adoption of the tool.
In addition, all end users needed to become both familiar and comfortable with Pegasus Path as an academic planning tool. We used a blended training model, utilizing the "train the trainer" model as well as providing training upon the request of directors of advising and invited trainings for units. We created "how to" videos and posted them on a dedicated website for students, advisors, and faculty.
Results at UCF
Pegasus Path has allowed UCF to transition from paper- or PDF-based advising worksheets (analog model) to a digital platform designed to increase efficiencies and effectiveness in academic planning. This tool is not designed to replace the human interface during advising; rather, it complements advisors and empowers students. Initial feedback from advisors further supports the utility of the tool in providing a quick snapshot of what a student needs to graduate, as planned in a semester-by-semester sequence.
Besides showing students a path to graduation, Pegasus Path acts as a framework for advising conversations. By taking out rudimentary questions about what courses students need to take, it allows time for students to engage with their advisors at a deeper level and to ask questions related to academic success. As the institution pivoted to remote learning during the pandemic, this tool was handy for both advisors and students.
While UCF has a predictive analytics tool—myKnight STAR—Pegasus Path provides a reservoir of timely data on students' academic planning behavior. We are now able to determine students who are off-track, on-track, or ahead of their graduation term. Additionally, we have the potential to mine data on projected seat demand, which can be used to inform course scheduling.
Pegasus Path has allowed UCF staff and faculty members to directly influence students' academic planning behavior. The tool shows students the next sequence of courses they need to complete in order to graduate. Functionalities such as critical path courses, milestones, challenge course combinations, and alerts are embedded in the tool to enrich students' decision-making behavior. Alerts also act as guardrails to keep students on track.
If followed by students, Pegasus Path can lead to a reduction in excess hours and hence to timeliness in graduation. For this reason, students are encouraged to complete, review, or update their Pegasus Path at least twice each semester: prior to course registration; and at the end of the semester after grades post.
Lessons Learned
One of the early lessons we learned from adopting Pegasus Path is that first-time-in-college (FTIC) students are using the tool at a higher rate (50.4%) than transfer students (42.3%). These differences in rate of usage are even more stark for the 2019–2020 cohort, in which 68.9% of FTIC students used Pegasus Path, compared with 43.8% of transfer students. In addition, FTIC students who had used Pegasus Path had a higher GPA average (3.36) than FTIC non-users (average of 3.26). A similar trend was observed for transfer students who used the tool (GPA average of 3.17) compared with transfer students who did not (average of 3.13). The usage of the academic planning tool registered an uptick at the beginning of the fall and spring semesters and around registration periods (see figures 1 and 2).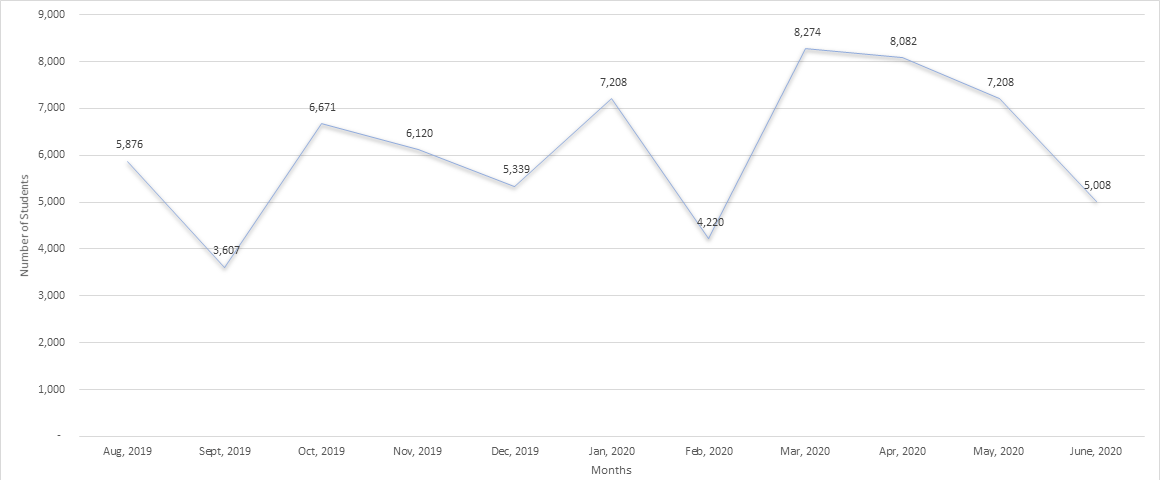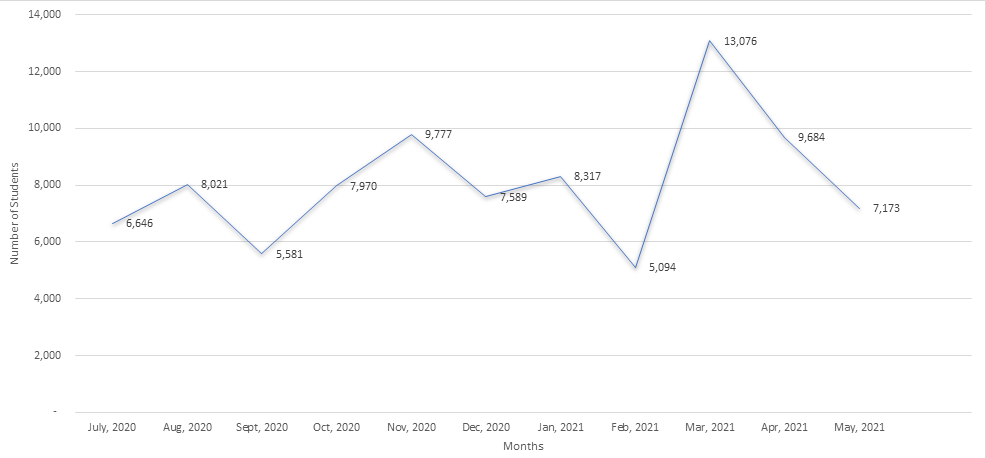 While we appear to have seen success in adoption of the tool by students, we continue to work on strategies to increase its use. This is critical so as to realize the full potential of the technology solution, which in turn will influence students' academic success and course-taking behavior.
Conclusion
Through the the onboarding of digital solutions and the collaborative execution of new technologies, colleges and universities are likely to be positioned to expand their commitment to student success and respond to the needs of a multigerational student body—as well as to catastrophic circumstancs that may require the creation of a "new normal." Since students desire academic planning solutions that appeal to their behaviors, attitudes, and lifestyles, understanding the characteristics of our students is critical. Appropriate solutions allow students to respond to real-time challenges and situations in an engaging manner. With cross-campus support, UCF created a culture of interprofessional collaboration and campus-wide engagement in order to implement a unique student-facing tool that has proven to be a timely and viable digital solution for robust academic planning during challenging times.
Notes
---
Elizabeth A. Dooley is a professor in the College of Community Innovation and Education and is former Provost and Vice President for Academic Affairs and former Vice Provost for Teaching and Learning and Dean of the College of Undergraduate Studies at the University of Central Florida.
Harrison Oonge is Assistant Dean, Academic Planning, College of Undergraduate Studies, at the University of Central Florida.
© 2021 Elizabeth A. Dooley and Harrison Oonge