As the fall term approaches, college and university leaders are weighing a range of fluid and sometimes competing factors as they decide whether and how to require vaccinations.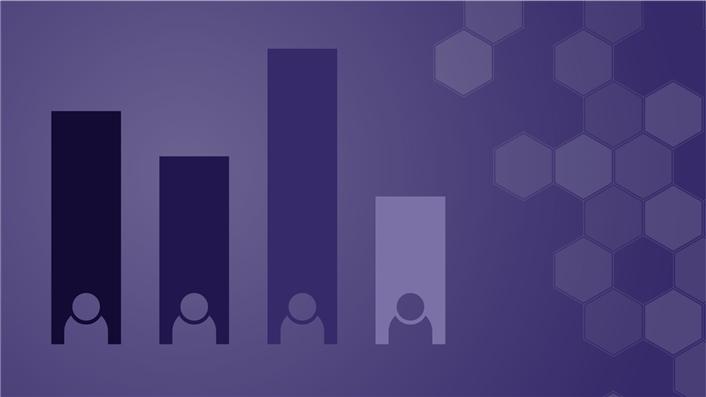 EDUCAUSE is helping institutional leaders, IT professionals, and other staff address their pressing challenges by sharing existing data and gathering new data from the higher education community. This report is based on an EDUCAUSE QuickPoll. QuickPolls enable us to rapidly gather, analyze, and share input from our community about specific emerging topics.Footnote1
The Challenge
Higher education leaders are anxious for a return to some semblance of pre-pandemic normality by welcoming students, faculty, and staff back to campus for face-to-face instruction, work, and experiences. Standard protocols for masking, social distancing, testing, and quarantining will likely continue, but herd immunity will likely be required before a return to a "better normal" can be achieved. Unfortunately, relying on individuals to choose to get vaccinated may not be enough. Should institutions require faculty, staff, and (especially) students to be vaccinated before they can again fully participate as members of the campus community?Footnote2
The Bottom Line
Nearly half of IT leaders reported that their institutions have yet to make a decision on requiring vaccinations for fall 2021. Most who have decided expect not to require them; concerns about privacy, political fallout, and government regulations are weighing heavily on these decisions. Private institutions have more leeway than do public institutions to require proof of COVID-19 vaccination, in part because they are not subject to state authority. For those requiring proof of immunization, currently deployed tools will be leveraged to track and manage vaccination data. Absent the authority to implement a requirement, some institutions may entertain incentives to encourage students to get COVID-19 vaccines.
The Data: To Require or Not to Require…
About half of respondents don't know yet whether vaccinations will be required. Many respondents indicated that a decision is expected in the near future (see figure 1), shaped in large part by three main factors:
State and federal regulations
The types and sources of information on which institutional boards and leadership will base their decisions (e.g., CDC guidelines, local health department recommendations)
Questions about the vaccines (e.g., approval for regular instead of emergency use,

Footnote

3 local rates of vaccination/infection, efficacy against variants)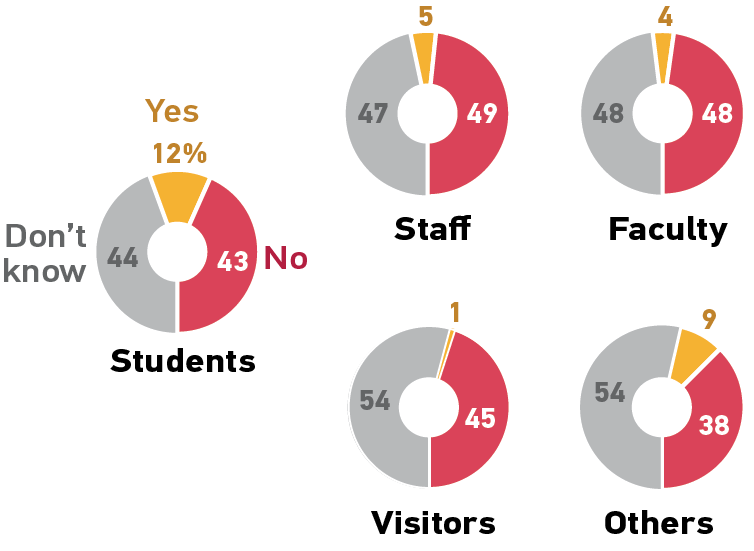 Respondents from four-year private institutions are more likely to say proof of COVID-19 vaccination will be required. This is to be expected because private institutions, compared with public and two-year institutions, typically have more leeway to make policy and are less constrained by funding and political considerations than public institutions. This finding tracks with a current list of institutions that have decided to require vaccines this fall.
Institutions are leveraging existing technologies for collecting and storing proof of vaccination. The primary tools that institutions are expected to use include existing electronic health record (EHR) or electronic medical record (EMR) systems that collect and store other student health and medical data. A few respondents have developed or are developing homegrown tools that combine manual uploads of vaccination proof, mobile applications to present proof of immunization, and/or dashboards compatible with existing systems.
The Data: Why Not?
Privacy, in general, is a guiding reason not to require proof of immunity. A majority of respondents who will not require vaccination noted general privacy concerns (54%) as a motivating factor (see figure 2). This concern is noteworthy, especially given that privacy tends to get short shrift in higher education. But a thoughtful reaction that seeks to respect federal privacy protections of health-related information (i.e., HIPAA)—and possibly other aspects of privacy—represents an important step in putting privacy front and center.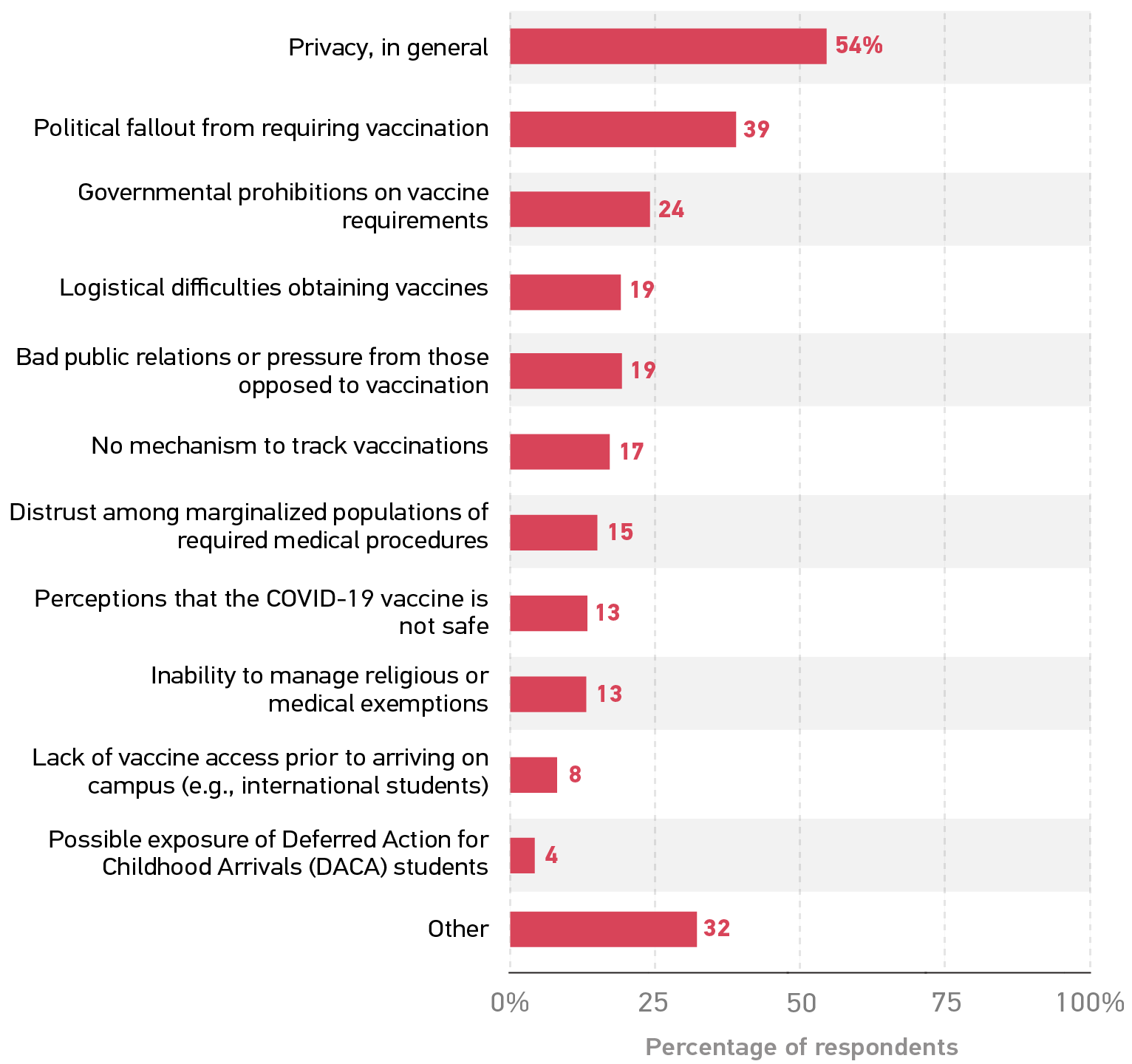 The politicization of COVID-19 immunization efforts may hinder or thwart efforts of public institutions to require vaccination. Among the top reasons cited for not requiring vaccination are political fallout (39%) and governmental prohibitions (24%) (see figure 2). Animosity toward federal and state pandemic restrictions and vaccine distribution protocols or requirements is (at least partially) ideologically driven. Moreover, many institutions' policies may wind up being a product of their location, given that the ideological influences have produced a patchwork of responses at the state level. In this way, leaders of public institutions who would prefer to require proof of vaccination may be unwilling or unable to do so because of where they are located.
The one-third (32%) of respondents who selected the "other" option suggest that legal and regulatory concerns are the primary reasons for not requiring vaccinations this fall. Some respondents noted that the fact that COVID-19 vaccinations have been approved under the conditions of Emergency Use Authorization (EUA) limits the ability of their institutions to legally require them in a manner similar to other vaccinations (e.g., MMR). Additionally, the need for public institutions to follow federal and state guidelines, recommendations, and policies was also cited. Other reasons included concerns about data privacy (e.g., HIPAA, overcollection of data, third-party use), union contracts, alignment with a charter of rights, and logistical issues related to tracking a "diverse and dynamic population coming to campus."
The Data: Of Sticks (and Carrots)
Some institutions may consider incentivizing vaccinations through a combination of restrictions and rewards. Most respondents (63%) don't know whether their institution will prohibit participation in certain activities and/or events for those who are not vaccinated; 19% said that they would not impose any such restrictions. For the small percentage who indicated that they might (12%) or would (5%) restrict participation in campus activities and events, we asked them to identify what kinds (see figure 3).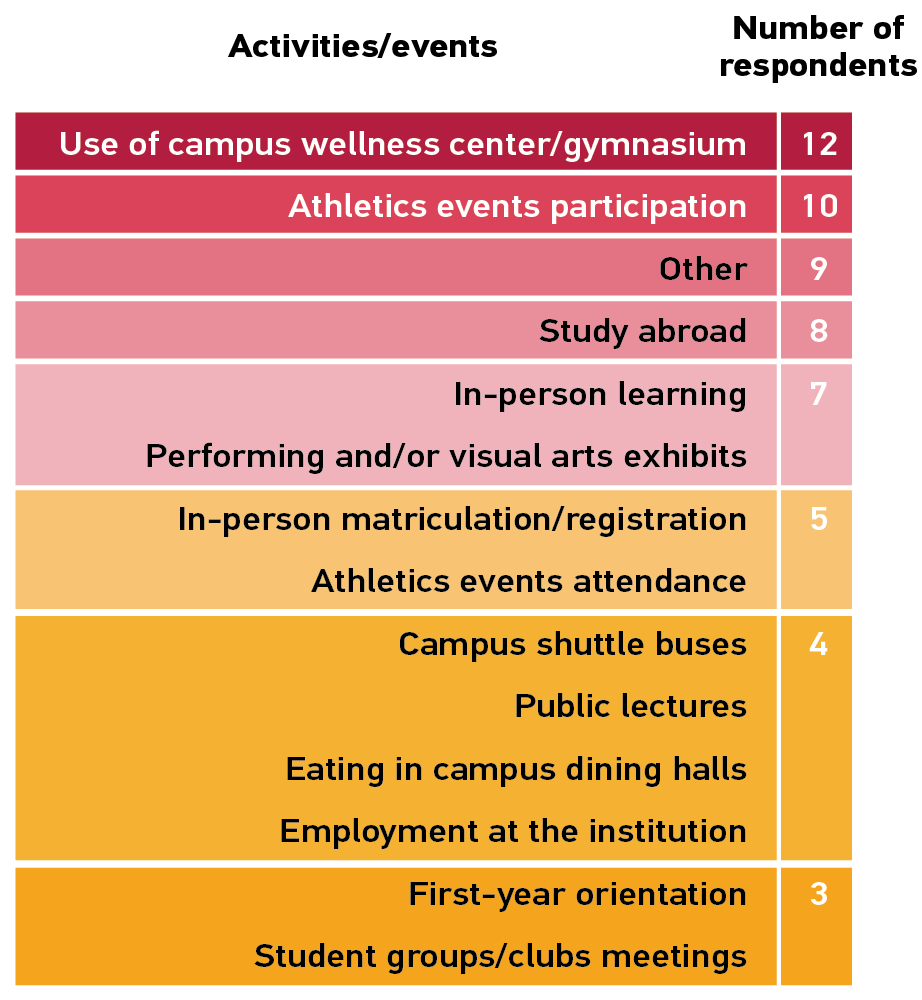 There is more support for limiting unvaccinated student participation in high-risk extracurricular activities than academic ones. Extracurricular activities that put students in close proximity with others and increase the possibility of transmission via aspiration (e.g., using campus wellness centers/gymnasia; athletics events participation) tops the list of possible restricted activities. There is comparatively less support for restricting academic or academically enriching activities such as study abroad, in-person learning, performing and/or visual arts exhibits, and in-person matriculation. There is even less support for restricting extracurricular activities where reasonable precautions (e.g., wearing masks, social distancing) could be taken. Some who selected "other" noted that requiring proof of immunization prior to moving into a campus residence could also be on the table. Only one respondent mentioned offering positive incentives to encourage vaccination compliance, a tactic that a handful of institutions are embracing for students, faculty, and staff.
Common Challenges
Institutions everywhere are struggling with the need to make firm decisions about the future under conditions that are anything but.
"We are planning on making some decisions around fall in May, but we of course will stay flexible due to the quickly changing conditions around COVID."
"Right now these decisions are very much [up] in the air. Leadership is struggling with feeling [like] projecting the pandemic status for August is futile. But at the same time some programs start in July, and students need to plan. There is some discussion that we need to announce now whether we will be in person as incoming students may weigh this in their school selection decision, which will be made in the next few weeks."
"I am very concerned that my institution has not made this call at this point yet is proceeding with resumption plans for fall. How we can make resumption plans without knowing if vaccines will be required is beyond me. I have been vaccinated, but vaccines do not provide 100% effectiveness. I am still practicing 'stay home' and social distancing to avoid contracting the virus and am very concerned that I'll be required to return to campus in an unsafe environment."
Promising Practices
Two-thirds (68%) of respondents said that their institutions will provide COVID-19 vaccinations to members of the campus community who need or want them. Even if their institutions are not providing vaccinations (15%) or don't know if they are not (17%), there appears to be support for these efforts among IT leaders.
"Vaccinations for students who want them began earlier in the month. Our campus is a vaccination site, which has made getting a vaccine easier for some."
"Although we have vaccine clinics on our campuses, these are public health clinics and not directed specifically at our university."
"Pop-up vaccine clinics [are] offered by our county and targeted to university students and staff as doses are made available for that purpose."
"We have been gearing up to provide vaccines but now believe we won't receive any vaccine in time to administer two doses before summer break (when health center staff depart)."
"We are not certified to administer the vaccine or we would offer it."
Notes
QuickPolls are less formal than EDUCAUSE survey research. They gather data in a single day instead of over several weeks, are distributed by EDUCAUSE staff to relevant EDUCAUSE Community Groups rather than via our enterprise survey infrastructure, and do not enable us to associate responses with specific institutions.

Jump back to footnote 1 in the text.

The poll was conducted on April 19–20, 2021, consisted of 11 questions, and resulted in 150 responses. Poll invitations were sent to participants in EDUCAUSE community groups focused on IT leadership. Our sample represents a range of institution types and FTE sizes, and most respondents (93%) represented US institutions.

Jump back to footnote 2 in the text.

The author would like to thank Bryan Alexander for sharing his timely blog post, "One Plan for American Higher Ed This Fall: How Many Campuses Are Requiring Vaccines?," from which this and some other links are drawn.

Jump back to footnote 3 in the text.
---
D. Christopher Brooks is Director of Research at EDUCAUSE.