Members of the Enterprise IT Program Advisory Committee shared their advice on how enterprise IT leaders can use their digital transformation work to further institutional goals for diversity, equity, and inclusion (DEI).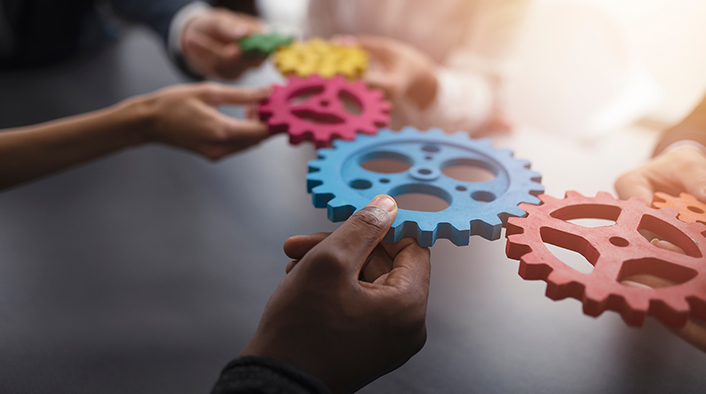 Enterprise IT leaders are in a position to play an important role in their institutions' digital transformation (Dx) initiatives, and they can start by closely aligning IT department work with the institution's goals. When one of the institutional goals concerns diversity, equity, and inclusion (DEI), however, it may not always be clear where the enterprise IT connection comes into play.
The following three members of the EDUCAUSE Enterprise IT Program Advisory Committee weighed in on these two important institutional goals—Dx and DEI—and how enterprise IT efforts can support and advance them both:
Fostering Diversity, Equity, and Inclusion
What is your college or university doing to foster DEI in relation to enterprise IT systems or services?
Peggy Kay: As part of our core values, University of the Pacific is committed to providing an environment that respects all individuals and embraces the richness that diversity brings to our educational community. In the past few years, Pacific has made progress in incorporating language into vendor contracts ensuring that Equal Employment Opportunity Commission standards are met and that accessibility requirements are addressed in the contracts. Creating DEI standards for our acquisitions is significant to the support of enterprise technology because it establishes at the forefront our desire for vendors and systems to have inclusive, equitable, and accessible foundations. We have also evaluated our current processes and systems through the lens of our values and discovered that we can improve in specific ways to ensure greater equity to our constituents.
Debbie Carraway: NC State views DEI as critical to our academic mission, and we strive to incorporate support for DEI throughout our culture and in our services. For instance, our campus GLBT Center approached the Office of Information Technology about how we store and present names, as we were in the process of implementing a new identity management system. This is important for transgender and gender nonconforming members of the community. Consequently, we implemented a preferred name option that allows everyone to specify the name they would like to be called, and we have worked to ensure that downstream systems utilize the preferred name rather than the legal name whenever possible. Now, our awareness of these issues is shaping other tools we develop and support.
We are also working to ensure that these systems are accessible to students, faculty, and staff with disabilities.
Our Distance Education & Learning Technology Applications unit, which is responsible for the learning management system (LMS) and other enterprise systems, asks two questions for any implementation or new system: Who will be included? and Who will be excluded? The resulting answers guide decision-making about tools, systems, and implementations. The inclusion of economically disadvantaged students has influenced initiatives promoting the use of open educational resources (OERs). Also, as VR technologies move into the classroom, we are able to carefully consider which students will be left out and why. This gives us the opportunity to revisit design and to think about how to provide alternative learning experiences.
Sherri Yerk-Zwickl: We have an organizational change initiative underway to realign decentralized IT functions into the central IT Services organization, which has given us a variety of opportunities to build in DEI aspects. For example, we are working to improve our position descriptions and advertisements to incorporate more inclusive language to encourage nontraditional applicants and minimize some of the bias that tends to keep people from applying. We are also using more inclusive language in our student-worker job descriptions and hiring practices to encourage students who may not be studying in traditional IT-related disciplines to consider applying.
Due to the insular, decentralized IT approach that existed before I arrived at the university in the summer of 2017, there was little collaboration between IT staff and other departments. We now have a monthly lunch meeting with the entire IT organization where we invite leaders from other university departments to speak to help us understand what they do and how IT Services makes it possible for them to do their work. Including differing perspectives from across the university has raised awareness of the importance of the partnership between IT and the university community and helps both sides—IT and non-IT—appreciate what each brings to the success of our students and faculty. These meetings have also bridged the divide that previously existed across the various decentralized IT groups; they now have a regular, food-based way to get to know each other as individuals and colleagues. There's nothing quite like having a meal together to help people get to know one another!
Many people tend to hear the words diversity, inclusion, and equity in a way that makes them think of race, gender, and other HR-protected classifications. My hope is to help people understand the value of different perspectives and how diversity is manifested in many ways that are informed by "non-traditional" classifications such as social class, age, upbringing, geographic region, religious background, and military service.
On a personal note, I have a hearing impairment from a childhood illness, and I wear a hearing aid. I was very intentional about letting my staff members know how to help me be successful in situations where I have a hard time hearing. Other staff members have thanked me for being open about my situation, as it has made them feel more comfortable asking for the help they need. I am fond of telling my staff that we are all "temporarily able-bodied," and at one time or another we will all need some kind of help. By bringing visibility to these issues, I believe we are helping each other to be more inclusive.
Initiating Digital Transformation
What initiatives are underway at your institution that are leading to Dx?
Peggy Kay: A significant amount of the Dx work at Pacific has been centered on student engagement and learning through major collaborative services led by our library leadership team and in partnership with our Center for Teaching and Learning and our technology division. Pacific's focus has been centered on enhancing personalized learning in five areas: utilizing OERs, developing learning analytics, improving digital information literacy, promoting universal design for learning, and promoting collaborative learning. University Libraries also launched the Innovative Projects (IP) Studio to work directly with faculty to integrate digital pedagogy into course activities and student projects.
Debbie Carraway: Dx is changing the services we provide and the ways we deliver them. Some key areas at this time are incorporating 3D modeling, mobile computing, and VR/AR in teaching and research. For example, some of our faculty print 3D models of dinosaurs and reconstruct the dinosaurs' soft tissue to learn what sounds they may have made; others have developed software to model molecules in 3D as well as in VR/AR.1
In addition, cloud services are increasingly a part of our IT units' solution set, and infrastructure as a service is transforming our approach to designing compute and storage architectures. Our College of Veterinary Medicine and College of Agriculture & Life Sciences both support researchers running high performance computing workloads in Amazon Web Services (AWS). The Office of Information Technology and College of Engineering are exploring large data storage models that include AWS. All of this influences our networking architectures as well.
Sherri Yerk-Zwickl: When I arrived at Campbell University in July of 2017, the IT function was very decentralized, with many schools, colleges, and campuses having their own IT staff and a variety of systems being run independently and with little coordination. The senior leadership recognized that this approach was both inefficient and ineffective, as support needs were not being met and regular outages had a significant negative impact on teaching, learning, and administrative activities.
Through the development and implementation of our IT Strategic Plan, we have identified the organizational changes necessary to improve the effectiveness of our IT organization and functions. This effort has centralized the majority of IT functions in the new IT Services organization. This alignment of staff and functional responsibilities was required to establish a strong foundation on which to build other initiatives that will make possible future Dx efforts.
Aligning Dx and DEI
What suggestions do you have for aligning the two areas so that Dx efforts include a DEI element?
Peggy Kay: We need a strong, shared mission and vision to integrate the institution's core strategic success factors with Dx and DEI outcomes. This shared vision and strategy allows us to define and communicate goals, set objectives, and provide a roadmap to achieve targets. It establishes the collaborative paradigm we need to succeed. We need to start by understanding our current situation, where we want to be and how we will get there, and how we will measure whether we've succeeded.
Looking at Dx as a combination of people, processes, and tools, we should lead our Dx work with design-thinking practices that place our people—that is, our students, faculty, and staff—and their experiences and viewpoints at the core of our plan to create experiences that level the playing field for everyone. This will require a new mindset by many institutional employees—especially those in technology—who are more closely aligned with their departmental processes than with their students and customers. Having a good understanding of our current institutional culture will help in developing the organizational change plan needed to ensure that values, skills, training, and communication align our mindset to the vision and work to be performed. When we sincerely evaluate the experiences of our constituents and improve upon them, we will have DEI leading our digital roadmap.
Debbie Carraway: The best way to ensure DEI is to practice DEI; it cannot be added as an independent element to an initiative. When DEI is a standalone consideration, we've missed the point of inclusion. Successfully including DEI considerations in transformative projects means not only having compliance checklists, policies, and documented guiding principles, but also developing a culture in which DEI is so thoroughly incorporated into people's thinking that staff identify potential problem areas and new opportunities reflexively.
IT governance can be used to give a voice to people with a wide variety of perspectives. It requires intentionality in recruiting and retaining participants, as well as deliberate care by IT leadership to hear and respond positively to different or even disruptive ideas. There is no substitute for open conversations and listening. Student and faculty groups are often delighted to have the opportunity to address campus leaders and governance groups about issues that matter to them. IT needs to hear about nontechnical issues. It's our responsibility to understand the issues facing our diverse community and then combine that knowledge with our IT expertise to solve problems in ways that promote equity and inclusion.
Sherri Yerk-Zwickl: I believe that DEI can and should be a part of our everyday activities and ways of thinking about the work we do. While developing a DEI mindset takes thought and practice, we should not wait for a special project, committee, or initiative with which to align DEI practices. Every day we can be thoughtful about how, when, and where we can be inclusive, embrace diversity, and improve equity.
Note
Laura Geggel, "'Jurassic World' Guesses on Dinosaur Sounds, Experts Say," Live Science (website), December 29, 2014; "Research," Zanno Lab (website), 2019; Tracey Peake, "Building 3-D Models of Molecules With RealityConvert," NC State University College of Sciences News (website), December 11, 2017. ↩
---
Debbie Carraway is Director of IT, Colleges of Sciences, at North Carolina State University.
Peggy Kay is Assistant Vice President, Technology Customer Experience, at University of the Pacific.
Sherri Yerk-Zwickl is Associate Vice President and Chief Information Officer at Campbell University.