To continue to be relevant and contribute to the economic growth of millions of Americans, US higher education must evolve and serve the needs of students and the employers that seek to hire them.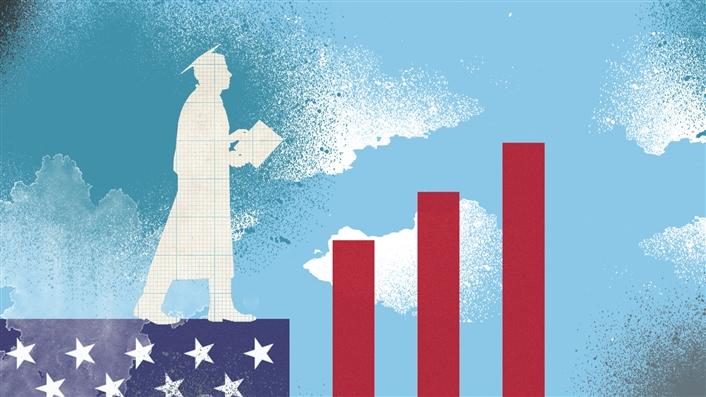 Is higher education worth the investment? Many Americans no longer think so.
A national survey from NBC News and The Wall Street Journal in August 2017 found that 47 percent of Americans think a four-year degree is not worth the cost "because people often graduate without specific job skills and with a large amount of debt to pay off." There are also millions of students who don't complete their certificates or degrees (nearly half of those who start don't finish within six years). As a proud American, I'm sad to hear so many of us have lost faith in our higher education system, especially when we know that by 2020, 65 percent of all US jobs will require postsecondary education.1
But there's another critical side to this equation: corporate leaders regularly and openly share that their college-graduate employees don't have the skills needed for workplace success. In our rapidly evolving, technology-driven world, employers expect and need employees to be "plug and play." Instead, according to employers, recent graduates don't have sufficient critical-thinking, communication, and decision-making skills. Nor do they have a working understanding of how their new knowledge can be utilized to be effective in their new roles.2
That's a three-way disconnect between students, educators, and business leaders—and a big problem for our nation. The question is: How do we fix it?
This crisis didn't happen overnight. The economy and workplaces have shifted radically, yet US higher education looks largely the same as it did fifty years ago. Most colleges and universities were built for students who are 18 to 24 years old, who live on campus, and who attend full-time, directly out of high school, with school attendance being their primary focus.
But today's student is much more likely to be older, to have attended some college already, and to be completing coursework while also working full-time and raising a family. Traditional models of higher education don't work for these modern students. If we are serious about closing the education gap in the United States, we need to make higher education accessible to this new majority, especially to adult students who are often the first in their families to attend college and who don't have the luxury of forgoing work for school.
Solving this problem matters for students, of course, but it also matters for the nation. The economy needs more workers with postsecondary credentials to fill current and future jobs that will enable the United States to be competitive in the global marketplace.
A new model for higher education can address these challenges by addressing four key factors:
Respond to students' needs with innovative products and services. Today's education consumers expect choice, transparency, service, and value. Providers need to meet the needs and expectations of students while offering multiple options toward educational attainment. Higher education could learn from the approaches taken by innovators such as Southwest Airlines and Amazon, companies that succeeded by responding to consumers' needs with transformational approaches.
Make higher education affordable. Lack of time and/or money is the top reason students disengage from higher education. We must find ways to contain costs if we expect students, especially low-income students, to succeed. Many approaches to helping students shorten their time to a certificate or degree can also help lower costs: transparent transfer-credit policies, credits for demonstrated competencies learned in the workplace or military, alternative credentials, and massive open online courses (MOOCs). We need to keep experimenting with these types of nontraditional approaches.
Build stronger bridges to the workplace. Higher education that's designed to lead directly to work in growing industries brings tangible value to students. When I started in higher education, everyone agreed that course content needed to be changed every five years to stay relevant. The impact of globalization and technology has accelerated that timeline. To keep pace with the changing economy, course updates should now occur every twelve to twenty-four months.
Transparently collect and report data that measures real-world outcomes. Academic institutions typically measure their success against one another. But if everyone is equally unsuccessful, we're in a race to the bottom. Institutions need to hold themselves to higher standards and create independent benchmarks of student learning in critical-thinking, writing, and real-world outcomes (e.g., alumni salary measurements) that capture return on investment. And colleges and universities need to make this data readily available so that potential students can effectively evaluate institutions and make an informed choice.
At a time of massive global change, higher education must evolve in order to continue to be relevant and to serve the needs of students and the companies that seek to hire them. The economic security of millions of Americans and the future of US competitiveness in the global marketplace are at stake.
Notes
Carrie Dann, "Americans Split on Whether 4-Year College Degree Is Worth the Cost," NBC News, September 6, 2017; Elizabeth Chuck, "Just Over Half of All College Students Actually Graduate, Report Finds," NBC News, November 18, 2015; Anthony P. Carnevale, Nicole Smith, and Jeff Strohl, Recovery: Job Growth and Education Requirements through 2020, executive summary (Washington, DC: Georgetown Public Policy Institute, Center on Education and the Workforce, 2013), p. 1. ↩
Hart Research Associates, Falling Short? College Learning and Career Success (Washington, DC: Association of American Colleges and Universities, January 20, 2015). ↩
---
Becky Takeda-Tinker is President and CEO of Colorado State University–Global Campus and the author of Impacting the Future of Higher Education: Insight into a New Model That Works for Students, Academic Institutions and America.
© 2018 Becky Takeda-Tinker. This work is licensed under the CC BY-ND 4.0.
EDUCAUSE Review 53, no. 3 (May/June 2018)