How do we in higher education help students prepare for the future by becoming not only problem solvers but also problem creators?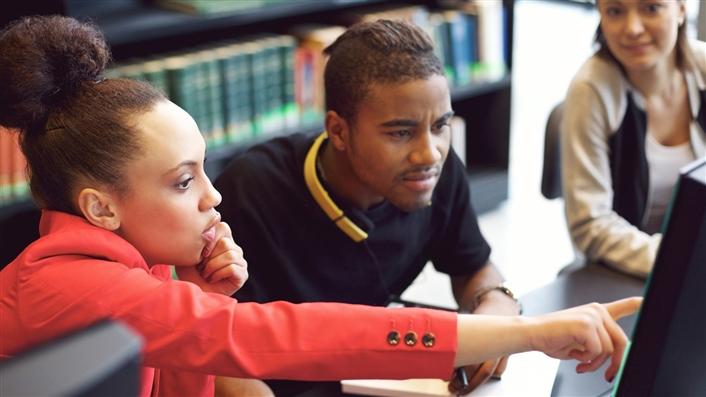 The 2017 report The Next Era of Human/Machine Partnerships states that 85 percent of the jobs that will be available in 2030 haven't even been invented yet.1 These types of predictive hypotheses often cause me to do a reality check. As I took time to reflect on the fact that 2030 is (incredibly) only 12 years away, I tried to think about the jobs that had not been invented 12 to 15 years ago. Did any child in 2003 say they wanted to be an offshore wind engineer, a drone operator, a data scientist, or a Lyft driver? These jobs are all new in the last 15 years. These careers exist because a person, or often a team of people, created big, bold problems for us to solve. So how do we in higher education help students prepare for this future, help them become not only problem solvers but also problem creators?
One way to provide students with a breadth and depth of skills to become big, bold problem inventors is by offering a diverse set of opportunities to master digital fluency. Digital fluency is the ability to leverage technology to create new knowledge, new challenges, and new problems and to complement these with critical thinking, complex problem solving, and social intelligence to solve the new challenges. Digital fluency also requires excellent communication skills, new media literacy, and cognitive load management to address the issues, and concerns we face today and in the future.
Jennifer Sparrow:
Creating Problems to Drive Solutions
How is digital fluency different from digital literacy? In learning a foreign language, a literate person can read, speak, and listen for understanding in the new language. A fluent person can create something in the language: a story, a poem, a play, or a conversation. Similarly, digital literacy is an understanding of how to use the tools; digital fluency is the ability to create something new with those tools. Digital fluency can be viewed as an evolving collection of fluencies including, but not limited to, curiosity fluency, communication fluency, creation fluency, data fluency, and innovation fluency.
Curiosity fluency involves having questions and a desire to answer those questions. It prepares students not to just Google an answer but to be aware they are capable of developing their own answers to questions. Opportunities for developing curiosity fluency include providing students with practice and deep immersion in design thinking throughout their education and with an unbound, rules-free environment to think differently about the challenges we face in the 21st century.
Communication fluency is the ability to communicate new knowledge across diverse populations and to choose a medium that is appropriate and most impactful for a given audience. Digital storytelling is one means of communicating new research findings. Additionally, students can use virtual reality and augmented reality. Using VR or AR to tell a story, learners need to understand not only how the technology works but also the impact on the reader and the fact that this medium can change how a story might be told.
Creation fluency, or maker fluency, is a deep understanding of how to create and leverage knowledge to make something new. These creations can by physical or virtual and can include 3D printing and programming. In higher education, we are widely implementing maker spaces, which lower the barrier of entry to creation fluency. These spaces provide access to tools and expertise to allow learners to be inventors. By including programming fluency in creation fluency, we can help students learn how to create in the app economy.
Data fluency is the capacity to use data sets to make informed decisions, along with the knowledge to push the boundaries of what the technology can do to process the data to ask new questions. If learners have access to cloud computing resources, data science knowledge, and big data sets, the types of questions they will ask will be bound only by their imaginations.
Innovation fluency includes the realization that failure is a valuable part of the learning process. To innovate, students need to take risks, fail, learn from those failures, and iterate the process to bring a new idea to fruition. For many years, educators have utilized metacognition in the learning process: learning how someone learns and reflecting on that learning are key to applying what was learned to new situations.
In higher education, students are supported as they learn to master these fluencies. We are offering learners the chance to push the boundaries, test new ideas, fail in a safe environment, learn from experts, solve problems, and create new problems to be solved. In the process of acquiring these fluencies, learners should have in-depth opportunities to explore ethical decision-making, critical thinking, courageous leadership, and cultural awareness. Learners should be prepared not only to take on the jobs of the future but also to be entrepreneurs, activists, researchers, and lifelong learners. Our call in higher education should be to help students learn to address the challenges not just of this century but of the 22nd century. We need to be looking to the horizon and evolving curricular and co-curricular learning engagements to provide students with the time to learn, practice, and master digital fluency so that they can invent the big, bold problems of the future.
Note
Institute for the Future and Dell Technologies, The Next Era of Human/Machine Partnerships: Emerging Technologies' Impact on Society and Work in 2030, July 12, 2017. ↩
---
Jennifer Sparrow is Senior Director of Teaching and Learning with Technology at The Pennsylvania State University. She is the 2018 editor of the New Horizons column for EDUCAUSE Review.