Key Takeaways
This case study provides an inside look at how Fresno State designed, built, and managed a student support desk for tablet-based learning during its pilot year.
Peer-to-peer learning helped make tablet adoption less intimidating for students transitioning from traditional methods of learning.
On-demand support in class, at the hub, and online led to new ways of collaborating with students and instructors, increased confidence in tablet use for coursework, and yielded a high level of satisfaction with the quality of support received.
The DISCOVERe Hub also provides support for staff and community members by offering digital literacy workshops and professional development opportunities.
Christopher Vieira, DISCOVERe Hub Manager, Fresno State University
In January 2014, Fresno State President Joseph I. Castro announced the creation of the new DISCOVERe Tablet Program as part of his focus on increasing student success. At his Spring Address to faculty and staff, he outlined a plan to put tablets at the forefront of learning by stating, "We'll launch the Fresno State tablet program in the fall, in August, and today I will invest in our first 40 faculty members who will be our pioneers in that program." Faculty members from eight departments across campus who received iPads as part of the new program worked collaboratively over the summer to create ways to incorporate these devices into classrooms. By doing so, platform-agnostic DISCOVERe courses promised to become more engaging and relevant to students preparing to enter the 21st century workforce.
Faculty learned how to incorporate tablets into their curriculum, and students could use various operating systems, such as Windows, Android, and iOS. This challenge required all apps used in class to be cross-platform. With the intensive professional development provided for faculty in the program and an overhaul of the campus wireless network, one challenge remained: providing support and training to students, many of whom had not owned a tablet before. To address this issue, the DISCOVERe Hub was created — a support desk for training and support for students using mobile devices.
Designing, Building, and Managing the DISCOVERe Hub
Construction of the DISCOVERe Hub took place during the summer to minimize distractions and affect the fewest students possible, starting July 1, 2014, and finishing August 18, 2014. The hub would serve as the one-stop shop for all tablet support on campus and was advertised as the location for students in the DISCOVERe Tablet Program to acquire technical support and training. It needed a high-traffic location on campus to be easily noticed and accessed; therefore, it was placed directly inside the entrance of the Henry Madden Library, the most popular location on campus (figure 1).

Figure 1. DISCOVERe Hub in the Henry Madden Library at Fresno State
Constructed in the shape of a paw print, the hub calls to mind the Fresno State Bulldog mascot. The design helped differentiate the DISCOVERe Hub from other support desks on campus. The "pad" of the paw served as the high-top bar where students and staff would receive trainings, while the "claws" of the paw served as group study tables for students working on projects. The lower tables also provided chairs with caster wheels to provide accessibility for students with disabilities. The tables and the high-top bar have a 32-inch LCD screen with individual Apple TVs and HDMI inserts to allow mirroring of mobile devices. The hub support staff use all screens simultaneously when conducting larger trainings, while small groups use individual screens for projects and smaller trainings.
The tables, aptly named "smart tables," provide mobile screen casting and charging support. They include custom power/USB ports and monitor grommets with arms for extending and moving screens. Flip-up grommets with three electric outlets and two USB ports in the high-top bar allow for extended visits if students need power while working on longer projects. Monitors on each smart table can be extended and turned, which aids group presentations to visually impaired students who need a closer view of the screens. Also, since tablets have small screens, it is convenient to mirror devices on a larger display. See figure 2.
Figure 2. DISCOVERe Hub "smart tables"
The hub's open hours reflect the library's extended hours, meant to assist students with varying schedules. Two "guides" staff the hub. One guide serves as support for students, while the other serves as a "lead guide" to ensure proper maintenance of hub devices (charging, inventory, check-in/out) and to run all trainings/workshops at the hub. The hub manager ensures all guides perform their duties effectively and efficiently, such as hosting trainings, deploying devices to students, maintaining regular seminars on tablet use in school and work settings, and providing in-class and virtual support.
Marketing the DISCOVERe Hub
The University Communications Department created a promotional video of the DISCOVERe Hub focused on the peer-to-peer learning and student experience. This helped answer the questions about the hub and how it could help students. While at the hub, guides also passed out flyers detailing the services offered and hours of operation.
Directional signage placed around campus ensured students could locate the hub. Each faculty member participating in the DISCOVERe program was encouraged to inform students about the hub when they needed support. Flyers were placed in DISCOVERe classrooms as well as in the main offices for each department.
A social media strategy was created to appeal to students who prefer digital means of communication (figure 3). Facebook, Twitter, Instagram, and BlogSpot accounts were created to advertise events and services and create awareness of common troubleshooting issues frequently handled at the hub. Contests for free charging cables and styli were held to encourage students to visit the hub and learn more about our services or attend workshops.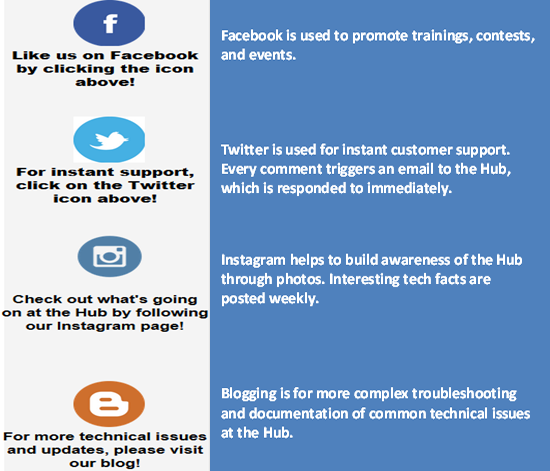 Figure 3. Social media strategy for the DISCOVERe Hub
To create awareness among the staff on campus, "App of the Day" trainings were created and marketed through Fresno State's Learning and Wellness Center as opportunities for professional development. This helped make the hub relevant not only to students in the DISCOVERe Program, but for all Fresno State employees interested in increasing their tablet knowledge and skills. A training calendar on the DISCOVERe Hub webpage allows patrons to sign up for a slot ahead of time (figure 4). Using a Google calendar, staff and students could simply click on the training and add it to their personal calendars.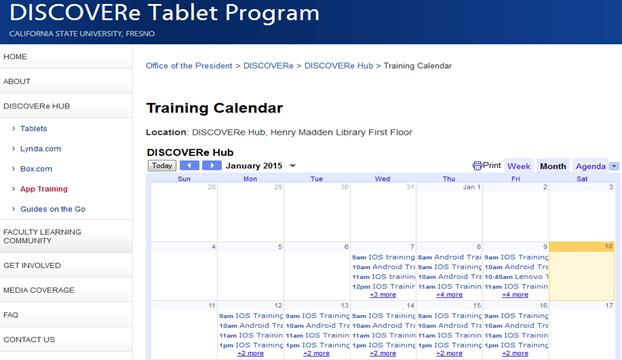 Figure 4. Calendar of app and operating system training
We learned quickly that students wanted more than basic app training. As attendance for workshops began to decline midway through the semester, guides began asking students what type of topics they wanted to see taught at the hub. The students agreed they needed more in-depth training on programs and software they would use in their chosen careers.
Consequently, the hub hosted trainings on Adobe Creative Suite software, Final Cut Pro, LogicPro, Solidworks, AutoCAD, SPSS, Excel, and Google Analytics. Students with relevant expertise hosted these programs, which allowed grad students to assist undergrads in becoming more proficient in the programs related most closely with their careers. This allowed the hub to grow beyond training on just apps to training on complex technical skills valued in the workforce.
Attendance for these trainings (figure 5) increased significantly in comparison to the trainings that only focused on apps and tablet usage. This experiment helped the hub transition from a narrow view of technology skills to a broader, more relevant, and student-focused perspective.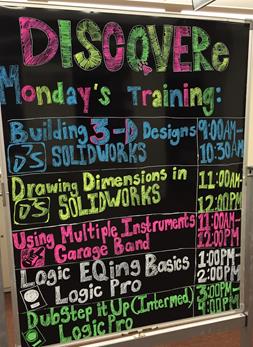 Figure 5. Mobile blackboard with daily
software trainings
Guides: At the Hub, On the Go, and Virtually
Created before the program's launch, the DISCOVERe Guide Summer Institute prepared the hub's staff of 20 student assistants for the Tablet Program's debut, giving them over 100 hours of training with tablets as part of an intensive learning experience. This included other components such as role-playing with tablets in classroom-like scenarios that required guides to work on sample course work projects to become more familiar with tablet use for learning. Guides also role-played through customer service scenarios ranging from customers with low- to high-level knowledge of tablets. All members of the institute gave feedback to each guide after each scenario to improve overall customer service skills and solution-based responses.
The institute also focused on diversity awareness training to create a culture of equity and inclusion for all stakeholders, regardless of age, culture, gender, or disability. Accessibility training was a component of this, and guides received hands-on experience using tablets for visually and hearing impaired patrons.
For the first two weeks of the fall 2014 semester, "Guides-on-the-Go" were sent to each DISCOVERe course to provide in-class support to students and faculty. Issues with tablet use and connectivity were resolved quickly by the guides, who had been trained on all possible troubleshooting issues that might arise in the class.
Peer-Assisted Learning
Students participating in the DISCOVERe Program received grants to help reduce the cost of their devices. A condition of receiving this discounted device was to attend a one-hour mandatory training on how to use tablets during class. This training included best practices for collaborating with other students in groups, storing and organizing coursework, creating content, and communicating with instructors.
The zone of proximal development concept describes social interaction as a facilitator of learning, thus becoming the foundation of our workshops.1 The hub implemented the peer-assisted learning model (PAL), which helps increase engagement with the learning process, self-confidence, and the ability to learn content independently.2 Through small group trainings, students and guides worked together to build stronger technical skills. This model continued throughout the year as students returned to the hub for technical support.
After spending the first two weeks of the semester giving in-class support, the guides provided workshops every day at various hours to accommodate different schedules (figure 6). During the workshops, a new app or software was showcased, and students and staff were invited to participate. Some apps and software focused on productivity and others on content creation.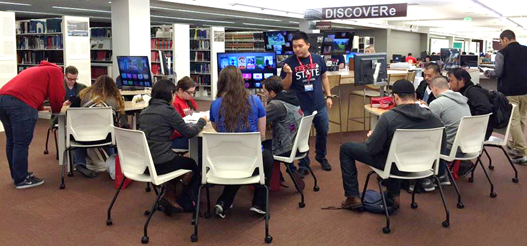 Figure 6. Peer-assisted learning at the hub
Supporting the Community
To affect the surrounding community in a positive way, the DISCOVERe Hub (in collaboration with the Osher Lifelong Learning Institute) currently hosts trainings for older adults and retired veterans who would like to increase their basic digital literacy skills. These workshops focus on tasks such as using a tablet for the first time, sending an e-mail, using video conferencing apps like FaceTime and Skype, and sharing photos. By offering this service to the surrounding community, the hub will expand the DISCOVERe Program far beyond the scope of the student and staff experience. This will allow the hub to pursue its mission of creating a tech-savvy community to improve the lives of all who live in the Central Valley of California.
Cost, ROI, and Results
The cost for a new physical location with accessible tables, power/USB ports, chairs, and monitor arms can range from $15,000–$25,000 depending on how many tables, outlets, and USB ports your student population needs. Consider building a support desk in an area with easy access to electricity, since core drilling for electrical wiring can drive the cost of your project up substantially. Staffing is another key expense. Student assistants who manage the hub are paid $9–$10.50 per hour depending on skill set and responsibility (some students are assigned lead positions to manage inventory and other higher level tasks). The hub is open most days and nights, which requires considering the cost of maintaining support for long hours. The division of Administrative Services supported the initial construction, while the DISCOVERe Program maintains the staffing and operations. The hub reports to Technology Innovations for Learning and Teaching (TILT), which is a department in Academic Affairs. The hub's long-term goal is to provide students with training and support for the use of technology and mobile devices within an academic setting.
Over 2,000 patrons visited the hub during the 2014–15 academic year, with 70 percent students and 30 percent staff and faculty. Initial data from the Fresno State Office of Institutional Effectiveness indicates that over 90 percent of faculty and over 80 percent of students were satisfied with the Tablet Program. DISCOVERe students saved 55 percent more on expenses than those in traditional classes. At the end of the year, 128 students received a 5-point Likert scale survey (1 = Very Dissatisfied to 5 = Very Satisfied) about their perceptions of the hub. A 4.16 mean was reported for the question, "How satisfied were you with the quality of the help you received?" Many of the open-ended responses requesting feedback were positive, with one student stating, "Everything is great with the hub! I love it! The staff are really helpful, enthusiastic, and really make me feel comfortable." Several students suggested having more guides present at the hub and in their classes.
Early ROI data indicates that students, staff, and the community consider the hub a benefit. When considering designing a similar system, find areas on your campus that can be transformed into a hub instead of building one from scratch. As the hub expands for next semester, we partnered with the Kremen School of Education to use their current tech support desk as a "satellite hub" where our guides can provide assistance on the other side of campus without incurring the cost of a new support desk. This model can work for campuses with limited space and/or resources.
Recommendations
For institutions considering developing a tablet program, high-quality support is one crucial aspect to take into account. Creating a support desk like the DISCOVERe Hub is one way to provide support for learning how to use tablets for educational purposes. When designing a tablet support desk at your institution, consider the following:
Build your support desk in a high-volume area of campus.
Design your desk in a way that increases brand awareness of your campus.
Include technology and structures that support accessibility.
Promote services through video, websites, and social media.
Provide support virtually for those unable to visit your desk.
Expand services to include the entire campus and surrounding community.
Gather feedback from customers to improve services.
Use peer learning to maximize a positive learning environment.
Employers continue looking for a tech-proficient workforce, hence the imperative need to produce a student population with these skills. Using the Fresno State model for designing, building, and managing this level of support is one way colleges can address this need.
Notes
Lev S. Vygotsky, Mind in Society: The Development of Higher Psychological Processes (Cambridge, MA: Harvard University Press, 1978).
David R. Arendale and Amanda R. Hane, "Holistic Growth of College Peer Study Group Participants: Prompting Academic and Personal Development," Research & Teaching In Developmental Education, Vol. 31, No. 1 (Fall 2014): 7–29.