Key Takeaways
The University of Florida Information Technology division established a communications group to create awareness of the services and value provided to the university.
Its communication challenges included distinguishing between the services UFIT did (and did not) provide, and competing in a crowded communications landscape operating largely outside the division's control.
After surveying successful programs and existing communication channels, UFIT engaged in specific efforts, including developing its own news site, campus placement strategy for news items about services and projects, a social media plan, and a photo library.
Tracy Gale, Communications Manager, Information Technology Division, University of Florida
In 2012, the University of Florida Information Technology (UFIT) division had a clear mandate: to create awareness of the IT services and value we provide across the university. At that time, UF had 50,000 students, 3,100 faculty, and 10,000 staff on multiple campuses in more than 900 buildings. And, as the state's flagship land-grant university, UF has long had a physical presence in all of Florida's 67 counties. Create awareness? Easy peasy!
Our mandate was a terrific challenge in many ways. First off, IT was realigned into a new administrative division recently formed from six IT departments from around UF. We also had to find a way to free up work cycles, not just for me — UFIT's communications manager — but also for staff in each department so that we could generate information about work from across the division. Elias Eldayrie, UF's vice president and CIO, elaborates on the nature of that information:

"Awareness efforts focus on how IT supports the educational and research goals of the University of Florida. Where possible, we underscore that message with how we innovate, how we improve efficiencies, and how we are being good stewards of the money the university has entrusted in our care."
—Elias Eldayrie
After considering the UF landscape, we identified two primary hurdles to communicating about IT's value:
The UFIT division provides the enterprise-wide "core" IT services for UF, but we do not provide the localized support for the Health Science Center/medical campus, UF's 16 colleges, UF libraries, or highly visible units such as athletics and the University of Florida Foundation provided. Thus, many people were unclear about who was responsible for which level of IT service provided at UF.
The online, print, and visual communications channels that reach our primary campus audiences are not owned or managed by UFIT, and the competition for message space was vigorous.
So, we had to explain who we were — and who we weren't — using communications channels that historically had not included much (if any) technology-based information.
Setting Up Shop: 2012
The first order of business was to actually define the IT Communications (IT-Comm) unit. I report to Fedro Zazueta, UF's associate CIO and director of Academic Technology. Among the many responsibilities he has, Zazueta serves as our chief communications officer and oversees all UFIT engagement. I joined UF in 2008 as a senior information specialist in the Enterprise Systems unit (the department providing UF's ERP services). In 2011, I moved to UFIT's Office of Academic Technology. After working on UFIT's first strategic plan publication with him, Zazueta asked me to help launch an IT-Comm unit.
To that end, my first activity was to survey the IT communications landscape at both the top-10 public universities nationally and at other state universities in Florida. Few communications units were fully embedded within IT back in 2012. (I'm happy to report that, as of fall 2014, a healthy number of IT communications units exist in both public and private institutions.) The first baseline we created was "who does what" on behalf of IT at their institutions. Through many phone meetings and email conversations, I learned that the emerging field of higher ed IT communications seemed to be staffed by technical writers and webmaster personnel from the help desk, or by faculty members or employees of the university relations division who had a .50 or a .25 effort distribution. Where staff members were pulled from or which jobs they excelled in seemed to dictate the role of a given IT communications unit.
The next target baseline was to inventory three groups of communications channels:
UFIT-owned and -managed communications channels: What did we have — and what did we need to create and manage — to extend the reach of our messaging?
UF campus communications channels: Who manages the communications outlets serving our stakeholders? What are their requirements to accept IT-based content?
External communications channels: What technical journals, print and social media outlets, and professional associations and periodicals should we be approaching to share our project "best practices" and subject matter expertise?
Having completed these inventories, we engaged in five specific efforts to increase the awareness of IT services and expand the IT conversation at UF:
UFIT News. UFIT News stories focus on our services, projects, and outreach and engagement events. The site is organized around UFIT's governance areas and serves as the "parking spot" for most of the targeted submissions we send out each month (discussed in more detail later).
Social media plan. In 2012 we rolled out UFIT's Facebook page, followed by UFIT's YouTube and Twitter sites.
We identified standards for posting information and submissions guidelines and shared them with our units. In 2014 we added Instagram to our communications channels.
UFIT brand website. The site, which states who we are and what we stand for, serves as the standard for all core IT unit staff when developing presentations, drafting news items, and engaging with campus.
UFIT event definition. UFIT's six original departments had different perspectives, budgets, and ideas about what and when to invest in an event. Developing a centralized unit gave us clear standards about which events UFIT should pay for and organize to maximize the "value for money" outlay. We also established post-event reporting requirements so that we can capture the activities' total cost of ownership.
Photo library. This might seem like a "so what?" action item, but have you asked your university photographer or media relations office for technology-based photos lately? Odds are they won't have them. UFIT's social media style guide — developed after significant practical experience, along with watching webinars and reading the literature — made it clear that, to stand out in the sea of Facebook posts and Twitter tweets on the typical student's 200+ daily feed, you need photos. Lots of photos. Couple that with images needed for PowerPoints, multiple websites, the residence halls Jumbotron screens, and… did I mention we use a lot of photos?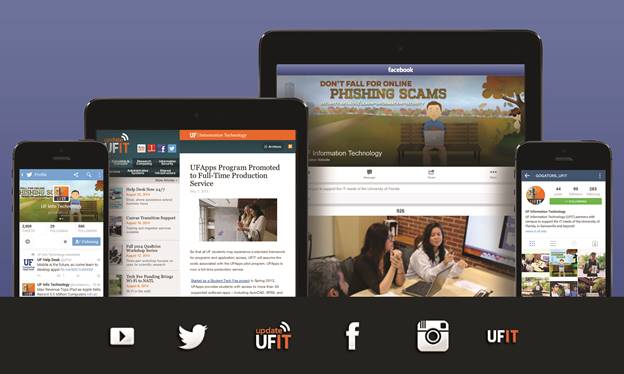 In spring 2012 the IT Comm staff consisted of two people: me and a 35-hour per week non-benefitted employee (a recent graduate who had worked for us as a student assistant). As of fall 2014, our staff consists of two full-time staff and two student employees who work a total of 20 hours a week combined.
Making Inroads: 2013
Our first year produced an impressive number of on-campus placements, including publications, events, and campus news items. But… so what? Could we correlate awareness of phishing scam dangers with an e-card created and distributed by IT Comm? No. Was it singularly impressive to say, "We got X number of news items placed in the weekly student e-newsletter?" No.
There we were, trying to communicate IT services' value at UF, yet we couldn't say whether we were actually adding value. So, we looked for ways to evaluate the success of our targeted baseline activities and began reporting monthly on IT Comm activities.
The IT Comm monthly report has gone through several iterations since that first May 2012 report. Back then, the report was a single page and listed all placements achieved. Again… so what? Our associate CIO is much more interested in the quality of engagement and expanding the conversation with our campus stakeholders than in simply showing how busy we are. He knows how busy we are.
By mid-2013 we were incorporating the number of UFIT News story shares, time spent on the UFIT News site, and tidbits such as which stories embedded in which campus channel had the most impact and drew the most eyes. We also started including engagement percentages for our social media accounts. (Brag time: we've maintained a double-digit engagement percentage for our two primary social media channels — Twitter and Facebook — for eight of the last 10 months.)
UFIT News: Our Information "Parking Spot"
The first communications channel we created, the UFIT News website, is optimized for both mobile and desktop viewers. When Zazueta first explained his goals for the site, he said he wanted high-level content (not just language for IT people) and stories that could be read by someone walking from McCarty Hall to the Subway sandwich shop for lunch; for those unfamiliar with the UF campus, McCarty Hall is very close to Subway. Zazueta's point was clear: our readers shouldn't have to do a lot of scrolling to get basic information, and the language used must be accessible for everyone.
UFIT News content focuses on updates about services, new projects, and outreach and engagement events. Through monthly data collected since the site's January 2012 launch, we learned that optimal viewership occurs when we post eight to nine stories a month (one story every three to four days). Given the weekly deployment schedule of UF's major faculty, student, and staff publications, we opted to publish UFIT News on Tuesday and Friday most weeks. This gives each story its "day in the sun," keeping it atop the mobile view of UFIT News for multiple days and at strategic points relative to the deployment of other campus publications — the Gator Times (students), Faculty Update (faculty), FYI (research), the Post (medical faculty and staff), and Info Gator (monthly–all staff).
Who and How
When you are setting up an IT Comm function, it's important to ask two key questions: Who are you trying to inform? How should you try to reach them? These are the biggest hurdles to overcome when educating IT staff about maximizing the communications efforts' value.
For example, after UFIT News launched, a member of UFIT's leadership team said, "UFIT News should just be an RSS feed and it should be updated daily." So let's look at that perspective. At the time, there were about 1,000 staff members in IT-based payroll classifications, which is roughly 10 percent of UF staff. That leaves 9,000 staff members working in non-IT jobs but using IT services in their daily business processes.
The last thing we wanted to do was generate IT-based content that looked like — well, IT-based content. Program assistants and long-serving secretaries are not going to read tech-y, acronym-filled bursts of text formatted for a computer engineer's comfort zone. And RSS feeds are definitely not a comfort zone for people working in fields that don't use them to distribute information.
Our approach to communicating about IT is simple:
Ensure that the UF community doesn't need to search for helpful IT news; instead, we take our message to UF in formats and publications that are comfortable to each UF audience segment.
Once a story is published on UFIT News, we look for ways to further reach and engage the target constituents. Each story closes with contact information for a person, group, or project website so that readers have a place to go for additional information. The stories, once published, are also shared out via campus publications. Once we identify the outlets to submit a story to, we rewrite or condense the text for that target audience and embed a link to the original story to continually drive traffic back to the UFIT News site. For example, because 88 percent of UFIT's social media followers are 17 to 25 years of age (and I am not), our Facebook posts, Twitter tweets, and Instagram photo captions are written almost entirely by IT Comm's two student employees.
Message Repackaging Example
In June 2014 UFIT went live with the enhanced UF Directory, a new app on UF's home page. For each placement following the story's publication on UFIT News, we focused on an aspect of the upgraded service we thought would be most appealing to a particular constituent group. We promoted the new UF Directory in many different ways, including to
create an e-card image for use by online learning and the Innovation Academy (whose students are on campus only in spring and summer);
develop a slide image to show at the summer "Freshmen Preview" sessions and on the big monitor adjacent to the UF Computing Help Desk;
insert a link on the myUFL log-in page, which let UF community members already aware of the UF Directory try out the new and improved app before it went live on the UF home page;
contact the student-run independent newspaper's editor about the new directory's expanded faculty and post-doc listings (the editor subsequently ran a story about it);
write an article for the monthly all-staff publication that focused on the new UF Directory's less-cluttered interface;
send the information to the IT directors of UF's 16 colleges and the libraries, focusing on the enhanced usability and compatibility on a variety of mobile devices, as well as the additional search links in the new UF Directory app;
have one of our undergraduate student employees submit a story to the Gator Times e-Newsletter — sent weekly to all enrolled students — focusing on how the bulky, non-mobile interface has been replaced by a vastly improved experience for students; and
capture a series of screen shots and share them with social media accounts across campus.
IT @ UF: Two-Way Engagement
So, nearly three years after launch, where are we? For the three largest constituent groups we serve — the university's students, faculty, and staff — we've made solid strides in creating awareness of UFIT's breadth of services and how those groups can communicate with us to improve the campus IT environment.
Dan Cromer, director of IT for UF's Institute of Food and Agricultural Sciences (UF/IFAS), noted that, since Eldayrie started as CIO, he "has made communication within all of IT one of his highest priorities, with transparency in operations extremely important and transitioning from what had been over the years a very silo-based, compartmentalized situation to what is now a very collegial place to work in IT."
The activities and initiatives undertaken by UFIT's Communications group are part of a larger program of engagement initiated by Eldayrie, which include:
Informed, active governance committees providing recommendations to the CIO
Monthly meetings with campus (distributed IT) IT directors
Focus groups with faculty, staff, and students
Face-to-face presentations by the VP/CIO, associate CIO, and CISO held throughout the year at monthly deans' and administrative VP events
"Breakfast with the CIO" events with students, faculty, and core and distributed IT staff
Service satisfaction surveys (an annual campus-wide survey and UF Help Desk post-interaction surveys)
Post-UFIT event surveys for faculty and staff (we use the results to modify delivery and content at upcoming activities)
Annual retreats for distributed IT directors and UFIT management (the CIO's directors and their direct reports)
Fall IT Assembly and Spring State of UFIT meetings (both are large, open meetings)
"Ask the CIO" opportunities (online, in-person)
We also sponsor numerous discussion lists focusing on a specific university service (such as instructional design or web developers) or service family (system administrators).
In addition to our successes, we have identified many areas in which we can improve. We continually evaluate and refine UFIT's communications channels and processes, which means that the feedback we are getting — from post-event surveys, focus groups, UFIT staff, campus "distributed" IT, and the stakeholder comments on social media — aren't lost in the noise. Each day is an opportunity to improve our service delivery and support The Gator Nation. And in UFIT, delivery of impactful services doesn't just refer to technology services; it means excellent communications and engagement services as well.