Key Takeaways
A Stanford University team aims to discover, digitize, and make freely available historical documents and other materials concerning the contributions of Chinese workers in building the transcontinental railroad in the United States.
An oral history constructed from recorded interviews with descendants of the Chinese workers brings together in a digital archive the families' diverse memories of their forebears' experiences.
Visualizations and maps of the research findings will help communicate information not just to the research team members but also to the general public.
A digital archive will collect all the materials and resources gathered by the web of scholars collaborating on the project, with metadata and free access facilitating browsing and wide access.
Denise Khor is research director for the Chinese Railroad Workers in North America Project, Stanford University.
In April 2014 a team of Stanford University researchers traveled from Palo Alto to Sacramento to view and catalogue a large cache of payroll records from the Central Pacific Railroad Company. This team was part of Stanford's Chinese Railroad Workers in North America Project (CRRW Project), which launched in 2012 with support from the university's president and is led by Stanford professors Gordon Chang and Shelley Fisher Fishkin.
Housed at the California State Railroad Museum, the Central Pacific Railroad payrolls were delicate, their edges frayed, discolored, and on the verge of deterioration. Written in faint ink on each of the pages, however, was an invaluable accounting of the laborers who toiled on the transcontinental rail line, including hundreds of Chinese workers. We could see the number of days worked and the rate of pay. We could also see that the railroad company employed Chinese workers in diverse occupations, as laborers involved in the construction effort, yet also as cooks, blacksmiths, and "drifters." These records — a fragment of the historical archive — have just begun to fill the gaps in our knowledge. Members of our project have digitized the CPR payroll records (see figure 1) and will transfer these digital objects into an online multilingual digital repository to be housed at Stanford University Library. The project aims to make these important historical documents public and freely available.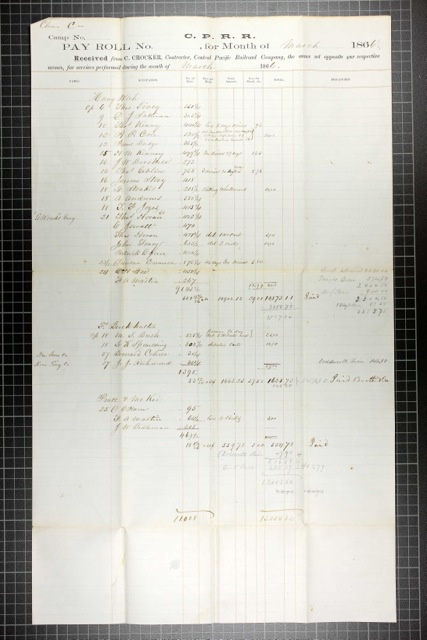 Courtesy of the California State Railroad Museum. Used with permission.
Figure 1. Central Pacific Railroad payroll records
Contributions of Chinese Railroad Workers
The CRRW Project aims to locate and study as much primary documentary material as possible from across the United States and China and to present new interpretations of the Chinese workers and their contribution to the completion of the transcontinental railroad. Although it is commonly understood that Chinese immigrants worked for the railroad, we know little beyond this symbolic recognition of their contributions. We have identified the names of only a few hundred of the estimated 12,000 Chinese workers and know even less of their lived experience. To date, no textual material generated by any Chinese railroad worker on the transcontinental line has been found, either in the United States or China. We do not have a single letter or memoir; we have nothing in their own words.
The project's goal is to address the historical lacunae by building the most comprehensive collection of historical research materials on the history of Chinese railroad workers in the United States. A team of researchers comprised of faculty and graduate and undergraduate students at Stanford University has begun to identify and digitize a wide range of primary sources (see figure 2).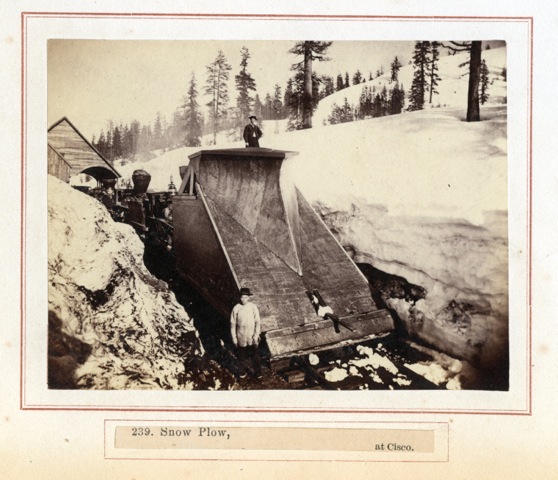 Courtesy of Alfred A. Hart Photograph Collection, Stanford University. Used with permission.
Figure 2. "Snow Plow, at Cisco" by Alfred Hart (from an album of his photos, 1866–1869)
Searching Libraries and Archives
We have uncovered thousands of historical documents in numerous archives and museums, including the California Railroad Museum in Sacramento, California; the Bancroft Library at the University of California, Berkeley; the Huntington Library in San Marino; the Leland Stanford papers in the Stanford Library (figure 3); the National Archives and Records Administration at the Western Regional Branch in San Bruno; and many local historical societies and libraries, such as the Truckee Historical Society. Our team continues to search small archives in towns in the Sierras and across the western United States, in Nevada, Utah, Montana, Idaho, and New Mexico. We are also working with Chinese scholars who have begun investigating local archives and working on local history in the Guangdong region (where the majority of the Chinese railroad workers came from) and elsewhere in China. In collaboration with scholars in China, we aim to locate as much Chinese-language material in public and private collections as possible. We are gathering valuable material from Chinese online sources, including digitized periodicals. Many of these materials — previously unavailable to most researchers in the United States and China — are providing new insights and perspectives on the social and political histories of the workers.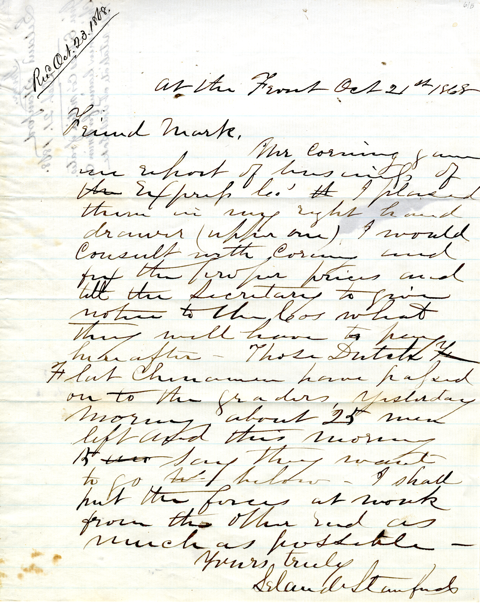 Courtesy of Leland Stanford Papers, Stanford University. Used with permission.
Figure 3. Leland Stanford letter to Mark Hopkins, 1868, referring to
"those Dutch Flat chinamen" in reference to "graders"
Recording Oral Histories
The CRRW Project uses oral histories to construct the collective memory of this distant experience. In collaboration with the Chinese Historical Society of America in San Francisco, we have begun to locate and record interviews with the living descendants of these railroad workers in the United States and China.
Interview by Connie Young Yu and Shelley Fisher Fishkin with Carolyn Kuhn, the great granddaughter of railroad contractor Chin Lin Sou, video-recorded by Barre Fong (36:12 minutes)
Connie Young Yu's great grandfather arrived in California in 1866 at the age of 19 and worked as a contract laborer for the Central Pacific Railroad. In her testimony, she notes how the role of the Chinese railroad workers were not only buried in U.S. history but also hidden by the Chinese communities themselves. When her great grandfather had to recount his work history to federal immigration authorities, he said he was a merchant because the 1882 exclusion act kept out laborers. Her great grandfather never told family members that he was a laborer on the railroads, which many considered a shameful job. Not until the passing of time did her family uncover the buried history of their great grandfather's work on the railroads. Yu contends that the lack of attention paid to these Chinese American pioneers is part of why she became an activist in 1969. Yu is also a member of Stanford's Chinese Railroad Workers in North America Project. "Being a descendant has given me a particular sensibility and pride," explains Yu, "and it is why I am an interviewer for the oral history part of the CRRW Project." Yu has conducted a number of the oral history interviews with other descendants.
These stories are a part of the collective memory of the history of Chinese railroad workers. The full video recordings of all collected interviews and a summary index will be included in the CRRW Digital Archive.
In addition to oral histories and historical research, the CRRW Project's Digital Archive will include archaeological materials and the research findings of our network of historical archeologists. The workers left thousands of objects and portions of objects uncovered over decades but as yet not systematically studied. Led by Stanford Professor Barbara Voss, the CRRW Project is now tapping this tremendous resource through collaborations with historical archaeologists.
We are also studying the work of the imagination to uncover the collective and popular memory of this important chapter in American history. Scholars working across disciplines in literary studies, film studies, cultural studies, and art history are identifying and analyzing the creative works that represent the history of Chinese railroad workers in North America.
Visualizing and Mapping Research Findings
In 2013 we began collaborating with Stanford's Center for Spatial and Textual Analysis (CESTA) in order to develop, enhance, and communicate research findings through visualizations, both internally among research team members and publicly to global audiences.
With the help of CESTA's Spatial History Project we are developing chronological maps of the construction of railroads that the Chinese helped build and maps showing sites identified as nineteenth-century Chinese labor camps along the railroad. Researchers are working on visualizations that will correlate geological and environmental data with geographic coordinates identified in our historical documents (figure 4). These visualizations will display weather conditions and the land elevation of specific regions along the construction path of the railroad line. The visualizations will also capture the movement of workers — as well as the explosions and accidents that left many maimed or dying. These visualizations will help us understand and appreciate the specific working conditions of railroad workers and the different conditions of labor in the Sierras during the brutal winter cold and in Utah in the blistering summer heat.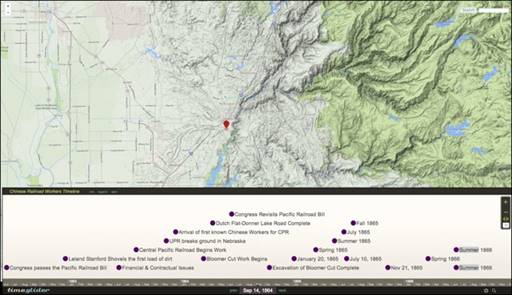 Courtesy of CESTA. Used with permission. Created by Krista Fryauff,
Spatial History Lab, Center for Spatial and Textual Analysis, Stanford.
Figure 4. Mock-up of visualization
Other visualizations include a platform that will associate our historical documents along temporal coordinates to aid in discoverability. CESTA is also helping us employ visualization tools such as GIS, Tableau, and CartoDB to produce interactive maps that will allow us to synthesize and reinterpret large caches of research data. We are experimenting with new ways to bring together our disparate collection of historical research materials and to use new digital resources to synthesize, aggregate, classify, and display our research. We expect that these tools will enhance our interpretation and analysis, and also help communicate research findings to the general public.
The Digital Archive
This vast array of historical research, archaeological materials, oral history interviews, and cultural productions will live in the CRRW Digital Archive. Academic technology specialists at Stanford have developed the infrastructure for digitizing and hosting this repository of materials, and we have established a system of metadata management of digital objects with the Stanford University Libraries and Information Resources (SUL). The system employs a version of Bibliopedia, a linked-data platform for scholarly citations that has been customized for the CRRW Project. The platform is used for creating browse-able and customizable bibliographies and clarifying links among sources to aid in discoverability. (Bibliopedia was originally developed at the University of Texas at Austin by Geraldine Heng, Jason Yandell, and Michael Widener with an internal grant from the Liberal Arts Instructional Technology Services and an NEH Digital Humanities Start-Up Grant.) Technical specialists from SUL customized a version of Bibilopedia for the project with metadata schema designed to accommodate information for cataloging and searching the archival materials we have collected.
The CRRW Digital Archive will be available by 2019, the 150th year anniversary of the last spike driven into the ground to complete the nation's first transcontinental railroad. We plan to complete our research, especially in China and in the scores of archives in towns and libraries throughout the American West, and to launch the digital archive that will make this research publicly available to all.
A Web of Scholars
While the project is centered at Stanford, with research being conducted by senior scholars and graduate and undergraduate students, more than one hundred other scholars and specialists in the United States, Canada, China, Taiwan, and Hong Kong are engaged in their own research and study of topics directly related to the overall project. They comprise the project's larger web of collaborating scholars.
In China, for example, Selia Tan of Wuyi University has been visiting the home villages of Chinese railroad workers and studying the architecture of these sites to reconstruct the living environments, customs and beliefs, and material resources they remitted. Yong Chen of UC Irvine has been studying the foodways of Chinese workers in the railroad camps, while Sue Fawn Chung of University of Nevada, Las Vegas, has been studying the history of Chinese railroad workers in Nevada and connections to the logging industry.
Broadly, the CRRW Project is a transnational collaboration that brings together a network of scholars working on both sides of the Pacific. We plan to hold major international conferences in the U.S. and China; widely publish new and groundbreaking scholarship; and make a significant impact on college-level and K–12 curriculum as well as public understanding. If you would like to learn more, visit ChineseRailroadWorkers.Stanford.edu. If you have a research lead to share, or have a suggestion regarding digital tools we should explore or potential sources of financial support we might approach, please contact us at ChineseRailroadWorkers(at)Stanford.edu.
Chinese Railroad Workers Project Team Leaders
Co-directors: Gordon Chang and Shelley Fisher Fishkin
Collaborating Director: Evelyn Hu-DeHart
Collaborating Director: Dongfang Shao
Associate Director: Hilton Obenzinger
Research Director: Denise Khor
Archeology Director: Barbara Voss
More information about the project leaders is available on the project website.