Key Takeaways
Libraries have numerous capabilities and considerable expertise available to accelerate digital humanities initiatives.
The University of Michigan Library developed a model for effective partnership between libraries and digital humanities scholars; this model contributes to both a definition and redefinition of this emergent field.
As the U-M experience shows, using the digital humanities as a key innovation tool can help libraries and their host institutions transform the way research, teaching, and learning are conceptualized.
Several real-world examples illustrate the power of collaboration in providing win-win scenarios for both librarians and scholars in the advancement of scholarship.
At the University of Michigan Library, Laurie Alexander is Associate University Librarian for Learning and Teaching; Beau Case is Head, Arts and Humanities; Karen Downing is Head, Social Sciences, Education Liaison Librarian, and Foundations & Grants Librarian; Melissa Gomis is Instructional Technology Librarian; and Eric Maslowski is UM3D Lab Manager and Technical Creative Consultant.
Approaches to promoting digital humanities work varies from institution to institution — some have centers or hubs on campus or in libraries, others have coordinated programs and initiatives, and many have neither. The challenge for researchers interested in pursuing digital humanities work is to create a path forward and identify resources to help them at each stage of the scholarly process. Libraries are particularly well suited to meeting the needs of digital humanists by uniting diverse disciplines, facilitating dialogue, promoting ideals such as open access and preservation, and championing scholarly and pedagogical innovations. Indeed, we suggest that libraries can play a key role in supporting and promoting digital humanities scholarship, especially on decentralized campuses.
Here, based on our experiences at the University of Michigan Library (MLibrary) we explore the benefits and challenges of this approach, share examples of the impact of leveraging existing library expertise and resources, and expand on the potential of these collaborative partnerships, all of which define agile, creative, and forward-looking teaching and research practices.
The Libraries–Digital Humanities Connection
"Digital humanities" means different things to different constituents. In "A Guide to Digital Humanities," Josh Honn synthesizes the multiple meanings of digital humanities as scholarship that is:
presented in digital form;
enabled by digital methods and tools;
about digital technology and culture;
building and experimenting with digital technology; and
critical of its own digitalness.
Libraries can leverage these different interpretations and help scholars realize the outcomes they seek. Discussions occurring at peer institutions — such as the recent OCLC report Does Every Research Library Need a Digital Humanities Center? — demonstrate the need for and complexity of investments to support digital humanities with diverse models. Librarians often refer to themselves as a community of learners. As we begin to unpack this framework's importance, it becomes clear that the common commitment to discovery enables — and, in fact, empowers — libraries to lead during transformative periods in higher education such as that occurring now with digital humanities. Libraries embody commitment to discovery through research activities, teaching practices, and aspirations for student learning; it is not surprising that they serve as connectors, collaborators, partners, and initiators in digital humanities work.
Common Commitment to Discovery
For institutions without a central facility focused on the digital humanities, libraries offer many capabilities that enable richer interactions throughout the research life cycle. Libraries offer strengths and key capacities such as subject expertise, rich and deep collections, collaborative mindsets, extensive technology, and a consultative model to unite all of these capabilities. Libraries define these roles by continually seeking to share and broaden expertise, while accelerating engagement with campus strategic directions.
Collections: Enabling Research and Learning
Collections are the foundation of all libraries. As both stewards and creators, librarians view the scholarly record as more than just repositories — they see them as building blocks for creating new knowledge. Collections support digital humanities discoveries that make use of librarians' rich tradition of collecting, archiving, and providing access to primary and secondary literature in various media.
Example: Creating Digital Projects with a Film Collection
Sheila Murphy, professor of Screen Arts and Cultures, wanted her graduate seminar students to create a digital project utilizing MLibrary's Mavericks of Film Collection. The goal was to engage with this new, content-rich collection to create a vehicle for showcasing the students' research and skills as they near graduation. To accomplish this, Murphy consulted with both the instructional technology and film studies librarians. After discussing the goals and available resources, Murphy decided to have the students create an online exhibit. Such an assignment had the added benefit of opening up the collection by turning scholarly research into messages easily accessible to the general public.
The students conducted archival research, digitized artifacts, curated a section of an exhibit, and put all the materials together using the Omeka online exhibit tool. Creating an exhibit is not an easy task, and it required guidance from several librarians to support and instruct the students through each step, as they learned how to digitize and manipulate images, write exhibit text for the web, develop visual literacy skills, manage a project, and organize and tag content and best practices using Omeka.
After the seminar, Murphy reflected on the experience:
"My graduate seminar on visuality and the world wide web was greatly enhanced by our experience in the archives and learning to use and work with Omeka virtual exhibitions. My goal was to have the students gain an appreciation for the labor and process of how digital media is produced — instead of just reading theories about it.

"By going to the archives, they got to see how materials are processed, organized, catalogued, and made accessible in person. Then, taking that experience, they learned to curate and imagine the same objects within the context of Omeka and its structure for tagging data, interfacing with other library systems, and laying out a visual logic that could become an exhibition.

"By performing the labor of tagging and describing the archival objects of interest to them, my students were able to better understand how the library functions today and to think more carefully about the metadata produced and used in libraries, universities, and around the world. It was an invaluable learning experience and something that I, as a faculty member, could not have given them on my own."
Expertise and Technology: Enabling Discovery
Many libraries have academic technology facilities that combine emerging computing tools with librarian technologists to assist scholars in digitizing content, making digitized text searchable, creating and editing videos, managing citations and notes, creating websites, and so on.
Digital humanities scholars focus on preserving, analyzing, and presenting cultural heritage. This can take many forms, including digitizing physical artifacts, capturing movements specific to a culture for later study, or even creating a sensory experience that has long since expired. Those invested in historical preservation often encounter numerous inherent challenges, such as difficult traveling conditions, government restrictions, crumbling structures, and fragile artifacts that might well be lost forever with the slightest human intervention.
Through MLibrary's active participation and guidance in the use of its printed and technological collections, scholars and educators can explore, discover, and develop creative solutions to many of their field's inherent challenges that might not otherwise be possible.
Using Autodesk Photofly to digitally preserve aging objects (2:52 minutes).
Example: Cultural Heritage Preservation
Elaine Gazda, History of Art professor and curator at the Kelsey Museum of Archaeology, frequently travels with her students to Roman archaeological sites in Italy and Turkey. She first worked with MLibrary on her project in Antioch a decade ago. Her most recent project is in Oplontis, which was a city just outside Pompeii during the Roman Empire, where she and her students are capturing, for further study, architectural spaces and artifacts that are eroding with time. This process traditionally involves a collection of photos, videos, and survey data that later can be analyzed and shared with those unable to participate in the experience.
Gazda discusses the importance of digital technologies to her archeological field work:
"When, in 2004, my seminar students and I were attempting to understand the poorly preserved archaeological remains of buildings at the Roman city of Pisidian Antioch in Turkey as they had looked and functioned in the Roman period, the UM3D Lab personnel were instrumental in helping us expand and significantly enhance our initial research plan.

"By helping us build a 3D virtual reality model of the site, which had been excavated by a team from Michigan in 1924, we were able to bring the ruins to life in our research and in an exhibition that we mounted in the Duderstadt Gallery in 2006.

"Projecting a movie version of the model in the gallery and a navigable model in the MIDEN [Michigan Immersive Digital Experience Nexus, then called "the Cave"] made our research vividly accessible to the public and inspired us to pursue further research using this technology."
On recent trips, Gazda and her students used various techniques learned through interactions with MLibrary to digitally scan architectural features and take steps on site that would permit the digital preservation and duplication of those specific architectural features. Her intent was to replicate the Oplontis experience as part of a planned exhibit, while bringing additional insight and appreciation for the historical location to a broader audience.
Professor Gazda's vision includes a physical reproduction of rooms within the Villas of Oplontis, with accurate fixtures extracted from the room; a fully immersive, interactive experience that lets visitors explore the entire Oplontis site; and a collection of authentic artifacts to complete the experience. To realize her goal, Gazda is working closely with the MLibrary's specialty labs, relying on their expertise with a wide range of digital fabrication, visualization, and 3D modeling tools and techniques. Examples here include physical artifacts replicated using 3D printers; animated fly-throughs of spaces created by resident artists; and a fully immersive MIDEN, through which visitors can explore Oplontis.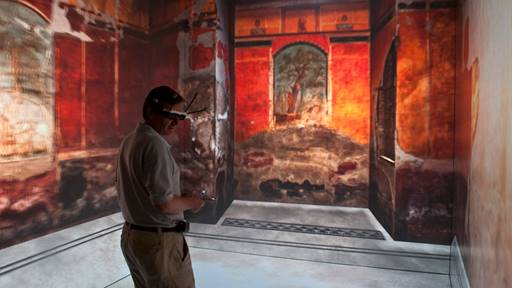 A digital recreation of Oplontis in a fully immersive virtual reality environment
Library Partnerships
Librarians both provide in-depth consultation and collaboration with their campus communities and build teaching and research collections. They bring deep disciplinary content knowledge as well as knowledge of and experience with emerging scholarship, publishing, and technologies in their fields. Libraries also are home to various technologists. Librarian technologists actively engage in managing, researching, supporting, and enabling learning; planning, designing, and modifying experiments; and running and deploying enterprise systems.
Library engagement with digital humanities often goes beyond basic service offerings to include consultations, developments, and pedagogy that reflect on the library's role as an interdisciplinary agent within the university. The resulting interactions with faculty and students represent a broad spectrum of activities that include general guidance on available resources to deep integration of library expertise and resources into the scholarly process for developing ideas, tools, and methodologies.
Example: Acoustic Technologies
Professor Moji Navvab of U-M's College of Architecture has developed new methodologies for acquiring and interpreting spectral reflection and room acoustic characteristic measurements of historical spaces — such as the Coliseum, Ostia Theater, Saint Rocco Museum, Taormina Theater, and Villa Adriana — which provide scientific evidence for questions often raised by digital preservation teams.
Using an "acoustic camera" — that is, a spherical array of 120 microphones that record the sound impinging from all directions, along with a digital camera that associates the sound with a visual image — on a space such as the Roman Coliseum can render a unique acoustic data representation as "an architectural signature of the building" in its current condition. Such a rendering not only allows for better understanding of the building's current form, but can also help researchers develop predictions of how sound would respond to the space with different architectural configurations, whether hypothetical or known from specific points in time.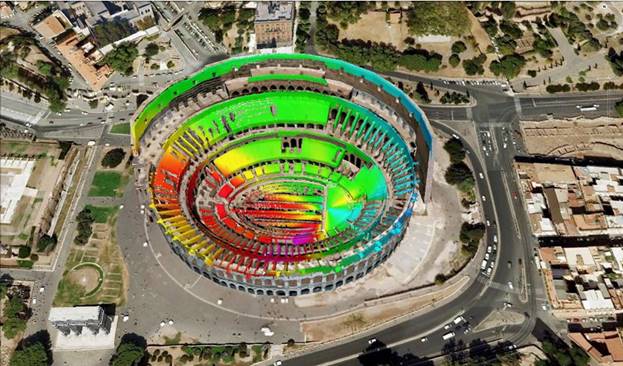 An acoustic data representation of the Roman Coliseum
Navvab, in collaboration with MLibrary's subject specialists and visualization experts, has worked to develop virtual reality systems such as the MIDEN into a surrogate sensory system, allowing viewers to experience carefully tuned physiological responses to synthetic environments that mimic the real spaces. Combining the ability to accurately capture, analyze, and modify a complete space (ancient or contemporary), and then present that in a physiologically accurate way, opens up doors in research, education, and understanding that encourage continued discovery. Given MLibrary's emphasis on shared, open-access resources, these modifications to existing systems can serve as building blocks to a broader audience. The image is color-coded: blue indicates little to no sound, and red indicates intense areas of sound.
Navvab discusses his work with architectural characteristics:
"Light is one of the most important factors in design of architectural space, enabling us to view the shape, color, and movement of objects within our surroundings and enjoy the living environments through our eyes. Architectural light also impacts our well-being by evoking a variety of 'non-image-forming' physiological responses, such as constriction of the pupil, synchronization of circadian rhythm, acute modulation of alertness, and regulation of hormone release.

"Application of wireless physiological/neurological monitoring in the MIDEN and its use of virtual reality technology offers a great opportunity for unobtrusively quantifying human response and interactions (conscious or subconsciously) in a simulated environment to a precisely controlled and readily modulated virtual environment representation of various interpretations of past living conditions (representation of historical buildings as part of our cultural heritage) or current working environments. The combination of unique measuring methods and analysis of the data using Library expertise allows one to have a genuine physical response to a virtual environment comparable to the original site."
Aptitude for Experimentation
Libraries have resources — content, expertise, and technology — that can be brought together for specific projects. The ability to be flexible in approaching solutions and call on such a variety of resources results in experimentation that embraces creation as a way of learning.
Example: Librarians Leading Experimentation
Not only do we support our researchers in their digital humanities endeavors, we also initiate our own research agendas. This is exemplified by our participation in the campus-wide MCubed and Third Century initiatives. Both are opportunities to fund collaborative and interdisciplinary research projects. For example, our librarians Sigrid Cordell and Justin Joque, in conjunction with Professor June Howard of the English Department, created "Using the Digital to Read Literary Texts in Context." This project explores the ways in which digital tools open up new ways to understand the social, political, and literary contexts of American regional fiction. Our librarians also have been awarded many Third Century grants, including those to expand 3D printing on campus, teach ancient Greek handwriting in manuscripts, and explore badging.
Promoting Interdisciplinary Study
Applying technologies for analysis, scholarly publishing, and learning is an essential component of the scholarly process across almost every discipline. Libraries, highly interdisciplinary by nature, pioneer methods and tools and develop emerging communities engaged in new applications. This results in richer experiences and interdisciplinary outcomes.
Example: Motion Capture
Cultural artifact preservation, while challenging, does not succumb to reinterpretation at a rate comparable to more dynamic cultural affects such as movements and language. Languages, dances, and spiritual practices are at greater risk of being forgotten due to how they are referenced and taught. For example, those learning new motions are limited to the quality of their instructors' performances or of a video recording. Mocap technologies, which have been commonly used in the entertainment industry, athletics, and movement sciences, are being used at MLibrary in tasks for various fields, including to capture cultural movements, instruct performers, research autonomous vehicles, analyze structural stresses, and record robot locomotion. Our mocap system captures precise movements, which can then be presented as an array of dots, a pseudo-skeleton structure, or an arbitrary digital character.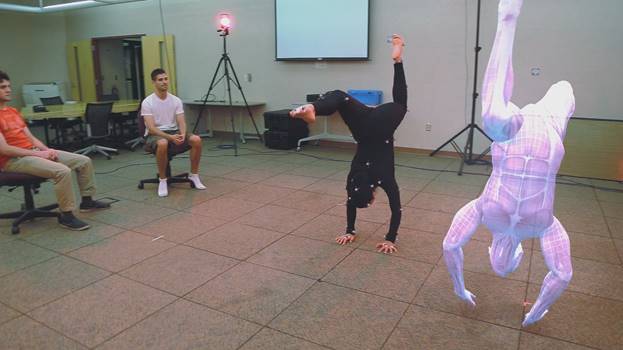 An image from the MLibrary's mocap system
A recorded sequence can be viewed from any angle, studied, or paused, which allows for unique insight into the subtle positions and rotations during a particular movement. These qualities let us create "reference movements" and explicitly analyze motion that can be archived, verified, and referred to as part of the scholarly and educational process. MLibrary has made motion capture technology and expertise available as a service to the university community for close to a decade. It has begun a local effort capturing and curating cultural movements with mocap technologies; the goal is to develop a unique collection available to researchers and educators for further study.
Professor and performance artist Peter Sparling discusses his work with the UM3D Lab (1:50 minutes).
Librarian Service Ethic
Traditionally, librarians have been committed to providing knowledgeable and friendly service — answering questions at the information desk, providing reading recommendations, fulfilling purchase requests, and so on. Technology has redefined higher education as well as librarians' commitment to service.
Example: Librarians as Digital Sherpas
That digital humanities is decentralized on our campus plays well into our liaison librarian service structure. Our subject specialist liaison librarians maintain both virtual and physical presences in academic departments. Students and faculty are comfortable with and accustomed to seeking the advice of librarians regarding their scholarly projects. Our liaison librarians regularly work with scholars on methodology, curriculum design, literature reviews, archive creation, and collection building.
Over the past few years, many of our faculty began their digital humanities projects by first consulting with their liaison librarian. Some of these scholars have project ideas, but lack the technological expertise to get started. Librarians can make connections with experts across campus, provide a guided path at the journey's start, and then identify resources (physical, technological, human) to help them at each stage of their project.
In other cases, the scholar has both the idea and the technical understanding, but still seeks to partner with MLibrary due to its expertise and past success in working jointly with faculty. As an example, take Claire Zimmerman, a professor of architecture who researches architectural culture as it interacts with commerce and industry, as well as the infrastructures of globalization that underpin the spread of modern architecture throughout the 20th century. Recently, Zimmerman has focused on the Detroit-based architect Albert Kahn (1869–1942).
U-M's Bentley Historical Library is home to the Kahn company archives, and Zimmerman envisions digitizing materials from the archive — drawings, specifications, photographs, reports, company records, and more — to create a visualized learning experience and research opportunity. She and the Bentley archivists turned to MLibrary at the project's outset. MLibrary was able to bring to the table specialists in emerging technologies, visualization, social media, data management, grant writing, and digital humanities. Although the project is still in the preliminary discussion stages, MLibrary's experience and expertise already has begun to shape its scope and design.
The following photo shows Kahn's General Motors Building in Detroit, which opened in 1923, and was the GM headquarters until 2001. Renamed Cadillac Place in 2002 after the city's founder, the building today is home to many state judicial branch services.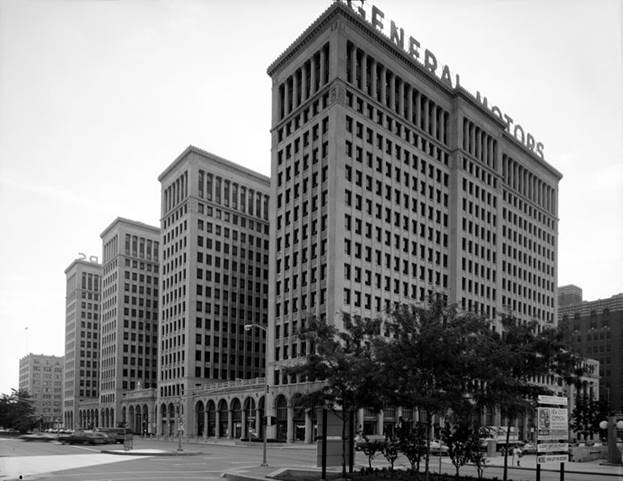 The General Motors Building, designed by Albert Kahn (photo courtesy of the Library of Congress Historic American Buildings Survey)
Libraries and Funding Opportunities
Exploring the changing relationship between humanities and digital technologies requires funding — for people, time, and technologies. Libraries are becoming the place on campus where scholars and students seek assistance in identifying external funds to realize new projects and activities.
Example: Specialist Librarians and Services
Helping humanities scholars identify funding for their digital research initiatives is another way libraries are involved in the digital humanities research life cycle. Grants specialists within MLibrary work with individual faculty and students, academic centers on campus, and teams of interdisciplinary scholars to help them navigate the grant-seeking process and make the important match between their work and potential funders' missions and goals.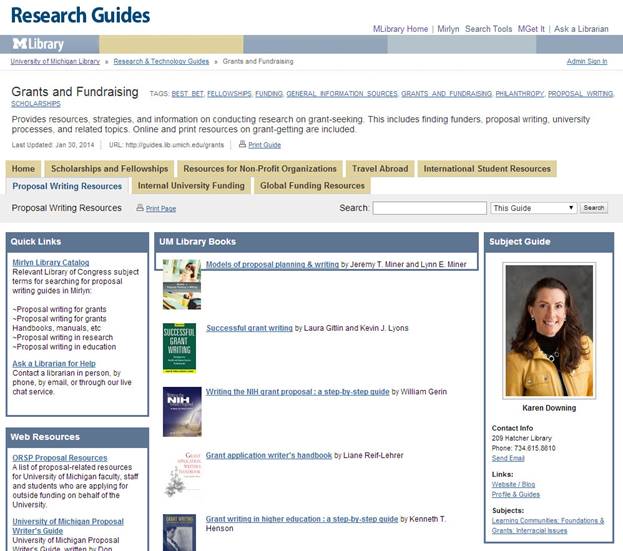 The LibGuide [http://guides.lib.umich.edu/content.php?pid=22518] on grants and fundraising was authored by a subject specialist librarian
As federal funding and internal funds within many universities have become flat or lost ground over the past decade, foundations and other non-federal funding sources are becoming increasingly important in the grant-seeking process. Foundations and public charities such as the Andrew W. Mellon Foundation, the Pew Charitable Trusts, the Henry Luce Foundation, and the American Council of Learned Societies are leaders in funding humanities work. The US National Endowment for the Humanities, the Institute of Museum and Library Services, and other federal agencies might also fund these types of projects. Funding tools such as Foundation Directory Online and the Community of Scholars' Pivot [http://pivot.cos.com] are invaluable in providing tailored lists of potential funders.
Library as Learning Spaces and More
Libraries are hubs of scholarly output and activities. They play numerous roles, including to develop new publishing models; provide academic publishing services; host content; digitize, purchase, and license content; provide copyright consultation and education; host institutional repositories; lead initiatives that make possible text mining and other forms of nonconsumptive research; and advocate for wide dissemination and permanent preservation.
Example: How Libraries Support Digital Humanities Scholarship
The UM3D Lab, Digital Media Commons, and MLibrary engage with community members through various digital humanities activities (1:49 minutes).
For the past few decades, as technology has developed and transformed campuses, libraries have innovated, creating new services and unique spaces, continuing tradition, and embracing the future. We offer all of the following as additional examples of how libraries support and enhance digital humanities scholarship.
Libraries as learning spaces, technology services, and home to knowledge experts:
Librarians as organizers of information and curators of knowledge:

Search Tools: A catalog of networked electronic resources.
Research Guides: Discipline-based technology guides created by MLibrary experts to serve various user groups and purposes, such as to

Libraries as creators of content, archives of knowledge, and promoters of scholarly communication:
Looking Forward
Digital humanities advance our understanding of the nature and implications of the changing relationship between traditional humanism and technology. The changes and challenges in this new educational landscape encourage libraries to rethink how we support digital humanities on campus. Given the decentralized nature of these activities on many campuses, a successful course of action is to leverage library strengths — technology, expertise, commitment to discovery, willingness to use a diversity of approaches, and the ability to bring together communities — to collaborate in new expressions of scholarship.
MLibrary is eager to build on these successes and to further investigate the intersections of text, data, and new possibilities in humanistic research. Your library might be as well. Upon reflection, we have identified five key attributes of success in this area: flexibility, inquisitive practices, collaboration, starting with "yes," and being courageous. In sharing our lessons learned and foundations here, we hope to help ourselves and others realize the next phase of digital humanities.