Alan Labb is Associate Provost of Educational Technology and Innovation and Associate Professor, Photography Department, at the School of the Art Institute of Chicago (SAIC). Elizabeth Neely is Director of Digital Information and Access at the Art Institute of Chicago.
"The dynamic of creative making and critical thinking is at the core of SAIC [School of the Art Institute of Chicago]. While technology has created a pathway for the invention of new tools and approaches to the process of making, traditional forms of skilled fabrication and craft resonate with new energy in response to the digital landscape."
—Lisa Wainwright, Dean of Faculty, SAIC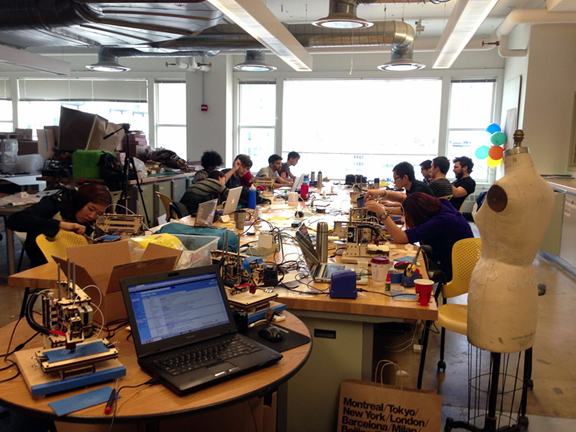 Photo Credit: Brian Anderson, © 2013
Making is an integral part of the art school experience. DIY "maker culture" is built around direct access to and ongoing experimentation with media, equipment, and other resources. Although DIY might seem antithetical to the structured nature of school curriculum, new labs and "making spaces" eschew established etiquette in favor of more organic arrangements that offer unfettered access to equipment. For 3D DIY, creative and collaborative flex space is replacing more traditional facilities as students and faculty demand fast prototyping and room for project design and construction. As the associated techniques and technologies evolve, SAIC introduces new processes by placing them in close juxtaposition with established modes of artistic production. We have found that through this proximity, we can more effectively investigate, experiment with, and discover new capabilities and then quickly adopt practices that expand our conception of the act of making.
When new technologies emerge, they are often highly specialized, unstable, expensive, and oriented toward single-user access. In such cases, SAIC has supported the exploration, development, and adoption of innovative and transformational technologies by providing access to self-selecting faculty and advanced students in a controlled environment. These early adopters work through numerous initial issues such as proof-of-concept concerns, technical support issues, and workflow development. As subsequent generations of technology are released, we begin to adopt the technologies more broadly and provide centralized training and support based on our experiences with the early adopters. During that period, the DIY community often starts to reverse-engineer first-generation equipment, and the technology becomes both more accessible and less expensive. Once the cost drops significantly, the technology begins to make its way into the curriculum of various departments simultaneously, oftentimes promoted by industrious faculty who purchase the equipment for their own artistic production. At that point, technology that was once esoteric and exclusive finds its way into our students' first-year experience and from there moves toward the final stage of ubiquitous accessibility.
In the case of 3D printing, the transition from specialized and expensive to ubiquitous and affordable was especially swift. In 2006, as an offshoot of our Service Bureau, SAIC established the Advanced Output Center to provide students with access to rapid prototypers, laser cutters, and a variety of 3D scanners. Demand for the AOC's services steadily increased, and in 2012 SAIC added a second digital fabrication studio. In addition—and more to the point of DIY culture—over the past two years we have introduced small prosumer bots, and 3D printing has grown from two high-end devices accessible only through supervision to over a dozen self-service printers spread throughout the campus and curriculum. As part of the process, the early adoption phase included both advanced and beginning students, with the result that in the past year, the following three departments successfully adopted 3D DIY practices into their curricula:
In the summer of 2013, incoming graduate students in the DesOb area of the Department of Architecture, Interior Architecture, and Designed Objects (AIADO) participated in an intensive boot camp that emphasized the full range of project development, from idea to output. Each student was given a DIY 3D kit, and with this 1:1 ratio of printer to student, the distance that usually separates software utilization from output was erased. Students developed an intimate relationship with both machine and material, and according to the boot camp instructor, Brian Anderson: "The class named the machines, and by the end of the course each bot had a recognizable personality."
In the fall of 2013, an IO Lab was established by the Department of Art and Technology Studies (ATS), an area that encourages DIY culture in art, engineering, and coding. The IO Lab is a sandbox environment that offers direct access to several mid-range and lower-end DIY devices, such as a 3D tabletop scanner for input, printers capable of outputting to multicolored ABS plastic and photopolymer, and a CNC mill that can cut wood and other material on an xyz axis. In this instance, the less expensive printers serve dual purposes, allowing ATS to maintain its DIY ethos while also allowing the lab equipment to be refreshed more often and keep current with rapid developments in 3D output.
Over the past year, basic 3D printing was incorporated into a pilot program by the Contemporary Practices Department (CP), which provides first-year students with skill-based instruction and conceptual exploration with an emphasis on artistic research. The department chair, Brian Sikes, purchased a number of lower-end printers last spring and then organized training with a faculty member, Tom Burtonwood, for CP faculty interested in participating. Faculty were also given the opportunity to take a printer home for the summer to fully familiarize themselves with the equipment. The output in CP's pilot was based on rapid prototyping and allowed students to quickly adopt design thinking. Integrating this design thinking, woodworking, and rapid prototyping, the students' work culminated in an end-of-semester exhibition. The pilot was very popular, and plans are in place to expand offerings in the fall of 2014, as well as install additional 3D workstations in general-access computer labs to accommodate students' expectations of access beyond their first-year experience.
At SAIC, one of the most exciting aspects of introducing technologies is being able to bridge the old with the new. Rapid prototyping and 3D printing are opening up numerous possibilities across campus: students in printmaking can utilize laser cutters to create woodblock prints, and students using the foundry can employ output from 3D printers to cast metal objects. The proliferation of 3D output devices opens the door for all types of processes and partnerships, including collaborations between SAIC and the Art Institute of Chicago.
With its participatory nature, the DIY maker culture is well suited to museums that are experimenting with different types of visitor engagement. The Art Institute of Chicago has been particularly interested in integrating 3-D printing, design, and prototyping techniques into its museum programs and practices. From conservation to education and from collections access to exhibition planning, multitudes of opportunities seem ripe for consideration.
To explore opportunities for incorporating DIY maker activities, the museum's Department of Digital Information and Access collaborated with Tom Burtonwood, a SAIC faculty member, to stage an unadvertised pop-up 3-D event. The day-long activity touched on most aspects of the 3-D ecosystem—scanning, designing, manipulating, printing, and sharing—to better explain the range of potential for the technologies. This pop-up event, along with subsequent SAIC class visits to the galleries, helped the museum design a project to research the effects of using 3-D in public programs—a project that is now supported by a Sparks! Ignition grant from the Institute of Museum and Library Services. The research documents how to best develop a dialogue through interaction that not only increases a visitor's dwell time with artworks—whether at the museum, online, or through a replicated model—but also stimulates a deeper engagement through the quality of the interaction.
SAIC also worked with the museum on a project to investigate the uses of 3-D technologies in artwork conservation. Technicians from the SAIC Advanced Output Center visited the museum with high-end hand-held scanners to produce a 3-D model of a small portion of a sculpture by the contemporary American artist Charles Ray. The museum prototyped test scans on its MakerBots and printed final versions on SAIC's Mcor paper-based printer. This Mcor 3-D print was sent to the artist's studio in Japan to be used as a reference copy.
The collaboration between the school and the museum continues to yield great benefits not simply by sharing resources but also by sharing experiences and building beneficial relationships between the two institutions. The museum has an internship for 3-D initiatives, and Tom Burtonwood is the Art Institute of Chicago Ryan Education Center's first Artist-in-Residence. These relationships are built not on the specific technologies themselves but on the collaborative, iterative practices common in the DIY maker culture. As a result, both institutions can more nimbly shift and adopt new technologies as they become available.
EDUCAUSE Review, vol. 49, no. 2 (March/April 2014)