Key Takeaways
Castleton State College needs to attract both in- and out-of-state students to meet its enrollment plans, but traditional methods and a limited budget hinder recruitment efforts.
After partnering with an online college information aggregator to pilot online recruitment efforts, the college saw a marked drop in recruitment costs for students who enrolled as a result of the new outreach model.
The accompanying increase in tuition revenue and achievement of the enrollment plan's goals further justified the online approach to recruitment, which focused on students who demonstrated an interest in the institution.
Castleton State College is a public liberal arts college located in Castleton, Vermont, with an enrollment of around 2,000 students and more than 30 undergraduate programs. One of the largest challenges facing the institution's marketing and recruitment staff is enrolling nearly 700 new students each year with limited budgetary resources. In addition to attracting students to the institution in a cost-effective way, the college also needs a geographically diverse applicant pool to provide slight growth in out-of-state enrollments in support of the institution's enrollment plan. This idea supports the institution's priorities and developing ten-year plan, which includes increasing
enrollment from 2,000 to 2,500,
student population,
graduate programs and graduate student enrollment, and
out-of-state student enrollments to 40 percent of the total enrolled population.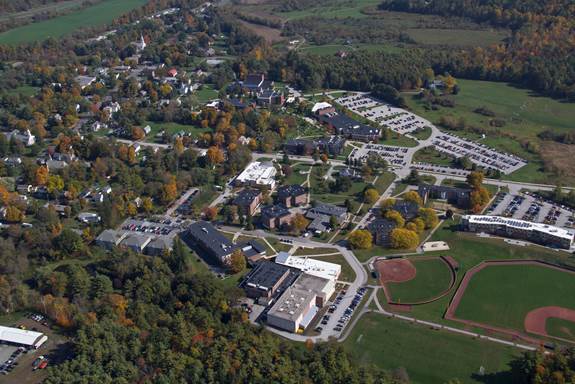 The college's recruitment process has relied on traditional means of acquiring leads, such as the purchase of names, attendance at college fairs, and high school visits. The majority of the process still involved frequent travel for the admissions' team, but financial restrictions limited travel mainly to New England, New York, and the northern-most Mid-Atlantic States.
A desire for higher yields of well-qualified students, as well as for a more diverse population including out-of-state students, prompted the need to be more creative and to use nontraditional recruitment efforts.
According to a recent study by the Pew Internet and American Life Project, 95 percent of teens use the Internet. Understanding that today's high school students are Internet savvy and Internet dependent, Castleton saw the need to shift more resources to online recruitment.
Innovation in Student Recruitment
Research from the National Association of College Admission Counseling (NACAC) found that small institutions like Castleton on average spend more than $3,000 in budgetary resources recruiting and enrolling a single student1; the recruitment team thus had to be strategic in its approach to finding, attracting, and enrolling best-fit students to the institution. One way the team achieved this was by committing more time and resources to recruiting students with a demonstrated interest in Castleton ahead of those who had not proactively reached out to the college to learn more about them.
Maurice Ouimet, the dean of enrollment at Castleton, is excited about the opportunities to engage prospects that nontraditional means of recruitment allow:
"As an enrollment manager the decision to shift resources away from our traditional search process and move them toward e-recruitment initiatives is a no-brainer. Through e-recruitment we can engage our prospects right away and get them connected to campus in some way. More traditional search campaigns, while still important, do not always give you the ability to connect with students right away. Our e-recruitment campaigns will allow us to enhance our brand recognition in new geographic regions much faster than in the past."
By focusing efforts on students who used online tools to proactively contact the institution, the recruitment team hopes to shift recruitment and marketing resources from the prospect and inquiry generation phase of the college recruitment process and ultimately invest those resources in admitted-student yield programs. Online tools also enable the institution to achieve a larger geographic reach without the added costs of transportation, lodging, and printing and postage costs traditionally expended to reach students.
Status of the Recruitment Program
Beginning in the summer of 2011, the marketing team at Castleton began collecting student inquiries from a variety of sources where students research colleges and universities for the entering class of fall 2013. Because students use a variety of college information aggregators for their research, the recruitment team chose to partner with Zinch, a marketing service of Chegg, to find and attract students across their network (which includes CollegeProwler.com, YouUniversityTV, Princeton Review, U.S. News, and Parchment.com). Realizing that students have different priorities during the research phase (college rankings, campus life, prestige of programs, etc.), Castleton employed a variety of its partner's online tools to take advantage of their varying positions in the market. Doing this enables Castleton to be present when students are at the height of their interest in college information (figure 1).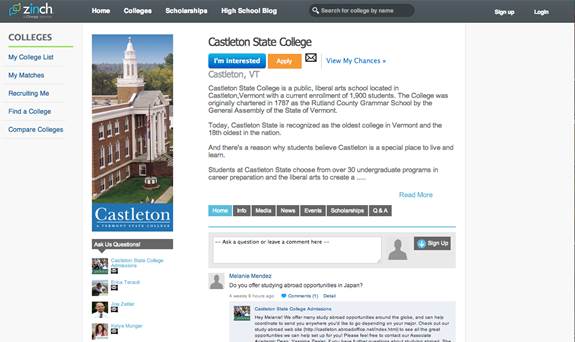 Figure 1. Castleton State College's profile on Zinch.com
Throughout the recruitment cycle, students who researched Castleton State College on any of these online sites were connected directly to the admissions department to receive recruitment messaging and follow-up communications regarding the application process. In addition, a member of the marketing or admissions team gave personalized responses to students who took the time to post questions to the institution's profile online, further engaging students across the network throughout their college search.
Challenges and Resolutions
One of the first challenges that Castleton State College faced was directing students to Zinch. Although the Zinch/Chegg network covers many sites and helps in marketing Castleton to a wider network, the college also wanted to use the network as a yield tool, finding value in connecting with all interested students in this environment. Since some students still connect with the admissions team at college fairs, at high school information sessions, and through direct e-mail contact, marketing and admissions staff decided to print the counselors' direct URLs to their Zinch profiles on the back of their business cards and at the bottom of their e-mail signatures. We have found success in this connection, and the students enjoy connecting with counselors in a way that is familiar to them (figure 2).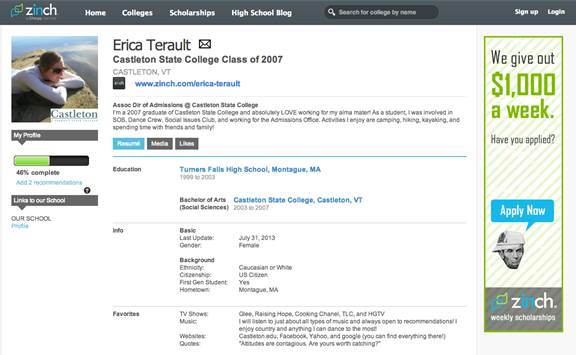 Figure 2. The Zinch.com profile of the associate director of Admissions at Castleton
Another challenge that Castleton faced was how to further engage with the students who expressed a specific interest in the college. The marketing and admissions teams worked together to create an appropriate communications flow that worked within the counselors' normal workflow. Each week, Zinch sends Castleton a list of students who have expressed interest in the institution; the marketing team then schedules an e-mail message from the counselor to the students from their territory to further engage with them. Although this process takes additional time, Castleton has discovered that students who find your institution online would like to keep the conversation there, at least at first. In our traditional recruitment efforts, students who inquire about Castleton are entered into our database and then sent information about Castleton and their intended major. Sending e-mails from the counselors has helped keep the conversation online, as well as speeding up the response time. Although these messages aren't personalized, they encourage engagement between the prospective student and their counselor early on; even before the application process.
Impact of the New Recruitment Process
The inquiry pool provided by the network of online partners performed better than other sources at both the inquiry-to-applicant and applicant-to-admitted-student phases of the recruitment process. Over 30 percent of students contacted through the online network of partners applied (compared to about 24 percent of the overall pool), with over 86 percent of applicants meeting the institution's admission standards — 11 percent more qualified than applicants found through traditional recruitment. In total, 59 students enrolled from an inquiry pool of 819 students (a 7 percent inquiry-to-enrollment conversion; see figure 3). For fall 2013, overall inquiry-to-enrollment conversion was 5 percent.
By leveraging online tools, the institution was able to attract a geographically diverse applicant pool, with 44 percent of enrolled students who engaged with the institution through e-recruitment efforts coming from outside the state (figure 4). Overall, the school's enrollment hovers around 70 percent in-state students and 30 percent out-of-state students. Castleton hopes to move these numbers closer to 60 percent and 40 percent. This strong out-of-state performance generated more than $580,000 in tuition revenue for the institution in addition to the over $325,000 in revenue generated by in-state recruitment efforts. Although currently below the goal, the potential of e-recruitment efforts is evident.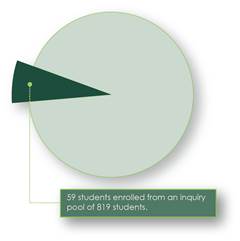 Figure 3. Enrolled students from total pool inquiring about Castleton
Figure 4. Of e-recruitment enrollments, 44 percent were out-of-state students.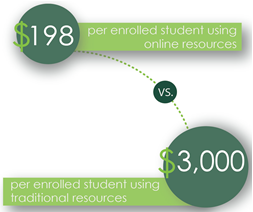 Figure 5. Compared to $3,000 per enrolled student recruited traditionally, Castleton spent $198 using online resources.
On average, Castleton State College invested $198 in financial resources per enrolled student compared to national average of over $3,000 per enrollment (figure 5). The cost per enrollment of $198 for recruitment of students with a demonstrated interest through online channels includes the institution's financial investment in services for reaching out to and interacting with students directly online (such as campaign message development, use of social tools, etc.). The national average of $3,000 per enrollment includes consideration of financial resources for print publication development and shipping, as well as staffing resources at things like college fairs and high school visits; which are not incorporated into the demonstrated interest segment because those activities are not performed in the cultivation of those prospective students. By focusing on students with a demonstrated interest, the college was able to not only achieve its overall enrollment goals but also save over 90 percent on the cost of enrollment for about 12 percent of its incoming class.
Castleton expects the number of students recruited through nontraditional means to increase as they continue not only the partnership with Zinch, but a continued focus and further dedication to e-recruitment efforts. Because Castleton's ten-year plan includes increasing international and graduate enrollment, the university hopes to explore how e-recruitment efforts can help support these goals, as well.
Notes
Melissa E. Clinedinst, Sarah F. Hurley, and David A. Hawkins, State of College Admission: 2012, National Association for College Admissions Counseling, (November 28, 2012), p. 65, table 6-3.
Mary Madden, Amanda Lenhart, Maeve Duggan, Sandra Cortesi, and Urs Gasser, "Teens and Technology 2013," Pew Internet, Pew Research Center (March 13, 2013).