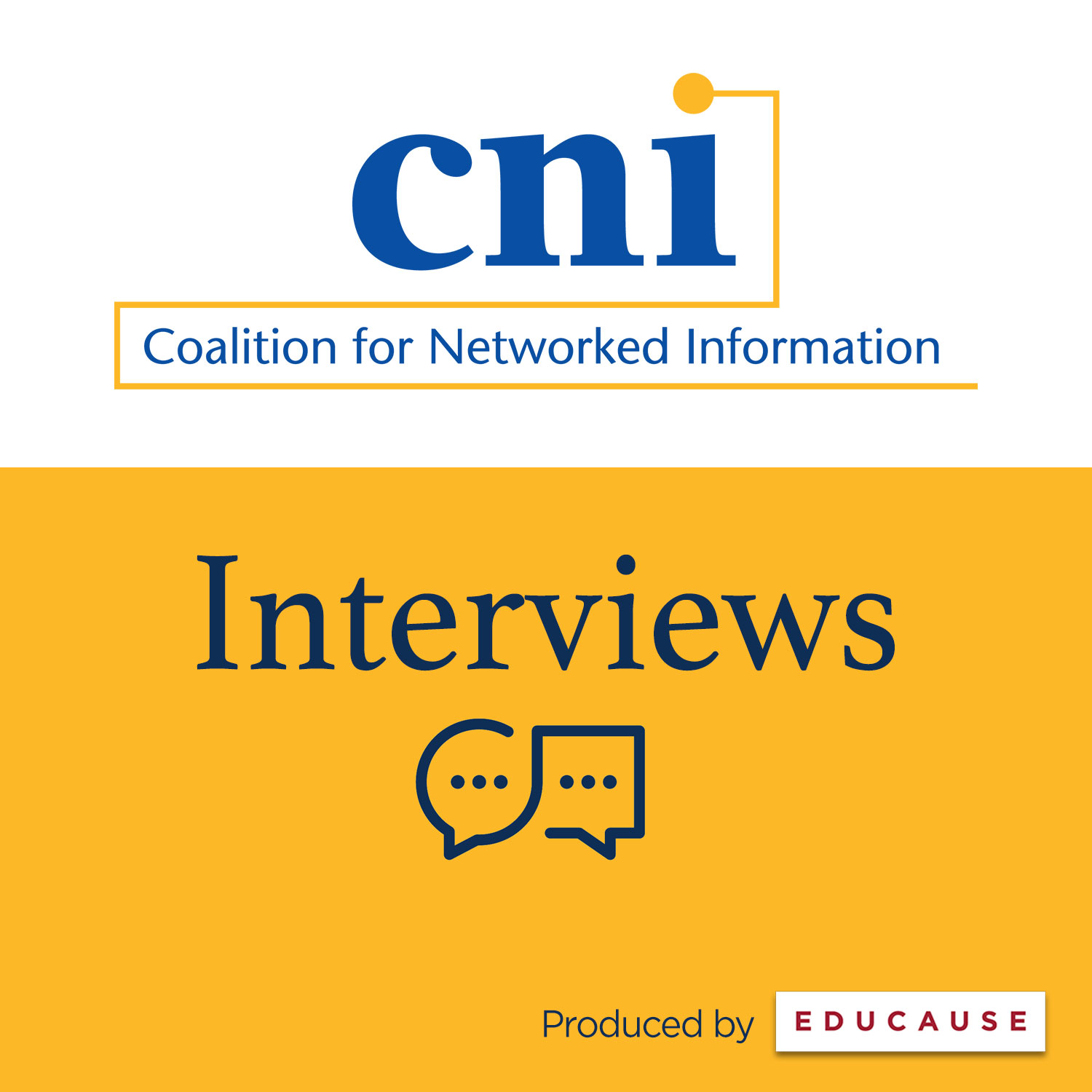 This podcast features a selection of interviews from the Coalition for Networked Information (CNI) meetings. It highlights conversations with leaders, thinkers, and innovators in the field of libraries, research, and networked information.


Season 2
Episode 8 | May 1, 2023
In this conversation, Mark Laufersweiler, Research Data Specialist, and Tyler Pearson, Director of Digital Scholarship and Data Services, both from the University of Oklahoma, discuss the National Research Platform (NRP), the Nautilus Project, and the Kubernetes framework. The NRP is an NSF-funded Kubernetes environment managed by the NRP. These tools were implemented at the University Libraries to help with workshops and research. A common framework for software installations will allow researchers and students to focus on the pedagogy instead of setting up work environments.
Episode 7 | May 1, 2023
In 2022, the Office of Science and Technology Policy issued the Nelson Memo, a memorandum on new public access requirements for federally funded research. The memo requires federal agencies to make juried, peer-reviewed publications and their supporting data freely and easily accessible to the public upon publication. Martin Halbert, National Science Foundation Program Director for Public Access at the U.S. National Science Foundation, discusses the memo.
Episode 6 | May 1, 2023
Donald Waters, Senior Scholar for CNI, talks about his project to investigate what scholars need to address societal grand challenges such as climate change, global pandemics, forced migration, racism, and inequality. Waters' project aims to identify what libraries and IT organizations can do to support research in these areas.
Episode 5 | May 1, 2023
Mackenzie Smith, University Librarian and Vice Provost for Digital Scholarship at UC Davis, discusses her career and her efforts to encourage women to get involved in technology. Smith also talks about the challenges of building a technologically sophisticated, flexible, and equitable library and her frustrations with people's complacency and lack of curiosity about libraries.
Episode 4 | May 1, 2023
The American Council of Learned Societies (ACLS) established the Commission on Fostering and Sustaining Diverse Digital Scholarship in 2021 to improve support and access to and sustainability of digital resources and humanities projects related to social and racial justice. James Shulman, ACLS Vice President, and Maryemma Graham, Founding Director of the Project on the History of Black Writing, Lead of the Black Book Innovation Project, and Distinguished Professor of English at the University of Kansas, discuss the findings and recommendations of the Commission's report, which is expected to be released next year.
Episode 3 | May 1, 2023
The OA Book Usage Data Trust and the University of Michigan Press convened a National Science Foundation-supported workshop in April to explore how best to leverage shared cyberinfrastructure to support cross-platform systems integrations and improve the fairness of usage data. Christina Drummond, Executive Director of the Open Access Book Usage Data Trust, and Charles Watkinson, Associate Librarian for Publishing and Director of the University of Michigan Press, discuss the outcome of the workshop and future plans for this project.
Episode 2 | May 1, 2023
Joan Lippincott is Associate Executive Director Emerita at the Coalition for Networked Information (CNI). In this interview, she discusses the Directions in Digital Scholarships initiative, which explores the current and future state of digital scholarship, data-intensive research, and computational research.
Episode 1 | May 1, 2023
Sayeed Choudhury is Director of the Open Source Programs Office at Carnegie Mellon University Libraries. In this conversation, Choudhury discusses his new role—created to raise awareness of and stimulate collaboration among open-source projects across the university—and the impact of this new office on his institution.
Season 1
Episode 6 | August 15, 2022
In this conversation, Executive Director for the Coalition for Networked Information (CNI), Cliff Lynch, talks about issues concerning scholarly communication, digital information technology, and higher education technology.
Episode 5 | August 15, 2022
Dean of Libraries at Carnegie Mellon, Keith Webster, discusses CMU cloud lab strategies, and the Artificial Intelligence for Data Discovery and Reuse Symposium, which aims to find innovative solutions to accelerate the dissemination and reuse of scientific data in the data revolution.
Episode 4 | August 15, 2022
Director Frank Wuerthwein, of the San Diego Supercomputer Center, discusses their goals and strategies, hardware and software investment, as well as the Open Science Grid.
Episode 3 | August 15, 2022
We discuss a report by Ithaka S+R, that draws on interviews with over two hundred researchers from dozens of disciplinary backgrounds about their big data practices, with an emphasis on exploring what library leaders can learn about how to align data support with researchers' priorities. The report is titled Big Data Infrastructure at the Crossroads.
Episode 2 | August 15, 2022
The Big Ten Academic Alliance (BTAA) is the academic consortium of the universities in the Big Ten Conference. As the Director of Library Initiatives for the BTAA, Maurice York is responsible for coordinating collective action at scale amongst the member research libraries toward their commitment to realizing an interdependent, networked future. In this discussion York talks about some of the plans and strategies of the BTAA in 2022.
Episode 1 | August 15, 2022
In this discussion, Dames talks about shifting strategies for research libraries, his new role as chief librarian at Notre Dame, controlled digital lending, and open scholarship. We also talk about a report put out by ARL, CARL, and Ithaka S+R to identify the strategic priorities of higher education's senior leadership, and to identify how and what more research libraries can do to advance them. The report is titled Aligning the Research Library to Organizational Strategy.
---