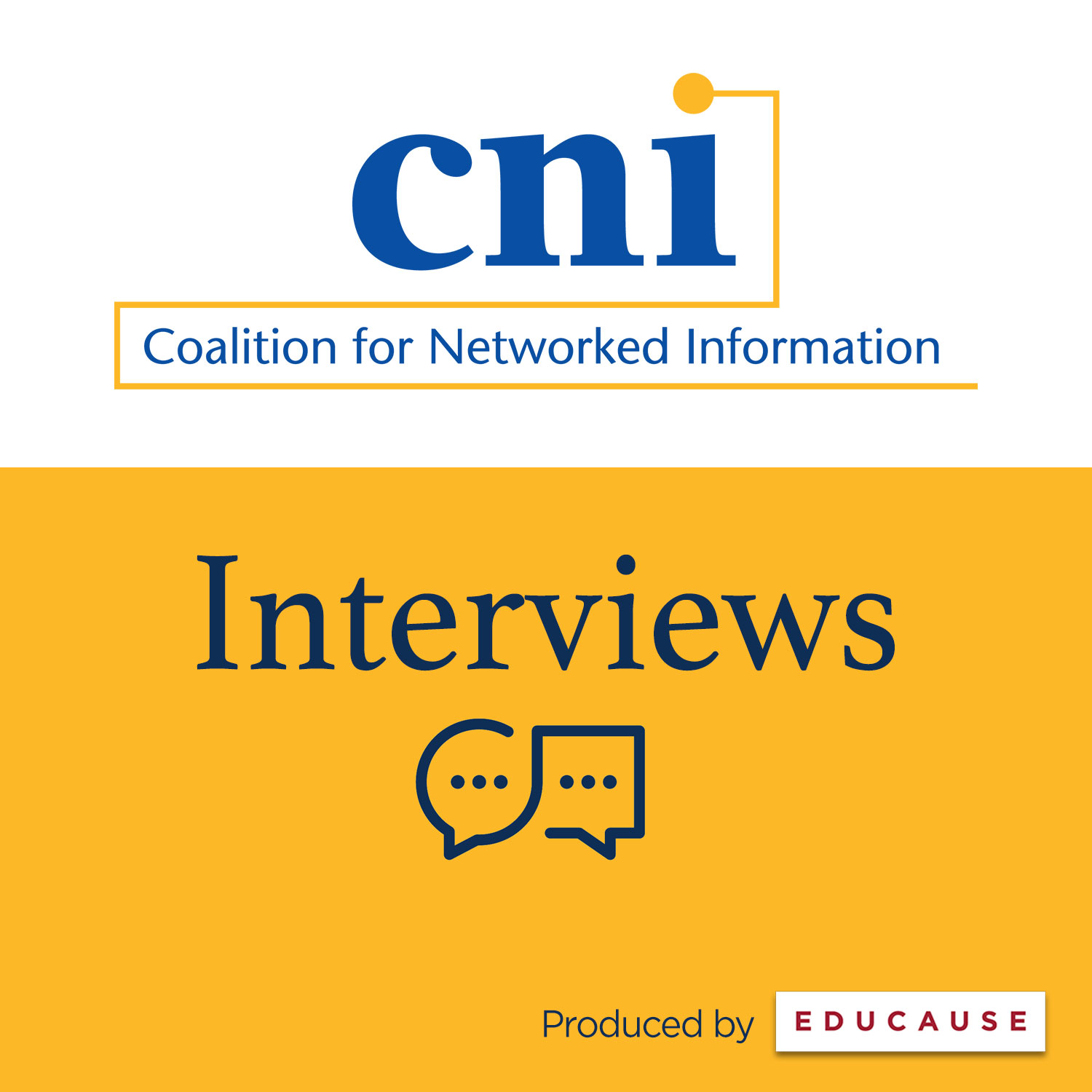 This podcast features a selection of interviews from the Coalition for Networked Information (CNI) meetings. It highlights conversations with leaders, thinkers, and innovators in the field of libraries, research, and networked information.


Season 1
Episode 6 | August 15, 2022
In this conversation, Executive Director for the Coalition for Networked Information (CNI), Cliff Lynch, talks about issues concerning scholarly communication, digital information technology, and higher education technology.
Episode 5 | August 15, 2022
Dean of Libraries at Carnegie Mellon, Keith Webster, discusses CMU cloud lab strategies, and the Artificial Intelligence for Data Discovery and Reuse Symposium, which aims to find innovative solutions to accelerate the dissemination and reuse of scientific data in the data revolution.
Episode 4 | August 15, 2022
Director Frank Wuerthwein, of the San Diego Supercomputer Center, discusses their goals and strategies, hardware and software investment, as well as the Open Science Grid.
Episode 3 | August 15, 2022
We discuss a report by Ithaka S+R, that draws on interviews with over two hundred researchers from dozens of disciplinary backgrounds about their big data practices, with an emphasis on exploring what library leaders can learn about how to align data support with researchers' priorities. The report is titled Big Data Infrastructure at the Crossroads.
Episode 2 | August 15, 2022
The Big Ten Academic Alliance (BTAA) is the academic consortium of the universities in the Big Ten Conference. As the Director of Library Initiatives for the BTAA, Maurice York is responsible for coordinating collective action at scale amongst the member research libraries toward their commitment to realizing an interdependent, networked future. In this discussion York talks about some of the plans and strategies of the BTAA in 2022.
Episode 1 | August 15, 2022
In this discussion, Dames talks about shifting strategies for research libraries, his new role as chief librarian at Notre Dame, controlled digital lending, and open scholarship. We also talk about a report put out by ARL, CARL, and Ithaka S+R to identify the strategic priorities of higher education's senior leadership, and to identify how and what more research libraries can do to advance them. The report is titled Aligning the Research Library to Organizational Strategy.
---