According to The Center for Teaching and Learning at the University of North Carolina-Charlotte, the "classroom of the future" will emphasize group learning through student collaboration. And a key to fostering such learning, The Center says, is a classroom filled with "lightweight, moveable and reconfigurable furniture."
From day to day – and even hour to hour throughout the day – the collaborative classroom may adopt a unique look and feel. The active, group-based, student-focused style of learning that is at the heart of the collaborative classroom involves learning activities that place students in groups of varying size and configuration.
Spectrum Industries offers a wide range of furniture – including tables, chairs and lecterns – expressly designed to meet the flexibility and durability that is needed in the collaborative classroom. Spectrum has always believed in building with the highest-quality materials while keeping both beauty and function in mind.
Tables
Small groups can do big things when given the ideal gathering space. Spectrum lets you optimize success with innovative, ergonomic technology-ready collaborative tables. Many of them also come with a dry erase writable worksurface, bringing collaboration and brainstorming to the next level.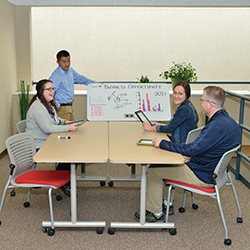 Available models include the lightweight Flex Flip table, allows you to configure the classroom in many different ways, whichever way works best for the students and the project they might be working on. These tables are easy to move and set up, and come with the height-adjustable "sit to stand" feature.
The InVision table line includes models with a variety of worksurface sizes and features, including an eLift feature where the tables can go from sitting to standing in seconds with an electrical lift. All the tables offer fully enclosed wiring that run the length of the table, allowing for easy access to power outlets and electronic technology. Video screens can be mounted on an optional display stand, and cutouts can be included on most models to allow for electronics to be mounted directly into the tabletop.
The InVision line also features an Active Learning Pod System that enhances student engagement through its circular design and an optional center technology hub that can house a variety of collaboration equipment.
Spectrum tables feature inset legs that allow students to rotate their chairs without banging their knees. And all can be ordered with durable casters that allow them to easily be moved around the collaborative classroom.
Chairs
Sometimes the smallest design aspect can have outsized impact on the collaborative learning environment. So don't overlook Spectrum's four-wheel chair design, a departure from the five-wheel design found on most mobile chairs. This features allows the chairs to fit more easily under tables without banging into table legs.
And in the collaborative classroom, chairs must be on casters so that students easily can face one another. The sturdy casters on Spectrum chairs are long-lasting and allow the chairs to move easily.
Lecterns
Spectrum's lecterns are instructor preferred, integrator inspired and designer approved. With its varying configurations, often there is no true "front of the room" in a collaborative classroom. So Spectrum Industries offers a variety of lecterns on casters that can easily be moved about the room as necessary. And if the rack cabinet is separated from the lectern, the instructor can control classroom technology via a Bluetooth keypad and mouse.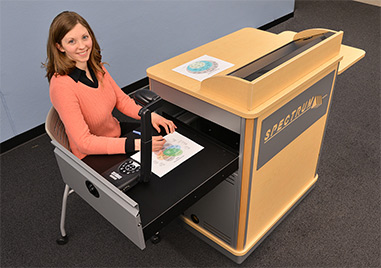 Spectrum lecterns range in size from 24 inches to 62 inches wide. All are lockable to ensure the security of your technology, and all have removable access panels.
Spectrum lecterns are ergonomically designed, with several models offering the "sit-to-stand" feature that allows the height of the worksurface to easily be adjusted as necessary. One specific lectern, the Freedom One eLift, also comes with a battery option so you can truly roll the lectern anywhere in the room and still have the option to raise and lower the lectern without the restriction of the cord.
Personalize your collaborative classroom
Several features of Spectrum collaboration tables, lecterns, and chairs – including cutouts, display racks and legs – can be configured to meet your specific needs.
Spectrum Expressions allows you to create a personalized, coordinated look in your classroom by choosing from a wide range of color options for your furniture finishes. For lecterns and tables, metal surfaces are available in a variety of colors, while your choice in laminate colors ranges an organic palate to wood grains.
To complete the personalized look, customizable logo panels are available on all of Spectrum's lectern.
Why Choose Spectrum?
Spectrum lecterns set the standards for quality, ergonomics, and reliability - and then exceed them. From design to delivery, Spectrum is constantly innovating. We take our customers' needs seriously, giving you options for accessories and colors, and incorporating your feedback into new and improved products. No one stays abreast of the rapidly-changing demands of new technology like Spectrum. And we do it all without sacrificing durability, style, and functionality.
All Spectrum products are proudly designed and assembled in Chippewa Falls, Wisconsin.

---
© 2017 Spectrum Industries. This article was sponsored by Spectrum Industries and not written or edited by the EDUCAUSE editorial staff.