Campus Security Awareness Campaign 2016
This post is part of a larger campaign designed to support security professionals and IT communicators as they develop or enhance their security awareness plans. View the other monthly blog posts with ready-made content, as well as a printable calendar with the 12 topics. Learn more.
We go online almost every day, and no browser, app, or device is perfectly secure, so it's important to learn safe browsing habits and practice them every day. Here are some tips to help your end users be more safe and secure online, whether they're browsing, shopping, or gaming.
Get the Word Out
Newsletter Content
When you are reading e-mail or browsing online, be on the lookout for suspicious links and deceptive web pages, which are major sources of malware. Also be careful when selecting browser plugins, apps, or other downloadable files since they can introduce new vulnerabilities. Here are some suggestions to make your day-to-day online browsing more productive, safe, and secure.
Keep your browser software up-to-date. Be sure to install antivirus updates and regularly check for and install browser plugin (e.g., Adobe Flash and Java) updates.
Be more secure! Make sure a URL includes HTTPS before entering any personal information.
When in doubt, ignore. Don't click on pop-up windows or extraneous ads.
Keep your private information safe. Use a strong, unique password or passphrase for each account, and avoid storing account information on a website. Consider using separate browsers for sensitive logins and general web browsing.
Use private networks for sensitive transactions. Avoid checking your bank account, making purchases, or logging in to other websites that include sensitive information when using public Wi-Fi.
Go stealth when browsing. Your browser can store quite a bit of information about your online activities, including cookies, cached pages, and history. To ensure the privacy of personal information online, limit access by going "incognito" and using the browser's private mode.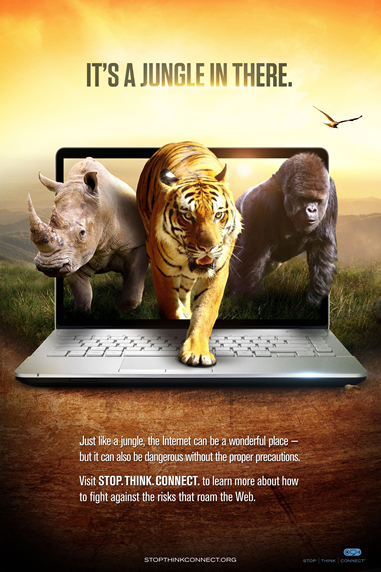 Use this image to support your message (click for larger image).
Social Posts
Use long, complex #passwords or #passphrases as your first line of defense to protect online accounts. #SafeBrowsing
Using public #WiFi? Restrict activity to simple searches (no online banking!) or use #VPN for #SafeBrowsing.
Check for updated browser software and plugins often & install them promptly. #SafeBrowsing
#SafeBrowsing tip: Install antivirus software and use a pop-up blocker to avoid unwanted (& potentially unsafe) ads
When browsing online, avoid malware or unwanted redirects—don't click on pop-up ads. #SafeBrowsing
HTTPS is your friend. If the "S" is missing in a URL, it's probably not safe to use a credit card or share other person info! #SafeBrowsing
It's a jungle out there. Practice #SafeBrowsing https://www.pinterest.com/pin/11962755233004095/
E-Mail Signature
Ask staff to add a tip to their e-mail signature block and link to your institution's online safety guidelines.
Example:
John Doe
Chief Information Security Officer
University of XYZ

Make your online browsing productive and safe every day. Learn more. [Link "Learn more" to your institution's online safety tips or link to these Tips & Advice for Practicing Good Online Safety Habits.]
Embed or Share Videos
Resources
Share these resources with end users or use them to inform your awareness strategy.
It's a Jungle in There (poster) [Use something like this for caption above and link picture to Pinterest post.]
Practice good online safety habits with these tips and advice from the Stop.Think.Connect. campaign.
The National Crime Prevention Council provides additional information for staying safe online [http://www.ncpc.org/topics/internet-safety].
TechWorld offers options for several secure browser options [http://www.techworld.com/security/the-best-5-secure-browsers-2015-3246550/].
---
Brought to you by the Awareness and Training Working Group of the EDUCAUSE Higher Education Information Security Council (HEISC).