Campus Security Awareness Campaign 2017
This post is part of a larger campaign designed to support security professionals and IT communicators as they develop or enhance their security awareness plans. View all 12 monthly blog posts with ready-made content by visiting www.educause.edu/securityawareness.
For more than a decade, colleges and universities have promoted National Cyber Security Awareness Month (NCSAM) each October as part of a collaborative effort to ensure that everyone has the resources they need to stay safe online. In honor of NCSAM — and because information security is everyone's responsibility — we offer the following tips to share with your campus community.
Get the Word Out
Newsletter or Website Content
Did you know? According to a 2016 Raytheon survey [http://www.raytheoncyber.com/news/feature/ncsam_iis.html], 86 percent of young adults think that keeping the Internet safe and secure is a responsibility we all share — up 4 points from 82 percent in 2015.
As digital citizens, we are getting better about consistently protecting ourselves, our devices, and our family and friends. However, the Internet is always "on," so we must remain vigilant and continue to connect with care in order to protect our mobile devices — including laptops, tablets, smartphones, and wearable technology — as well as our personal information.
Protect your device. Add a passcode to your cell phone, tablet, or laptop right now!
Use strong passwords or passphrases. Especially for online banking and other important accounts.
Enable multifactor authentication. Wherever possible, enable multifactor authentication, which helps secure your accounts by requiring hardware or biometrics in addition to your password.
Check your social media settings. Review your social media security and privacy settings frequently. Enable two-step verification whenever possible.
Educate yourself. Stay informed about the latest technology trends and security issues such as malware and phishing.
Get trained. Contact your institution's IT, information security, or privacy office for additional resources and training opportunities.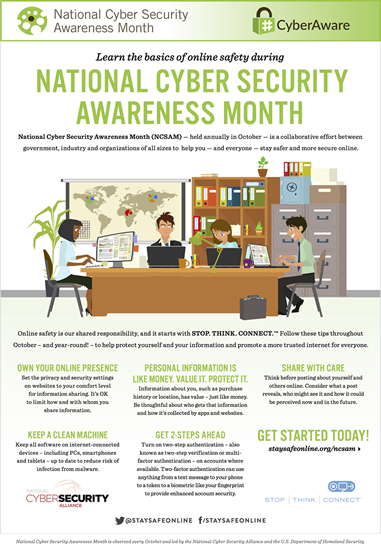 Source: STOP. THINK. CONNECT. NCSAM [https://staysafeonline.org/resource/learn-basics-online-safety-national-cyber-security-awareness-month-infographic/]
Figure 1. Use this image to support your message.
Social Posts
Note: These are Twitter-ready, meeting the 140-character length restriction.
Tip: NCSA provides sample social media posts in August or September each year so you can schedule lots of security awareness tips and advice in advance of NCSAM in October. Or, simply follow @StaySafeOnline, @STOPTHINKCONNECT, or #CyberAware and retweet during NCSAM and the months leading up to it.
E-Mail Signature
Ask staff members to add a tip to their e-mail signature block and a link to your institution's information security page.
Example:
Jane Doe
Chief Information Security Office
XYZ College

Information Security is Everyone's Responsibility! Learn more. [Link "Learn more" to your institution's information security awareness page or NCSAM activities or link to the StaySafeOnline.org NCSAM page.]
Embed or Share Videos
Don't be a Billy: What NOT to do online (2:54 min)
How to keep your login safe (1:00 min)
Resources
Share these resources with end users or use them to inform your awareness strategy.
---
Brought to you by the Awareness and Training Working Group of the EDUCAUSE Higher Education Information Security Council (HEISC).