Campus Security Awareness Campaign 2017
This post is part of a larger campaign designed to support security professionals and IT communicators as they develop or enhance their security awareness plans. View all 12 monthly blog posts with ready-made content by visiting www.educause.edu/securityawareness.
Campus information security professionals have a unique opportunity to help prepare students who are contemplating a career in cybersecurity. Following are some ways to help spread the word about potential career paths and internship opportunities that can provide vital hands-on experience as these students get ready to join the workforce.
Get the Word Out
Newsletter or Website Content
The cybersecurity field continues to grow along with the need for new workforce talent. In fact, the 2016 EDUCAUSE Center for Analysis and Research's study on the higher education IT workforce showed that cybersecurity management skillsets are among those most in demand in higher education today. Most information security jobs require at least a bachelor's degree, so the knowledge students acquire through degree programs is critical. At the same time, students should be encouraged to seek additional opportunities for professional development and growth, including the following: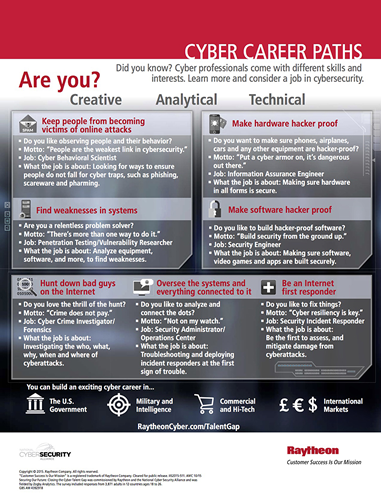 Social Posts
Note: These are Twitter-ready, meeting the 140-character length restriction.
E-Mail Signature
Ask staff members to add a tip to their e-mail signature block and a link to your institution's information security page.
Example:
Jane Doe
Chief Information Security Office
XYZ College

Interested in a cybersecurity career? Learn more. [Link "Learn more" to your institution's information security department page or the National Cybersecurity Student Association website.]
Embed or Share Videos
Resources
Share these resources with end users or use them to inform your awareness strategy.
---
Brought to you by the Awareness and Training Working Group of the EDUCAUSE Higher Education Information Security Council (HEISC).