Campus Security Awareness Campaign 2017
This post is part of a larger campaign designed to support security professionals and IT communicators as they develop or enhance their security awareness plans. View all 12 monthly blog posts with ready-made content by visiting www.educause.edu/securityawareness.
End users can take many precautions to stay safe and secure online. To increase awareness on campus and help your end users protect their personal information and devices, customize and share the following content.
Get the Word Out
Newsletter or Website Content
Follow these six National Cyber Security Alliance recommendations to better protect yourself online and make the Internet more secure for everyone:
Fortify each online account or device. Enable the strongest authentication tools available. This might include biometrics, security keys, or unique one-time codes sent to your mobile device. Usernames and passwords are not enough to protect key accounts such as e-mail, banking, and social media.
Keep a clean machine. Make sure all software on Internet-connected devices — including PCs, laptops, smartphones, and tablets — are updated regularly to reduce the risk of malware infection.
Personal information is like money. Value it. Protect it. Information about you, such as purchase history or location, has value — just like money. Be thoughtful about who receives that information and how it's collected by apps or websites.
When in doubt, throw it out. Cybercriminals often use links to try to steal your personal information. Even if you know the source, if something looks suspicious, delete it.
Share with care. Think before posting about yourself and others online. Consider what a post reveals, who might see it, and how it could be perceived now and in the future.
Own your online presence. Set the privacy and security settings on websites to your comfort level for information sharing. It's okay to limit how and with whom you share information.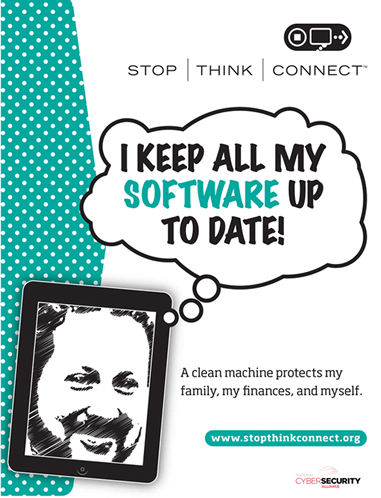 Social Posts
Note: These are Twitter-ready, meeting the 140-character length restriction.
Help keep the Internet safe & secure! Learn how to protect yourself & your devices w/ these tips: http://staysafeonline.org/stay-safe-online/ #CyberAware
Staying safer and more secure #online starts with @STOPTHNKCONNECT. Find basic tips here: http://www.stopthinkconnect.org/tips-advice #CyberAware
Keep a clean machine! Having the latest #security software & operating system is the best defense against #cyber threats. #CyberAware
Own your #online presence! Actively manage your #privacy & #security settings to control who sees the things you post online. #CyberAware
Personal information is like money. Value it. #Protect it. More #privacy tips here: http://staysafeonline.org/data-privacy-day/privacy-tips/ #CyberAware #PrivacyAware
Protect your online accounts w/more than #passwords. Enable multifactor authentication & #LockDownURlogin http://www.lockdownyourlogin.com/
E-Mail Signature
Ask staff members to add a tip to their e-mail signature block and a link to your institution's information security page.
Example:
Jane Doe
Chief Information Security Office
XYZ College

Protect yourself and your devices. Learn more. [Link "Learn more" to your institution's information security page or link to these tips from STOP. THINK. CONNECT.]
Embed or Share Videos
Resources
Share these resources with end users or use them to inform your awareness strategy.
---
Brought to you by the Awareness and Training Working Group of the EDUCAUSE Higher Education Information Security Council (HEISC).